Anytime is a good time to recommit yourself to wellness. Make your own personal health, and the health of your relationship, a priority. And a fun way to make wellness a priority is with these couple's retreat ideas.
Sure, there is something to be said about the classic date combo of dinner and a movie. But making time together to do something good for your overall health can deepen your connection. When you're ready to spend some time together connecting with yourselves and your health, try one of these places where you can create your own wellness retreat in Orlando.
Itineraries to Create Your Own Couple's Wellness Retreat
Peaceful Peacock Yoga + Hourglass Lake Park + brunch or lunch
Have you been to the Hourglass District lately? This Orlando neighborhood continues to blossom and provides many activities for a DIY wellness retreat day.
Begin at Peaceful Peacock with the Sunday Soul Flow class that starts at 9am. This is an hour-long class that is designed for beginners to advanced yogis alike. As the name of the class suggests, the instructor takes things very slow, moving intentionally through deep stretching, some balance poses and lots of breathing. The instructor of this class is usually Leah Webb, a friend of mine that I reached out to discuss how couples could build their own date day or retreat with Peaceful Peacock. Leah jumped at the chance, excitedly explaining how accommodating and welcoming Peaceful Peacock is, and the plentiful options nearby.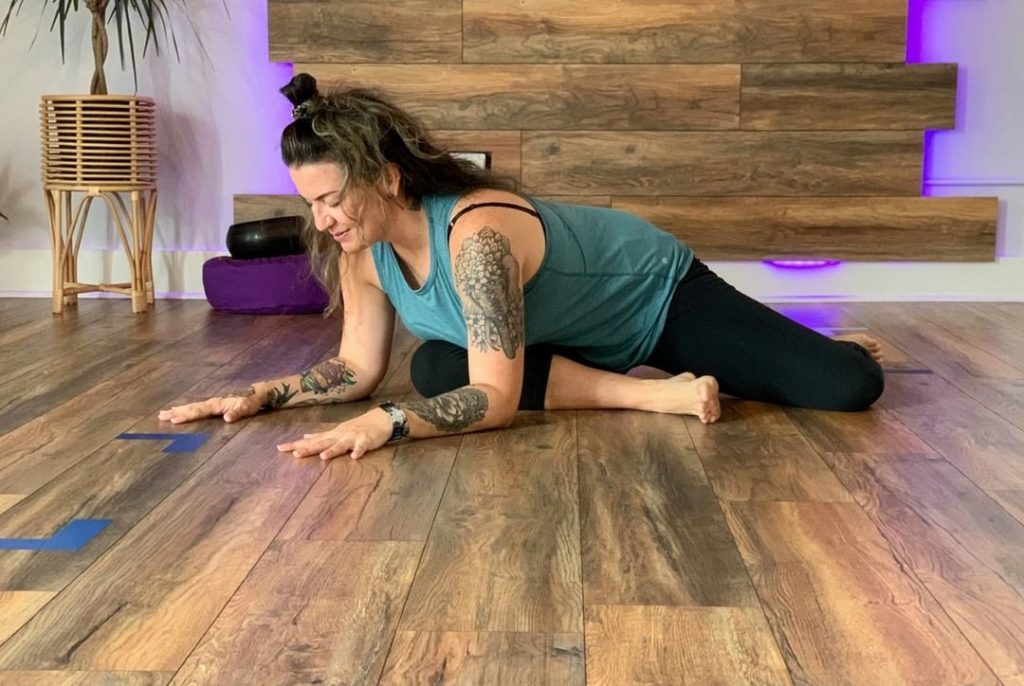 After your morning flow, grab a morning coffee and pastries at a nearby eatery. Foxtail Coffee is right across the street for something light and local. Or keep it healthy with Legumanati Vegan Eatery also across the street and also inside Hourglass Social House alongside Foxtail Coffee.
As you dine together, be intentional about your experience. Pay attention, mindfully, to what you're eating and drinking. Be present and think about how the food and drink fuel your body. Chat about your wellness goals. Was there anything new you experienced in your yoga class at Peaceful Peacock together?
Now that you've fueled your body and your mind, head down the street to Hourglass Lake Park. This peaceful retreat has plenty of natural beauty amid the urban energy of the Hourglass District. It is one of Orlando's special places because of the lake's hourglass shape, which gives unique vantage points. Sit under the shade of a cypress tree near the edge of the water as you breathe deep and relax together.
If you're up for continuing the couple's retreat ideas, bring blankets or beach towels so you can sit and meditate. If you need some prompts to help you along my favorite meditation app is Shine Premium. I love that the meditations are short and practical. It's easy to allocate ten minutes to a meditation that is aligned with our modern life. There are also free episodes of Shine meditations available on Spotify and other podcast apps.
Float and Yoga Classes at Total Zen Float
If you're ready to dive into total wellness and try something new then try yoga and a float session at Total Zen Float. This wellness venue in Casselberry is very meek on the inside. But once you set foot inside Total Zen Float you know you're inside a place of healing and zen. Browse the yoga class schedule and find a class that works for you both. Then sign up for a float session that fits with the yoga class you've selected.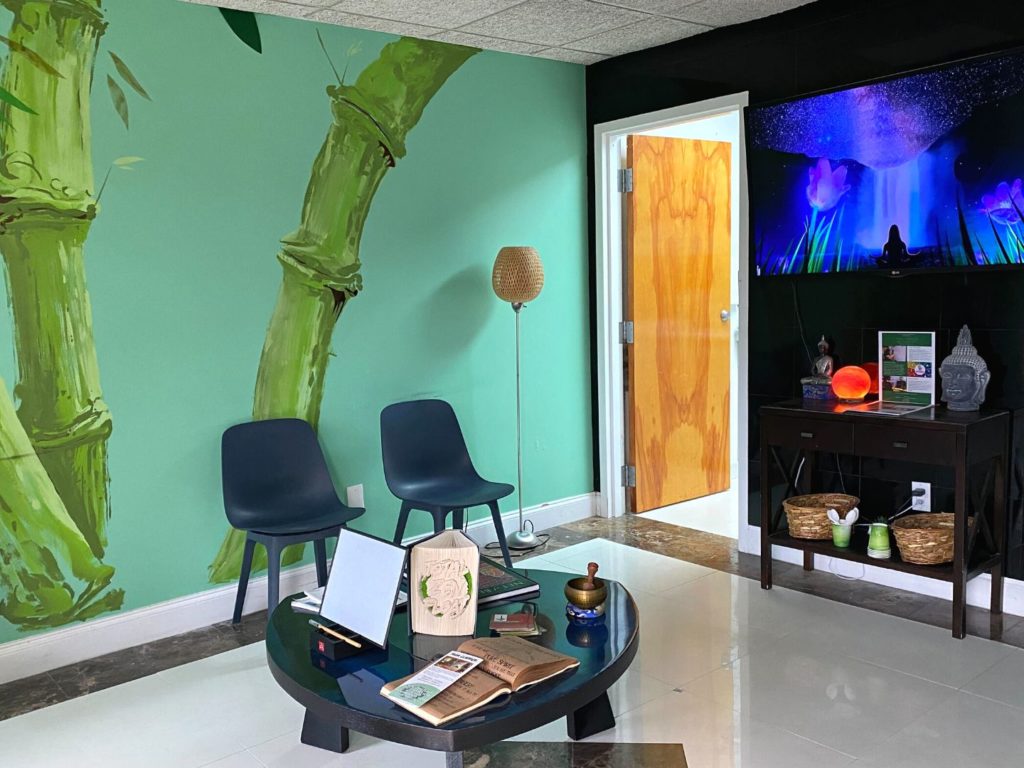 Or, just go in for a totally relaxing float session.
What does a float tank do to your body?
My husband and I experienced our first float at Total Zen Float and loved it. The water inside the float tank is heavy with 1200 pounds of Epson salt. This means you won't be fighting gravity – like at all. I immediately noticed the sensation as I slipped into the water. And it took some getting used to. It holds your body up, gently cradling it.
And having the ability to freely float in the water without any worry of sinking or forcing myself to float is so freeing. I could finally relax. Tension eased away from my muscles and back. It felt better than a massage.
What if I don't like the dark or enclosed spaces?
There are two tanks at Total Zen Float – one each in their own dimly lit room. My husband went with the egg shaped tank because it has a hydraulic lid that you can close partially if you wish, or close it all the way – whenever you're ready. The tank I selected was rectangular in shape, and the door closed all the way. Both tanks have a circular colored light at the top that you can turn on and off any time you wish.
You are always in control of your environment.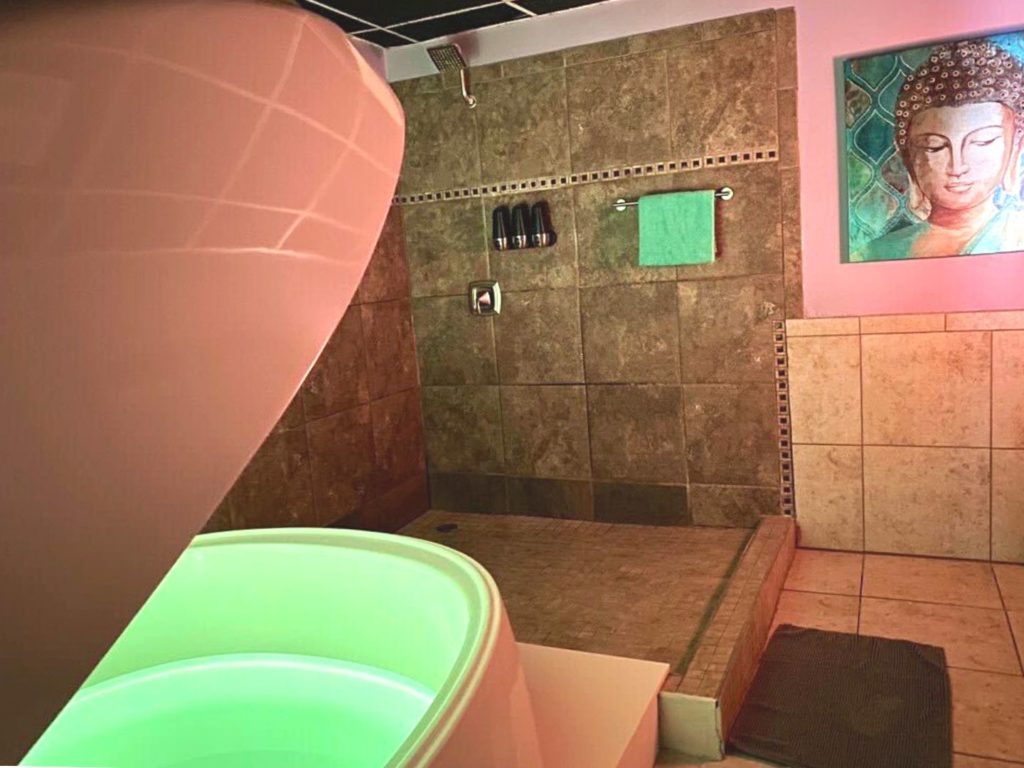 I kept my tank's light on for about half of the time. Once I settled into a groove I felt comfortable turning it off and being in the dark, though I kept the light's location at the top of my mind and turned it on when I needed it. Our host asked if I wanted some meditative music during my experience, which I agreed to. It gave me a focus point and an anchor. After a few more floating sessions I may opt to go in without the music and just concentrate on my breath and heartbeat.
How long does a float last?
You can book a 60 minute session or 90 minutes. My husband and I booked 60 minutes each, at the same time. We both remarked that we would consider a 90 minute float after a few more sessions. I meditate a few times a month and it took me about 30 minutes to really get into a comfortable space and truly relax, which left me with just about 30 minutes in a totally relaxed state. Bumping up to a 90 minute session seems like a really cool experience that I may work up to.
Of course, if for any reason you wish to stop your session early, you are certainly able to do so. After our experience Total Zen Float is one of my favorite couple's retreat ideas.
More Couple's Retreat Ideas:
5D Serenity Wellness Studio + Raw Press Juice Co + Downtown Sanford
Sure, downtown Sanford is known for its plethora of craft breweries and restaurants. But, if you know where to look, you'll find some great spots that focus on wellness. My favorite place for a wellness retreat in the Orlando area is 5D Serenity Wellness Studio. I love the location and the setting, complete with brick interior walls. And I love the approach. 5D Serenity Wellness Studio is run by Brandy Harrison. In full disclosure, Brandy is a friend of mine. Even still, I wouldn't recommend 5D Serenity if it wasn't the real deal.
Brandy is a licensed massage therapist and has focused on care for mothers for years. In addition to providing massage therapy to mothers and couples, Brandy is a Birth Assistant, Doula, and Breastfeeding advocate. How can this motherly focus benefit couples? Brandy's approach to massage therapy is centered on wellness and wholeness. Sure, you can get a massage just about anywhere, but Brandy and her colleagues are focused on providing a personalized experience centered on each person's individual needs.
The massage room on the bottom level is calming and truly feels like a retreat thanks to the unique brick walls and comforting decor. And on the second level is a studio for wellness experiences like meditation classes, yoga sessions, and mini-retreats. Keep an eye on 5D Serenity's Facebook or Instagram page for events, or contact Brandy to work with her on creating your own couple's retreat experience.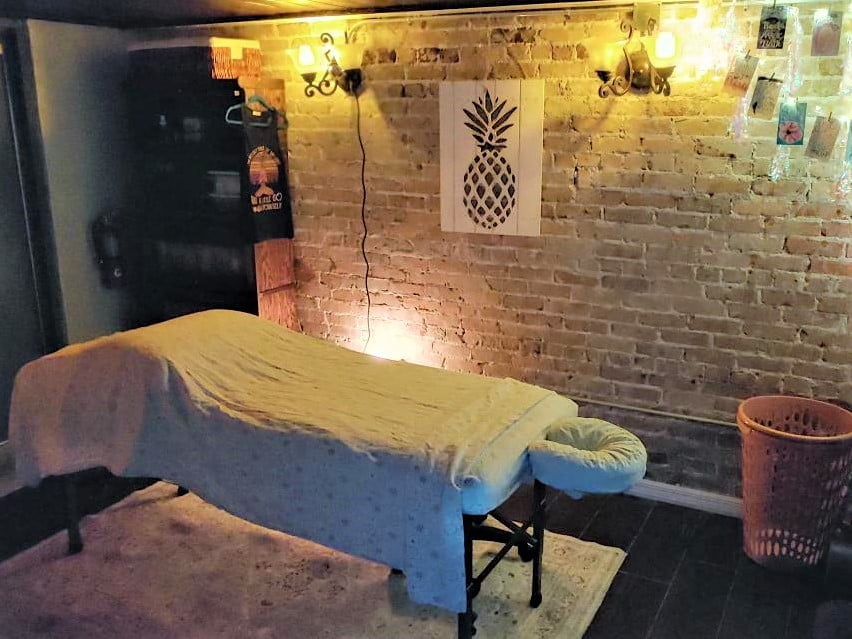 Afterward, head two blocks down Sanford Avenue to Raw Press Juice Co. I am a big believer in cold-pressed juice and you'll find a variety here at Raw Press. You can enjoy a healthful lunch with plentiful salads and wraps, as well as smoothies and bowls.
If you're up for exploring kratom or kava then consider visiting The Healthy Buddah. This organic kratom and kava lounge boasts having clean and pure products and a relaxing environment. Part of wellness is exploring different experiences, so if you're up for something new this may be a great addition.
Much further down the road is the Central Florida Zoo and Botanical Gardens. While this is indeed a zoo, the back half of the park is full of natural beauty including a long boardwalk through wetlands and botanical gardens. Being among nature is healing, and this is an affordable destination. Go for a long stroll through the gardens at the Central Florida Zoo while the weather is cool and mild.
More Places to Craft Your Own Couple's Retreat Ideas
Wellness Spa at Renaissance Orlando at SeaWorld
Build your own wellness retreat experience by combining multiple spa services and an overnight stay at Renaissance Orlando at SeaWorld. The Orlando Wellness Spa offers every type of spa service you can think of, so browse the service menu with your honey and decide on 2-3 services you want to enjoy together. Book a night or two at the Renaissance Orlando at SeaWorld so you can slow down and enjoy the time together. Splash around the resort pool or take your retreat to the next level by booking a day at Discovery Cove, or head down the street to the Orlando Beer Spa.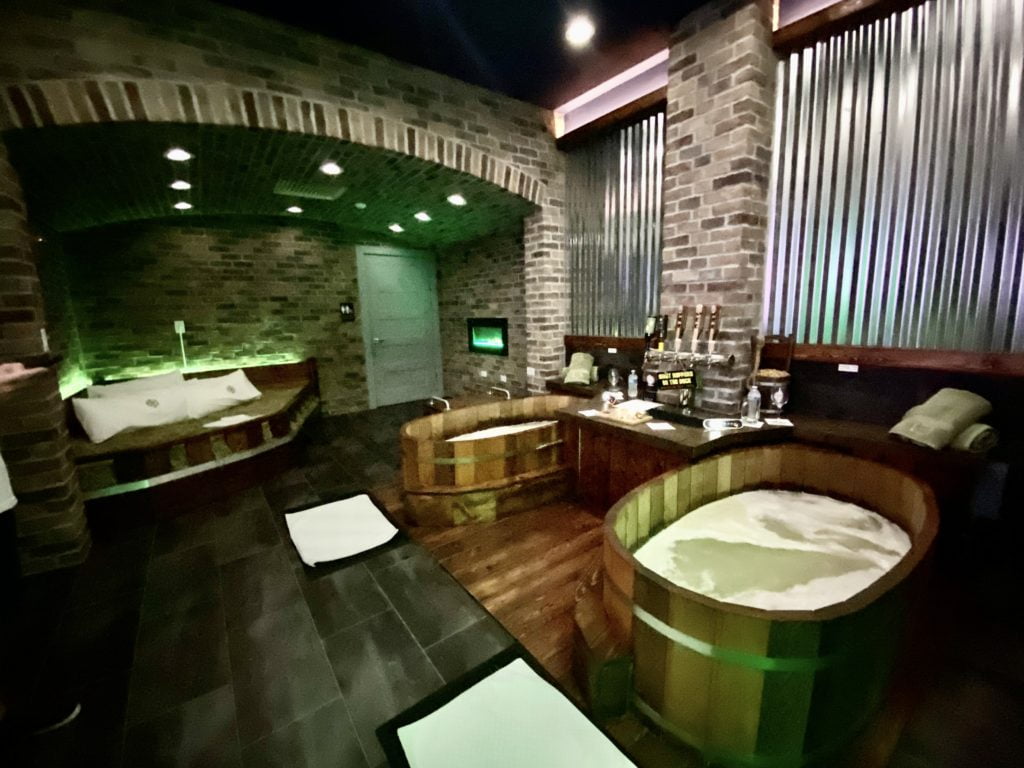 ---
---
The Spa at Four Seasons Resort Orlando At Walt Disney World Resort
The Spa at Four Seasons Resort Orlando At Walt Disney World Resort offers some unique services you won't find anywhere else. Browse the service menu with your honey and decide on 2-3 services you want to enjoy together. Besides the services themselves, you can easily spend the whole day at the spa between the Experience Shower, serene indoor and outdoor relaxation areas, spa tub, steam room, and solarium. If you decide to stay a night or two, your wellness retreat can include locally sourced, fresh ingredients served at all the restaurants, an advanced fitness center, and intravenous vitamin drips and shots. This is one of our most luxurious couple's retreat ideas.
Nearby Florida Destinations with Wellness Retreats