Nothing says romance like chocolate and wine. There is better way to combine the two than at the World of Chocolate Museum and Café. Check out this easy date idea at the chocolate museum Orlando.
Located in a less congested section of International Drive, World of Chocolate Museum and Café is filled with delectable treats sure to entice your taste buds. But this is not just a chocolate shop. World of Chocolate offers an entertaining and atypical date night experience via a museum tour and a wine pairing experience with delicious gourmet chocolates.
The thought of wine and chocolate had my heart leaping with excitement for our date night. Upon arriving, we snagged our Golden Ticket for the museum tour at the front counter. The tour and wine tasting is $29.90 per person when purchased online. It is $35.90 in person.  This easy romantic date idea includes museum admission and the delectable wine and chocolate tasting.
Please confirm the price directly with the Chocolate Museum Orlando.
Updated August 2022 by Dani Meyering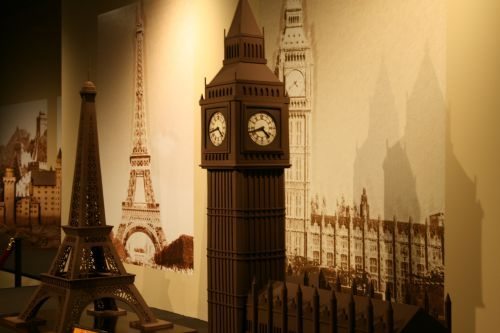 World of Chocolate Museum Orlando Tour
Tours are conducted every hour daily beginning at noon with the last tour starting at 7pm. The tours last 45 minutes and are on a first-come first-served basis. The museum and café are busiest on rainy days and during the weekends, so be sure to arrive a little early during those times.
After a short video presentation, we digitally journeyed to the rainforest to learn where chocolate first began– the cacao pod. From there, we traveled through time learning about the evolution of chocolate. One may think a history lesson in chocolate would prove to be a little on the boring side but our tour guide, David, was full of fascinating facts and witty humor which were a far cry from a typical history lecture. He kept us interacting, engaged and smiling the entire tour.
We then proceeded to a gallery of sculptures made of solid dark, milk, and white chocolates. This sight was a feast to our eyes! We lingered in the gallery staring at these beautiful masterpieces like wide-eyed children. There are famous landmarks from across the world and busts of well-known figures to behold; hats off to the artists for their time and astonishing talent.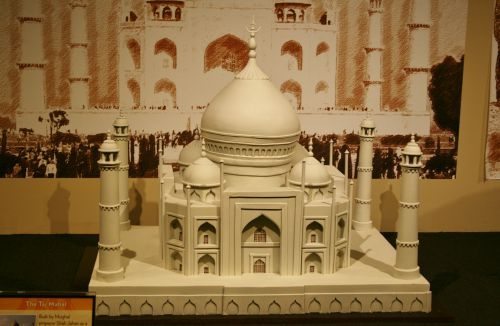 Once we finished ogling the detailed show pieces, the tour continued with displays of retired machinery used to make chocolate.
Then it was off to the tasting room where the tour culminates in what everyone is been waiting for: chocolate we could finally eat!
Chocolate and Wine Pairing
Awaiting us were several types of bite-sized chocolates; dark chocolate, white chocolate, chocolate with curry, and chocolate with sea salt, to name a few. Don't expect a rushed frenzy to ensue though. We were given plenty of time to savor and enjoy these fine delicacies. The tour ended with displays of smaller chocolate sculptures and – spoiler alert – a surprise hot chocolate tasting.
Now it was time for the wine and chocolate pairing! Jonathan was our host for the tasting. We couldn't have asked for a more hospitable presenter. He asked for our wine preferences to which he perfectly picked complementing wine and chocolates.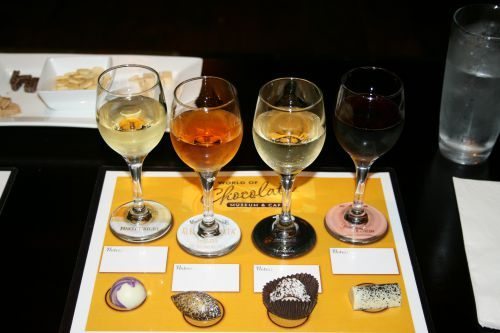 While I would love to be considered a connoisseur of wine, I am just shy of a novice. Jonathan, our exquisite wine and chocolate sommelier, accurately explained the many distinct flavors that our palates experienced while educating us about the paired wines and gourmet chocolates. His knowledge was extensive and he was gracious to share it with us.
To make sure our taste buds stayed fresh and primed, we were offered crackers to eat between tastings to cleanse our palates. This is truly one of the best date ideas on International Drive.
On our way out, we perused the chocolate shop for some treats to take home and I am so glad we did. A few days later and I still can't get the delicious chocolates and wines out of my head! Thomas and I agreed this was one of our favorite date nights in Orlando thus far.
Note: World of Chocolate renovated the wine and chocolate pairing to make it an even more enjoyable and affordable experience. They've also added a few additional experiences, including a Fondue + Tour for Two and a Date Night experience with a cheese platter. See all packages here. 
In need of a girls' night out, birthday outing or corporate event idea? World of Chocolate has a private room to host such events and ensure a memorable time will be had by all.
World of Chocolate Museum and Café
11701 International Drive
Orlando, FL 32821
www.wocorlando.com
407-778-4871
Hours: Sunday-Saturday 11am – 9pm