Hiring a babysitter in Orlando, or anywhere, is no easy task. So to help fellow parents out there get some quality time, this guide includes tips on where to find potential babysitters and how to prepare for the big night.
As a kid, one of my favorite movies was the 1980s classic Adventures in Babysitting starring Elizabeth Shue. Rewatching it as a parent hits a little different though, as the movie is my worst nightmare, featuring the children in one dangerous situation after another while mom and dad are out at an event.
Things are a little different today and I'd say that parents are more concerned than ever about leaving their children with a caregiver. There's a very, very small list of people I trust my children with and most of those people are family members. I've always been jealous of those with retired grandparents that live close by and can help with free childcare. Unfortunately, that's not our reality and so we've had to consider hiring a babysitter. I know it's hard to prioritize date nights when you're a busy parent, but it's so crucial to spend time with just the two of you – even if you do end up talking about the kids the whole time.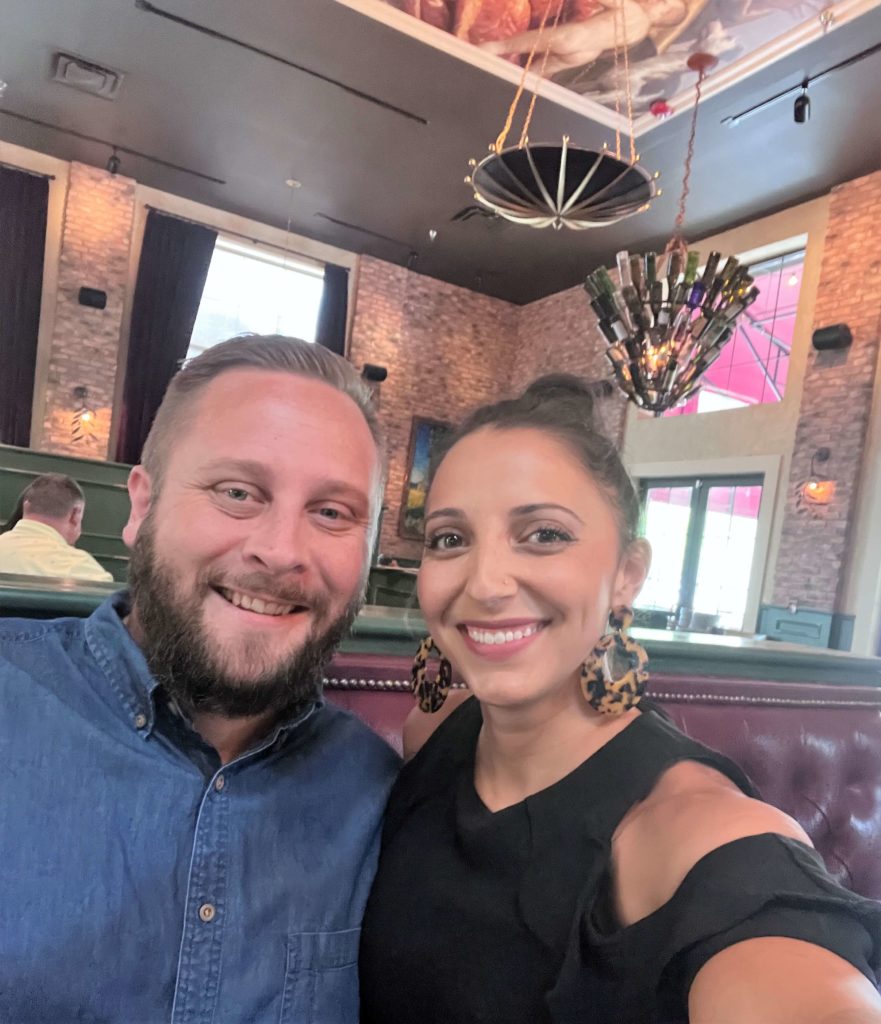 Where to Find Potential Babysitters
So you need a babysitter for your upcoming date night, but you don't know where to start. I'm a big believer in reviews and word-of-mouth recommendations. Start by asking some trusted friends who they've hired to babysit their kids. Knowing that a babysitter has cared for a friend's child before may make you feel more comfortable than choosing a total stranger. You'd be surprised how many responses you get if you ask for recommendations in a Facebook post.
If you're not already part of one, I'd recommend joining a community group online (like Next Door or a Facebook group), either for your specific neighborhood or for parents in your area. You can search those groups to see if other people have asked for babysitter recommendations or post yourself. Finding a reliable babysitter that's close to you will also save you money on covering their gas costs.
If recommendations didn't help you find someone, you can try an online platform like Care.com. I have several friends who have listed themselves on this site to find babysitting gigs. This site works similarly to a dating app or a meal delivery app. Potential babysitters can create a profile, which includes their photo, location, years of experience, age, availability, average response time, and hourly rate.
You can also learn more about specific features or preferences like if they're CPR certified, comfortable with pets, a non-smoker, or comfortable/willing to drive your children if needed. It's helpful that Care.com features reviews from previous families who have used a particular babysitter. Other helpful programs for finding sitters are Sittercity, Helpr or Bambino. Most of these apps have a free basic membership for parents, but you can pay extra for things like background checks or priority booking. Some babysitting apps and websites do require a membership fee in order to message any potential babysitters.
RELATED: Kid-Friendly Orlando Restaurants with Playgrounds 
Choosing the Right Babysitter for Your Family
Now that you've found a potential babysitter, how do you know they're the right one for your family? First and foremost, do your research. If you want to invest in a background check, start there. You should handle this like you're hiring for a professional job. I'd argue this is even more serious and you should be more thorough because you're giving this person access to your children and your own home.
Next, set up a time to interview and meet the candidate face-to-face. It's hard to know if the person you're considering is the right fit without speaking to them and getting a feel for their personality. If possible, arrange a time for them to meet your children so everyone can get comfortable.
Questions to ask when hiring a babysitter
What method do you prefer for communication? Text? Call? etc.
Do you have a preferred time or day of the week to babysit?
Tell me about a time when you handled a child who wasn't following your instructions
What situations are most difficult for you that might come up when watching my child?
What are your favorite things to do when caring for a child?
We want to be respectful of your boundaries, is there anything that is an absolute "no" for you?
You'll want to be clear about your expectations for the role up front. Is it expected for the babysitter to cook meals? If so, are there any allergies or food preferences for meal times? Will they need to drive your children anywhere, and if so, do they have a clean driving record, car insurance and a safe vehicle? Will they need to administer any medications?
Be open and clear about your preferred method of correction when the child's behavior isn't great, and especially if anything is deemed unsafe. Walk through the bedtime routine. Be sure to offer suggestions, and things that make your child most comfortable. Most of all, make sure your babysitter is truly comfortable with everything. Not only does your child need to be comfortable, but so does the person who is taking care of them.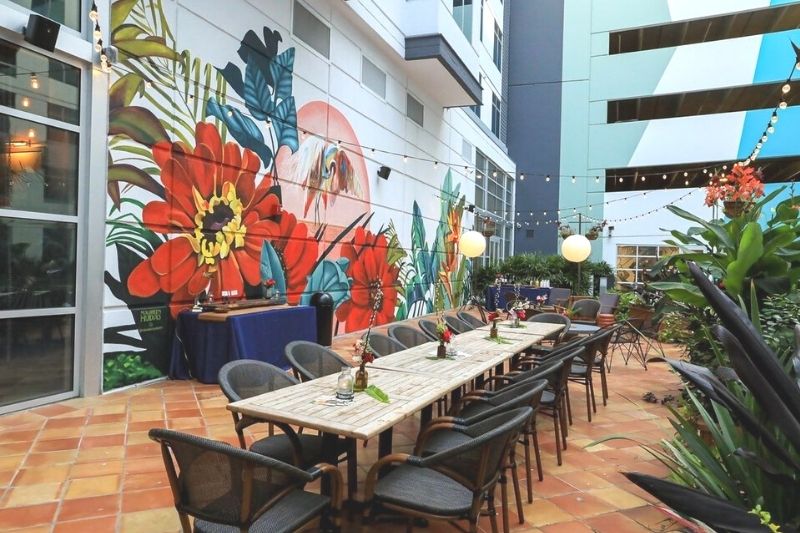 The Monroe is a great Downtown Orlando Restaurant for date night | Image credit @themonroeorlando
Some of these things may affect the babysitter's hourly rate. Make sure that you clearly discuss and agree upon a rate when hiring a babysitter. Some sitters and services require a 4-hour minimum charge.
RELATED: Downtown Orlando Restaurants for Date Night
How to Prep for Your Night Out
Now that you've selected the right babysitter, you need to make sure they're prepared with everything they might need. I like to create a shared note on my iPhone where I can drop all important information, and then add other things as I remember. Here's a good checklist to start with:
Both parents' phone numbers (do you prefer a text or call?)
Pediatrician's phone number, address and insurance information
Preferred hospital location in case of emergency
Any food allergies or restricted foods
Children's medications (include child's weight/age for dosage)
Bedtime and feeding routine
Rules for screen time
If it's a new babysitter's first time watching your children, I'd recommend starting with a trial run. This means that you'll only be gone for 4 hours max and be at a location within a 30-minute radius. If your child is old enough for a debrief, sit down with them and ask how they liked the babysitter. Your child's opinions and comfort-level are important to make sure that things continue to go smoothly.
If everything goes well on your trial run, you can start to be gone for longer, or even consider an overnight shift. My husband and I go on vacation without our kids once a year, and it's crucial that the person who's watching them is established and trustworthy, as they'll be handling all childcare duties and transportation for several days.
Parents Night Out Programs
If hiring a babysitter is too much of a challenge, there's great news. You can find plenty of Parents Night Out and Kids Night Out programs around Orlando. So many of these options make date night a breeze.
These Parents Night Out Programs and kid-friendly date ideas are great alternatives when hiring a babysitter isn't feasible.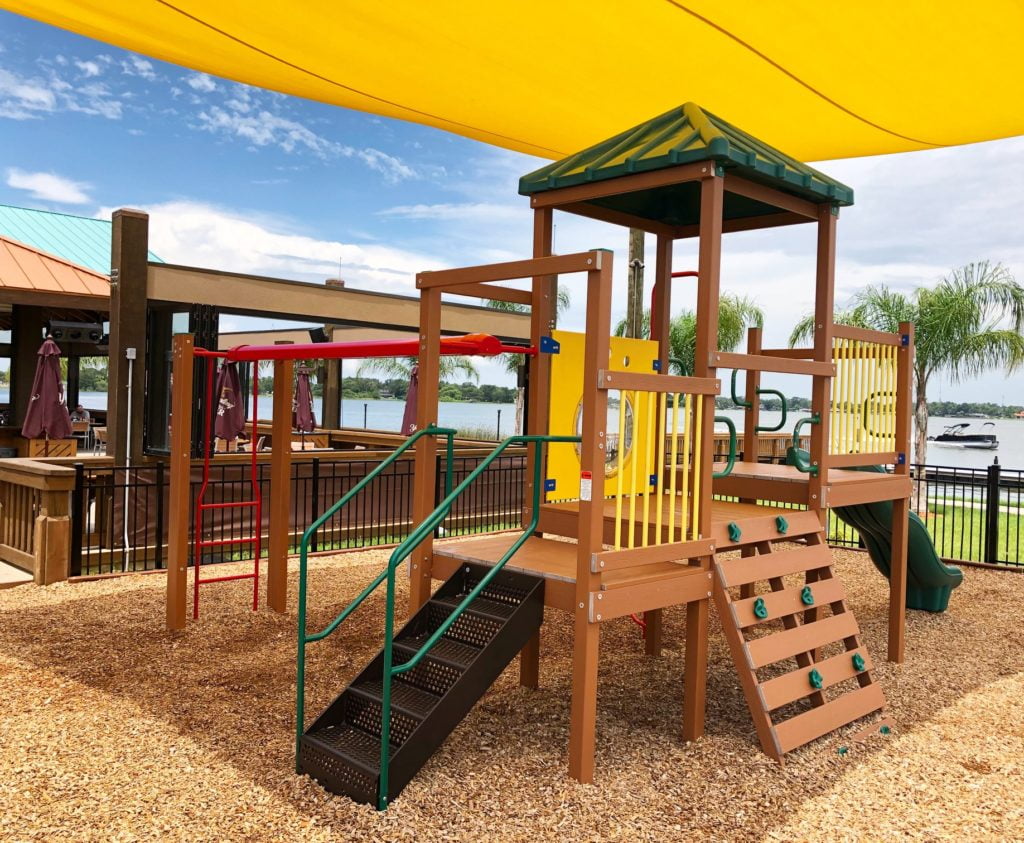 How to Help Your Teen Get into Babysitting
If your high school teen is looking to make some extra cash, babysitting is a great way to do that. As parents, we all have our preferences, and while I wouldn't necessarily hire a babysitter under the age of 18, others might be fine with that. Ultimately, when hiring a babysitter, we all want the best care for our kids and we have to choose the person that makes us feel most comfortable.
Knowing what to do in an emergency is crucial, which is why I prefer that my babysitters have attended CPR and/or first aid training. The American Red Cross is a great resource for those trainings, and they also offer babysitting and childcare courses (both online and in person) that include basic first aid, age-appropriate activities, emergency protocols, professionalism, and tips for growing your business. Like any job, babysitting will get easier and more fruitful with experience. Not to mention, having a great foundation of childcare will only help them in the future if they choose to have children of their own.
If you enjoyed these date ideas for parents get ready for OrlandoParenting.com – launching soon!
And find important safety reminders for babysitters from TampaBayParenting.com.