Perfectly situated at the edge of Seminole County, Lake Lotus Park, is arguably one of Orlando's best-kept secrets. This tranquil and meticulously maintained lakeside hiking trail is easily accessible for those in Seminole County, Orange County, and even Lake County. Lake Lotus Park is off of 414 near Maitland and just down the road from the 429 exchange.
Once inside the gates you'll be treated to beautiful protected wetlands, walking trails, picnic pavilions, and best of all the Window of the Lake enclosed pavilion. Read on to find all you need to know to plan an outdoor date here.
Updated June 2022 by Dani Meyering
Lake Lotus Park Amenities
120 acres of woods and wetlands
1 mile of raised boardwalk
Enclosed Window on the Lake
Picnic Pavilions
FIshing pier
Two playgrounds
Restrooms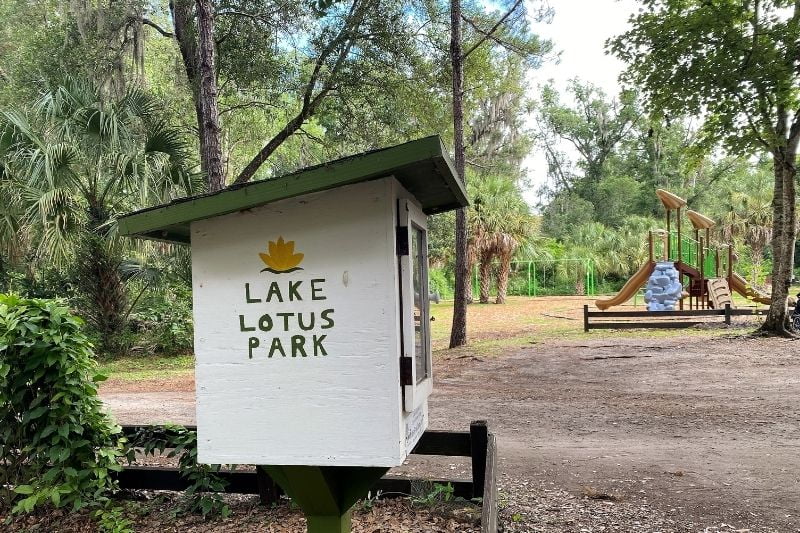 Moisture-wicking clothing is a good idea to help with the humidity, and if it rains. The boardwalk interconnects, but there are multiple ways it splits off taking you further into the woods and closer to Lake Lotus.
It's a good idea to grab a map located inside a box just outside of the restrooms. In fact, if you arrive early enough to snag a parking spot inside the park itself, you'll be right near the restrooms. There is only one restroom pavilion in Lake Lotus Park so it's a good idea to start here and grab a map before heading further into the park.
Lake Lotus Park Boardwalk
The highlight of Lake Lotus Park is the boardwalk. Get closer to nature and to each other on this comfortable hike. Pack a refillable water bottle (fill it up before you leave the house) and dress for the great outdoors.
The 1 mile trail, which winds its way past Lake Lotus and under towering cypress trees, is primarily made up of wooden boardwalks and footpaths. It can be a little rustic in certain spots so make sure you've got sturdy walking shoes. Along the way, you'll see lots of birdlife, maybe even a gator or two.
One section of the boardwalk leads further into the woods and eventually loops around to the lake itself. Another section leads to the fishing pier.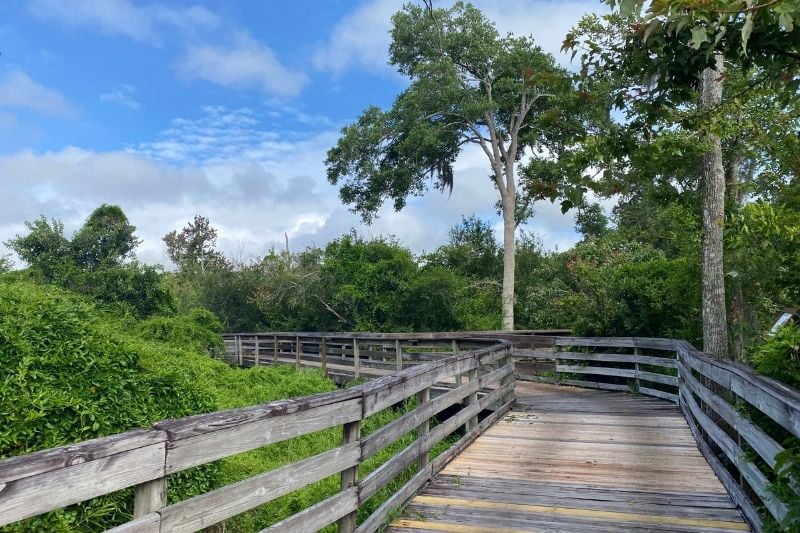 No matter which way you take, you'll come to the lake at the end of the boardwalk. Be sure to step into the Window on the Lake Pavilion, which showcases the area's flora and fauna all while sitting on the lake in a fully enclosed pavilion with shades and ceiling fans.
Even if it is raining, the Window on the Lake pavilion is a great reason to visit Lake Lotus Park. Since the pavilion is fully enclosed you'll be protected from the elements, though your walk to and from will be subject to whatever Mother Nature decides to do at that moment.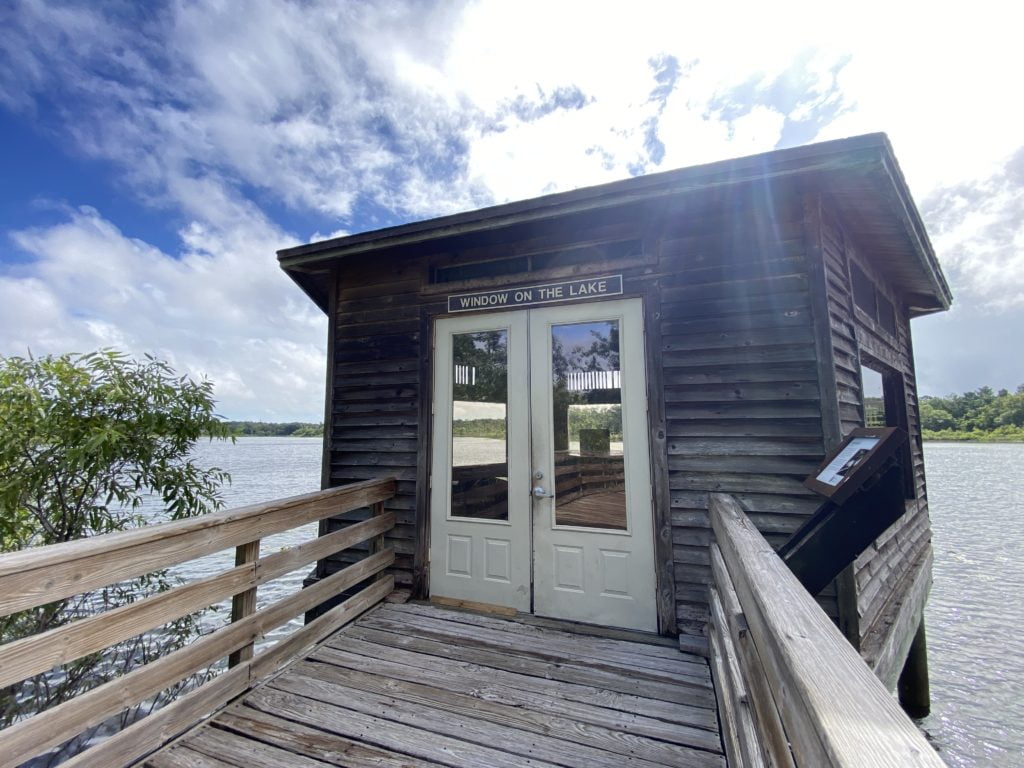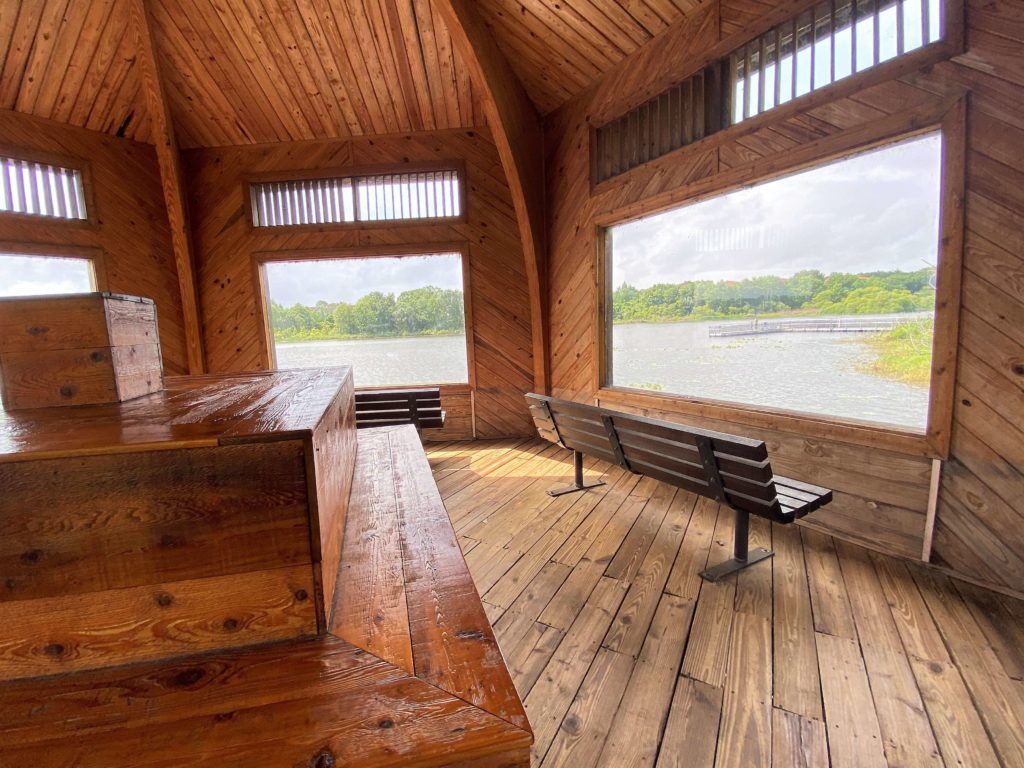 Don't overlook the playgrounds and gardens
Whether you're able to park onsite near the playgrounds and restrooms, or park just around the corner offsite and use the provided trolley, don't miss the playgrounds and gardens. Located at the center of the park, there are two playgrounds that are great for kids. My four year old had a great time at the original playground in the shade, near the restrooms. And a newer playground is just around the bend that is great for school-age kids.
This newer playground is near the main picnic pavilion which can be rented out by the day or half day, and is open to everyone if it is not reserved. There are charcoal grills so it is easy to make a family outing at this beautiful park.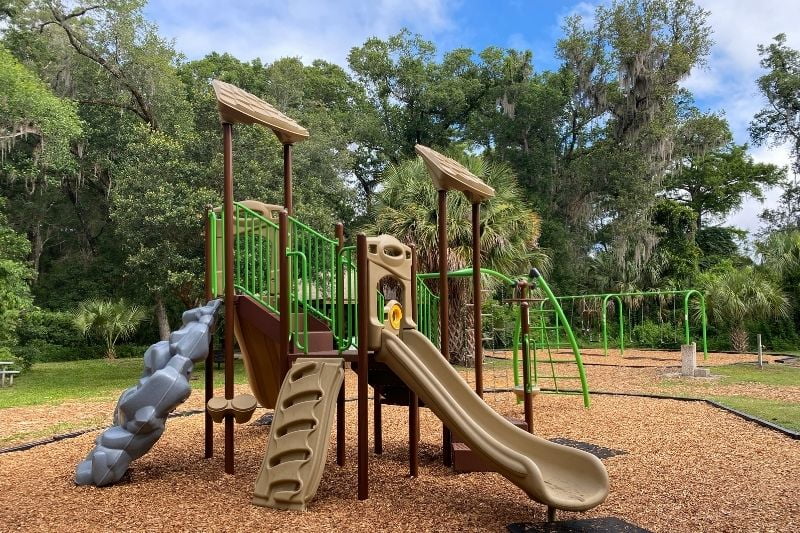 In the spring, the Butterfly Garden near the onsite parking area is a lovely treat. The garden is small, but it is packed with plants that butterflies love. Most guests overlook this garden, so impress your date and spend a few moments at the charming spot.
Rules and Information
While alcohol is prohibited, you can definitely bring in a cooler or basket with picnic provisions. No glass, though. There are lots of spots along the trail to settle into a bench and enjoy your lunch.
Lake Lotus Park is open Thursday through Sunday 8:30 am to 5:30 pm, and 8:30 am to 7:30 pm during daylight savings time.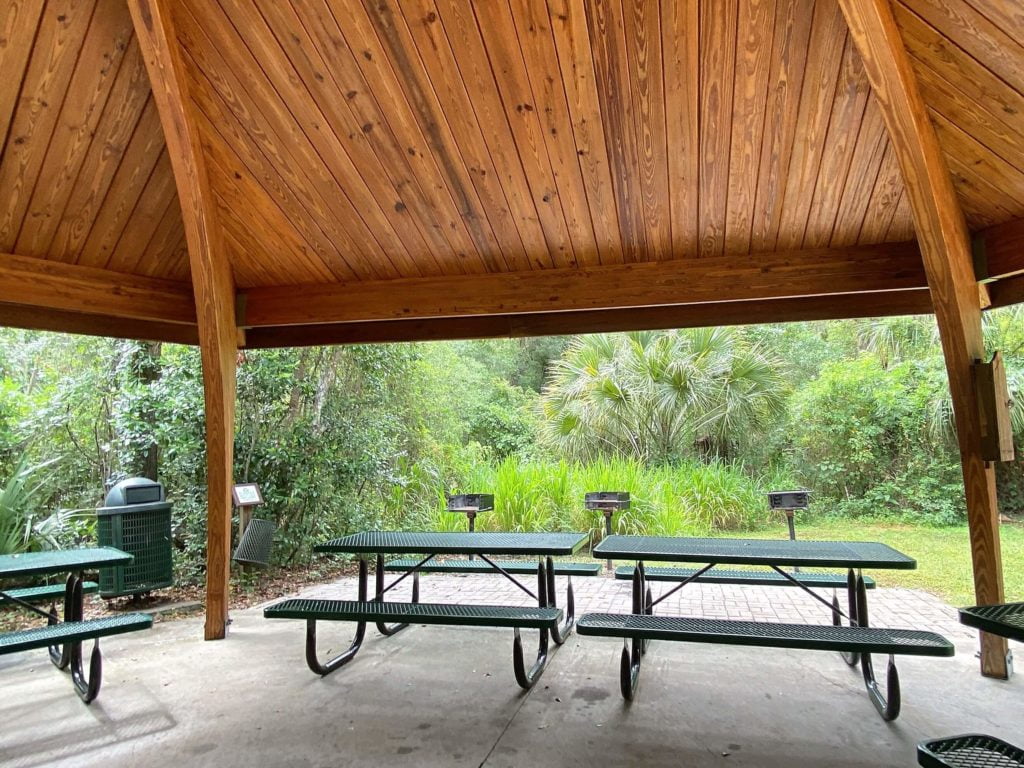 You can drive right in Thursdays and Fridays, but on weekends you'll park on the opposite side of SR 414 (Maitland Blvd) and take the trolley into the park. Trolleys come every ten minutes or so.
On my most recent visit, I arrived at 10am on a Saturday and was able to park onsite right near the playgrounds.
This 150-acre nature preserve is located at 1153 Lake Lotus Park Road in Altamonte Springs, just a few miles west of Interstate 4 on SR 414 (Maitland Blvd). There is one building with onsite public restrooms.
Dogs are not permitted in the park due to the proximity of the lake which can have Florida alligators.
For more information, check out this very helpful website, Florida Hikes, which will offer lots of tips and details about the Lake Lotus hike as well as many others in the area.
Want more outdoor date ideas?
All images by Dani Meyering