Have you heard of the London House? If not, it's likely because it's an ultra-exclusive private social club with membership dues costing as much as $15,000 a year and more. Admission to the swanky spot could only be granted by invitation or through an exclusive membership. Now, London House is opening its doors with a variety of experiences, including an upscale dining experience that is a rare find in the Orlando area. For something unforgettable, this is a hard-to-beat restaurant for a special occasion.
The club recently unveiled Immersion at London House by Chef Rikku. It's a multi-course (we're talking 15 courses) sensory dinner that is truly an epicurean experience. If you're looking to impress your date, it's hard to think of a better experience to do so than this.
And to celebrate a truly special occasion, this is your place! I was recently invited with a girlfriend to take part in Chef Rikku O'Donnchu's masterpiece of an evening.
Editor's note – the writer received this dining experience as part of a hosted / complimentary experience.
Immersion – a spectacular restaurant for a special occasion
Arrival
London House is located on the backside of the Dellagio building in Dr. Phillips. Upon arrival at the valet, I was greeted by employees dressed in British attire, including black top hats and long red coats. A small, yet elegant lobby greeted me once inside. With dark walls, large leather chairs, and regal artwork, luxury exuded from every corner.
Before going any further, the staff at the front desk asked for my ID and presented me with a non-disclosure agreement. I was not allowed to take photos of any members of London House, nor engage with them. But you better believe I was curious as to who the members are. Members are known as Keyholders, and they have full access to London House during the day.
The food and more
If you are an adventurous eater, there is no doubt this dinner experience is for you. I ate foods I never thought I would ever try – Egyptian goose being one of them. Michelin-star experienced and internationally acclaimed Chef Rikku has created a menu filled with thought-provoking experiences for the mind and palate. His background spans the molecular and gastronomic to the modernist and you can tell in his one-of-a-kind creations.
Each course is almost like a chapter in a novel that will leave you mesmerized for days. The "Book of Truffles" course is presented in an actual book. When I opened my book I found a beautifully displayed truffle and cheese-filled choux, black miso custard and truffle tart. The "Open a Can of Worms" course was exactly as it sounded, a can of mealworm, gochujang emulsion, blood sausage, shimeji mushrooms, and carrot tops. Truly adventurous!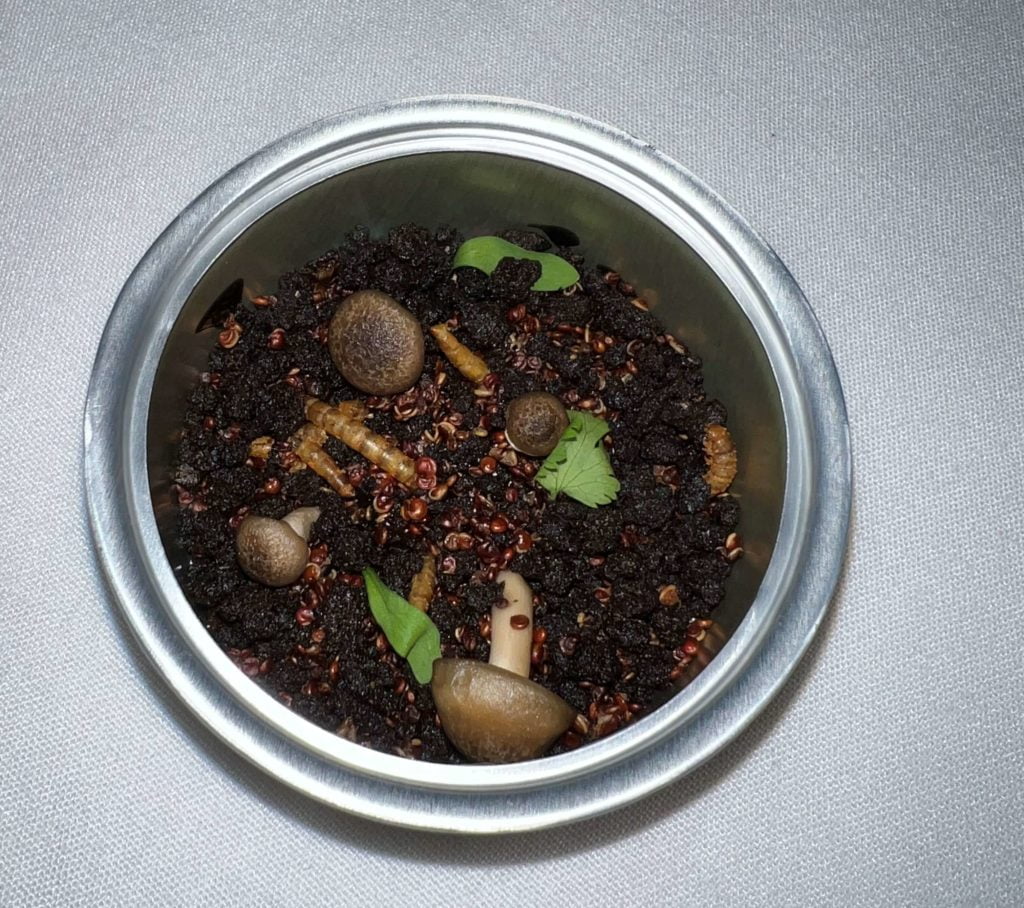 I don't want to give away all the details of the dinner, so I'll stop there, but know each course is a delight for all of your senses. With each dish the music changes, the lighting is adjusted, the smells are enhanced, and the flavors are bursting. It is hard to imagine a better restaurant for a special occasion.
Yes, there are an enormous amount of courses, but some are just a few bites. You will go home full, but not uncomfortably stuffed. It is all an experience you truly have never encountered before.
Dishes and ingredients change monthly, but you can bet it will always include items you can't easily find, whether that be smoked wagyu fat, foie gras, or Kaluga caviar.
Food allergies and sensitivities
One of my first thoughts was, how is my girlfriend who must eat gluten-free eat here? Or my other friend who has a dairy allergy? Or my neighbor who is vegetarian? This Immersion dinner is something everyone needs to experience no matter their dietary restrictions, and thankfully Chef Rikku understands that. With a minimum of 48 hours notice, the chef is able to accommodate all of those restrictions. He is also able to use plant-based products to recreate as near to the original dish as possible.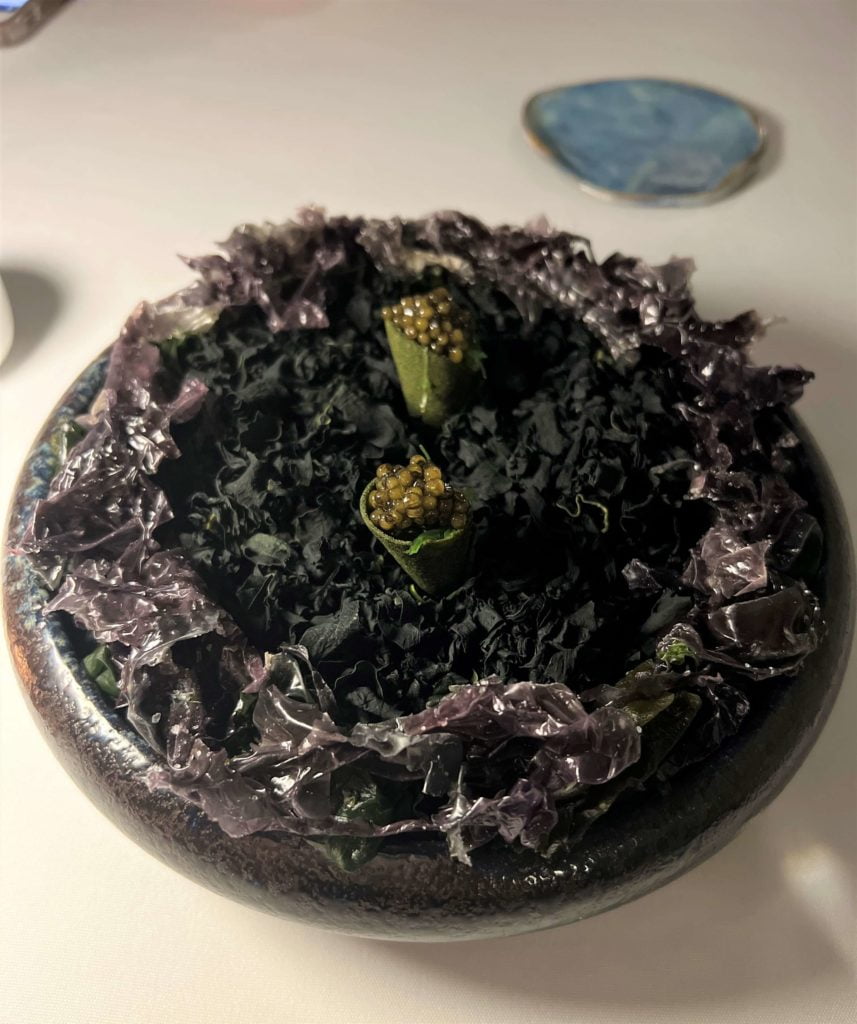 The setting
This is an intimate dining experience that can only accommodate 22 people per evening. There are two, small private dining areas, where the Immersion dinners are held.
Each room feels as if you are dining in private room of an English estate, more than just a restaurant for a special occasion. Take time to look around and notice the unique décor, including books, artwork and unusual trinkets, some of them will play a part in your dining experience.
The staff is top-notch and at your side before you even need something. For example, I was looking for a place to set my purse and all of a sudden a purse stand was brought to me. My water glass never got below the halfway mark, and you best believe the wine was plentiful. Each course was accompanied by a different glass of wine that came with a server giving a detailed description and how it complimented the food.
Allow about three hours for the experience, which seems like a long time, but I promise the evening flows so well the time will fly by.
Related: Orlando's Most Romantic Restaurants
The bathrooms
Bathrooms are not part of normal date night conversation, but these deserve their own category because they are that amazing! There are six individual bathrooms, all themed differently, located off the lobby, and they all must be seen. My favorite is a toss-up between the bright white one with designer shoes and handbags on display and the throne one that sounds exactly like its name. The toilet is a massive thrown.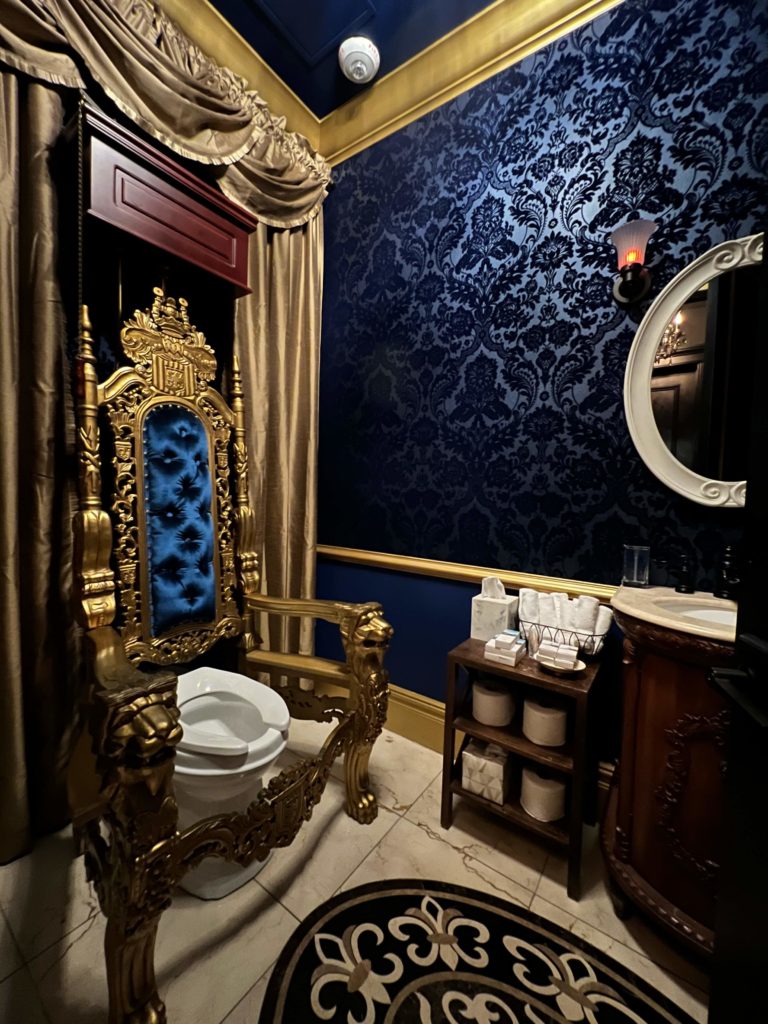 The cost
An evening like this comes with a bit of a price tag. It's $345 per person and that does not include drinks. If you want to elevate your experience you can sit at the chef's table located in a private room overlooking the kitchen. That will cost you $495, again not including drinks. The experience is offered Wednesdays through Saturdays beginning with a 7:30 p.m. seating. Reservations can be made at OpenTable.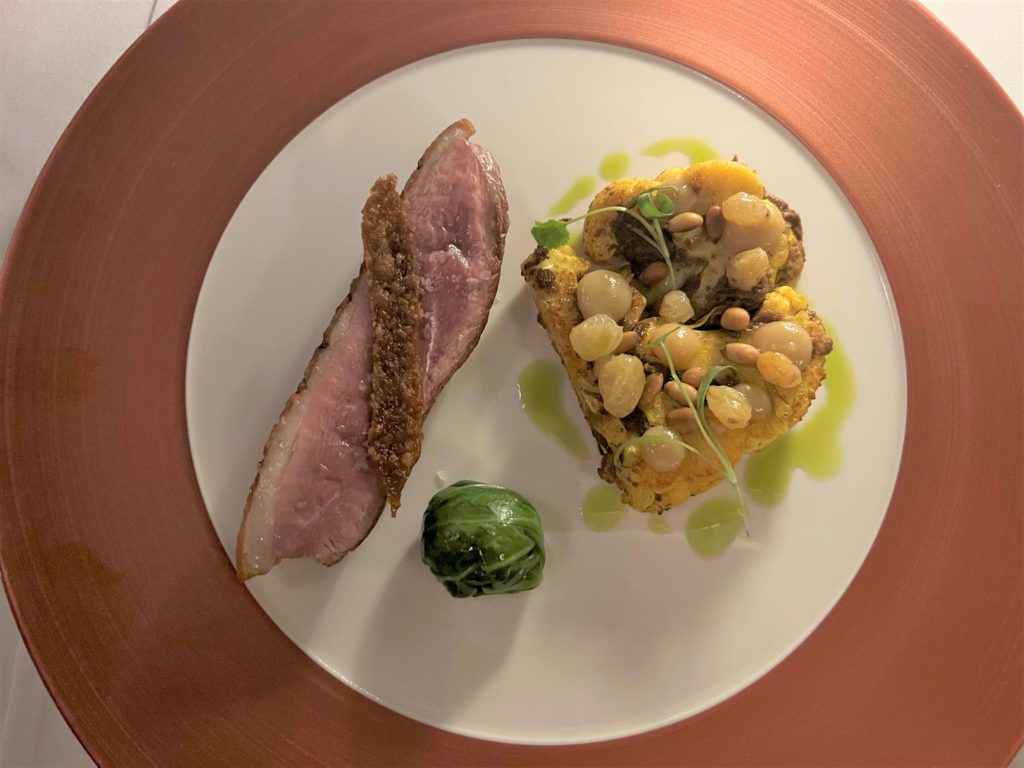 Related: Private Dining Rooms in Orlando
Dress
Dining at Immersion London House exudes elegance you'll want to match. The ladies in attendance wore dresses, not ball gowns but not t-shirt dresses, while the men wore slacks with button-down shirts, some in sports coats. You can view more about the dress code on Immersion's website.
A la carte dining now available
If the full Immersion experience doesn't fit what you're searching for, then you'll be pleased to hear this news. London House restaurant will be fully open to all for dinner reservations beginning May 20, 2022! It will be open Tuesday – Saturday. With British and European-inspired cuisine, it will make for a great restaurant for a special occasion. Reservations and more info.
Cocktail Lounge at London House
If you'd rather have drinks and nibbles while still in the lap of luxury, London House has a cocktail lounge. Simply known as the Cocktail Lounge, this spectacular space is modeled after London's revered social space known as "The Ivy." During the day it is only open to London House Keyholders, but at night you are welcome to come enjoy some delicious craft cocktails. On Saturday nights the energy heats up with a live DJ and VIP table opportunities.