Walt Disney World's Disney Springs offers the perfect setting for a movie date with all of its many dining options, experiences, including AMC DINE-IN Disney Springs 24. This AMC theater in Lake Buena Vista is located in the middle of the Disney Springs magic and is a great starting point for a date to remember. They offer several types of theaters and amenities within this movie house. In this blog post, I'll go over all you need to know to have the best experience possible.
Parking and Getting to AMC DINE-IN Disney Springs
Self-parking is always free at Disney Springs. I recommend you park in the Orange Garage on the second level. There are two entrances to the Orange Garage, one will have you enter on the first level, and one will have you enter on the third level.
Follow the signs to the second level. Why the second level? This is where the security checkpoint is as well as the escalators that take you into Disney Springs and the only level with access to Disney Springs. If the surface lot is open near the Cirque Du Soleil theater you can park there as it's a relatively short walk to the AMC theaters from there.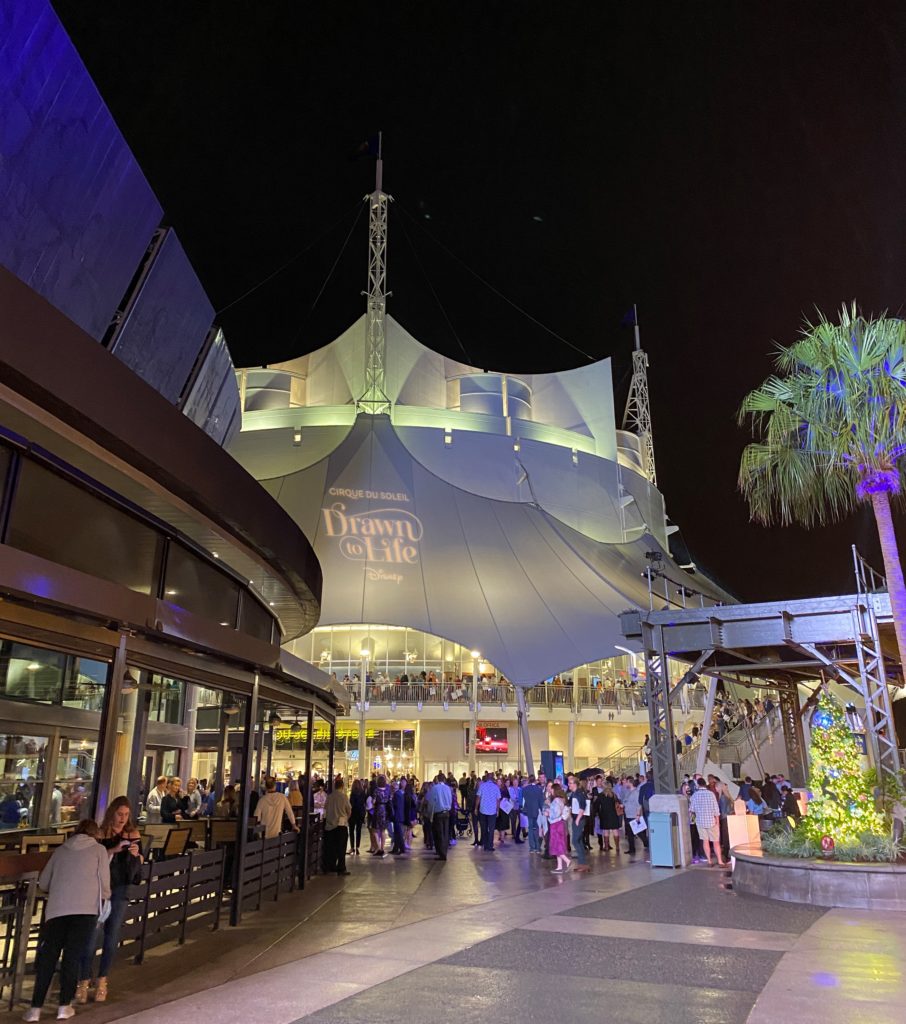 If you have pre-purchased your movie tickets through a mobile app, I recommend arriving at Disney Springs about 30 minutes before the start of your movie to allow you to find a parking spot and make your way to the theater. If you plan to purchase your ticket at the box office, be prepared for a line – when I visited in April 2022 I noticed a line to purchase a ticket due to the theater seemingly being short-staffed.
After you park and go through security in Orange Garage you will enter Disney Springs from an escalator and the AMC DINE-IN theater will be immediately to your left. It used to be that this East Entrance to the theater was for the dine-in theaters only, but that has now changed and people seeing a movie at any type of theater can enter through this entrance.
Related: Disney Springs Food: 10 Snacks You MUST Try
Seating and Pricing at AMC DINE-IN Disney Springs 
There are different types of seating options in the twenty-four theaters housed in AMC DINE-IN Disney Springs 24. There is the Dolby Cinema theater which features recliners, Dine-In Delivery to theaters featuring heated love-seat style recliners, as well as traditional theaters without recliners. All seats in all theaters at AMC DINE-IN Disney Springs 24 are now reserved seating – you choose your seats at the time of ticket purchase.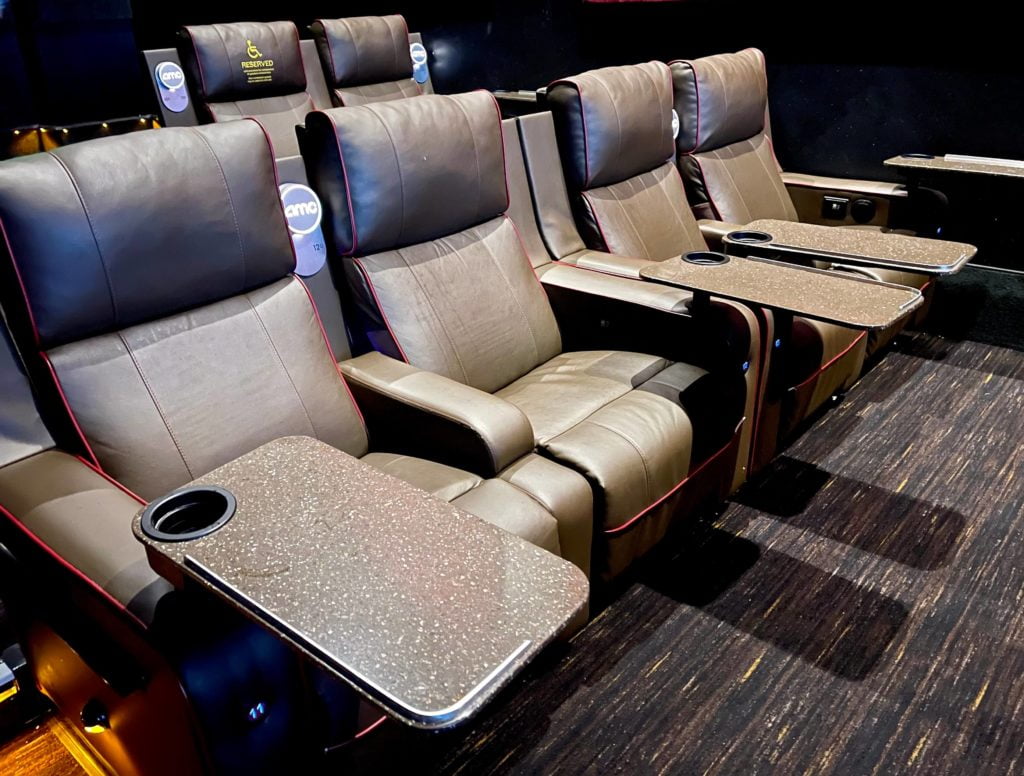 Ticket prices are probably less than you might think for this theater being at Disney Springs. When you see a movie before 4pm you will receive up to 30% off the ticket price which makes the Dine-In Delivery to Seat recliner $10.69 per person, standard seats $9.29, and Dolby Cinema theater recliner seats $14.79. Ticket prices and discounted tickets are always subject to change.
Eating and Drinking at AMC Disney Springs
The concession stand on the West side of the theater offers your traditional movie theater concessions including popcorn, hot dogs, nachos, etc. Grab your favorite snack and take it to your seat! You can now also mobile order your concessions through the AMC app. When you arrive at the theater head to the Express Pick-Up kiosk near concessions.
On the East side of the theater where all of the Dine-In Delivery to Seat theaters are located there is a counter where you can order from a full menu of appetizers, entrees, and desserts. In order to place an order at this counter, you must be seeing a movie in one of the Dine-In theaters. At this same counter, you can also order traditional concessions such as popcorn – whether you order a full meal or popcorn, anything purchased at this counter will be delivered to your seat. Also on the East side of the theater is MacGuffins Bar which offers a full bar with an adequate variety of alcohol, so you and your date are sure to find the cocktails of your choice to quench your thirst.
It is important to note that the Dine-In theaters no longer have servers taking your order at your seat, you must order your food at the Eastside counter.
On both the West side and East side of the theater, there are full bars to order adult beverages. Whether you'd like wine, beer, or a cocktail – they have something for everyone.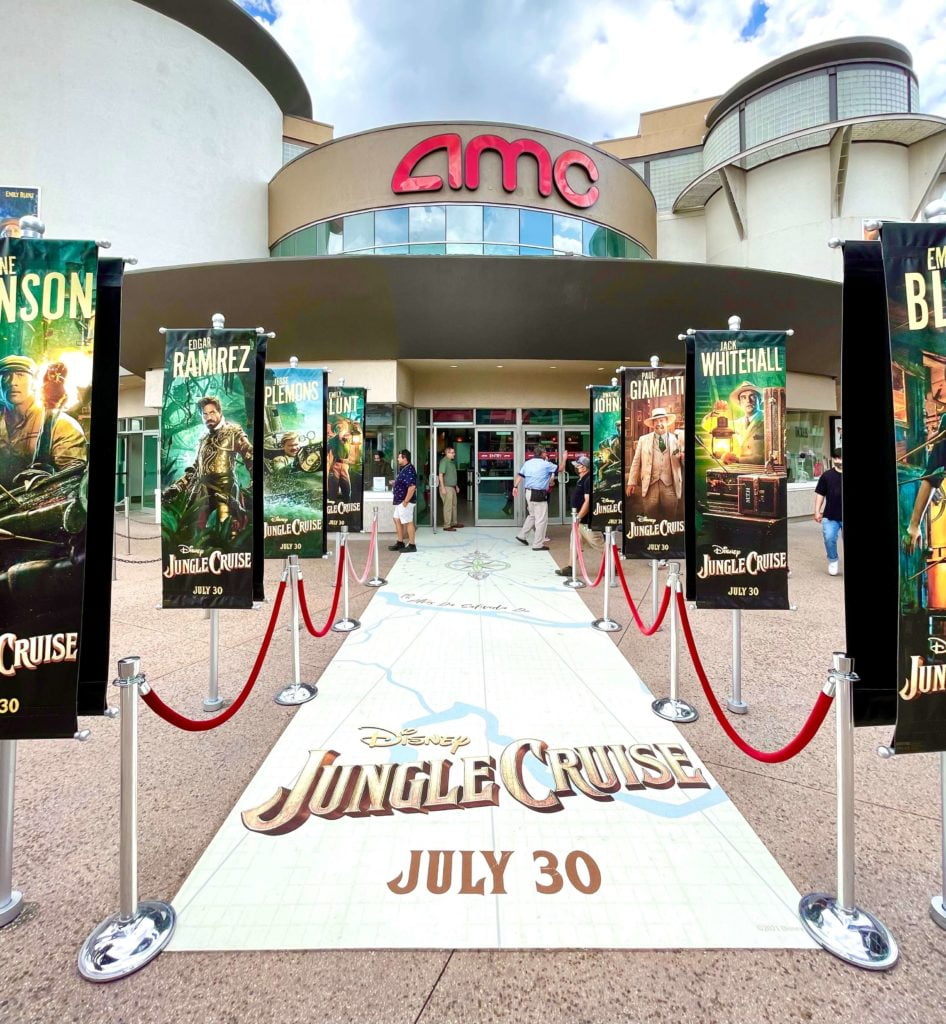 If you're planning to partake in food and drinks before your movie, make sure to build in enough time prior to your showtime so you don't feel rushed or miss your movie.
Dining at Disney Springs Before or After a Movie 
What's a date without a meal or sweet treat before or after your movie? At Disney Springs there are tons of outside food options to start or extend your movie date. I'm going to focus on the restaurants in close proximity to the AMC DINE-IN Disney Springs 24.
Related: Our Favorite Places for Happy Hour at Disney Springs
Jaleo – Grab a reservation or take a seat at the bar at this gorgeous Spanish restaurant featuring a full menu of tapas. This is a great date night spot as the surroundings are beautiful whether you choose to sit inside or have a seat on the patio with water views. I recommend ordering a few tapas and a pitcher of sangria.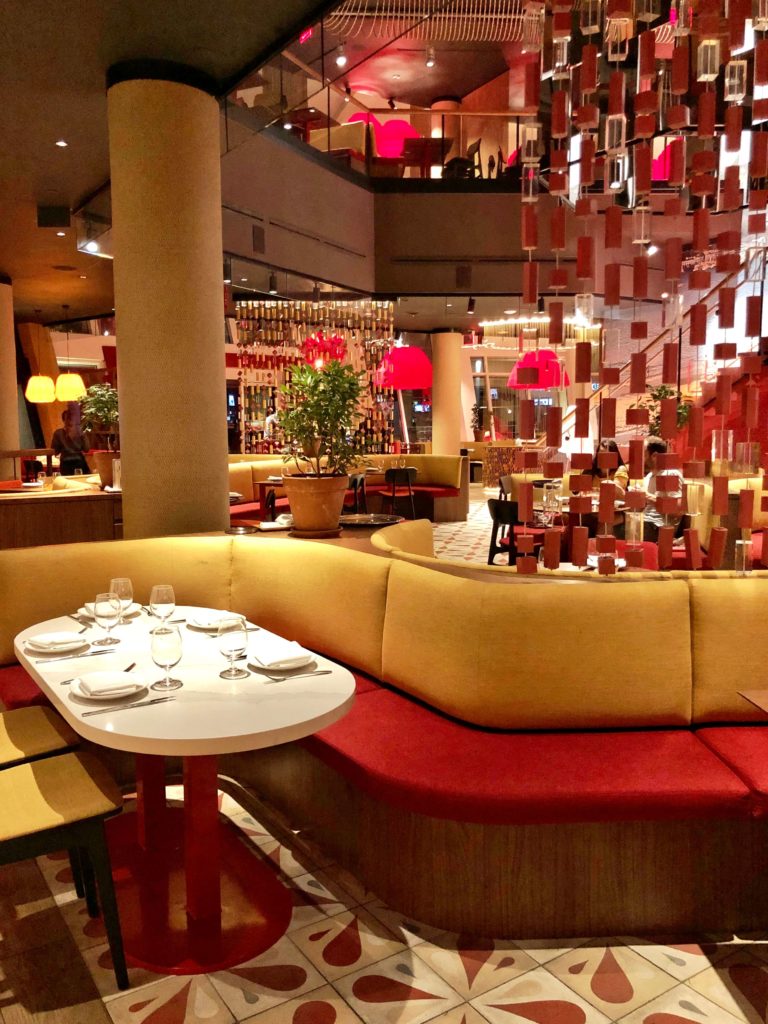 Salt & Straw – This famous ice cream shop just opened in Disney Springs in April 2022. Salt & Straw was founded in Portland, Oregon, and has made a name for itself with its unique flavors such as pear and blue cheese, olive oil, and almond brittle, and salted ganache. Flavors often rotate and all main ingredients are locally sourced.
City Works Eatery & Pour House – This beer bar offers 90 local and global crafts on draft and American fare in a casual environment. They serve brunch Saturdays and Sundays until 3 pm. Monday through Fridays they have a happy hour which features $2 drafts and half off bar bites. 
Related: Where to Grab a Beer at Walt Disney World
House of Blues Restaurant & Bar – House of Blue is a popular live entertainment venue, but did you know they also have a restaurant? They serve up Southern dishes such as po'boys and jambalaya, but I highly recommend the fried chicken! As with all Disney Springs restaurants I recommend a reservation but there is also bar seating available too.
Everglazed Donuts & Cold Brew – This donut shop is known for their over the top and huge donuts. It doesn't stop at just donuts. They also serve up hamburgers and sandwiches – all of which you can order to be served on a griddled glazed donut. Everglazed is a lot of fun and perfect for a casual date.
Looking for more Disney date ideas?
All images by Brian Kirkwood (@briantreks) unless otherwise noted