It's time to head to the Universal Orlando Wizarding World of Harry Potter for some drinks! No pub crawl would be complete without some specialty beverages and snacks. Whether you want Butterbeer in all its forms, or to try some of the specialty beers exclusive to the "Harry Potter World," your tastebuds will be spellbound.
Plan the perfect Harry Potter Pub Crawl with our itinerary. We've included our favorite Harry Potter World drinks and snacks, with tips on how to avoid long lines.
Very important info – Universal Orlando has a very strict policy of one drink per I.D. An adult of age with proper I.D. must be present per drink before each drink will be served. Universal is very strict on this policy and all servers will need to see each person who is ordering an alcoholic beverage.
Additional note – Our itinerary includes stops at both Universal Orlando theme parks, to visit both Harry Potter lands. You will need valid theme park admission that includes both parks if you wish to visit both lands. If you do not, you can focus on the snacks and drinks we mention in whichever park you're visiting.
Written by Dani Meyering and Beth Bell
Start with Hogsmeade Village at Islands of Adventure
Kick off your Harry Potter World Pub Crawl at Hogsmeade Village. This is the first Harry Potter land to open at Universal Orlando, and it is located nearly in the middle of Islands of Adventure.
The reason we suggest starting with Hogsmeade Village is that it is smaller than Diagon Alley, and often feels very crowded at the peak of the day. There is also not as much shade here so it gets pretty hot in the summer afternoons, despite the snow-covered rooftops.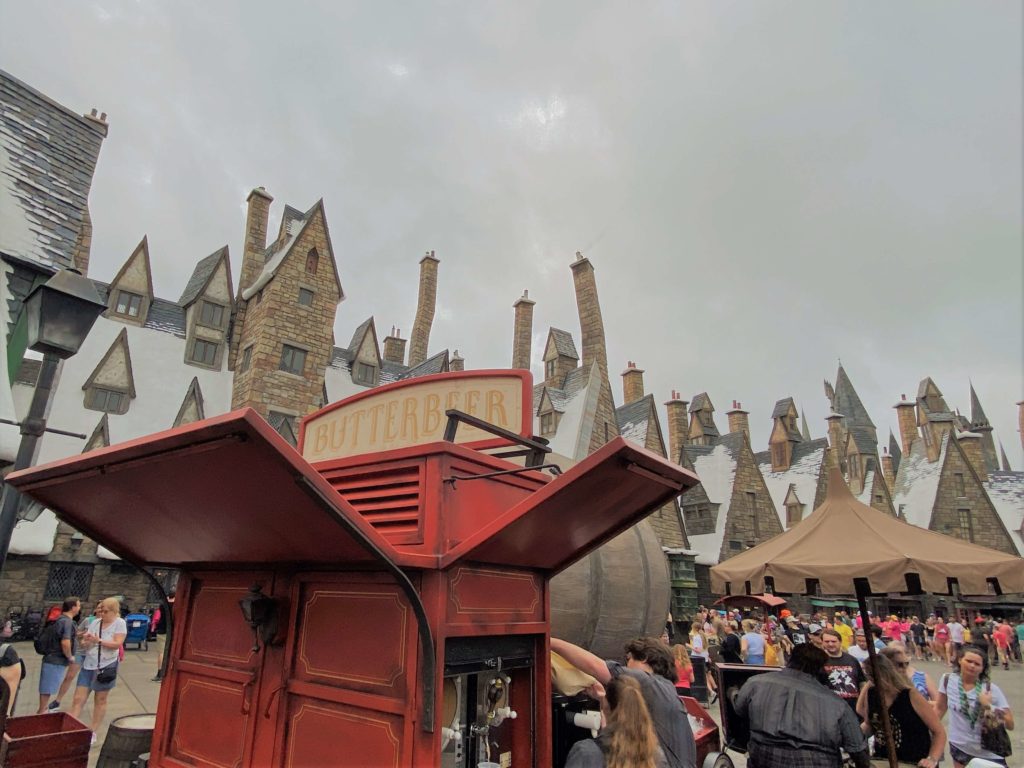 Stop 1 – Three Broomsticks
Drinks we ordered: Pear Cider, Frozen Butterbeer, Pumpkin Fizz, and Hog's Head Beer
Snacks we ordered: Corn on the Cob and Kids Sized Fish and Chips
Total for four adults: $47
Step inside one of the most iconic places within "Harry Potter World." From the books to the movies, Three Broomsticks served as a place for important meetings and gatherings. And right here at Islands of Adventure, you get to set foot inside. The decor and details are enthralling. Keep your eyes and ears open the entire time you're here. We suggest starting at Three Broomsticks because it gets absolutely packed with people from around 11:30am – 1:30pm. We arrived here just before 11:00am. An order of mostly non-alcoholic drinks and some snacks gave us a nice foundation before really diving into the pub crawl.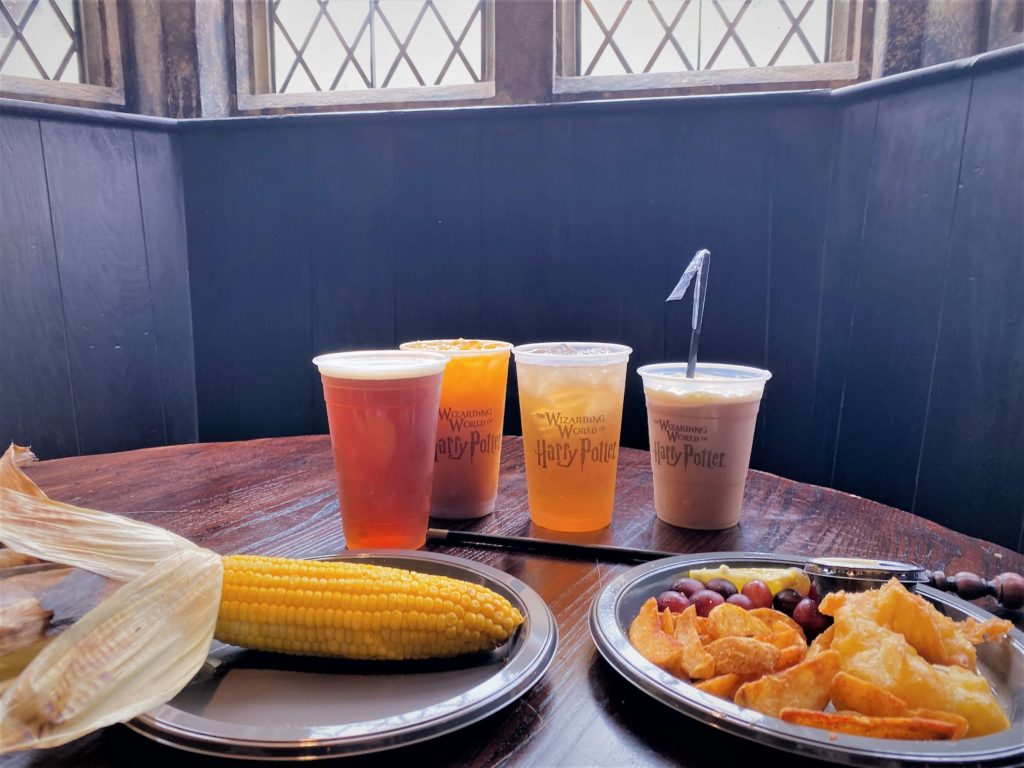 Pear Cider: sweet, crisp, and satisfying, like a cool, perfectly sweet apple cider…but with juicy pear instead. I really liked this one and think it would be super light and refreshing on a hot summer day. It's a great alternative to Butterbeer when you don't want to be weighed down by all that thick, heavy (delicious) cream topping. – Beth
Frozen Butterbeer: What more can I say? It's a classic. Love the whipped topping, as always, though I'm the weirdo who prefers Butterbeer "on tap" (the soda version). Perfect for pairing with pub fare or enjoying on a hot day. – Beth
Pumpkin Fizz: Get those Fall flavors without overdoing it. The Pumpkin Fizz is one of my favorite "secret" Harry Potter drinks. It often gets overshadowed by Butterbeer, but the Pumpkin Fizz is only available at select locations because it combines the Pumpkin Juice that is sold throughout the Harry Potter lands, with soda water. This helps lighten the flavor, making it a refreshing drink on hot days. – Dani
Hog's Head Brew: This is one of the exclusive Harry Potter beers. It is one of my favorites and I could not resist taking a few sips even though it was my husband's order. It is malty and rich, but not heavy. A perfect balance. – Dani
Related: Best Restaurants at Universal Orlando for Date Night
Stop 2 – Hog's Head Pub
Drinks we ordered: Strongbow Cider with Fire Whisky, Long Island Iced Tea (unofficially called a Hog's Tea), "The Triple" layered beer, and Hog's Head Beer
Total for four adults: $55, not including tip
So many guests overlook this dark and dank pub. And yet, you'll often find a line here. It is actually attached to Three Broomsticks and you can access Hog's Head Pub from within the dining room, or its own entrance. The bartenders here are so hardworking so be sure to throw a little extra magic their way. You can order specialty beers, all varieties of Butterbeer, mixed drinks, and non-alcoholic drinks here too.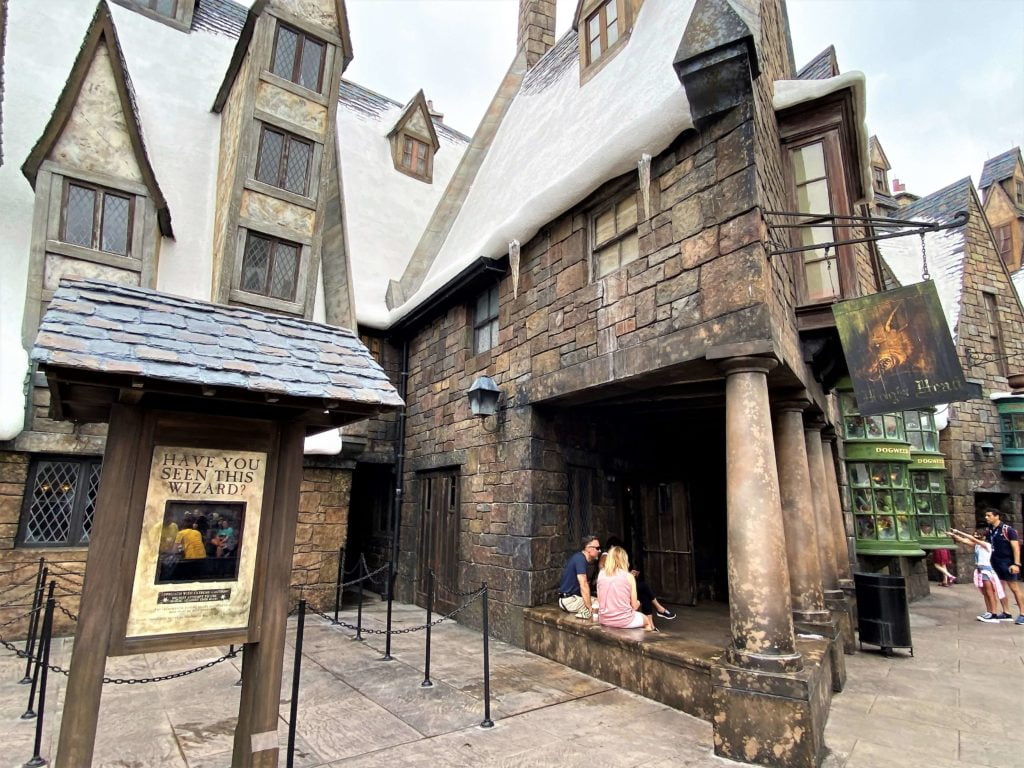 Long Island Iced Tea (or Hog's Tea): I am not a fan of traditional Long Island Iced Teas, but this Harry Potter cocktail and I have a long relationship. The beauty of this drink is that it is mixed with your choice of actual iced tea (sweet, unsweet, or raspberry) rather than Coke or Pepsi like most bars use. Raspberry is the traditional mix, and my preference. With a blend of three spirits, this is a strong one that'll put you under its spell – Dani
The Triple layered beer (formerly known as Deathly Hallows): Any good pub will offer some pub blends, a layering of two or more beers, and Hog's Head is no exception. The Triple used to be called the Deathly Hallows by fans, but due to licensing or something like that, it is not officially allowed to be called such. It is an enchanted layering of Strongbow Cider, followed by amber Hog's Head Brew, and topped with dark Guinness Stout. My husband loved its uniqueness. – Dani
Strongbow Cider with Fire Whisky: yummm. As a novice beer drinker, Strongbow is my go-to cider when I'm not sure where to start. I love the crisp apple flavor, and the sweet cinnamon Fire Whisky complemented this really well. The Fire Whisky is exclusive to "Harry Potter World" and it is not as hard as Fireball. Plus, the added shot was a great way to get more booze for a relatively small fee. ($14.00 total) – Beth
Hog's Head Brew: My husband normally goes for dark beers, but was lured in by the idea of an exclusive brew made just for the Hog's Head and Three Broomsticks. This one is supposed to taste like Killian's Irish Red (my father in law's to-go drink), making this a nice accessible option for people who aren't sure what to order. – Beth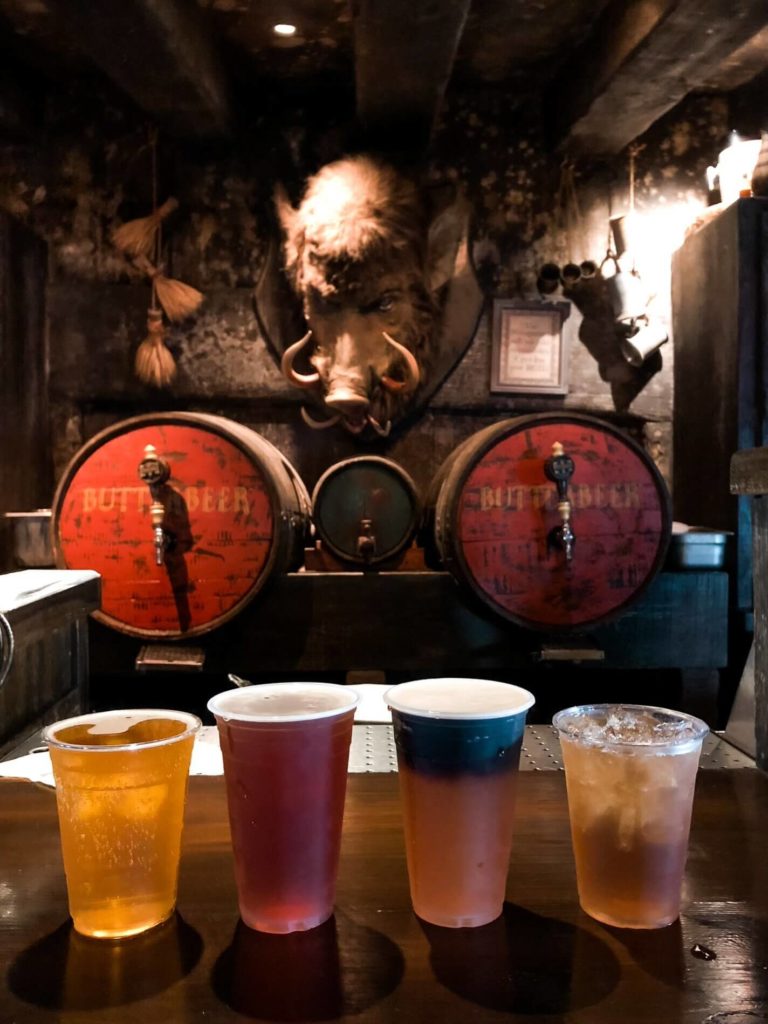 Important note: From here we headed to the Hogsmeade Station for the Hogwarts Express train. You can bring drinks onto the train and enjoy them on the ride! Merlins beard, how cool is that?! The line is usually not as long when you go from Hogsmeade to Diagon Alley, compared to the other way around.
Continue at Diagon Alley of Universal Studios Florida
The latest addition to the Wizarding World of Harry Potter is Diagon Alley at Universal Studios Florida. It is much larger than Hogsmeade, but through a variety of design elements can still feel crowded on most days. There are multiple alleyways to explore, so be sure to take some time and really check things out. You'll miss a lot if you just stay on the main path.
Stop 3 – Florean Fortescue's
Snacks we ordered:  Two scoops on a waffle cone (Raspberry Chocolate and Caramel Blondie), Toffee-Apple soft serve waffle cone
Total for two adults: $13.50
After our alcohol-laden round at Hog's Head we opted for a snack before our final round. Florean Fortescue's Ice Cream Parlour is a must-do for even the mildest of Harry Potter fans. The line can sometimes get really long. We visited around 1:00pm on a Saturday and the line was about 10 minutes long.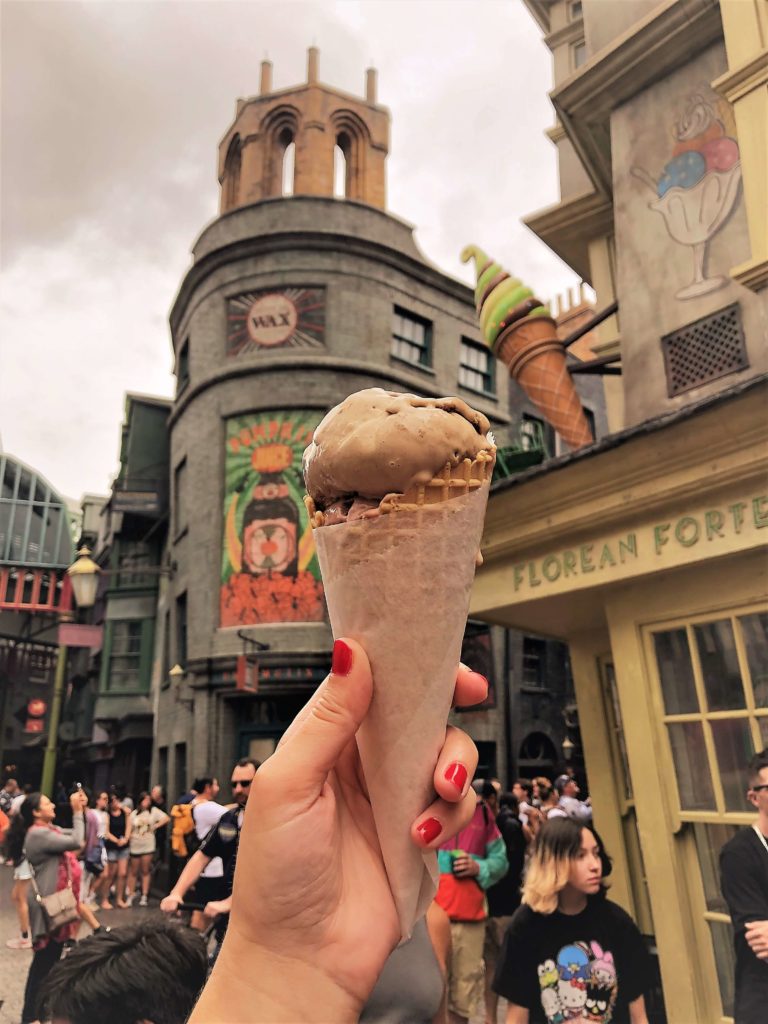 Raspberry Chocolate and Caramel Blondie: We got the waffle cone with Raspberry Chocolate on the bottom, and Salted Caramel Blondie on top. I love trying new things when we snack at the parks, so two scoops at Florean's are perfect for me – one scoop of a favorite and one scoop of something new. The Salted Caramel Blondie has this wonderful brown sugar flavor, with chunks of soft, chewy blondie that is a magical combo. The Raspberry Chocolate was nice and the flavors blended well, rather than some bites tasting only like chocolate or only like raspberry. Other faves here: Cinnamon Apple Crumble or Earl Grey and Lavender. – Beth
Toffee-Apple Soft Serve: There are multiple decisions to be made at Florean's including between scooped ice cream and soft serve. I am partial to the soft serve because it has delicious flavor striping throughout. I also love how it melts into the waffle cone. Toffee-Apple is my go-to because it has a sweet buttery flavor blended with tart sour apple. The Butterbeer Soft Serve Ice Cream is also a popular choice here.
Stop 4 – Fountain Of Fair Fortune
We selected Fountain of Fair Fortune over the other Diagon Alley locations because it is often overlooked. It is tucked in the back corner of the land. Part of that is the location, the other is the menu is limited.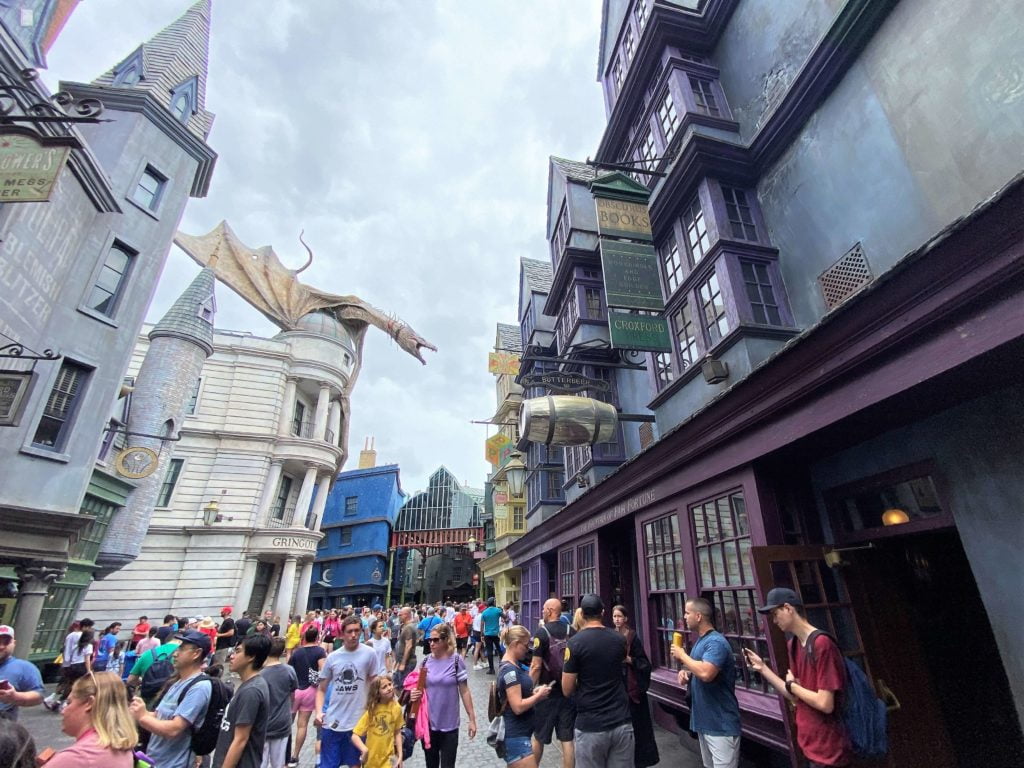 Drinks we ordered: Fishy Green Ale (non-alcoholic), Wizard's Brew, and Dragon Scale Brew
Total for three adults: $30
Wizard's Brew is "a dark, sweet stout with notes of chocolate and coffee." I'm not a big beer drinker, but I definitely tasted the coffee notes in this one when I sneaked a sip. I do love coffee, cold brew, etc. so for me, the coffee notes made the drink more interesting and worth giving it another try. I personally wouldn't call it sweet, and my husband actually called it a "bitter" stout. – Beth
Dragon Scale Brew: I feel a little guilty here because I swayed my husband to order this one, so I could have a few sips. Thankfully, he loved it. I prefer Dragon Scale Brew over the Wizard's Brew because it isn't as dark and sweet. Instead, it has a balanced flavor that is a little malty and nutty. – Dani
Fishy Green Ale (non-alcoholic): described by Universal as "Smooth and creamy with notes of mint and cinnamon and popping blueberry fish eggs." I didn't know the ingredients prior to trying this drink, so here's what I tasted instead: The drink was smooth and a little coconutty, with subtle cinnamon notes. The cinnamon was much more noticeable anytime the popping boba exploded. The fishy green ale turned a swampy grey when stirred. So this is only for those that want some unique, and a little weird. – Beth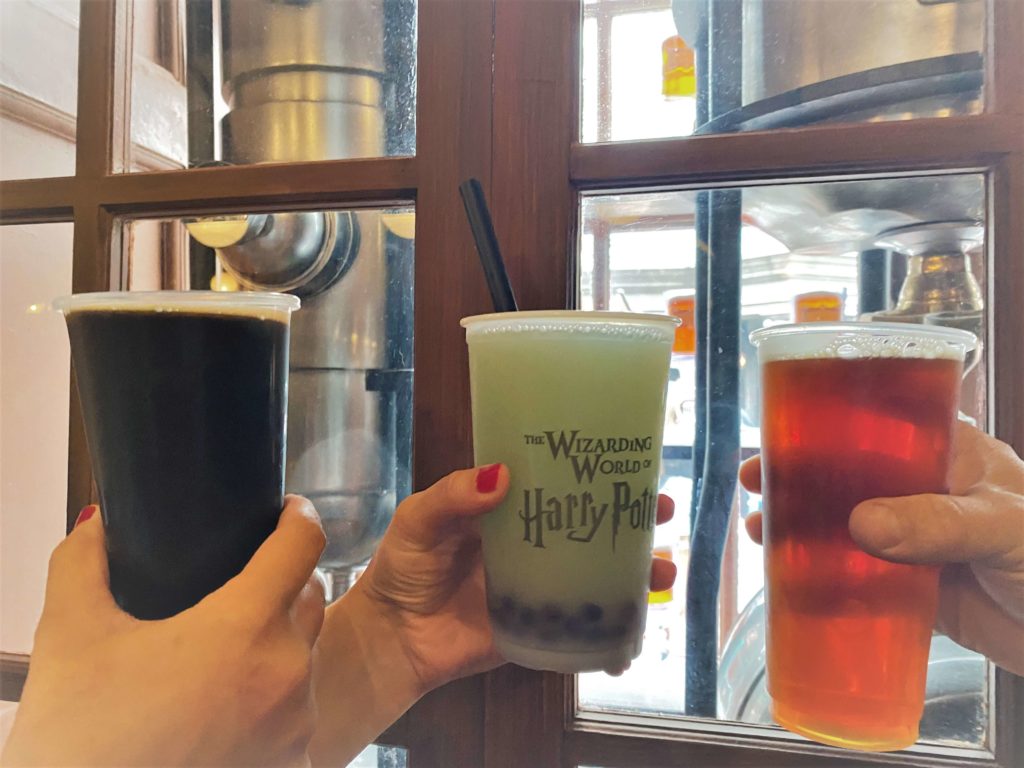 Reminders about Diagon Alley
We skipped The Hopping Pot on this pub crawl, as well as The Leaky Cauldron due to time and the lines. Non-alcoholic drinks, like the Tongue Tying Lemon Squish, are available here which are great on a hot day. Harry Potter-themed beers are served at both locations.
The Leaky Cauldron is Diagon Alley's restaurant which has plenty of hearty food if you need some fuel. The lines do get long here during peak periods. If you need something savory to snack on, The Hopping Pot (a walk-up bar) has Beef Pasties (basically beef turnovers).
Finally, all varieties of Butterbeer are available at The Hopping Pot, Leaky Cauldron, and Fountain of Fair Fortune (with the exception of Hot Butterbeer at the latter).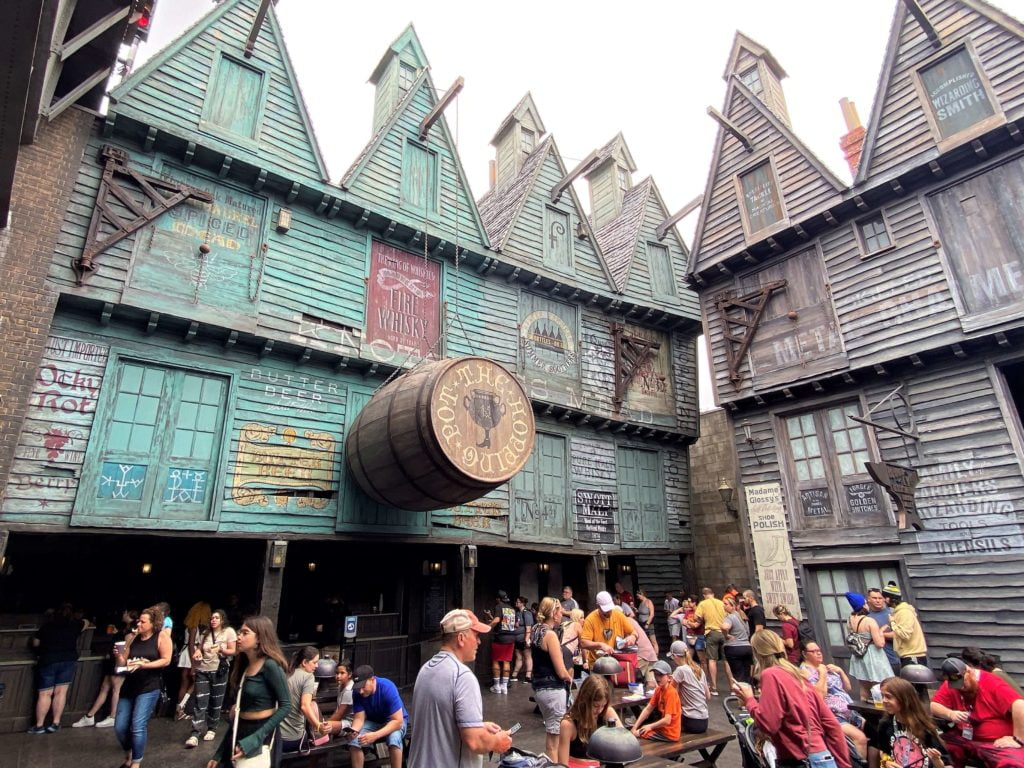 Dress the Part – Harry Potter Merchandise
If you really want to make this an epic Harry Potter pub crawl, consider dressing the part. Have each member of your pub crawl crew wear a shirt or something that represents their Harry Potter house. Or take it all the way and get wands and robes. How much are Harry Potter wands at Universal? Interactive wands are $59, while the few that are not interactive are $55. A reminder that if your interactive wand is damaged, you can bring it to Olivander's (at either park) for complimentary repair.
Harry Potter robes at Universal are pretty pricey, coming in at $139. Adult and youth pricing are the same. You can find less expensive alternatives on a variety of websites, though generally, the quality is less as well.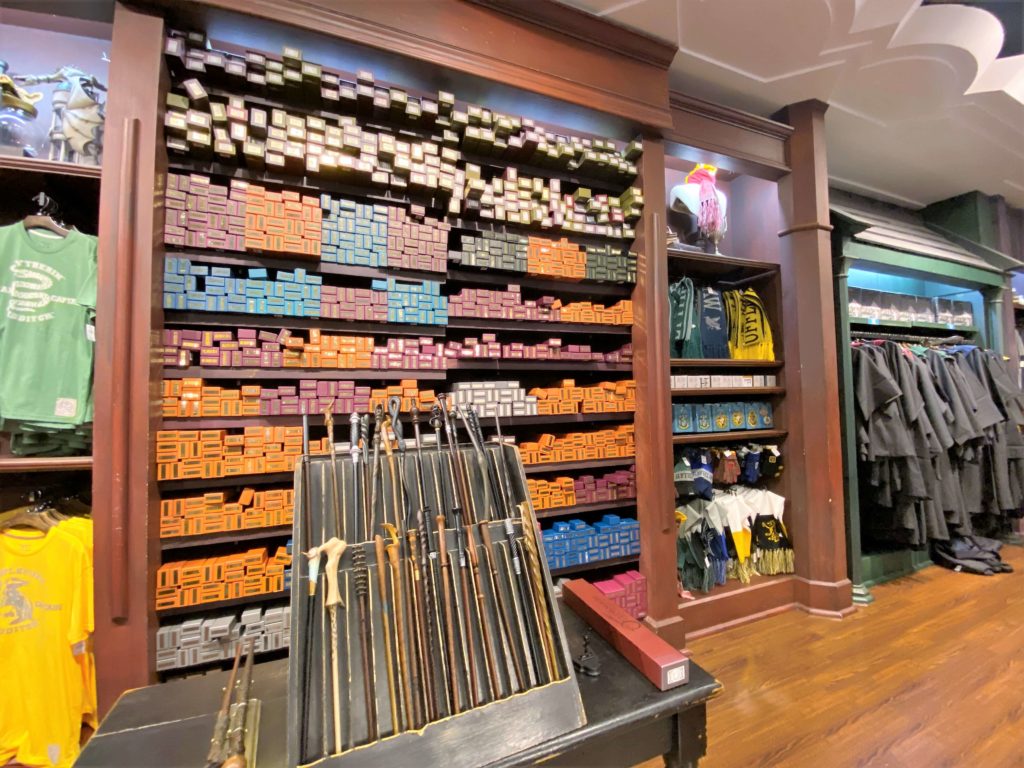 Reminders and Info
Which Universal Park is Best for Harry Potter? If rides are your focus, then Islands of Adventure has more Harry Potter rides. If details, food and drinks, and entertainment matter most, then Universal Studio's Diagon Alley is the better choice. But the best experience is when you do both.
Remember to ask about Annual Pass discounts on food and merchandise
Please hydrate and drink responsibly
Use a rideshare if needed or make it a getaway and book a night at one of the many nearby hotels
Want more pub crawl ideas?
All photos by Dani Meyering and Beth Bell