There is so much fun to be had at Orlando's theme parks right now. Universal Orlando's Mardi Gras, Epcot Flower and Garden Festival, and SeaWorld Orlando's Seven Seas Food Festival are all underway this spring. But which Orlando theme park festival is the best?
While it would be awesome if we could do it all and visit each festival, most of us have to prioritize how to spend our time and money.
To help you choose, we're breaking down each festival, from Epcot's Flower and Garden to Universal's Mardi Gras and SeaWorld's Seven Sea Festival. Find out which Orlando theme park festival is best.
Disney Vs. Universal Vs. SeaWorld – Which festival is best?
Determining the best festival depends on many factors. It would be easy to claim Epcot's Flower and Garden Festival the best because it is Disney, which generally means a higher quality experience, overall. And while Disney's attention to detail and service is hard to beat, we would be remiss to overlook Universal's offerings and SeaWorld Orlando's festivals.
In short, Epcot's Flower and Garden Festival is best for the overall atmosphere and details. No other theme park festival is as detailed, and Epcot has a sophisticated atmosphere overall.
Alternatively, Universal's Mardi Gras has the most exciting, party atmosphere with an incredible parade and big-name concerts.
And SeaWorld's Seven Seas Food Festival is the best overall value, with the most laid back atmosphere and fantastic food selections.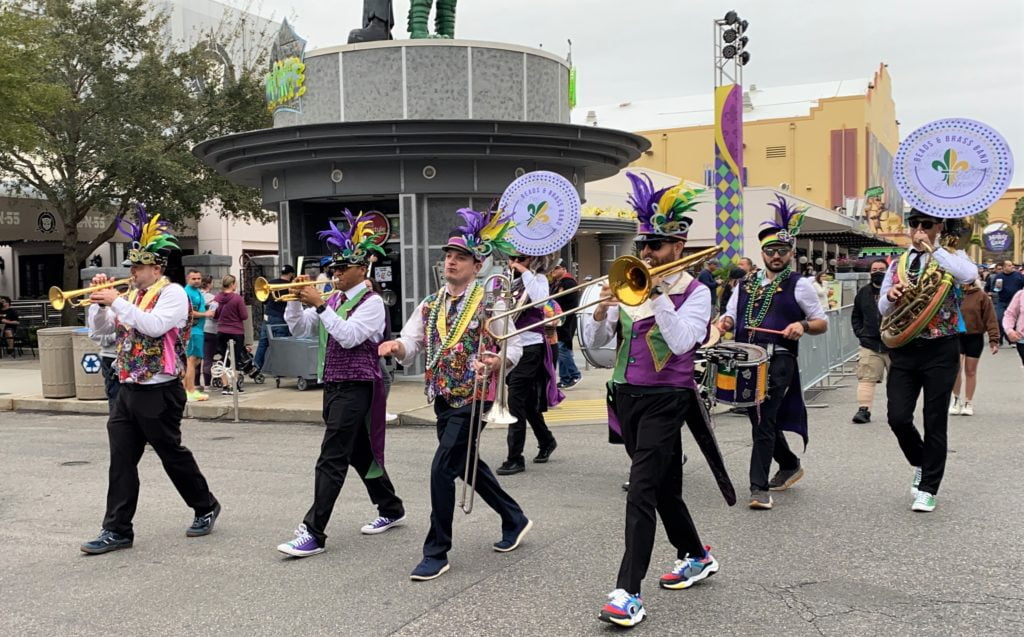 Epcot International Flower And Garden Festival
Daily March 2 – July 4, 2022
Best for: romance and overall quality
Official website
The Epcot Flower and Garden Festival is a celebration of all things spring. Spanning four months through the entire spring season, you'll have plenty of time to celebrate the beautiful blossoms and fresh food. Visiting the Epcot Flower and Garden Festival is the most expensive of Orlando's theme park festivals (unless you don't buy any food or drinks).
You can just enjoy the lovely flowers and enchanting topiaries. And if you are plant parents then you'll surely love the festival marketplaces with fun ways to enhance your garden. If you like music from the past then you may enjoy the Garden Rocks Concert Series. The lineup is full of oldies, but goodies. However, it's worth noting that the lineups at Universal and SeaWorld tend to be more modern and fun.
Universal Orlando Mardi Gras
February 5 – April 24, 2022
Best for: The most adult atmosphere, best parade and concerts
Official website
This is how to party at a theme park! If you're both looking for excitement, Universal's Mardi Gras is the place for you. From Cajun and global flavors to a dazzling nighttime Mardi Gras parade and rockin' concerts, there is a party everywhere you turn.
The parade time can vary and concerts are only on select nights. We've got a full guide to an Epic Date at Universal's Mardi Gras, with a step by step itinerary, schedules, and our picks for the best food and drink.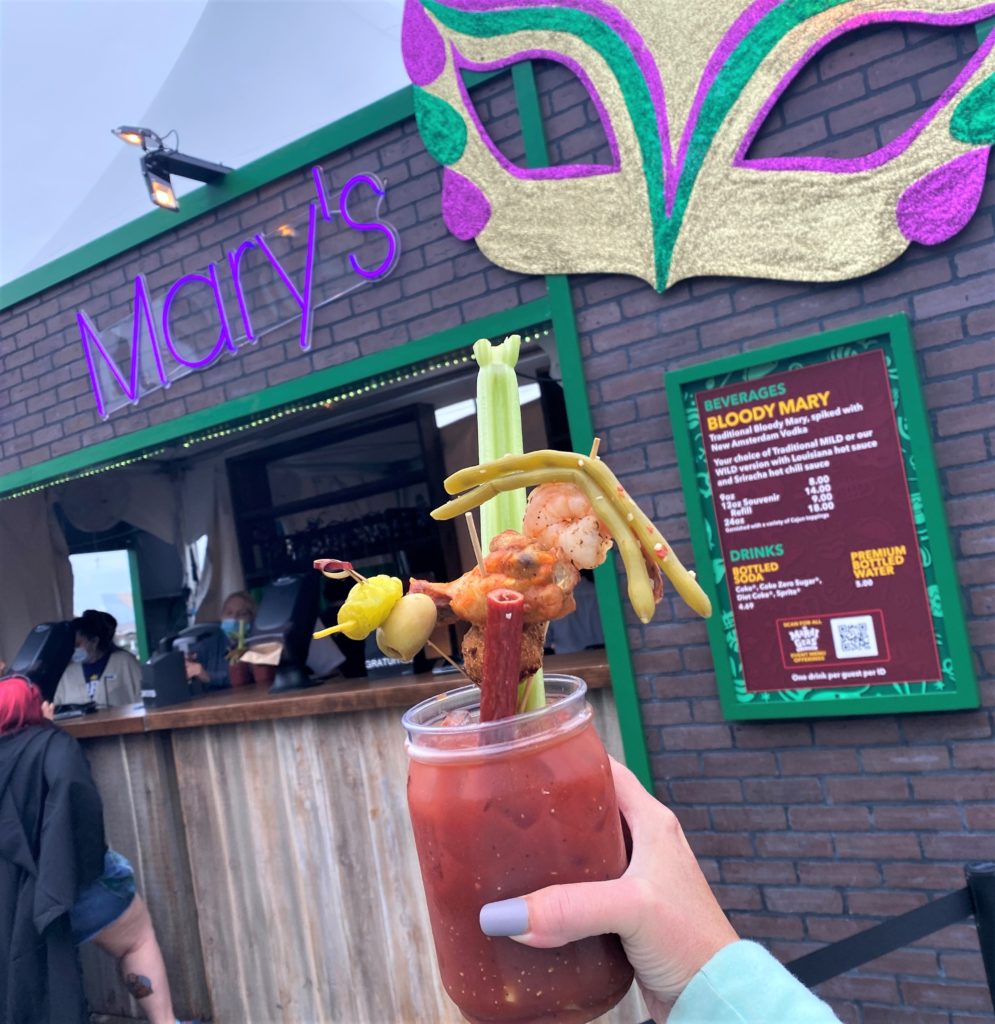 SeaWorld Orlando's Seven Seas Food Festival
Thursdays – Sundays February 5 – May 8, 2022
Best for: The BEST food and drinks, plus Stress-free, easy-going atmosphere
Official website
The thing I love most about SeaWorld Orlando is that it is the least stressful of all the theme parks. It generally has lower crowds and lines do not get as long as the other theme parks. On the flip side of that, parking operations can be a little rough, and service can sometimes be slower.
Where Epcot is elegant, and Universal is exciting, SeaWorld is casual. The food and beverage offerings at the Seven Seas Food Festival are approachable and not overly adventurous, and they've upgraded a lot of the offerings this year. Some of the food items are creative, but not over the top, making this an easy festival to enjoy together. Browse the complete Seven Seas Food Festival menu.
Start off at Flamecraft Bar for a wide variety of craft beers and cocktails. And right next door is the Sunshine Hops festival booth with craft beer and a refreshing Frozen Watermelon Frosé. But save room for the boozy adult juice pouches at Coaster Cocktails near the center of the park, each one named after a different SeaWorld roller coaster. I went with the Manta since it has Sailor Jerry Rum, and my husband likes the artwork style. Be warned, these drinks are pretty strong!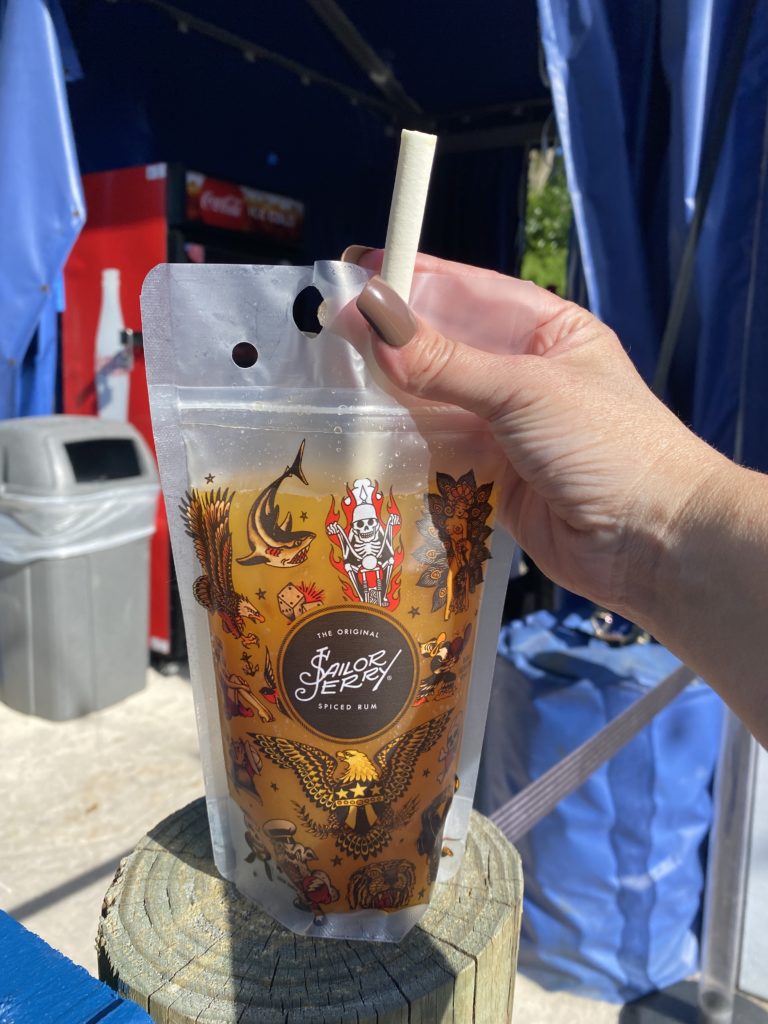 If you love tropical flavors you've got to visit the Caribbean Market as well as the Polynesian Market. Save room for dessert or a pick me up at Café De Mar. Sadly this booth is a little ill-placed because it is near the front of the park. The specialty Cheesecake Cones would be better in the middle of the park for a midday sugar rush.
The Seven Seas Food Festival is also the best value, especially if you have an annual pass to SeaWorld. Before you go, order the Pass Member Seven Seas Food & Beverage 18-Item Sampler Lanyard online. This gives you three free samples with the purchase of a 15-sample lanyard.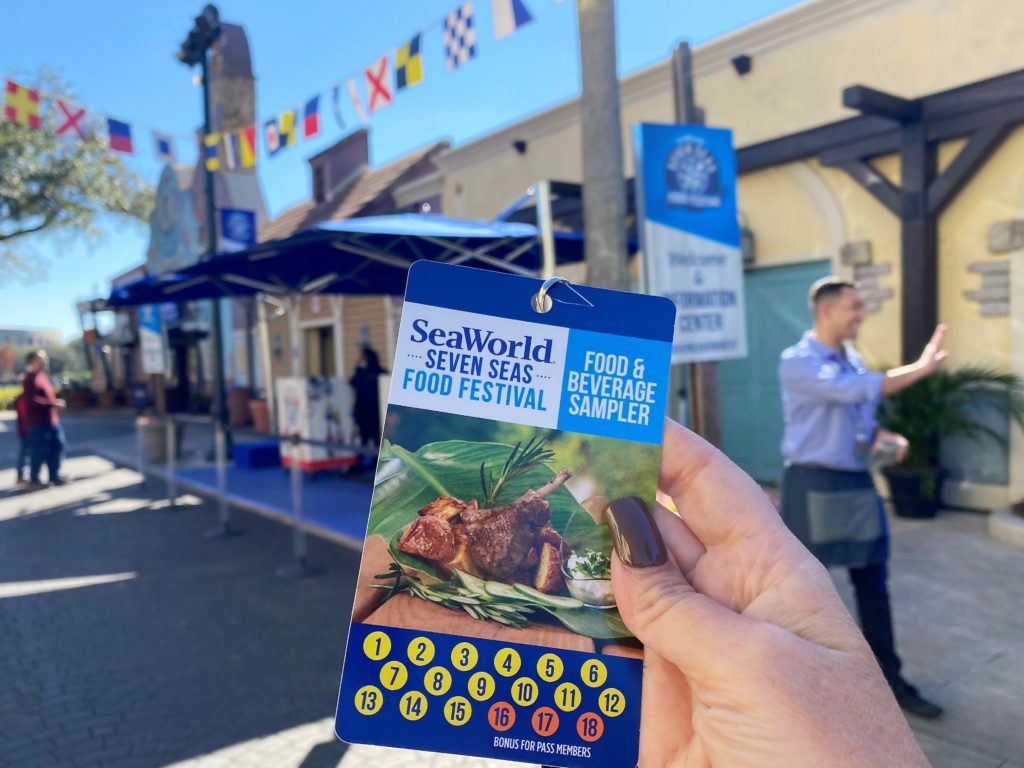 The food is the same size regardless of using the sampler badge (beer and drinks will be sample size). Even if you're not a pass holder, the 15-item badge is still a good deal. At $80 you'll get 15 items, including the ability to mix and max food and drinks.
Plus, there are live concerts held every weekend during the festival at the open-air Bayside Stadium. In a brilliant move, Vanilla Ice will perform on the opening weekend of the new Ice Breaker roller coaster.
Pro-tip: If the concert lineup doesn't have any performers of interest to you, then visit on a Thursday afternoon/evening if you can. You'll avoid crowds and be able to enjoy a relaxing evening sampling delicious food and drink.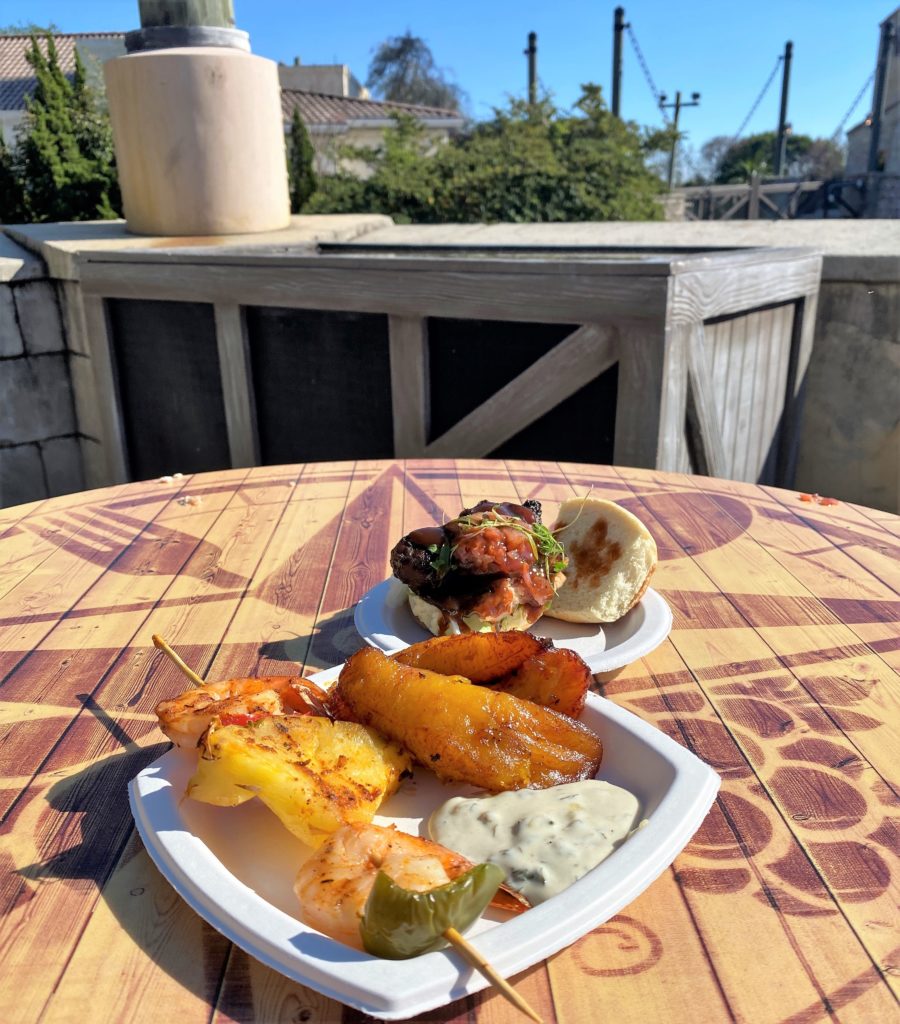 SeaWorld's NEW Ice Breaker Coaster
I am not a roller coaster person, for various reasons. But I attended a media preview of SeaWorld's new roller coaster, Ice Breaker. It is so much fun, and everyone in attendance had great things to say. I like this coaster as a pick for couples because it is thrilling but not as dramatic as some of SeaWorld's other coasters. And its massive amount of air time is sure to get you two talking afterward about all the cool moments.
There are festival food and drink booths near Ice Breaker, as well as Glacier Bar. Stop into Glacier Bar for a specialty cocktail and chill together. Take a break and enjoy being at Orlando's most relaxing theme park.
Tips For All of Orlando's Theme Parks
Check the park hours before arriving
Concert nights at Universal and SeaWorld are the busiest
Weekends are busiest
Bring a refillable water bottle to stay hydrated, especially in between alcoholic beverages
Come up with a flexible plan of any must-see activities that you don't want to miss and communicate that with each other