While many New Year's Eve events are full steam ahead this year, there's nothing wrong with celebrating from the comfort of home. Why not mark the occasion with an epic New Year's Eve bubbly tasting for two complete with bubbles, cheese and chocolate?
If you've got kids at home, this is a fun date night you can enjoy on NYE after putting them to bed. Or, invite over another couple in your quarantine squad for a small celebration.
To put together this at-home experience, I checked in with the experts from ABC Fine Wine & Spirits along with Lisa Wilk (of @tastecooksip and The Tasty Trio's Wine, Cheese and Chocolate pairing events) to come up with a tasting menu to welcome the new year. Then I tested out each pairing with a friend to make sure it was all up to par for you to replicate. It's a tough job, but someone's got to do it. Read on for all of the delectable details to plan a tasting of your own.
Disclosure: ABC Fine Wine & Spirits is one of our valued advertising partners. This post was originally published in 2020 and has been updated December 2021.
New Year's Eve BUBBLY TASTING TIPS
I am by no means a pairing expert, so I turned to a few pros to help me plan out the ideal menu.
Learn basic bubbly knowledge
For a good overview of bubbly, including differences in sweetness levels, what actually qualifies as Champagne (and makes it pricier) and highlights on all of the Champagne and sparkling wines used in our tasting, check out this fun 45-minute Facebook Live, which was hosted by ABC's Dan Eddy and Nathan Dale.
Variety is Key
For the best New Year's Eve bubbly tasting experience, make sure to include a nice variety of bubbles and cheeses in your lineup.
For bubbles, we used a Brut, Cava, Prosecco and Brut Rosé Champagne. And, hot tip: you can get your bubbles delivered to your doorstep with ABC's home delivery service.
For cheese, we opted for a classic goat cheese, soft feta cheese, an aged pecorino and a creamy blue cheese. More on all of that later!
Play up the elements
For expert pairing tips, I checked in with Lisa Wilk of The Tasty Trio. Together with Tonda Corrente (La Femme du Fromage) and Jill Ramsier (Quantum Leap Winery), she hosts periodic Wine, Cheese and Chocolate pairing classes at Quantum Leap Winery. The key to these pairings lies in playing up the elements of each item to enhance flavors and textures, so keep that in mind.
When conducting your tasting, start by tasting each element alone and then pair items together. This will help you get a feel for how all of the flavors and textures interact.
Source locally
I recommend picking up cheeses from local shops like Che Bella Cheese (find them at local farmer's markets) and La Femme du Fromage (East End Market). We got most of our chocolate goodies from Peterbrooke Chocolatier of Winter Park. Then, fill in with crackers, snacks and sweets from your favorite market or grocery store.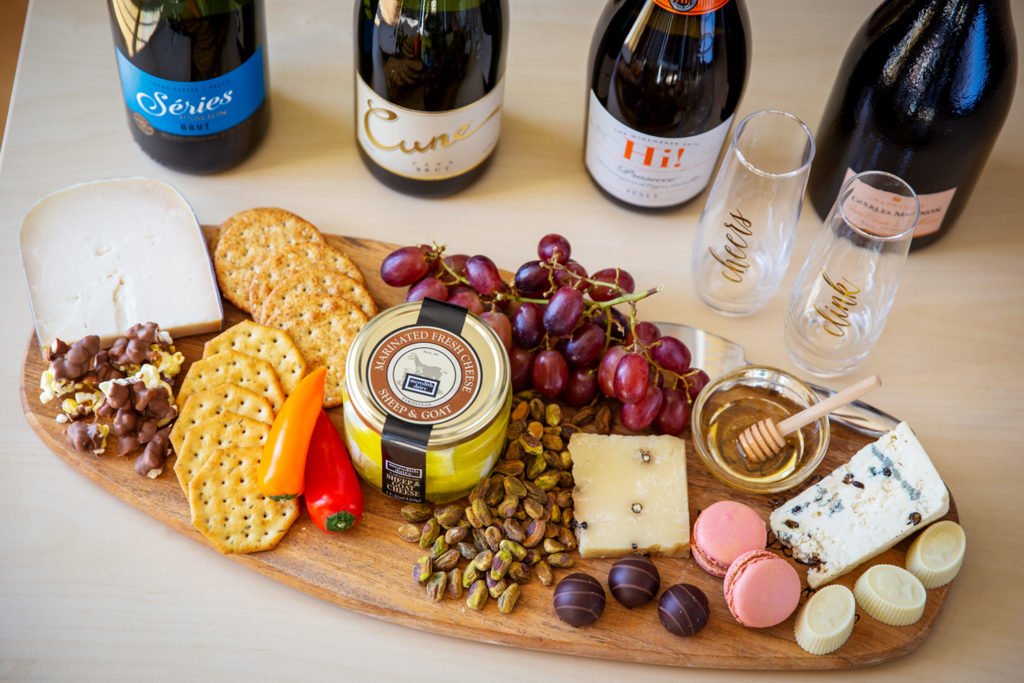 THE PAIRINGS
PAIRING 1: Series Brut, Midnight Moon and Milk Chocolate Covered Popcorn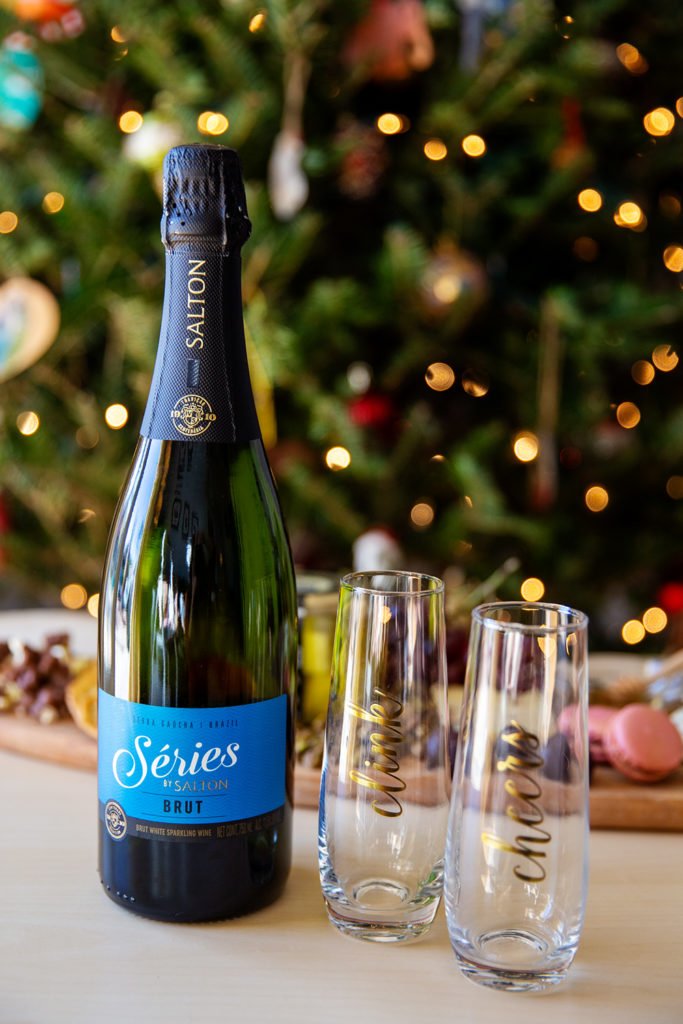 This brut from Brazil is a steal for the price and tastes delicious. Plus, it will pair well with just about anything. Use your leftovers for New Year's Day brunch mimosas or cocktails.
In terms of the tasting, the brut really enhances the taste of the cheese while cutting some of the sweetness of the popcorn. Peterbrooke uses a dulce de leche base for their milk chocolate, lending a more nuanced flavor along with the buttery popcorn. Make sure to taste all three elements together. This was our second favorite of the bunch!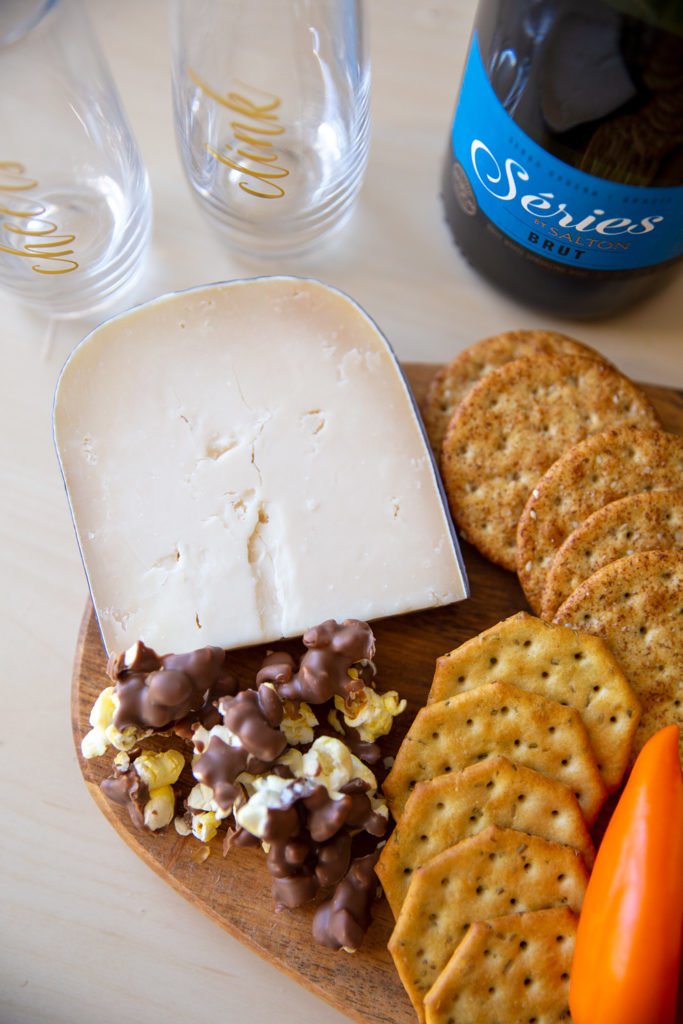 PAIRING 2: Cune Cava and Meredith Dairy Marinated Feta
This Cava is nice and crisp with more nutty flavors that pair really well with savory items. And, it doesn't get more savory than the creamy, indulgent Meredith Dairy Feta. Sam from Che Bella cheese once told me that "there is your life before this cheese, and your life after this cheese" and it's 100% true. This stuff is life changing. Plus, you can use the leftover oil to make vinaigrette and drizzle on bread. On Lisa's recommendation, we also cut up some snack peppers to serve as feta vessels…a yummy twist!
The creaminess of the feta and Cava complement one another wonderfully.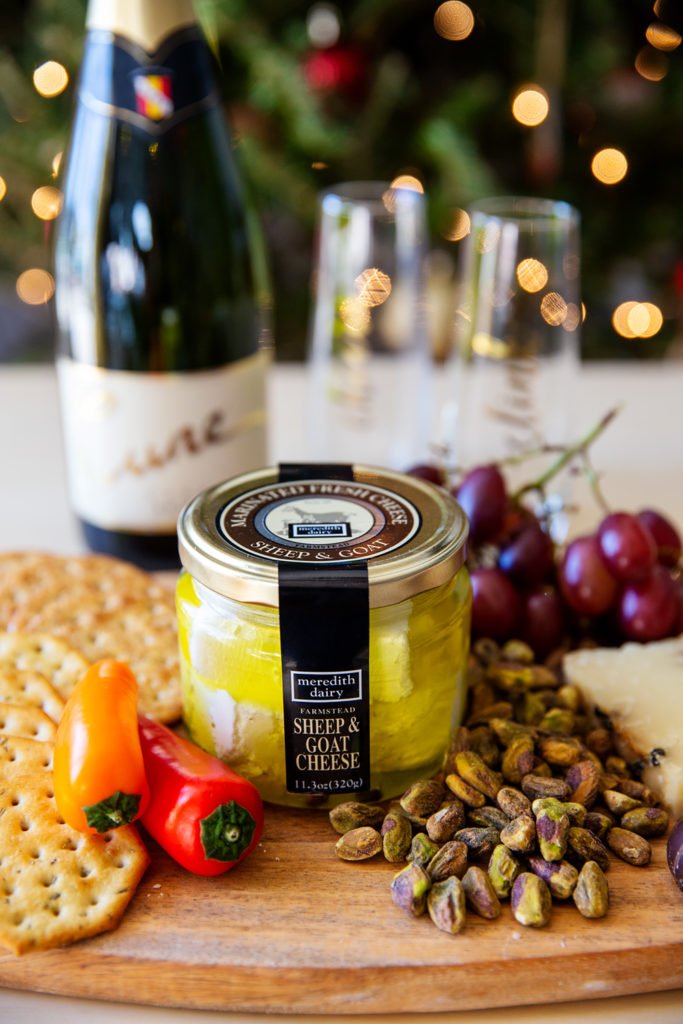 PAIRING 3: Hi Prosecco and Peppercorn Pecorino with local honey
Hi! Prosecco $15 (alternate option: Collalto Prosecco Extra Dry $16)
Peppercorn Pecorino (available from Che Bella Cheese)
Winter Park Honey lavender honey
This was our wild card tasting. I picked up a peppercorn pecorino on recommendation from Che Bella, but you could use any nice aged, hard cheese here if you can't find something similar. The cheese tastes wonderful with just a dab of honey for a sweet surprise paired with the Italian Prosecco. Salty pistachios are a nice complement too.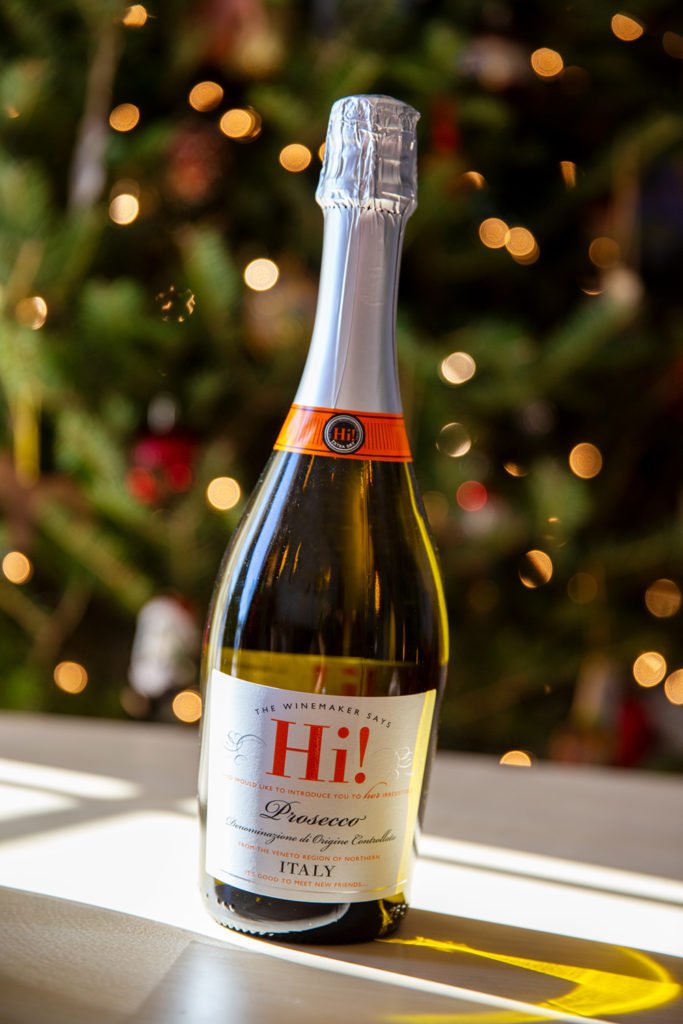 PAIRING 4: Charles Mignon Grand Cru Brut Rosé, Deer Creek Blue Jay and Strawberry Balsamic Truffles
Deer Creek Blue Jay blue cheese (available at La Femme du Fromage)
Strawberry Balsamic Truffles $2 each (Peterbrooke Chocolatier of Winter Park)
If you're going to splurge on a bottle of bubbly, make it a classic and elegant French Champagne. This was our absolute favorite tasting. The bubbles on this Brut Rosé were endless and even the bottle itself feels like a work of art with its textured finish. It felt like the ultimate "treat yourself" moment to end this wild year and I have no regrets.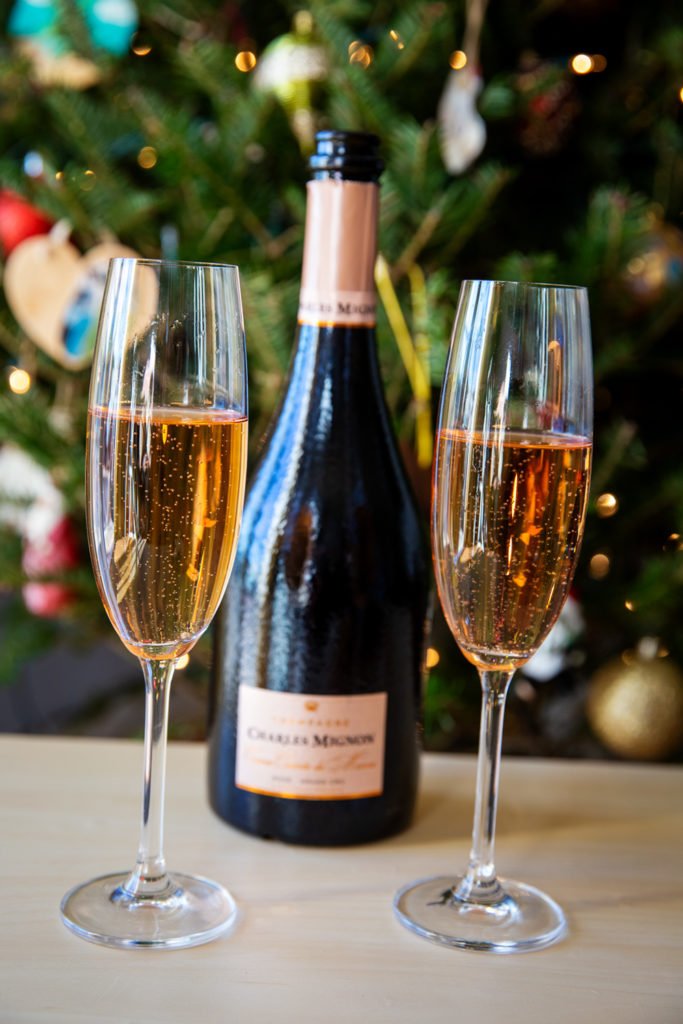 Tasting this with the blue cheese only brings the flavors forward more. This particular blue cheese is incredible buttery with extra flavor from the Juniper berries. The strawberry balsamic truffle adds a sweet touch and boasts a longer shelf life than a traditional chocolate covered strawberry, although that would be quite delicious here too!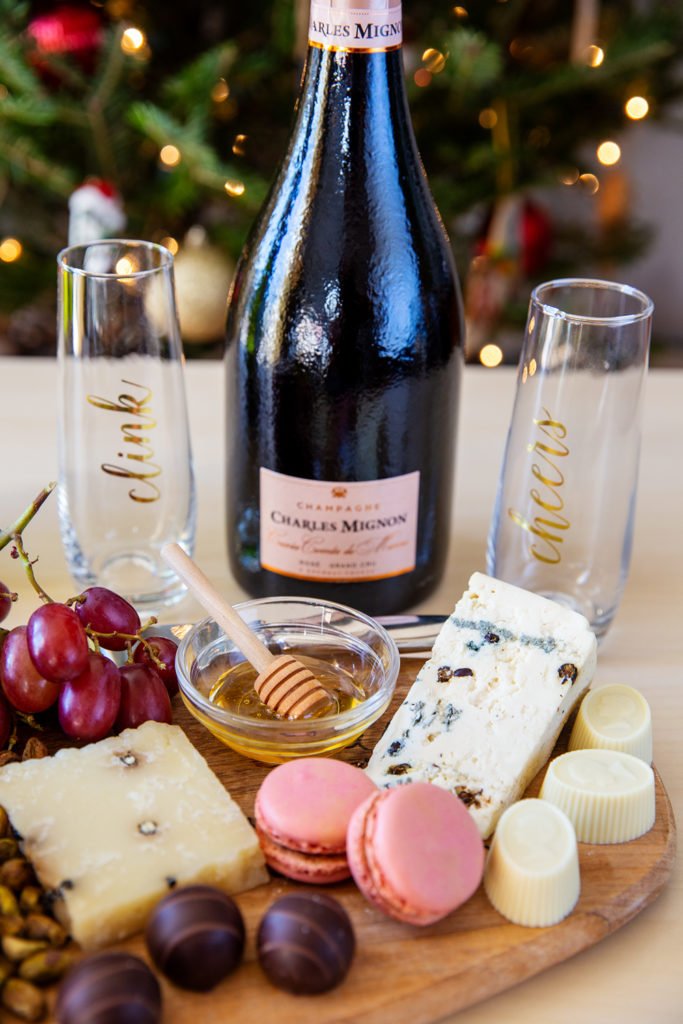 This pairing definitely got the most action. We were spreading the cheese on crackers and also tried the Champagne with a variety of sweets. Raspberry macarons and chocolate mousse truffles were equally indulgent.
Feel free to customize this New Year's Eve bubbly tasting, using it as a guide to create your own epic night at home. Wishing you a happy and safe end to 2021!
Note: ABC provided the Series Brut, Cune Cava and Hi Prosecco at no cost to the writer.