Looking for a unique date night idea? Best friends and College Park locals Keena and Andrea dreamed up the new SubRosa pop-up dining experience as a way to share their love of food and travel with the Orlando community. The twist is that each pop-up dinner features a new theme and is hosted at a secret location, revealed just 24 hours before each dinner.
Our friends Jessica & Tyler (the married couple behind local blog The Orlando Duo) recently checked it out and provided a full report below. Read on for the details of their hosted experience, which they've graciously allowed us to reshare here.
The next pop-up dinners will be taking place November 12, 13 and 14, 2020. November's theme is "The Festival of Lights" (in honor of Diwali), with a menu highlighting exotic Indian cuisine. Get the full details and grab your tickets via Eventbrite here.
About the SubRosa Pop-Up Dining Experience
SubRosa is a secret, pop-up dining experience. The theme changes every month with a uniquely crafted four-course meal complete with wine pairing. The location changes every time and it is a mystery. Twenty four hours before the event, you'll receive an email telling you where to park and how to arrive at your location.
Something that really resonated with us was how this idea came to be. The two creators, Keena and Andrea, both worked in the hospitality industry and were impacted by layoffs due to COVID. Personally, we also experienced something similar, so we definitely loved being able to support others in the industry living out their passion. With that being said, you can definitely tell professionals were running this event.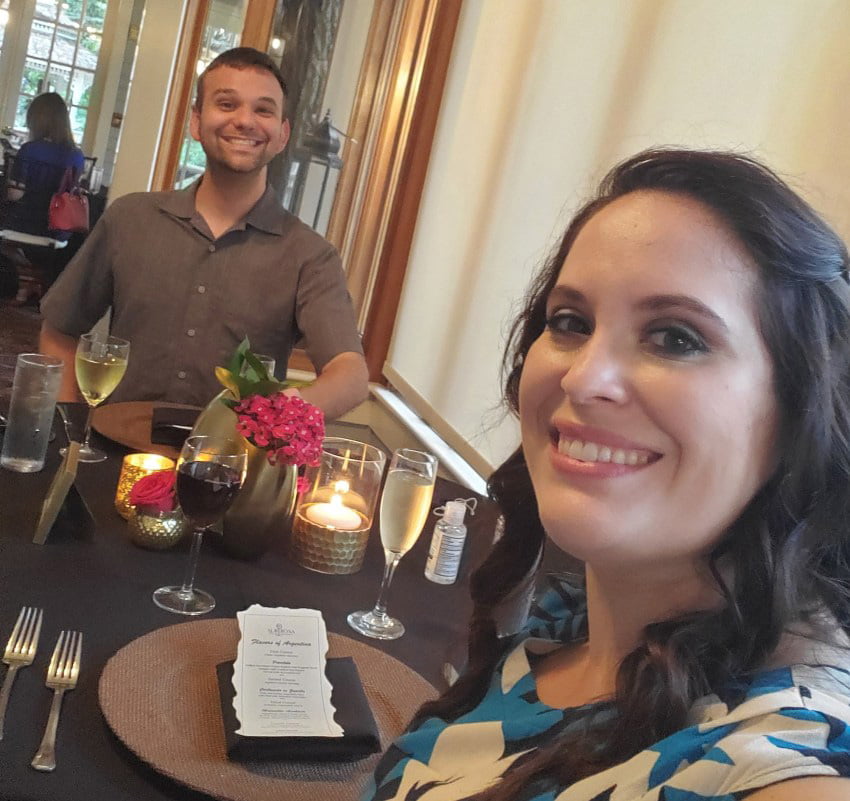 Our SubRosa Dining Experience
It's worth noting that the themes change every month, so the location and menu we experienced will likely be different from what you may experience, but we are sure the quality will be there.
Overall, the SubRosa Dining Experience was a truly unique date night for us. We've tried experimenting with different dining experiences before, but have never been to anything else like this. It was fun to have someone else plan a night out and just go with the flow. But mostly, it was a lot of fun to go out and have a brand-new dining experience while helping out our local Orlandoans.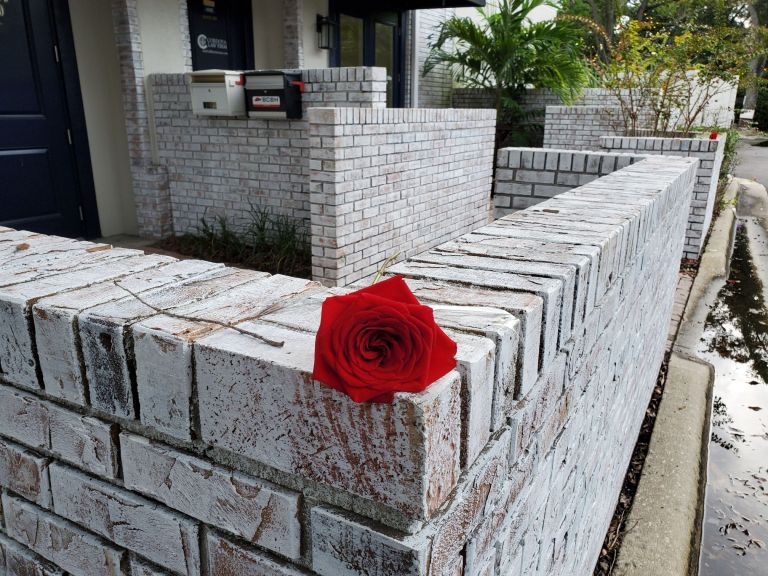 Getting there
When we went, the theme was "Flavors of Argentina and the Puertas Cerradas," or "closed-door" restaurants. We were given our mystery location, which only revealed where to park. Once parked, there were red roses guiding us to where we needed to go. We ended up arriving at the Dr. Phillips House, the oldest house in Orlando.
Upon arrival, we were greeted by music and some dancers in the garden. The event was supposed to be outdoors, but due to the weather, it had to be hosted inside. The assigned tables were distanced from each other and there were about 20-30 people dining. All of the staff wore masks throughout the duration of the event.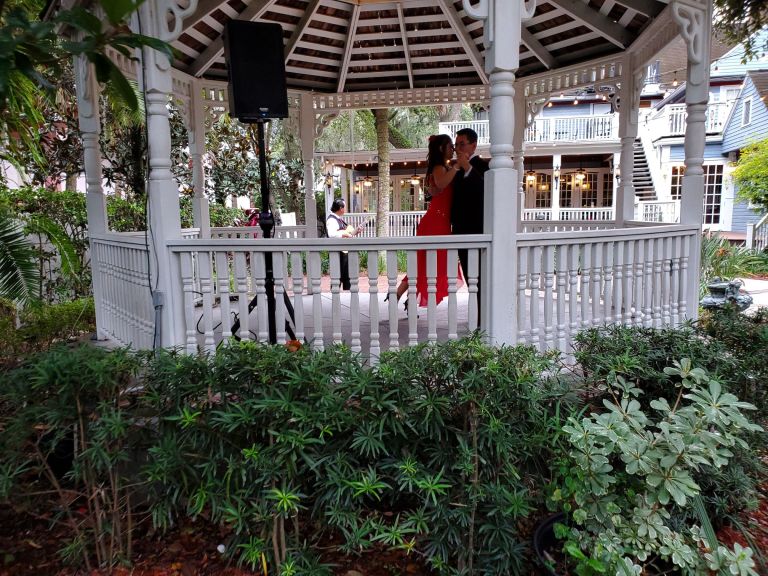 The Menu
We were seated at a beautifully decorated table complete with candles and roses.
As an example of the staff's expertise, we randomly mentioned earlier in the day on our Instagram that we were treating the dinner as a sort of belated anniversary dinner (we had a change of plans this year for our anniversary because we adopted our corgi Jinx. Give her a follow at @theorlandocorgi). After being seated and greeted, we were brought a champagne toast to help celebrate our anniversary. This was totally unexpected and such a nice touch by the organizers to notice such a small detail. There was another couple celebrating their anniversary early and they received this fun extra as well!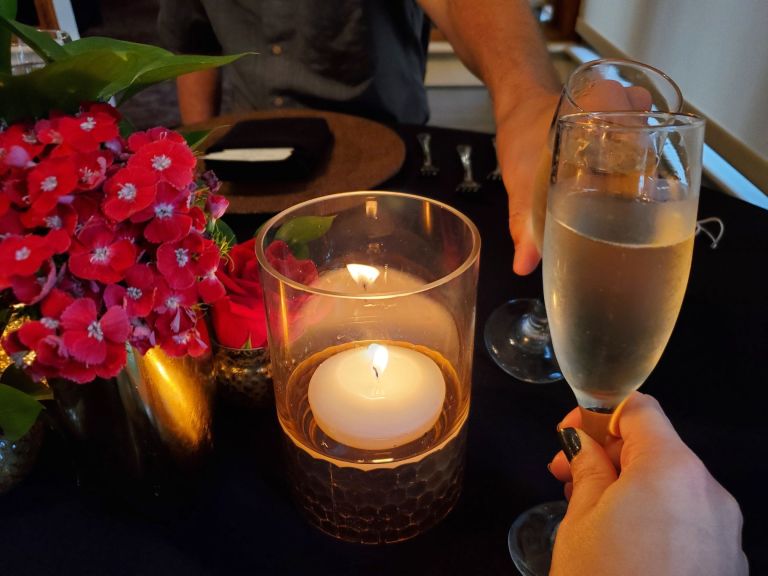 The menu for each event is a four-course meal of locally-sourced ingredients. Like we mentioned above, the theme for the night was Argentina, so that inspired the entire menu. Food is a great unifier and a way to explore other cultures and places. Just because we can't travel doesn't mean we can enjoy delicious cuisine from around the globe.
The appetizer consisted of grilled provolone cheese topped with oregano and crushed red pepper with some fun additions on the side.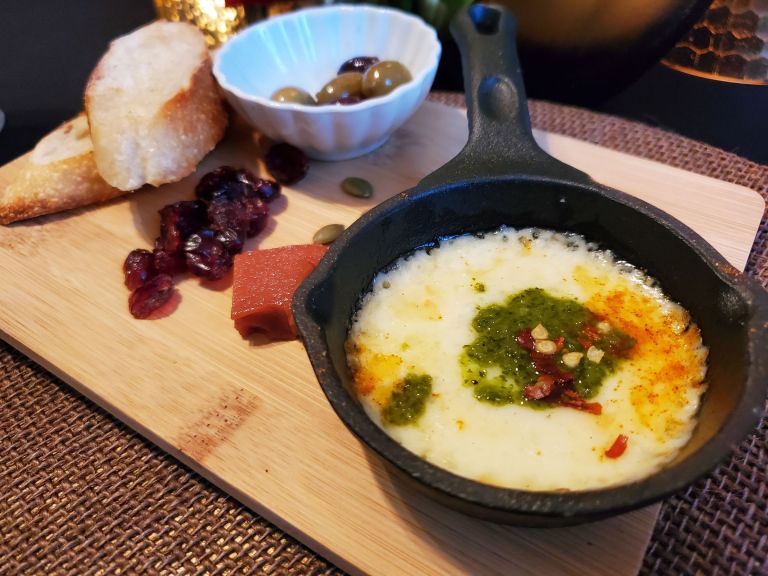 The second course was a Carbonada en Zapallo, a rich and earthy Argentine stew complete with a cute little pumpkin stuffed with rice.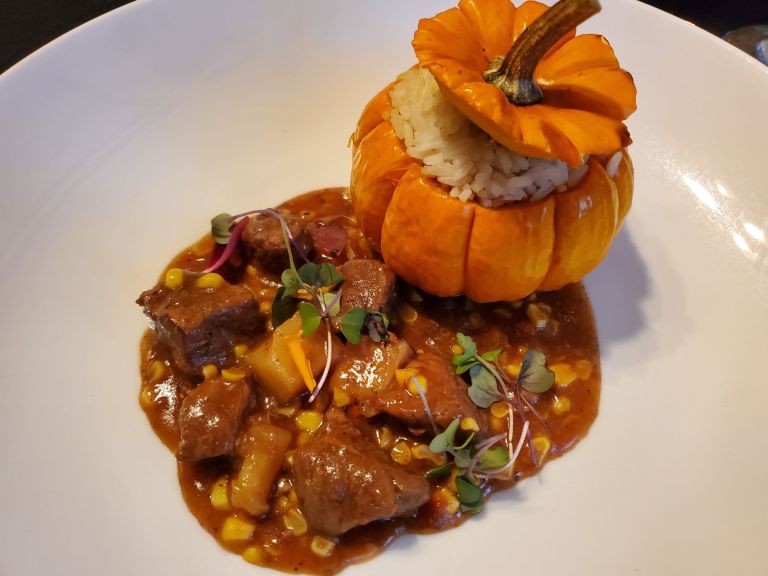 This was followed by the third course, which was a stuffed flank steak served with roasted potatoes and a delicious chimichurri sauce. Seriously, that chimichurri was a showstopper. So good!
Then we get to the fourth and final course, dessert. It was an Argentinian Chocolate Cake. The menu said it was a close relative of tiramisu and oh wow was it amazing!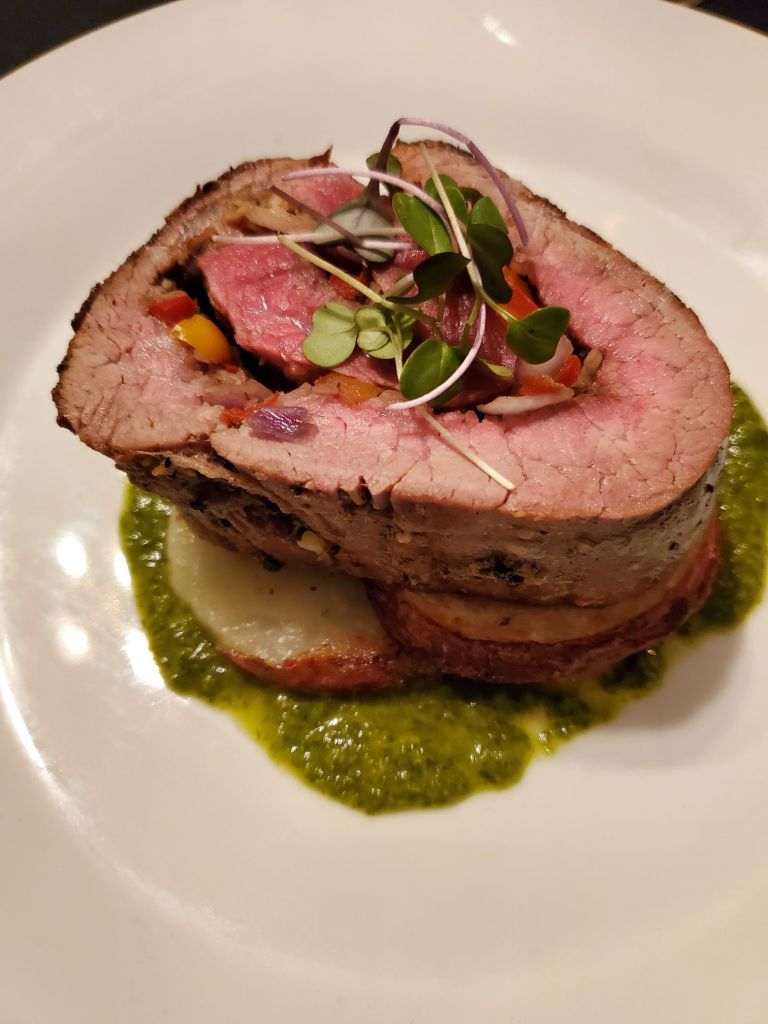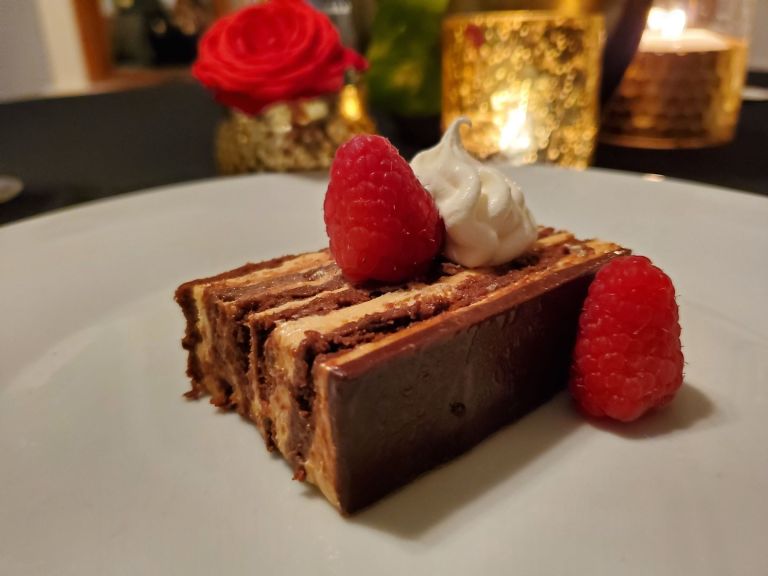 The venue
Following our meal, we were encouraged to check out the venue. We had never been to the Dr. Phillips House before, so it was fun to check out a piece of Orlando history. Established in 1893, this historic landmark is technically four stories because it has a wine cellar. Who knew that there were basements in Florida? We can totally see why this is a sought-after wedding venue and event space, it was so beautiful and regal.
Apparently, the house is a bit haunted, which added a fun element to the night since we went in October just a week before Halloween.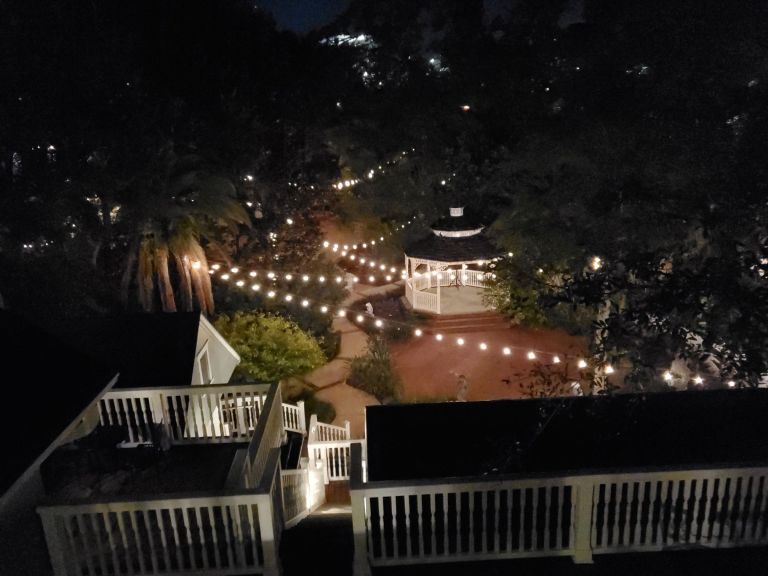 Cost
The cost for each SubRosa pop-up dinner is $80 per person plus 20% gratuity. So while it does make for a pricier night out, based on the level of care given to the location and meal, we highly recommend this dining experience. SubRosa's pop-up dinners are especially ideal for a special date night or to celebrate an anniversary, birthday, or another occasion.
Upcoming SubRosa Pop-Up Dining Experiences
Next event: November 12, 13, and 14
Secret location in close proximity to Downtown Winter Garden
$80 per person, plus 20% gratuity
For full details and to purchase tickets, visit the Eventbrite page here.
---
About The Orlando Duo
The Orlando Duo is a local blog authored by husband and wife duo Jessica & Tyler. Growing up in the Midwest always meant going to Orlando for a Disney vacation, but since moving here we realized there is so much more to The City Beautiful than theme parks. Come join us as we highlight local eateries, activities and, yes, the theme parks. Want to see more? Follow us on Instagram, Facebook or our blog!
This post originally appeared on The Orlando Duo and has been republished here with permission. All images by @theorlandoduo.