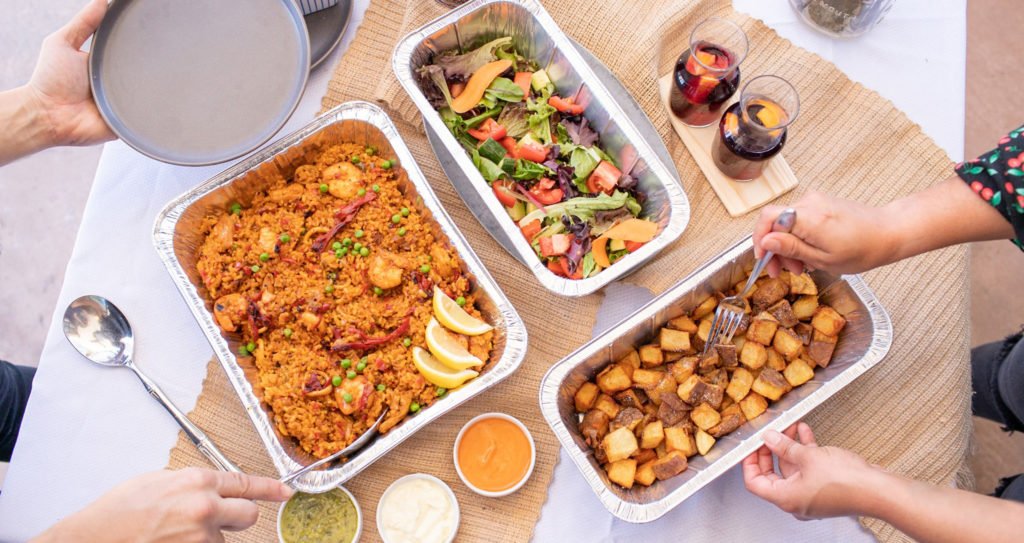 Date nights may look a little different lately but are more important than ever to bring you and your partner closer together. Making recipes at home is an awesome way to connect, but takeout is also great for those days that time doesn't allow for cooking. To level up your usual takeout and make it feel even more like a special occasion, several Orlando restaurants have introduced to-go dinner deals. These specials are mostly geared for 2 and include everything from tapas and prime rib, to Greek and French cuisine.
Updated August 6, 2020
The Ravenous Pig
If you're looking for varied options throughout the week, The Ravenous Pig serves weekly meals for two. They've also added recommendations for adult beverages that will complement your selection, available for an additional price. Here's how it works: place your order online and schedule a pickup on the night of the selected special between 5:30-8:45pm (except Sunday – see below). You can then head to the restaurant at your pick-up time and grab your dinner curbside! The daily menu is as follows:
Tiki Taco Tuesday – $30
Build your own tacos with short rib taco, tomatillo salsa, onion-jalapeno slaw, cilantro, queso fresco, corn tortillas plus dessert; serves 2. Pair it with a tiki cocktail!
Wednesday Southern Night – $40
Whole Nashville Hot Chicken with mac & cheese, watermelon salad and dessert.
Add a Laid Up Lager 4 pack of 16 oz tall boy cans +$10.50
Thursday Pasta Night – $52
Lobster Carbonara Tagliatelle with garlic bread, Italian chop salad and dessert; $52
White Wine Pairing: Willakenzie, Willamette Valley Pinot Gris 2018 +$28
Friday Night Shrimp & Grits – $40
Rock shrimp, popcorn grits, charred shishito peppers and dessert.
Wine Bottle pairing: Terras Gaudas Albariño. Crisp Spanish white wine with orange zest and floral notes. +$35
Saturday Night Prime Rib – $60
Lightly smoked 20oz prime rib, loaded potato pancake, wedge salad and dessert.
New World Wine Pairing: Turnbull Cabernet, Napa Valley 2017+$48Old World Wine Pairing: Viña Olabari Rioja 1999 +$38
Sunday Funday BBQ Heat & Eat – $42
Slow roasted baby back ribs, sliced brisket, smoked chicken wings, ravenous mac & cheese, coleslaw, pimento cheese biscuits, and Esthers's brownies.
*NOTE: this pre-cooked meal is picked up cold and comes with easy heat up instructions to enjoy when you want. Pickup time must be scheduled between 11:15 and 3:30pm.
Add a 4-pack Laid Up Lager +$10.50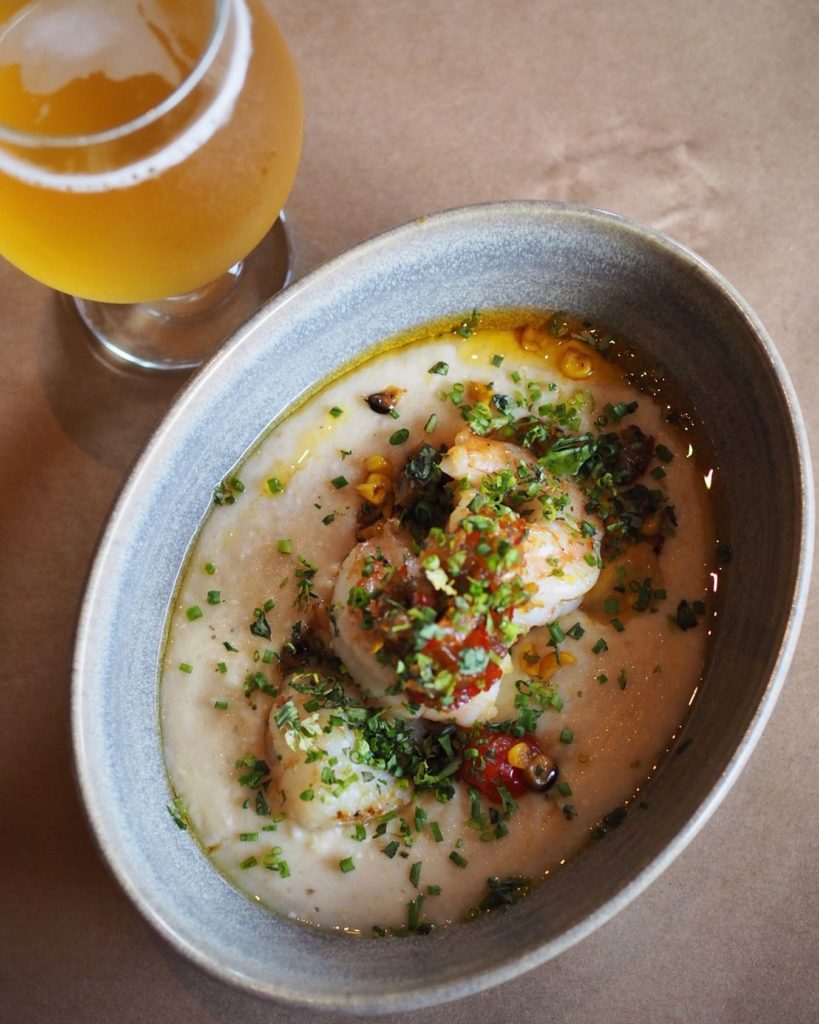 Pig Floyd's Urban Barbakoa
An Orlando favorite for unique BBQ, Pig Floyd's offers a monthly date night special for you and your boo to enjoy. The special is available on the second Saturday of every month and changes monthly to keep things interesting. The special is typically a collaboration between Pig Floyd's and other local businesses, helping you complete the date night experience at a total cost of $39.99. This month's special is available on August 8th (pre-orders are encouraged) and includes the following:
4 Tacos, 3 Sides & 2 Beers or 1 Wine (equal to two glasses) from @pigfloyds
Tableware for two
One Cactus Bloom scented candle from @thesolocandleco
Strawberry Shortcake & Oreo Cookie butter Mochi donuts from @dochi.fl
2 general admission tickets (valid for the rest of the calendar year) to the Orlando Museum of Art ($30 value)
To place your pre-order, call 1-833-PIGLOVE.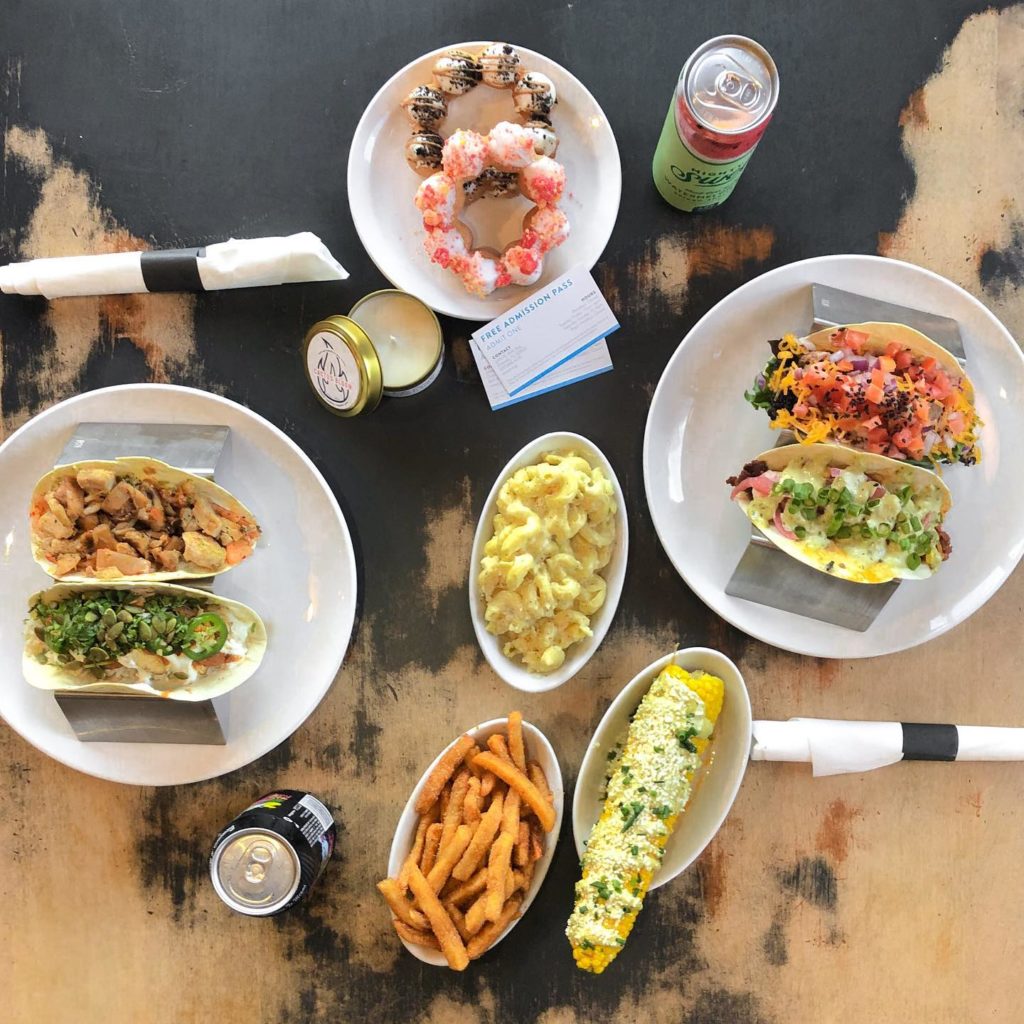 Fogo de Chao Brazilian Steakhouse
Any time I mention going to a Brazilian steakhouse, my husband has already picked up the keys and made his way to the car. Now, you can have that same experience at home thanks to Fogo de Chao Brazilian Steakhouse. Their date night grilling experience serves two and will cost you $125. However, the amount of food you'll be getting is well worth the price tag. Not to mention how much fun you'll have preparing and grilling up your food together!
Pick your choice of two between Boneless Ribeye, Filet Mignon 8oz steak, or Atlantic Salmon. You'll also get potatoes for mashing (1lb with butter and cream), and ready to serve items such as Pão de Queijo, Mozzarella Caprese, Chocolate Brigadeiro (1 slice), New York style Cheesecake (1 slice), and your choice of any Fogo Tribute Wine. You also get two heart-shaped Fogo Red/Green coasters, plus chimichurri sauce and rock salt for grilling.
The Capital Grille
For the first time ever, The Capital Grille is making The Generous Pour, their annual wine tasting event, available for to-go orders! There are seven bottles to choose from, and guests can order from all seven of the featured bottles of wine with their takeout dinner. Additionally, each experience comes with a Stölzle crystal Generous Pour wine glass per entree and a take-home guide, which grants access to private short films starring Dave Phinney and filmed exclusively in celebration of the 2020 Generous Pour.
For another takeout option, The Capital Grille will also be offering Steak Grille boxes from The Capital Butcher, their online marketplace for dry-aged, uncooked steaks. In your box, you'll get four uncooked steaks, along with The Capital Grille's signature steak sauce and seasoning. You can select from Bone-in Dry Aged New York Strip, Bone-in Prime Ribeye, or a combination of the two. Add mashed potatoes or lobster mac n' cheese to complete your feast! To place an order, visit TheCapitalGrille.com/Butcher.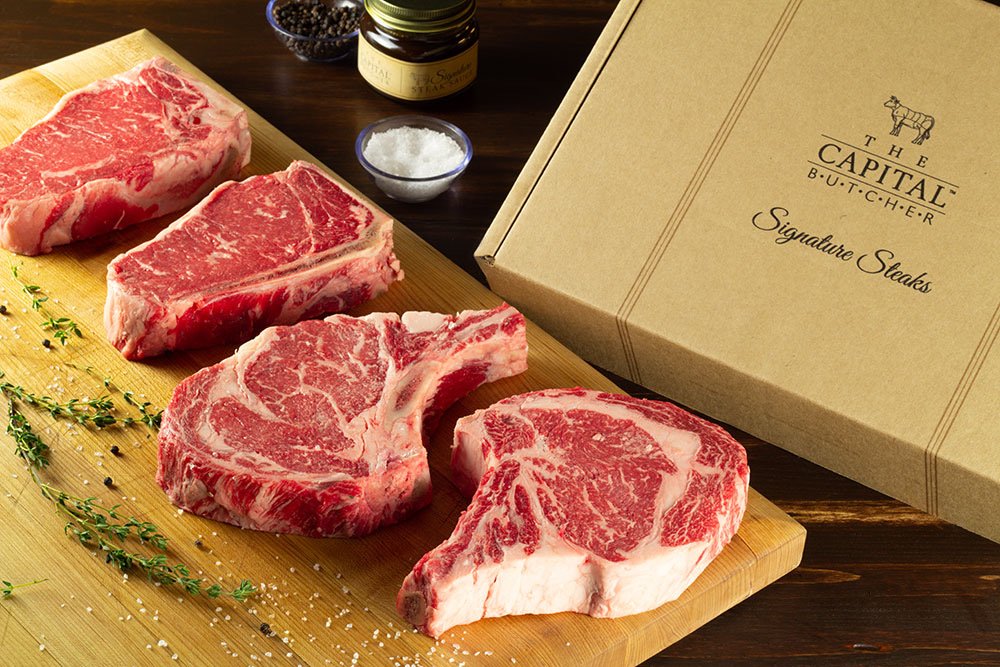 The Local Butcher & Market Winter Park
Please the meat lover in your life with The Local Butcher & Market Winter Park's date night deal for two. The meal serves two and includes three courses for $80 plus beverage pairings included with each course.
Feast on a decadent cheese board with champagne split to start and open up the included bottle of wine to share with your main course. The entree is a stuffed pork loin with a side of seasoned squash and zucchini with rosemary potatoes. Finally, for dessert, you'll enjoy Penfold's Port with your choice of triple berry or pecan pie. You must call the shop and reserve your date night package at least 24 hours in advance for pickup. Call 407-629-6328 to place your order.
La Boucherie
Plan your own French-inspired date night at home with takeout from La Boucherie's special Summer in France menu. Available for dine-in and takeout, the deal includes a three-course meal and a glass of wine for $35/person. When ordering for takeout, your wine will come in a reusable drink pouch (save it for future picnics in your favorite park this fall). Call ahead to place your order for takeout. Several family meal deals are available for takeout only as well. Here's a peek at the menu: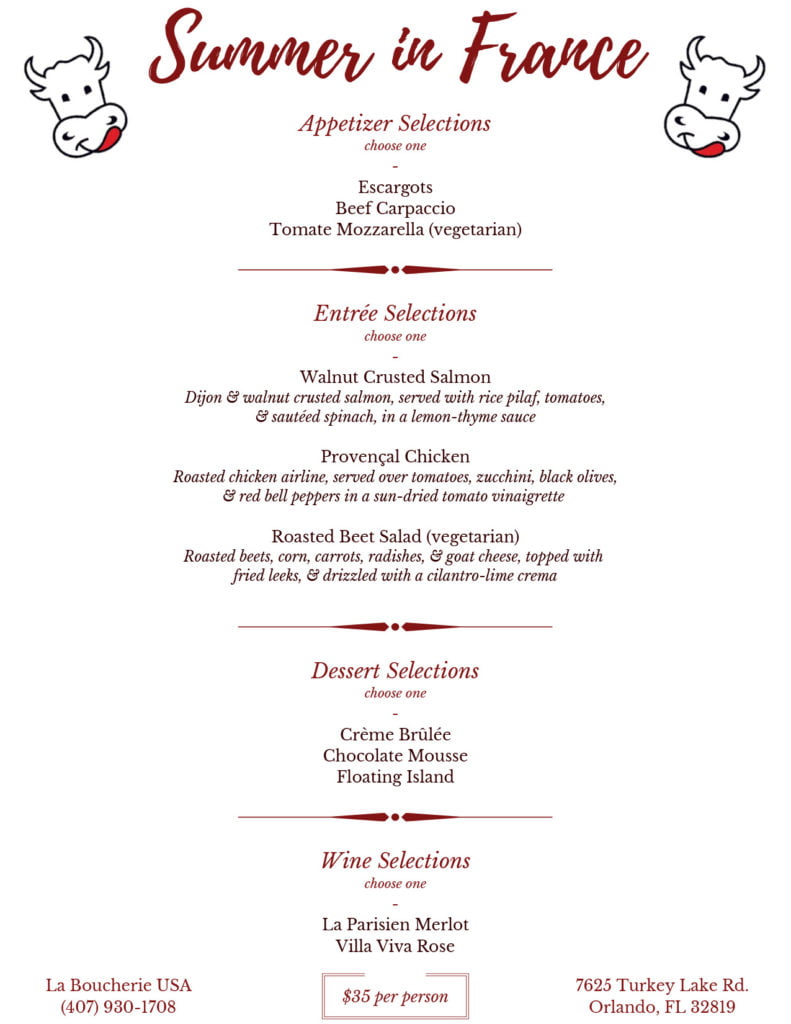 TAVERNA OPA
Craving some delicious Greek food this evening? Taverna Opa, located on International Drive at Pointe Orlando, offers great to-go dinner deals for Orlando couples looking to have a carry-out date night at home. One of the many delicious options for your meal includes the Build Your Own Pita special for $29.
You can also try their Family Meal (so you can have leftovers or share with the kids). Both options include a free Opa Ekmek. This is their signature dessert that starts with a base of Kantaifi shredded phyllo dough. When you include the custard cream, whipped topping, and toasted walnuts on top, you're bound to feel like you have a little slice of heaven in your mouth. Order online here.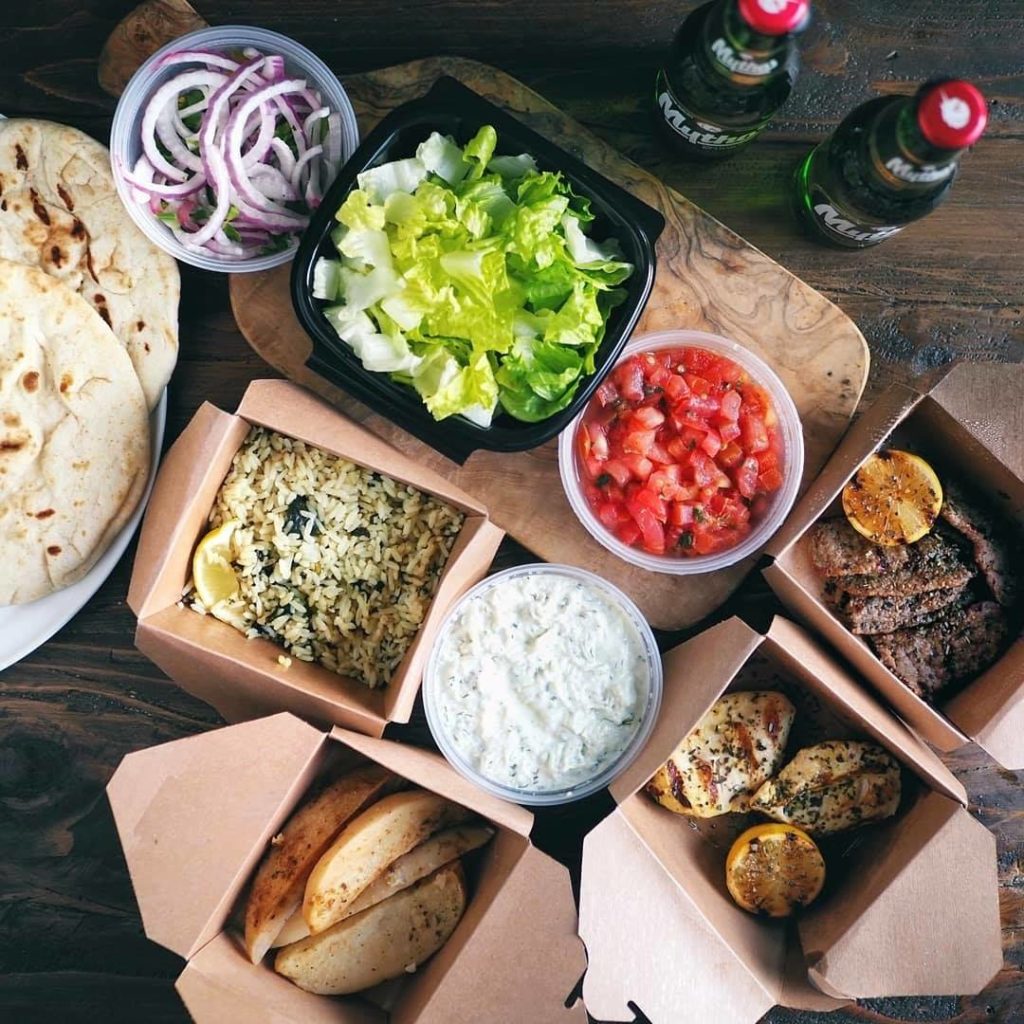 TAPA TORO
You can now get your favorite Spanish foods and take them home thanks to Tapa Toro offering curbside pickup. They have a delicious Chicken Madeira Meal for you to enjoy, available exclusively for curbside pickup (it's not available on delivery apps). You'll enjoy three courses that include Iberian Caesar Salad, Tomato-Rubbed Bread, Chicken Madeira with Mushrooms and Rice, and Flan for dessert. This family meal option serves four for $59. Or, try the Paella Party family meal which feeds four for $69. You'll get Iberian Caesar Salad, Beef Empanadas and your choice of Paella (Seafood, Chicken & Lamb, or Vegetarian). Online ordering is available here.
Arthur's Catering
Local catering company Arthur's Catering has expanded to offer at-home delivery. We especially love their weekend date night Grill & Chill package, which feeds two people and includes ready to grill Angus Filet Mignon, Jumbo Shrimp Skewers, Smashed Baby Red Potatoes, Roasted Asparagus, and a Baby Spinach Salad. It also comes with refreshing house white sangria to complete the meal. Each package is $88 and can be picked up or delivered straight to your home for cooking and assembly. Kits must be ordered by 12pm on Thursdays for pickup or delivery Friday or Saturday.
Additional add-ons are available in the online shop, including a decadent charcuterie box, a Flaming Doughnuts kit, desserts and more.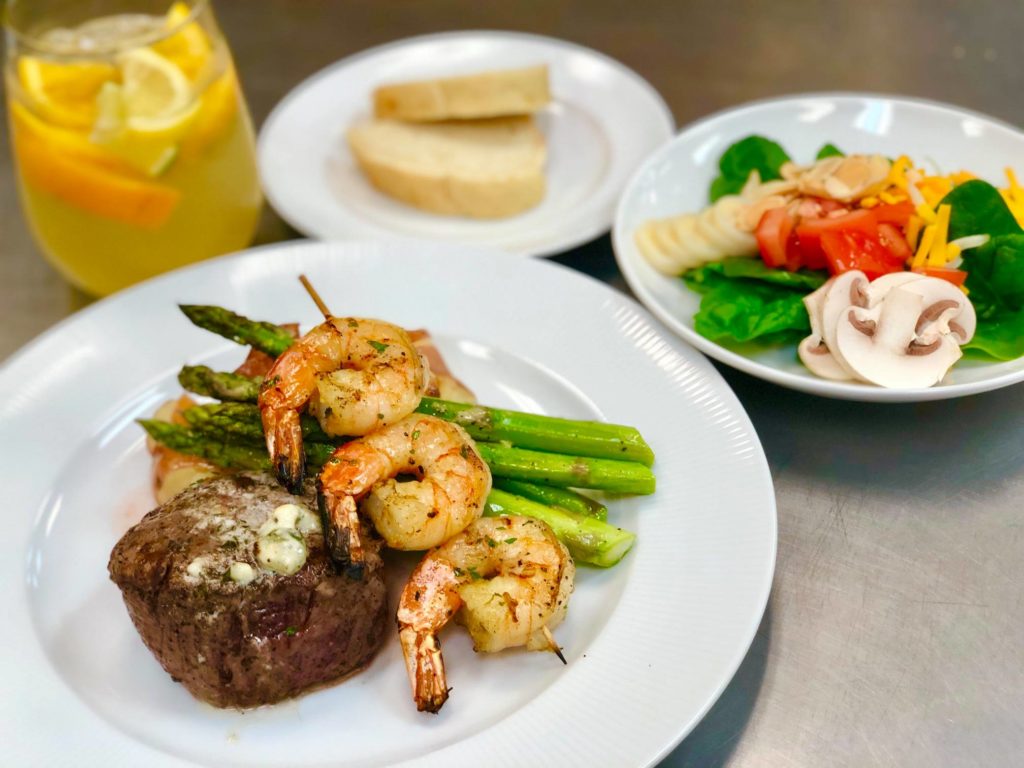 SIXTY VINES
**Editor's Note: After publication, this offering was changed and is now only available to feed four. We've updated the listing below and apologize for any inconvenience.
The folks behind the gorgeous Winter Park restaurant Sixty Vines have recently introduced a wide variety of to-go dinner deals! Their new Curbside Kits make any at-home date night a special one. Did we mention each kit comes with a bottle of wine? To place your order, call (407) 410-8005. There are five different kits to choose from, available on different days of the week:
Monday, Tuesday and Sunday Kit – feeds four for $85
Hummus – Red beet hummus with goat cheese, edamame hummus with feta, and crisped flatbread.
Kale Caesar Salad – Gem lettuce, baby kale, grated egg yolk, grated egg white, and pecorino croutons
Fettuccine – Roasted chicken, spinach, artichoke, pecorino & chardonnay cream, lemon zest, and ciabatta breadcrumbs.
Butcher Pizza – San Marzano tomato sauce, soppressata, capicola, calabrese, provolone and mozzarella.
Comes with a bottle of select wine.
Wednesday and Thursday Kit – feeds four for $95
Wood-Fire Roasted Cauliflower – Pesto crusted, parmesan, and lemon dill yogurt.
House Salad – Spring mix, candied walnuts, fresh strawberries, peppered pecorino, and citrus-honey vinaigrette.
Fennel-crusted Pork Chops – Roasted tri-color carrots, sage brown butter and pistachio, and peppadew romesco.
Comes with a bottle of select wine.
Friday Night Filet Kit – feeds four for $100
Brussel Sprouts – Oven roasted, kung pao vinaigrette, scallions, and cashews.
Roasted Beet & Herbed Goat Cheese Salad – Spring mix, roasted purple, candy-striped and golden beets, seasonal fruit, micro basil, extra virgin olive oil and white balsamic.
Filet Mignon – 6-ounce petite filet, duck fat butter, and seasonal vegetables.
Comes with roasted seasonal vegetables and a bottle of select wine.
Saturday Dinner Kit – feeds four for $100
Brussel Sprouts – Oven roasted, kung pao vinaigrette, scallions, and cashews.
Roasted Beet & Herbed Goat Cheese Salad – Spring mix, roasted purple, candy-striped and golden beets, seasonal fruit, micro basil, extra virgin olive oil and white balsamic.
Salmon – Grilled skewers, creamless creamed corn, pole bean medley, and pickled onions.
Comes with a bottle of select wine.
Saturday & Sunday Brunch Kit – feeds four for $60
available on Saturday and Sunday
Ricotta Chiffon French Toast (eight slices) – Lemon curd, mascarpone whipped cream, and blueberry syrup.
Egg White & Goat Cheese Frittata – Wild mushrooms and spinach, herbed tomatoes, goat cheese, pecorino, and peppery cress.
Comes with brown sugar-rubbed cherry wood bacon, brunch fruit, and one bottle Mimosa (750ml).
CANVAS RESTAURANT AND MARKET
Situated lakeside in Lake Nona, Canvas Restaurant is a romantic date night destination. You can still enjoy their delicious fare for a date night dinner to-go thanks to the restaurant's weekly family meals. A new menu is released every week featuring a different meal on Tuesday, Wednesday, Thursday, and Sunday. You'll have the option to purchase a meal to serve two, or a larger portion to feed four. The meals are available for both pickup or delivery by calling 407-313-7800. Prices vary, but expect to pay around $25-$30 for two people, or $50-$65 for four.
See the current family meal menu for the week here.
Bulla Gastrobar
The Winter Park favorite for tapas and cocktails also offers a selection of family meals that feed 4-5 people. Your options include Pollo al Chilindron ($50), Paella de Pollo ($50), Paella de Carne ($55), Paella Mixta ($60), Salmon ($60), Grilled Steak ($60), or Arroz Caldoso ($55). Your meal is served with patatas bravas (THE BEST!) and mixed green salad. Additionally, you have the option to add ham croquetes or churros con dulce de leche to your meal, both of which I highly recommend.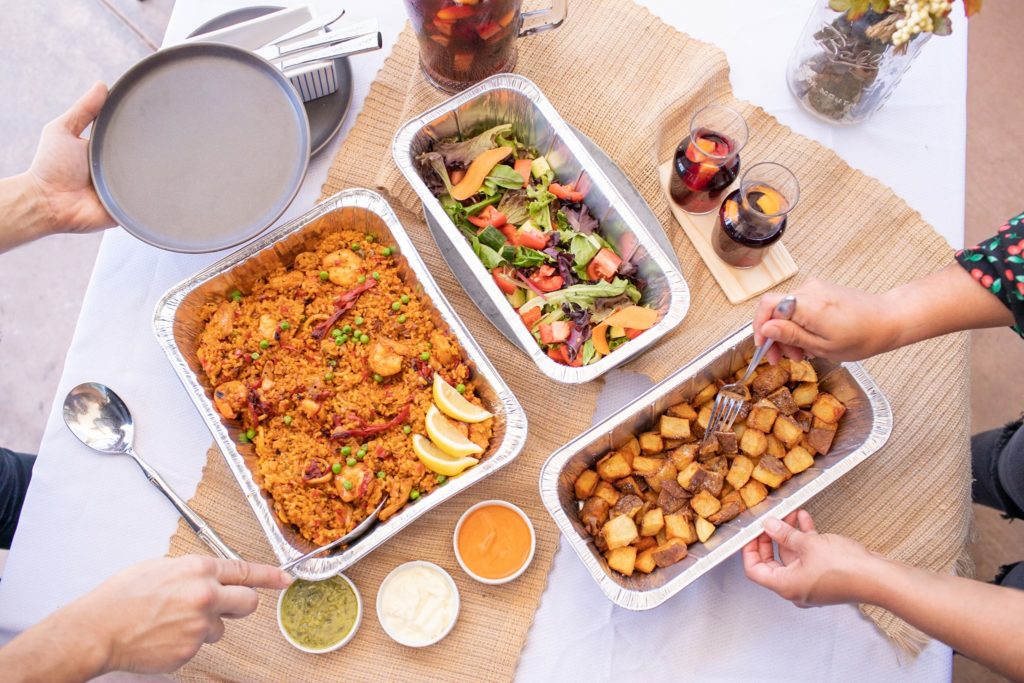 DOVECOTE
Grabbing a meal from Downtown Orlando can be hectic at times (can we say parking issues?) Not to worry as DoveCote has come to the rescue with a special online menu that's available for free curbside pick-up or with a $5 local delivery. In addition, their weekly lunch specials are perfect for couples working from home together who want a fun lunch break. In the mood for something else?
Be sure to check out the full online ordering menu here.
American Social Orlando
Over on Restaurant Row, American Social Orlando has a number of to-go dinner deals for your next date night. To place your order, call (407) 454-9992. Their family-style meal kits are as follows:
AmSo Burger Kit; $40
Backyard BBQ Kit – 3 half racks of ribs, 12 buffalo chicken wings, blue cheese, poppyseed slaw; $45
Taco Fiesta – chicken, braised beef or ground beef, salsa, shredded lettuce, cotija, 12 flour tortillas; $35
Family Pizza Party – 3 pepperoni pizzas or 3 balls of dough to make at home with pizza sauce, pepperoni, mozzarella, and parmesan; $35
Cocktail lovers can also get their fix with large format margarita and mojito kits available for takeout at $35.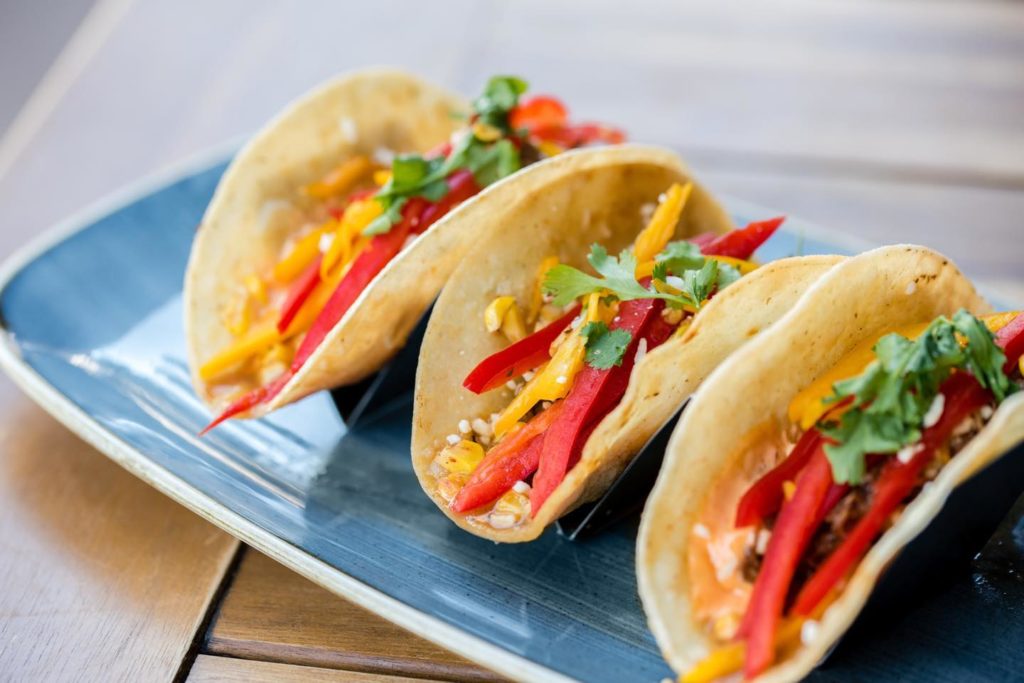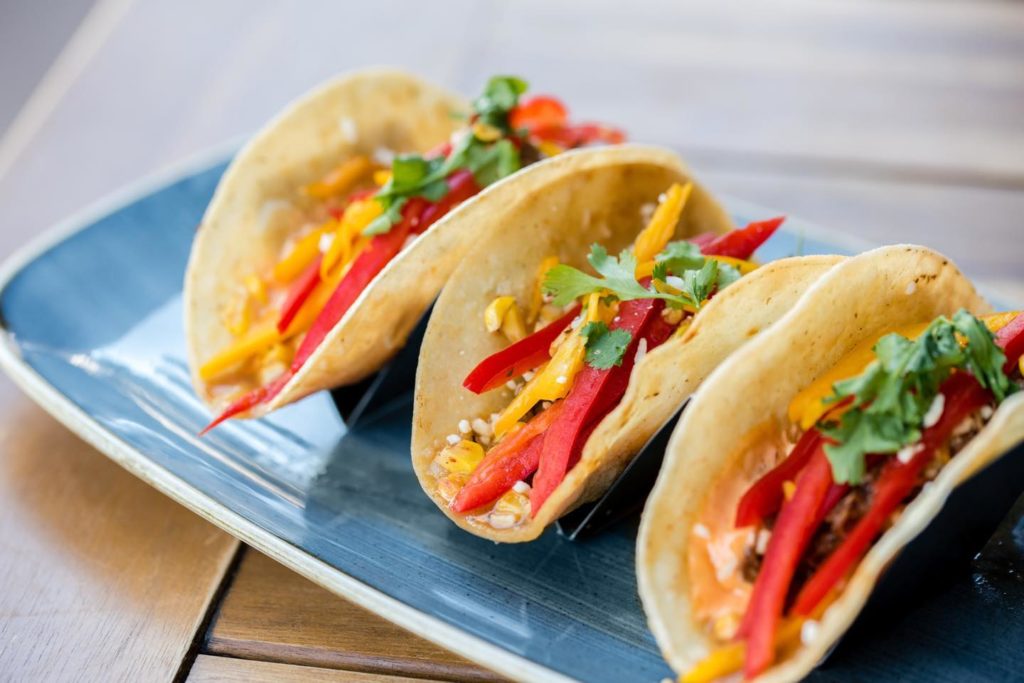 Feature image credit: Bulla Gastrobar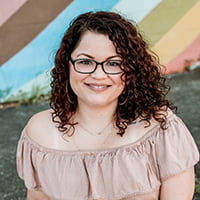 Arlene Laboy is a professional brand photographer based out of Orlando, Florida. A wife and a mother, Arlene shares her love for adventuring around Florida and her professional work through her Instagram account, @arlenemlaboy. Find out more about Arlene here.