SPONSORED — The first West-coast style haunt in the East, Dark Horizon Orlando is prepared to scare you into your partner's arms with three haunted houses: The Port, The Glades, and The Village. You'll also experience two death-defying live entertainment stages with aerial and fire performances, private party Bootlegger Bungalows and more. Music will fill the air by way of local DJ's, and there is even a Panic! 4-D Maze Experience, bringing up the scare factor a few levels. Throw in 4 immersive bars serving up scary craft cocktails and you have the recipe for an unforgettable date night, and you can experience it now through November 2nd!
Here's the scenario that I want you to picture. You're in the dark, feeling your way around the walls because you can't see what terror awaits ahead. Anxious and scared, you're clinging to your significant other. "It's just a haunted house", you say to yourself. Suddenly, a creature lurches out from nowhere, terrifying you so bad that you leap even further into your honey's arms!
Haunted houses are a great way to connect with your love on a more intimate level. For many people, the place they consider the safest is in the arms of their partner. Fear not because there are many moments like this that you'll experience by visiting Dark Horizons this fall.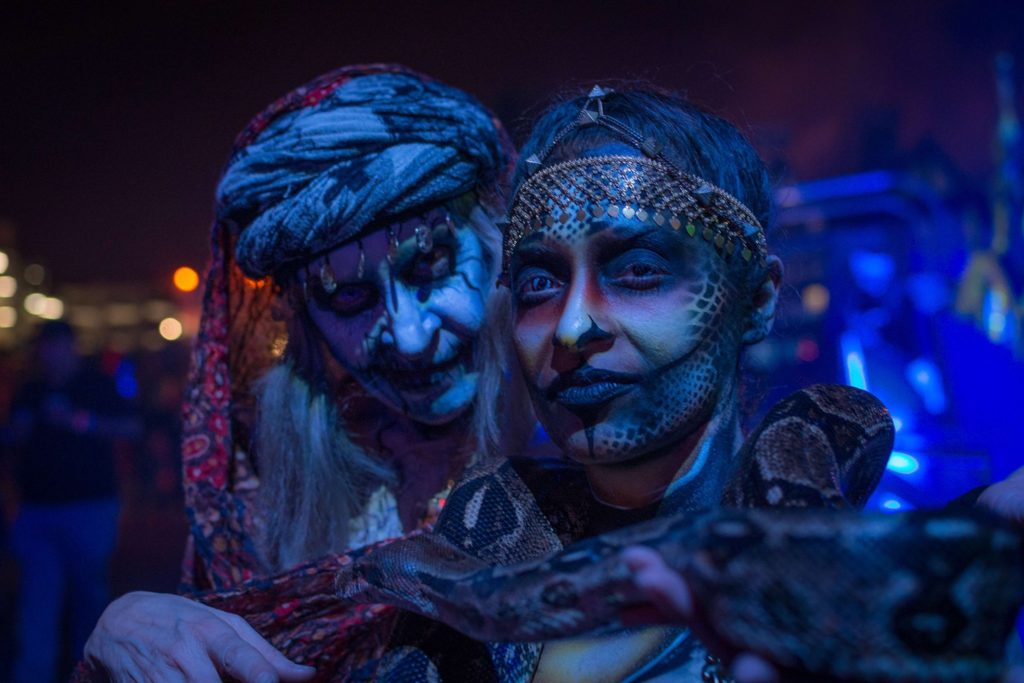 Haunted Houses
The Port
When you think of getting on a ship, it's usually for a vacation. However, this is no vacation that you'll want any part of. The Ghostship appears out of nowhere and you're tasked with searching the boat for loot and rations. Instead, you'll be greeted by Captain Killigrew and her crew. Well, greeted is a nice way of saying that YOU may be the rations that her crew needs to forgo starvation for these disease-infested people.
This zone also features the Bootlegger Bungalows, Walk the Plank Pub & Pier, Siren Stage, Dark Horizon Gift Shop, and Shark Bites. It also serves as the entrance to the Marketplace and Panic! 4-D Maze Experience.
The Glades
Now we don't know the definite starting point of "Florida Man", but the person you'll run into at Murder Island might be it. "Bloody" Ed Watson is known in Florida history because of his hot temper; in the early 1900's he killed many men in public, but was never positively identified as the murderer. Watson is rumored to have killed more than 50 people and he's back to make you pay the ultimate price if you get in the way of his sugar cane empire.
The Glades is home to a lawless crowd where you'll find The Outpost Pub and Gator Grub. Watch out for Bloody Ed's crew and other prehistoric man-eating creatures!
The Village
Guard your soul closely once you enter The Village. This area of Dark Horizon is a remote island village that hides a vortex to the Vodouan spirit underworld of Vilokan. You can try to make it out alive but beware of the Voodoo priestess Mambo Cecile. She can channel the dark spirits to steal your soul and drag you into the depths of Vilokan, never to be heard from again.
The mirky scene is also home to Sacred Circle Stage, the R.I.P Storm Cellar, and Shelter Patio. Exercise extreme caution!
ENTERTAINMENT
In addition to the above mentioned houses, you'll be awe-struck by the entertainment taking place on 2 different stages. The Siren Stage will showcase the Cirque du Scare aerial spectacular. Conversely, the Sacred Circle Stage will feature an electrifying show – literally. While you navigate around the haunted attraction, local DJ's will be playing tunes to create a fully immersive experience.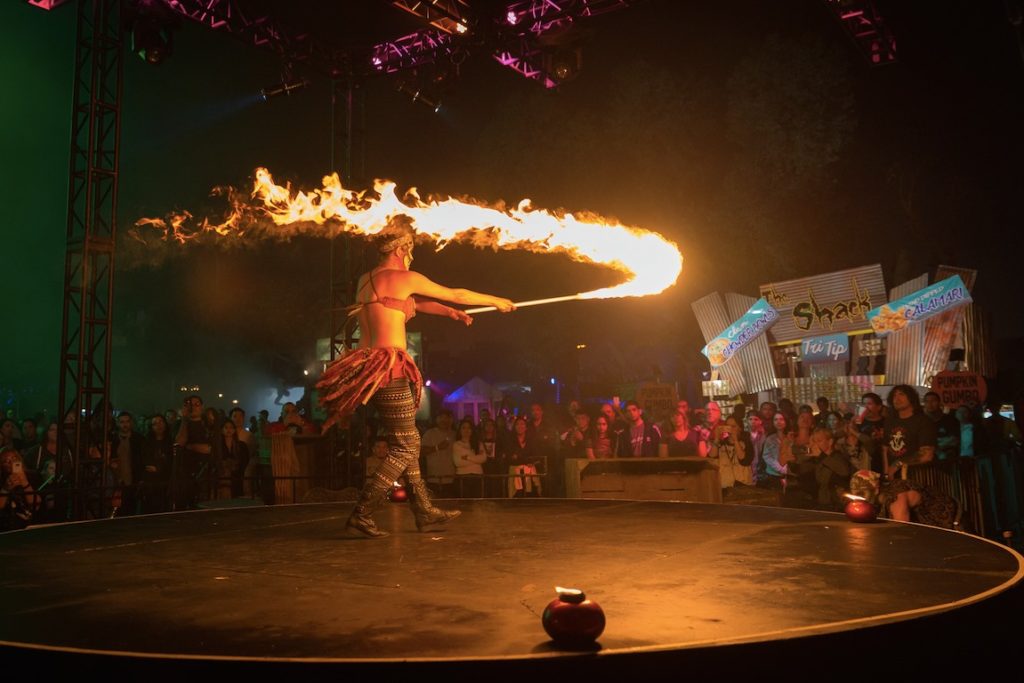 DRINKS
All that screaming is bound to make you thirsty, and there are 4 immersive bars to wet your whistle. Each has a selection of specialty cocktails and even moonshine tasting flights.
Outpost: This walk-up bar is the ideal spot to grab a drink in between scares. Drinks include Poison Apple Butter Beer, Black Magic and Vodou Priestess Punch.
Walk The Plank: Hit this bar after catching the amazing aerial show, as it is located across from the Siren Stage. We've got our eye on the Ship-Faced cocktail!
Storm Cellar RIP Lounge: Go underground to arrive at this bar. Drinking a Corpse Reviver #2 or a Smoky Paloma will make you forget what lies ahead. (NOTE: Ticket upgrade necessary to access this lounge)
Looter's Lair: Get a taste of Captain Killigrew's rum stash once you find this hidden treasure. You'll select from 2 cocktails, Corpse Reviver #2 and Redrum.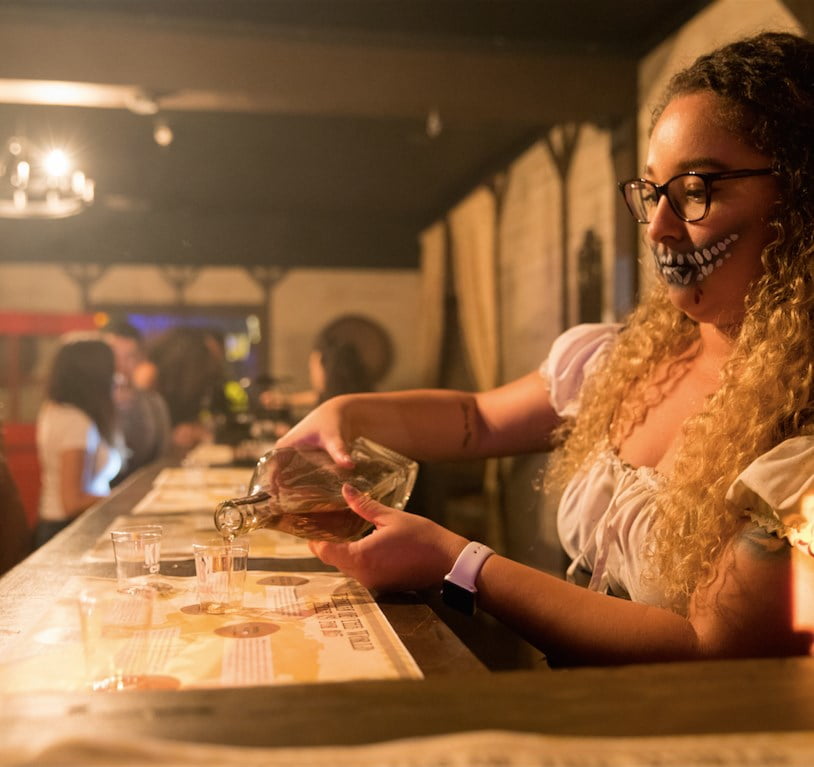 DETAILS
WHAT: Dark Horizon Orlando
WHEN: October 10 – November 2
COST: $34 and up. Ticket upgrades include Fast Fright ($74), Evil Express ($94), and Ultimate Scream ($159)
TICKETS: https://www.darkhorizonorlando.com/tickets/
DISCLOSURE
We were compensated to write this post…
and
We are committed to providing you with valuable content that informs and inspires you…
and
We are clear that all of our content, including our sponsored content, gives value to our readers.
Our commitment as a for-profit website is to marry total transparency with superior, locally-created content. If you ever feel we fall short in that commitment, please let us know.