If you're in the Orlando area, heading to a theme park is an easy date idea. But like all date spots, it can get stale if you go time and time again. To get a bit more from your theme park experience, we (Jess & Tyler) recommend going on a behind-the-scenes tour. These extra tours at Orlando theme parks teach you interesting facts about the parks making repeat visits all the more fun! It doesn't matter if you're a Disney dreamer, a thrill-seeking Universal loyalist, an animal-loving SeaWorld fan or just a theme-park junkie, these tours will take your date to the next level.
Walt Disney World Resort
As Orlando's biggest theme park resort, Disney provides the most opportunities for tours. Each Disney park offers a variety of tours at different lengths and price points. Something to keep in mind, park admission (or an Annual Pass) is required in addition to the price of the tour.
Marceline to Magic Kingdom
One of the first theme park tours we ever did was the Marceline to Magic Kingdom tour. This tour is unique because it combines a relatively short tour (3 hours in total), great ride experiences, and a lot of history.
The tour chronicles how Walt Disney's early life in Marceline, Missouri influenced the design of Magic Kingdom. In addition to learning about Walt and the park, the best part of the tour is riding through two rides and checking out some behind-the-scenes details. We don't want to spoil it too much, but let's just say this tour is a must-do for any fans of The Haunted Mansion.
The Marceline to Magic Kingdom tour runs $50 per person and discounts are available for Annual Passholders and Disney Vacation Club members. The tour only runs on certain days of the week so it's best to check the website for the most up-to-date information.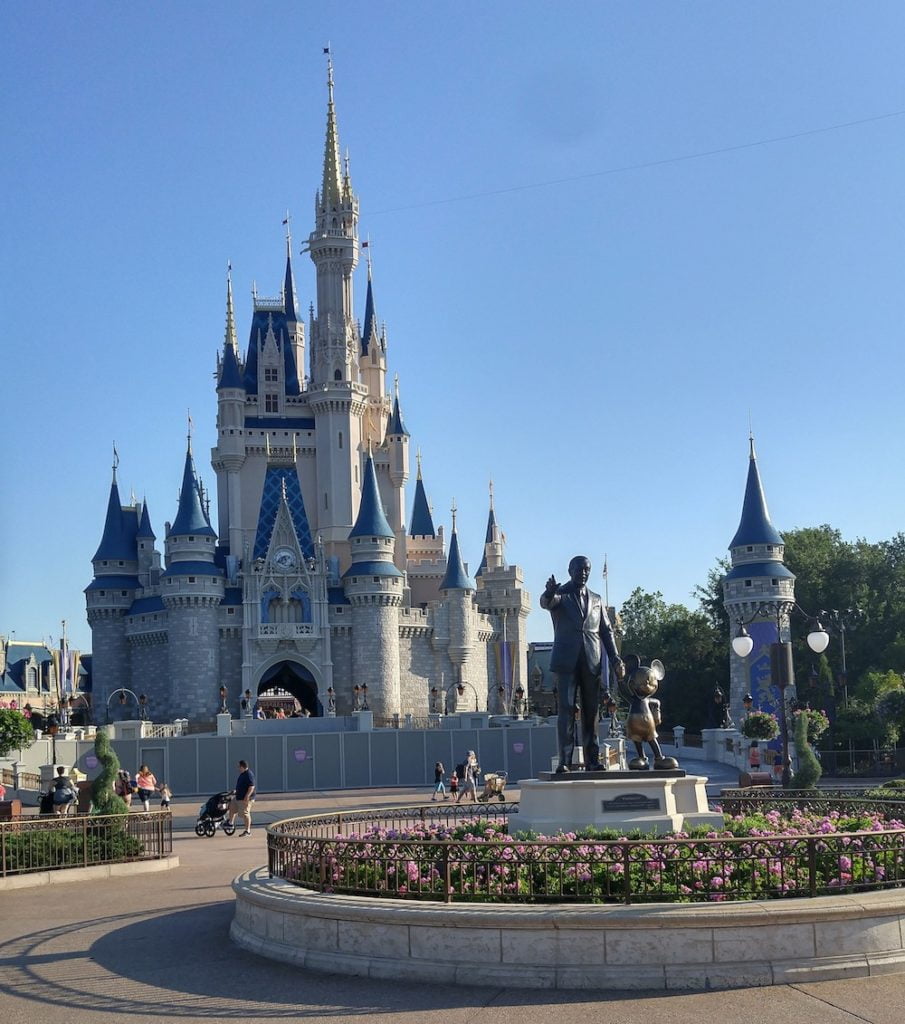 DestiNATIONS Discovered
While Tyler's favorite Disney park is Magic Kingdom, Jessica's favorite is Epcot; so it's no surprise we've also done a behind-the-scenes tour at Epcot as well. The DestiNATIONS Discovered tour is the ultimate World Showcase Tour. The 4.5-hour tour takes you through all 11 countries around the World Showcase while learning about their construction and the real-life buildings that inspired them.
The tour is a bit pricier than the Marceline to Magic Kingdom tour at $79, however it does include lunch. When we took the tour we started in Mexico and worked our way around counter-clockwise, stopping at the Rose & Crown Pub for lunch before wrapping up the tour with a ride of Soarin'. We were told during our tour that they tend to mix up the restaurant offerings from time to time, so you may get a different restaurant.
This tour starts early in the morning, before World Showcase opens to day guests, so it's amazing for all of the photographers out there who want to snap some photos of the pavilions sans people. Check the tour website for operating hours.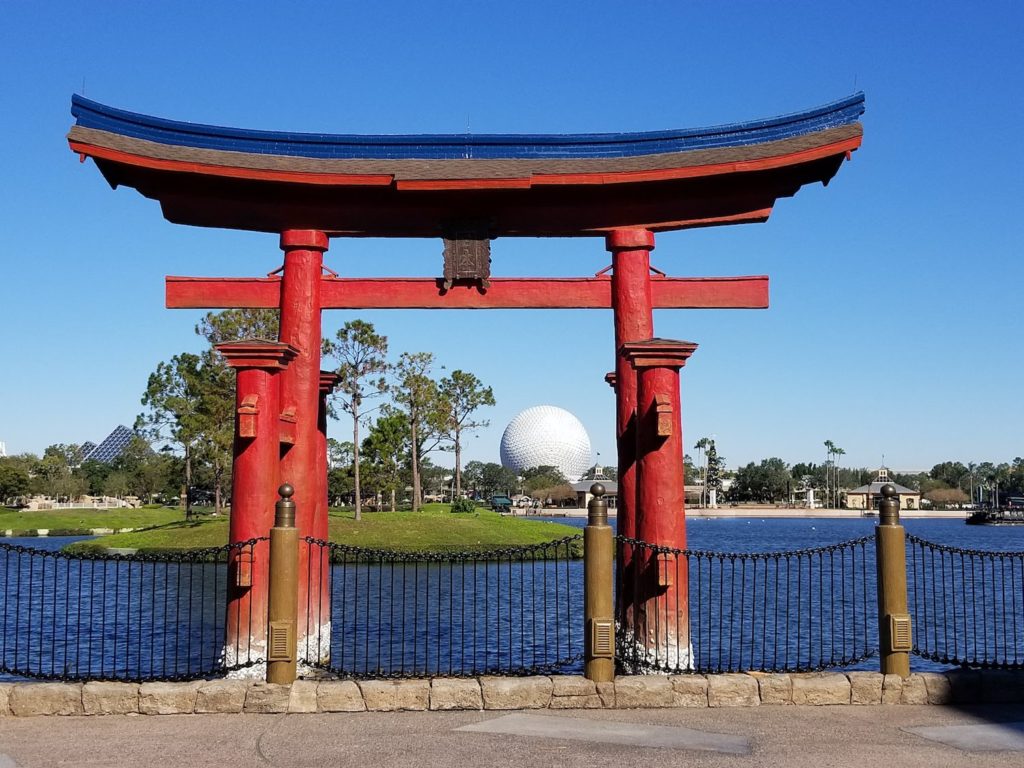 Other Disney Tour Ideas:
Keys to the Kingdom Tour— This is Magic Kingdom's ultimate behind-the-scenes tour. Clocking in at five hours and $99/person, it's Magic Kingdom's longest, most expensive and most informative tours. You'll go behind the scenes on Jungle Cruise, see some of the parade floats in their garages, walk the Disney tunnels and more.
Animal Kingdom Wild Africa Trek — The most expensive tour ($189 – $249) in all of Disney is also arguably the coolest and most unique. This VIP tour gets you up close and personal with the animals of Animal Kingdom, including a chance to feed the hippos. This tour doesn't include a formal meal, but you will be fed African-inspired snacks in a private picnic area in the savannah.
Behind the Seeds Tour — If you've ever ridden Living with the Land and thought "I wonder how they maintain all that," then the Behind the Seeds Tour is for you. Costing only $25 for adults, this quick walking tour takes you behind the scenes at Epcot's greenhouses. Some highlights of this tour are the Disney labs, getting right next to the plants, eating a snack grown right in the greenhouse and feeding some fish.
Universal Orlando Resort
Universal doesn't have the same extensive behind-the-scenes tours that Disney does, but there are still plenty of options to learn about the park. Most of these take place within the park, so a ticket or Annual Pass will be required.
Hard Rock Cafe Tour
Everyone loves free right? The Hard Rock Cafe Tour at Universal CityWalk is a free memorabilia tour that takes you through the restaurant and into some behind-the-scenes areas where you can see artifacts most guests don't see.
Not many people know about this tour and it's dependent on staffing availability, so you may need to be a bit strategic. It's probably not the best to try and ask for this tour during the dinner rush on a Friday night, but late afternoon on a Sunday should work better.
When you arrive at the restaurant, ask one of the hosts about the VIP Tour. If a staff member is available, they'll take you around. You'll hear the stories behind some of the Cafe's most prized possessions, including tons of Beatles garb. We didn't realize that the Hard Rock Cafe in Orlando boasts one of the largest collections of Beatles memorabilia, so if either of you is a fan this is a tour you can't miss.
Halloween Horror Nights
If you want an upgraded Halloween Horror Nights experience that goes beyond an Express Pass, you may want to check out a R.I.P Tour. There are two options – R.I.P. Tour and the Private R.I.P. Tour. Each tour requires separate event admission and the tour prices are dependent on which day you go.
Each R.I.P. Tour is a guided walking tour with the biggest perk being front-of-the-line entry to all of the haunted houses. You'll also get reserved seating for the shows, a special VIP entrance to Universal Studios Florida, Universal Express Unlimited, a pre-tour reception with refreshments, and complimentary valet parking. If you want a fun group date idea, the private R.I.P. Tour accommodates up to 10 guests and is completely customizable.
For the more timid, the Unmasking the Horror Tour is a great option. This daytime tour gives you a look at the houses with the lights on and without the scares! There are two options – a three haunted house tour and a six haunted house tour. The houses rotate from day to day, so the six-house tour gives you the best opportunity at seeing a house you may have your eye on. Another cool part about this tour is that theme park admission is not required.
Other Tours
Unlike Disney, Universal doesn't have any formal behind-the-scenes tours. The closest thing you'll find to a Disney-type tour is the VIP Tour Experience. A VIP Tour includes a personal guide for your day at the park who will tell you insider facts. You'll enjoy front-of-the-line access to all rides, unlimited food and drink and some backstage tours of Universal's rides.
If a VIP Tour is a bit out of the budget, you can try to check out a ride tour on your own. These tours are only offered at select attractions and are subject to available staffing, so treat them kind of like an extra perk versus something to go to the park specifically to do. Our favorite tour is at Men in Black Alien Attack ride tour where you can get a behind-the-scenes look at the immigration room. FYI: Ride tours are subject to staff availability and you'll have to ask for them specifically.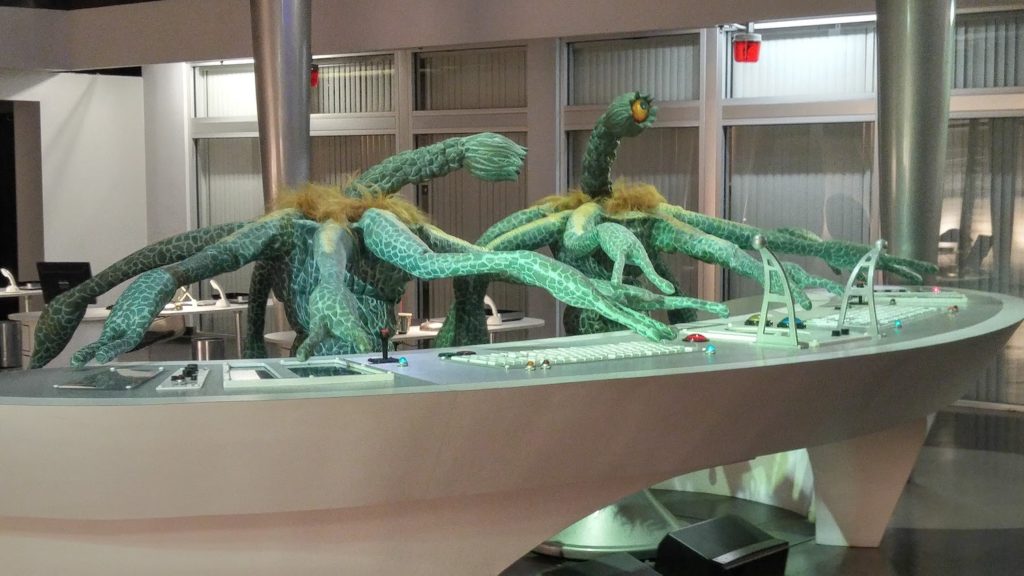 SeaWorld Orlando
No other park in Orlando gets you closer to animals than SeaWorld. Not only do SeaWorld's exhibits get you face to face with the animals, but the park's behind-the-scenes tours provide even more opportunities for interaction.
Animal Encounter Tours
If you've ever wanted to do some tricks with a dolphin, pet a penguin or feed a walrus, SeaWorld has you covered. There are 10+ different tour options available for relatively cheap prices. The prices on each experience vary, but most hover around the $30 mark and all of the tours are around 45 minutes long. And, of course, you'll need to pay regular park admission in addition to the experience.
The Dolphin Encounter is the easiest of the experiences and also one of the least expensive. For only $25 (cheaper for Annual Passholders) you can learn how SeaWorld's trainers interact with the dolphins in the park. You and your date will also have the chance to do some tricks, feed, and touch a dolphin. The whole experience only lasts about 15 minutes, but it's well worth it to get close to our favorite marine mammal.
Another hub for tours is the Arctic section of the park. Penguin lovers can rejoice because there are three opportunities to interact with chilly feathered friends. The classic Behind-the-Scenes Tour not only shows you the penguin habitat but lets you pet one, too. You'll also have the chance for penguin interaction at the Penguin Encounter and Penguins Up Close Tour.
Two of our favorite experiences involve some other arctic animals. The Walrus Up Close Tour finally answers the question as to why walruses and seals can balance a ball on their nose and lets you feed a walrus by hand. The Beluga Whales Up Close Tour lets you perform a neat trick with one of SeaWorld's most unique animals.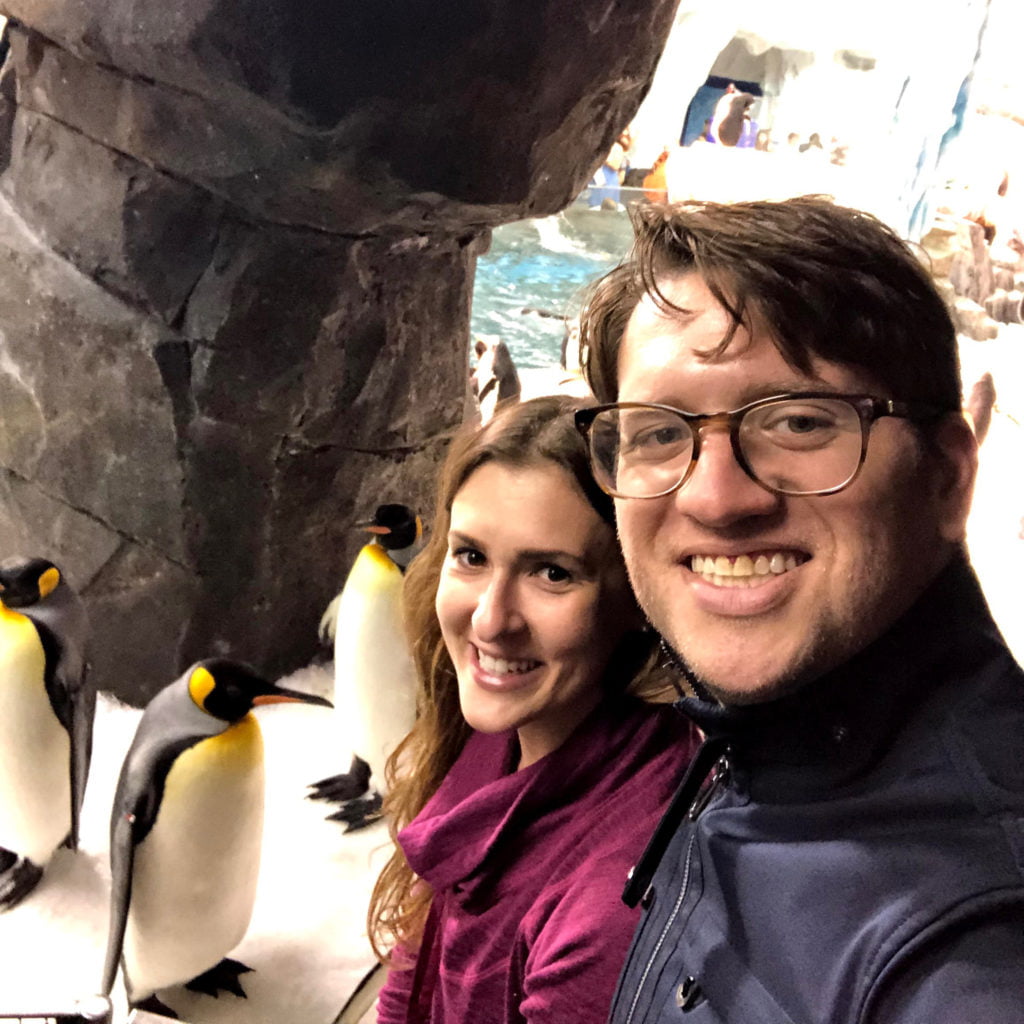 Animal Feeding
Even outside of the traditional tour, SeaWorld has a few opportunities for guests to feed their animals. Some of the feedings are more fun than others (we like the sea lions the best), but all of them give you a chance to do something you can't do at any other park in Orlando. Each of these feedings costs about $5 and may seem a bit gimmicky, but they're secretly a lot of fun.
Other Experiences
In addition to the theme parks, there are a few other experiences that are worth checking out.
Gatorland— Gatorland is hands down one of our favorite attractions in all of Central Florida. Some extra bits for you to enjoy including getting a bird's eye view of the breeding marsh and other areas of the park from the zip line course. Or, for a nighttime date, book a Gator Night Shine tour, which is a guided nighttime tour including an opportunity to feed the gators!
Wild Florida — It's a bit of a drive from Orlando, but we highly recommend heading to Wild Florida for an airboat tour and to explore the gator park! There are a

variety of experiences

from a behind-the-scenes tour to sloth yoga and different animal encounters.

Busch Gardens — Similar to SeaWorld Orlando, Busch Gardens in Tampa offers some really great tours and encounters

. We were able to feed a mom and baby gorilla during the Gorilla Insider Tour, but there are encounters available for rhinos, elephants, sloths, cheetahs, tigers, and more! If you are more of a thrill-seeker, check out the Roller Coaster Tour to find out what goes into operating one of the park's world-class coasters.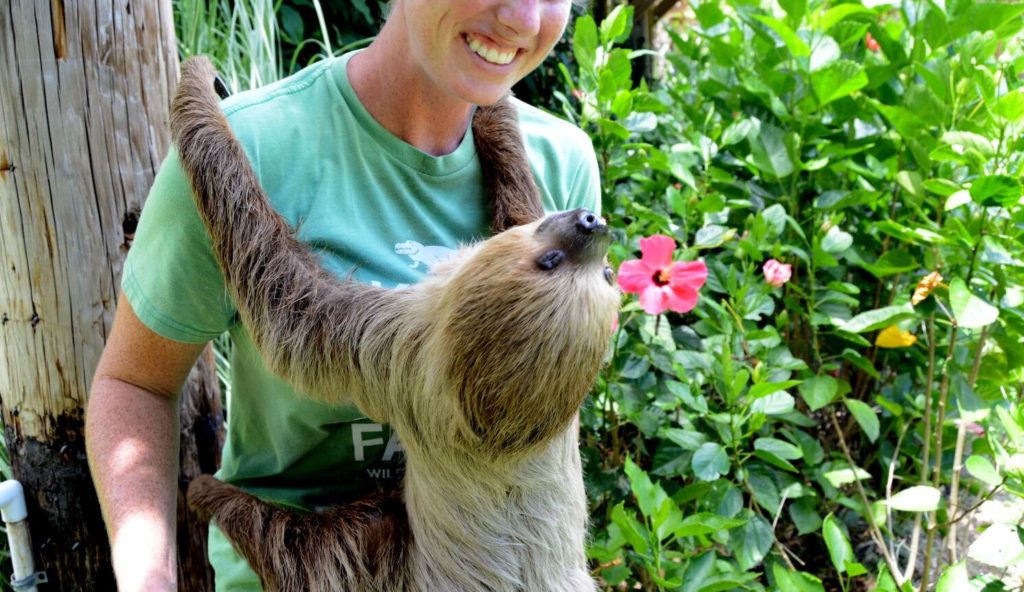 Visiting a theme park is a great way to spend the day with your significant other, but a behind-the-scenes tour allows you to experience something new and fun at a place you already love. This will not only give you a better appreciation for the parks and their staff, but also some great bits of trivia to impress your friends and, most importantly, a special memory for the two of you to share.
Feature image credit: Busch Gardens gorilla tour by @theorlandoduo