When's the last time you declared a Sunday funday? If you're long overdue, consider heading to Historic Downtown Sanford for a day of diversions designed to fill your Sunday with fun, food and new experiences.
Over 25 participating bars, restaurants, and retailers have come together to offer everything from special brunches, live music, and food trucks to drink specials, street festivals, pop-up food specials and sidewalk sales. Sanfording on Sundays is your chance to eat, drink and be merry in one of Central Florida's hippest haunts.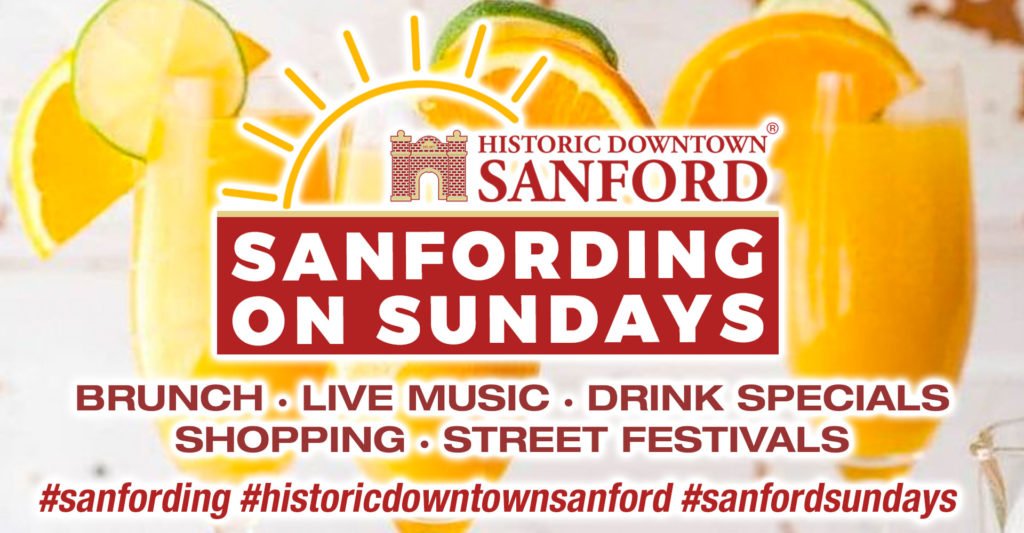 STEP ONE: BRUNCH
The Original Christo's
Brunch hours: Sundays from 8am – 3pm
Menu highlights: omelets, eggs benny, chicken 'n' waffles (see the full menu here)
Details: 107 W 1st Street, Sanford, FL; www.christossanford.com
Shantell's
Brunch hours: Sundays from 10am – 3pm
Menu highlights: salmon croquet, fried chicken, waffles, collard greens, candied yams, French toast
Details: 503 S Sanford Ave, Sanford, FL, 32771; www.shantellshomecooking.com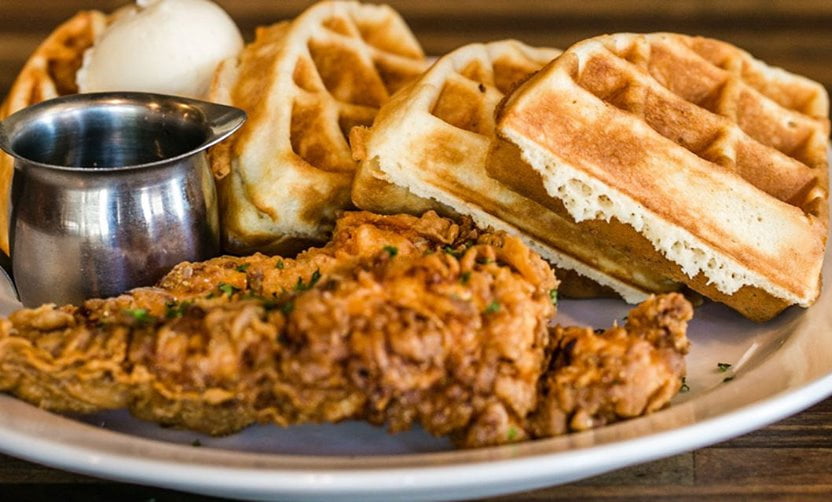 Luisa's Cellar
Brunch hours: Sundays 11am to 3pm
Menu highlights: Bottomless mimosas and sangrias
Details: 206 Sanford Avenue, Sanford, FL 32771; www.luisascellar.com
Buster's Bistro
Brunch hours: Sundays 11am – 5pm
Menu highlights: Salmon and Boursin omelette, Croque Madame, chicken and waffles
Details: 300 S Sanford Ave, Sanford, FL 32771; www.bustersbistro.com
Wop's Hops Brewing & Kitchen
Brunch hours: Sundays noon – 9pm
Menu highlights: lunch menu only (burgers, salads, flatbreads, etc)
Details: 419 Sanford Ave, Sanford, FL 32771; wopshopsbrewing.com
STEP TWO: LISTEN TO LIVE MUSIC
Celery City Craft
Music starts: 1pm
Highlights: $2 mimosas, unique craft beers and wines, plus freshly made and locally-sourced soups, sandwiches, and appetizers in the beautiful, spacious courtyard.
Details: 114 S Palmetto Ave, Sanford, FL 32771; celerycitycraft.com/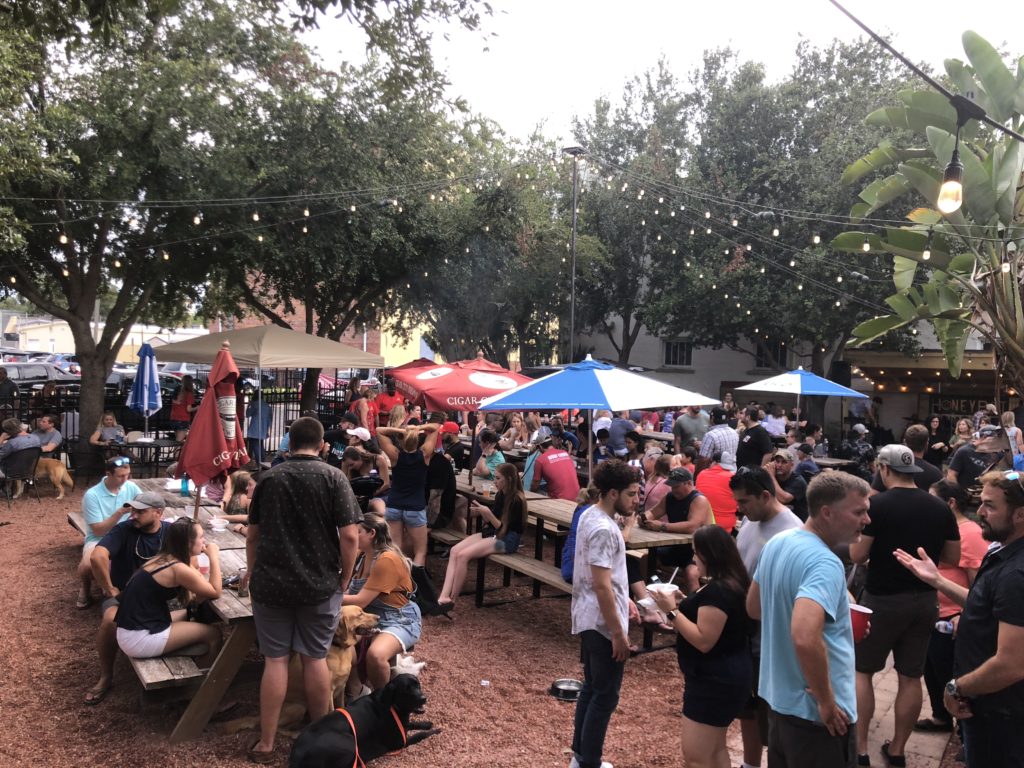 Acoustic Sundays at Sanford Brewing
Music starts: 1pm
Highlights: Brewhouse, taproom, gastropub
Details: 400 S Sanford Ave, Sanford, Florida 32771; https://www.sanfordbrewing.com/
The Alley
Music starts: 1-4pm
Highlights: Live music and food provided by Fuel BBQ
Details: 114 S Park Ave, Sanford, Florida 32771; www.thealleyblues.com
STEP THREE: THINGS TO DO
Magpie's Modern General Store
Providing sampling flavors of our boozey slushie mixes and some other treats, along with a one-day sale on select clothing.
Limo Cycle
Book your seat on a pedal-powered party through Sanford with stops at local breweries and BYO wine/beer on the bike. limocycle.com/book-tours/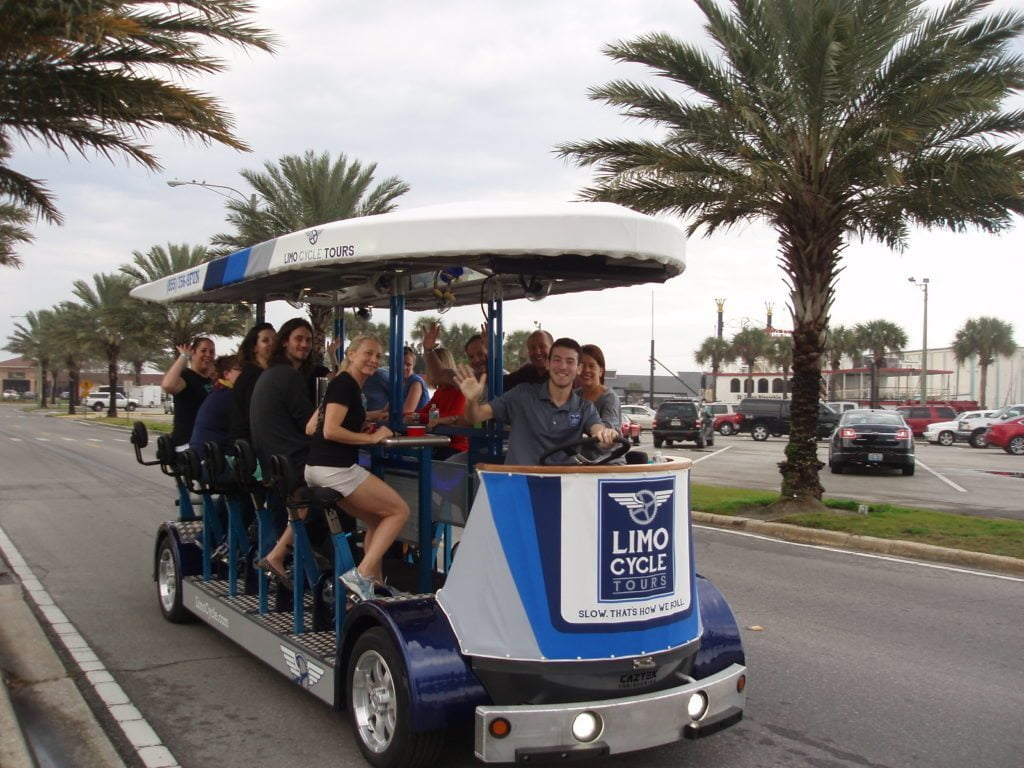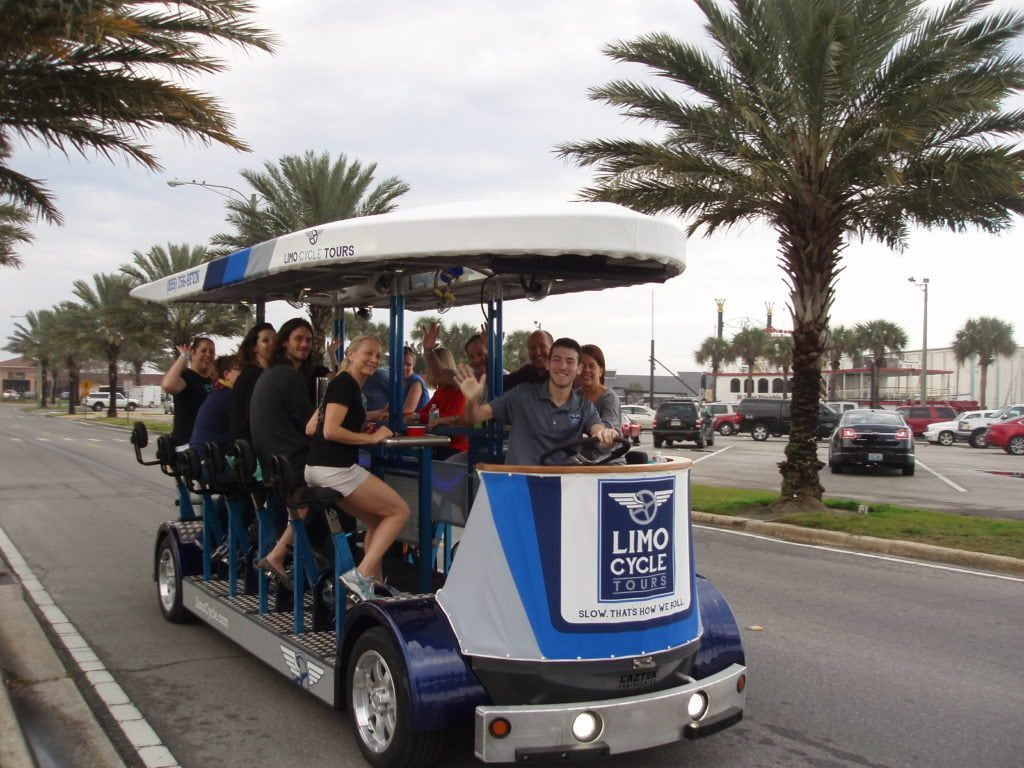 Stroll the Riverwalk
Wander down the Sanford Riverwalk for breathtaking views of Lake Monroe.
See more ideas here: orlandodatenightguide.com/2019/03/25-sanford-dates-under-50/.
STEP FOUR – GET DRINKS
The Basin's Sunday Funday
212 W 1ST St, Sanford, Florida 32771
Specials include: $5 Bloody Marys, 2-for-1 mimosas, $2 Bud Light & Ultra drafts, $3 craft drafts, $20 wine buckets and $15 seltzer buckets.
More details: https://www.facebook.com/events/2315106482040187/?event_time_id=2315106485373520
West End Trading Co.'s NFL Sunday Ticket
202 S Sanford Ave, Sanford, Florida 32771
Stop in EVERY Sunday for the 1pm NFL games on the big TV screens, 2-4-1 drink specials, weekly football pool and wings!
Sunday Bloody Sunday: Bloody Mary Tasting for Sanford Sundays
Loggerhead Distillery
Sunday September 15,
12pm – 2pm
www.facebook.com/events/951602271874128
Throwbacks
418 Sanford Ave, Sanford, Florida 32771
Visit to watch EVERY game live from Week 1 of the NFL at Throwbacks in Historic Downtown Sanford. Next event: Sunday, September 8, 2019 at 1pm.
Check out this list of our favorite new Sanford bars for more ideas.
UPCOMING SUNDAY EVENTS
Pair up your Sunday Sanfording visit with one of these events coming up:
Namaste for a Beer Yoga
Sunday, September 15, 10:30am
Deviant Wolfe Brewing
Sanford Indie Market
Sunday, September 15, 11am – 5pm
Tuffy's Bottle Shop & Lounge
Sunday Funday!
Every Sunday, 10am
Board & Brush Sanford
Pick any project from approximately 300 items