June 12, 2019 marks the 3-year anniversary of the tragic Pulse Nightclub shooting, a day that devastated—and united—the Orlando community.
While the pain, hurt, and confusion will never subside, we continue to remember and honor those whose lives were lost by taking action, spreading love and kindness, and remaining united.
In honor of the 49 lives lost and all of those affected by the Pulse tragedy, The City of Orlando deemed June 12 Orlando United Day – A Day of Love and Kindness. As Orlando United Day approaches, we've put together this list of memorials and events, exhibits, and more happening around the city to honor all of those affected by the events of June 12, 2016.
We will continuously update this list, so check back often for new information. And please leave us a comment if there's an event we've missed.
Events
Honor Them With Action
From June 8 – 16, join folks at events nationwide to support the LGBTQ+ / Latinx communities in honor of those taken from us at Pulse nightclub. Or take personal actions of support and tag it online with #HonorThemWithAction.
Third Annual CommUNITY Rainbow Run Benefiting onePULSE Foundation
June 8, 2019 | 7:30 am
Wadeview Park, Orlando, FL, USA
The run follows a special 4.9K course and includes a "Remembrance Journey" that will guide runners past the Orlando Health Trauma Center and onto the Pulse site – the same distance covered by victims in the early morning of June 12, 2016. Proceeds raised will benefit onePULSE Foundation.
Event schedule:
AHF Pharmacy CommUNITY Festival 7 a.m. – 10:30 a.m.
Run Begins 8 a.m.
Old Town Kids Run 9:15 a.m.

The 49 Fund 2019 Scholarship Announcement
June 8, 2019 | 3-4:30pm
Orlando City Hall
The 49 Fund announces the 2019 College Scholarship Recipients presented by Mayor of Orlando Buddy Dyer, Mayor of Orange County Jerry Demings, City Commissioner Patty Sheehan, & Barry Miller, Esq – The 49 Fund Founder. Refreshment & light hors d'oeuvres will be provided.
Love and Kindness on the Lawn
June 8, 2019 | 12:30-2:30pm
Dr. Phillips Center for the Performing Arts
Join The One Orlando Alliance on Sunday, June 9, 2019 from 12:30 p.m. to 2:30 p.m. at the Seneff Plaza in downtown Orlando to gather in gratitude to celebrate community and the spirit of #OrlandoUnited! This free event is a time to enjoy local music, food trucks, share some hugs and create happy memories while remembering those who continue to need our love and support. There will be a special giant "human heart" photo opportunity at 1:30pm, plus a group Loving Kindness Meditation led by Puja Madan of The Mindfulness Map at the end of the event. There will also be #ActLoveGive signs to fill out and take with you.
Love and Kindness on the Lawn is part of the Orlando United: Acts of Love and Kindness movement. Visit ActLoveGive.org for more information.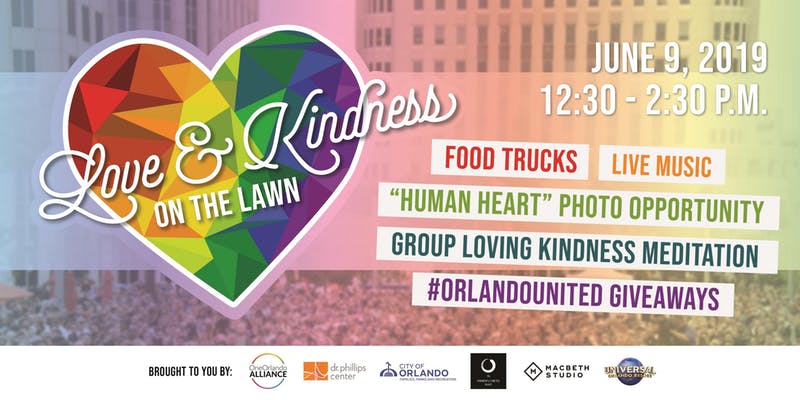 Recordemos Our 49
June 8 | 6:30pm
Joy Metropolitan Community Church – 2351 S. Fern Creek Ave
Join Joy MCC as they come together to remember and honor those taken from our community on June 12, 2016. All are welcome.
Acompañenos a honrar la memoria de quienes perdieron sus vidas el 12 de junio del 2016. Invitamos a toda la comunidad a ser parte de este momento de reflexión.
onePULSE Foundation Pop Up Shop
June 9, 15, and 22 | 11am
Bloomingdale's at The Mall at Millenia
Bloomingdale's will be hosting the onePULSE Foundation Pop-Up Shop throughout May & June. Show your support through interactive kiosk social media & shop the onePULSE foundation clothing & accessories. There will be new styles & a variety of items supporting the onePULSE Foundation. Bloomingdale's will also be offering Pride merchandise for the month of June.
#OrlandoUnited FilmSlam
June 9 | 1-3pm
Enzian Theater
3rd annual #OrlandoUnited themed lineup of films featuring local LGBTQ+ filmmakers. The film lineup includes "Greetings from Queertown", a documentary about the "the brave LGBTQ community that built Orlando's political and nightlife scene, that struggled through the HIV/AIDS crisis and that created Pride and Gay Day at Disney World." The full list of films and details is available here.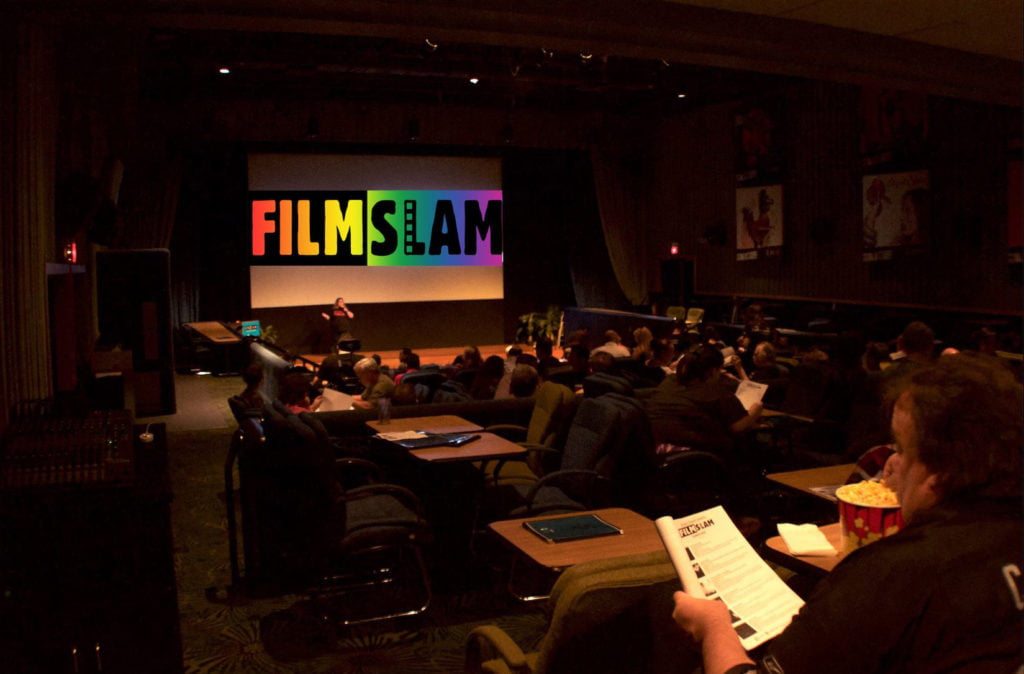 UCF Remembers
June 10, 2019 | 10-11:30am
UCF Live Oak and Cypress Room Event Centers
Join the UCF Community in remembering the lives of those taken on June 12th, 2016 at Pulse Nightclub. The Vigil will be held in the Live Oak Ballroom by Garage B, and Millican Hall will be lit up after dusk.
Orlando United Day Community Clean Up
June 12, 2019 | 10am-12pm
Zebra Coalition
June 12 is known as Orlando United Day – A Day of Love and Kindness. The day is dedicated to honoring the memory of the 49 taken, supporting survivors and recognizing the compassion and love displayed by our community. The historical day is supported collaboratively by the City of Orlando, Orange County Government, Orlando United Alliance and Pulse owner Barbara Poma. Join us on June 12 as we partner with Mill 50 district to clean the neighborhood. All supplies will be provided.
Ringing of the Bells "49 Bells"
June 12 | 12pm
First United Methodist Church – 142 East Jackson Street
On June 12, 2019 bells will toll 49 times in unison around the world as a tribute to the victims taken during the Pulse Nightclub tragedy. Mothers of the victims are calling upon churches, temples, synagogues, mosques and businesses to join them by tolling their bells and showing solidarity with messages of love and kindness on their public signs.
2019 Annual Remembrance Ceremony
June 12, 2019 | 7pm
PULSE
OnePULSE Foundation is hosting a public ceremony to bring together Orlando Mayor Buddy Dyer, Orange County Mayor Jerry Demings and the community to honor the 49 angels, the survivors and the first responders in a public gathering at the Pulse Interim Memorial.
BrewsForDrew
June 14 | 7-10pm
World of Beer Downtown Orlando
Join in for this Orlando fundraiser for The Dru Project celebrating the life of Christopher Andrew Leinonen as well as The Dru Project's accomplishments since the Pulse shooting. Every dollar from Left Hand beers purchased at the event goes straight to the organization's scholarship fund. There will be appetizers, raffles, and pop-up drag performances during the event.
Exhibits, Murals and Installations
Love Speaks: Artistic Responses to the Pulse Nightclub Tragedy
June 1 – September 22
Orange County Regional History Center – 65 East Central Blvd
Three years after the mass shooting at the Pulse Nightclub on June 12, 2016, this remembrance exhibition shares artwork from across the nation created in the wake of this senseless act of violence. These diverse works – from paintings to basketry to graphic novels – both pay tribute to those who were taken and also inspire a better tomorrow for those who remain. Admission to the History Center will be free from June 8 – 16 to allow the entire community to experience the exhibition.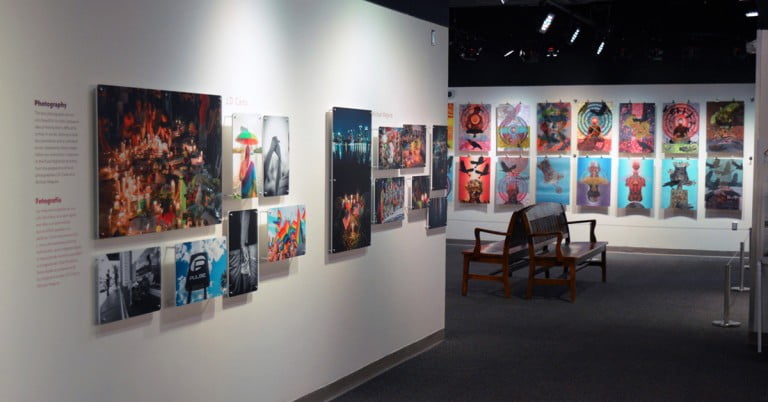 Provincetown Community Compact's Prayer Ribbon Installation
June 7-16 at Orlando City Hall Plaza
City residents and visitors are encouraged to join the prayer ribbon community by adding a person to honor and/or a message to a ribbon. A table will be placed in the City Hall Rotunda with forms for people to write messages and mail it to the Provincetown Community Compact.
Pulse Interim Memorial
Open daily from 7:30am-9pm
1912 South Orange Avenue
Establishing a sanctuary of healing and a beacon of hope by memorializing the lives taken, the lives saved and all the lives affected by the Pulse Nightclub tragedy of June 12, 2016 – ensuring Pulse's legacy of love lives on
Colonialtown Labyrinth
Open from sunup to sundown
820 N. Ferncreek Avenue
Meditation labyrinths are used as a path for healing. Intentional walking in a quiet place on a set path allows for a level of focus and release. The Colonialtown labyrinth had been planned, but the names of the Pulse victims and the fractured heart were added at the request of the Colonialtown Neighborhood Association. The labyrinth was constructed with Capital Improvement Funds from Orlando District 4 Commissioner Patty Sheehan.
Orlando Health
Lake Beauty Drive
The forty-nine limestone pavers feature the names of the 49 Angels lost in the Pulse Nightclub tragedy, just around the corner from the hospital. The pavers have been placed in a circular design around the hospital's entryway fountain, forming a memorial garden at Lake Beauty Park on the Orlando Health campus.
Murals:
#OrlandoStrong mural by @luceskyart and @hepsfury at Pho Hoa, 649 Primrose Drive
Love Orlando Orange mural by @rhettwithey and @ashleybgraphics at Pho Hoa, 649 Primrose Drive
#OrlandoStrong mural by Track Shack staff and volunteers at Track Shack garage, 1050 N. Mills
Orlando Strong mural by Ric Sosa at The Center, 946 N. Mills
Love Wins mural by Patty Sheehan and Zebra Coalition youth at 948 N. Mills
We Matter mural by Patty Sheehan and Zebra Coalition youth at Zebra House, 911 N. Mills.
You Mattered mural by Andrew Spear at iFixYouri, 1200 E Colonial Drive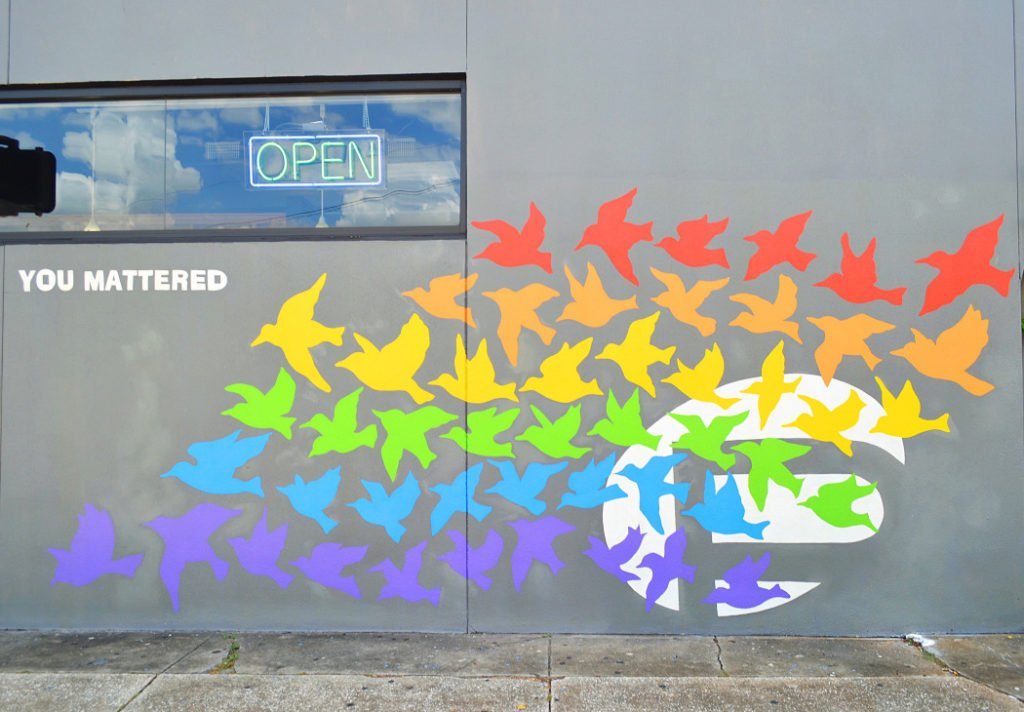 Pride Month Events
Butterfly Talks Meetings
June 5 and 19 | 6:30pm
Orlando United Assistance Center
Butterfly Talks was created in order to provide a safe place to build friendships and a sense of community among questioning, lesbian, multiple-gender loving, queer women and all transgender individuals. New members are always welcome!
June 5th meeting topic: "Labels" – Do we like them? Hate them? What're YOUR thoughts? Join us as we discuss. New members always welcomed!
June 19th meeting topic: Biphobia – Share your own experiences or learn from others about what kinds of experiences they have being attracted to multiple genders.
Pridefest Kissimmee
June 8, 2019 | 12-5pm
Kissimmee Civic Center
PrideFest Kissimmee is a celebration grounded in welcoming, fostering awareness of and acknowledging the impactful contributions of our local LGBTQ community.
Equalitee Co. Launch Party
June 8, 2019 | 6-10pm
Barley & Vine Biergarten
Equalitee Co. is Orlando's newest LGBTQ+ apparel brand created by two local best friends (a femme lesbian and an ally). Our elevated pride apparel is designed for you to LIVE OUT PROUD! Exclusive Equalitee Co. apparel will be for sale at this event along with live music, photographers, a raffle, a food truck, and free goodie bags for the first 50 people through the door.
Resilient: A Night of Healing
June 11, 2019 | 8-10pm
Ivanhoe Park Brewing Co.
Join in for an evening grounded in pride and celebration of who you are. lululemon ambassador Danielle Cosgrove will be leading this evening with partners Sarabeth Jackson Tara Reed Andrea Laing and Dana Albert Kaplan. ALL are welcome for a free evening of yoga combined with: reiki, meditation, aromatherapy, crystal healing, kirtan/chanting/sound healing, and yoga nidra.
Get involved
Support an LGBTQ Supporting Organization. The One Orlando Alliance list is a good place to start.
Make a donation to the onePULSE Foundation, The Dru Project, Contigo Fund, Better Together Fund or The 49 Fund.
Read the stories of the Orlando 49 in this series from Orlando Weekly. You can also view the names of the 49 victims here.
Do you know of an event, memorial, or project that we missed? Please share it with us in the comments.
Feature image credit: @chriskernstock