Starting Friday, May 31, Busch Gardens Tampa Bay brings back Summer Nights, featuring extended hours every night through August 11, 2019, and fireworks each Friday, Saturday and Sunday.
Summer Nights also includes evening music and entertainment, as well as after-dark access to Tigris, Florida's tallest launch coaster and a new addition to Busch Gardens.
FREE MEARS TRANSPORTATION FROM ORLANDO
Skip the I-4 nightmare and ride in comfort and style all the way to Busch Gardens. It's absolutely free to hop on board the Mears fleet traveling to and from select pick-up locations around the tourist areas of Orlando.
Key Details
Shuttle is FREE with any paid Busch Gardens ticket (get your ticket in advance online).
Passengers are responsible for transportation to and from the designated pickup and drop-off locations in and around the Orlando area.
Pickup locations include SeaWorld, ICON Park, Publix on Vineland Road and Universal Studios Orlando.
Arrival time at Busch Gardens is subject to change; it could be as late as 11:30am.
The departure time from Busch Gardens depends on park closing time and will be confirmed when you board your bus.
For exact departure time, call 407-423-5566.
The number of stops for each shuttle are not determined until the day of the trip (your shuttle could potentially have a maximum of 3 stops on the route).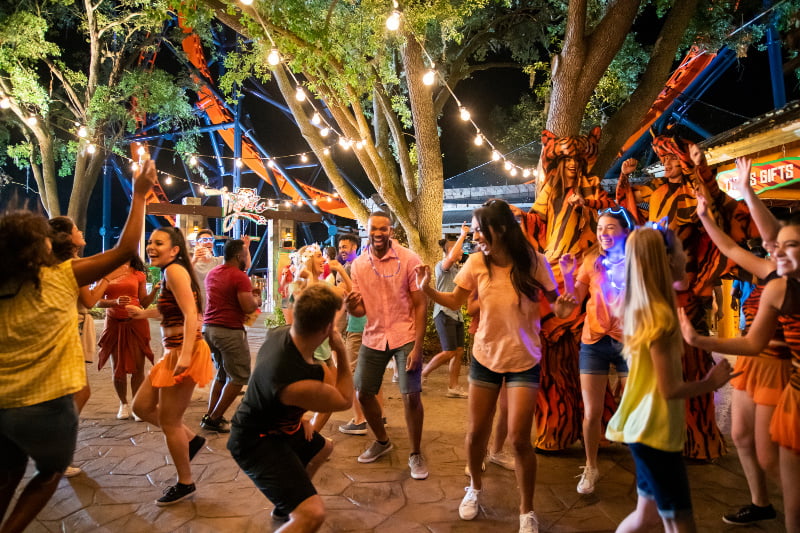 SPECIAL-EDITION SUMMER FOOD AND DRINKS
Park guests can also enjoy special-edition menu items that feature a new twist on traditional summer fare.
Classic popcorn gets a makeover with an infusion of buffalo ranch and white cheddar flavors.
Summer tastes sweeter with a churro sundae or a fireworks ice cream slushy.
The grilled cheese of childhood memories is transformed as a mac and cheese melt, also available with lobster.
Grown-up indulgences include colorful handcrafted cocktails and pop-tails (new frozen treats with alcohol) in addition to the continued free beer offer as a part of the park's 60th anniversary celebration.
ADMISSION
Summer Nights is included with regular park admission.
For more details, visit buschgardens.com/tampa/events/summer-nights/.