A progressive dinner is defined as "a dinner party in which each successive course is prepared and eaten at the residence of a different participant." To plan your own, pick an area of Orlando where there's a cluster of yummy restaurants within walking distance. Then, stop by three or four places eating one dish at each. Sit at the bar for an easy in and out, and expect to spend about 45 minutes or so at each location. Bonus: Short romantic strolls in-between stops allow for ample hand-holding.
The Destination: Winter Garden
Winter Garden was incorporated as a town in 1903. Once known for its orange groves and railroad station, this historic suburb in West Orange County is now a favorite among fitness enthusiasts, thanks to the West Orange Trail; beer lovers, thanks to the eclectic Crooked Can Brewery located within the Plant Street Market; and foodies, thanks to an award-winning farmer's market and several new restaurants. Winter Garden is Orlando's fastest growing suburb and its main drag, Plant Street, is lined with quaint boutiques, coffee shops and plenty of date night venues.
Orlando has many local districts that work for date night progressive dinners. But, in this blog, we're serving up four itineraries for progressive dinners all within Winter Garden's historic downtown. You'll get to savor several eateries and cuisines to tantalize your curiosity and taste buds.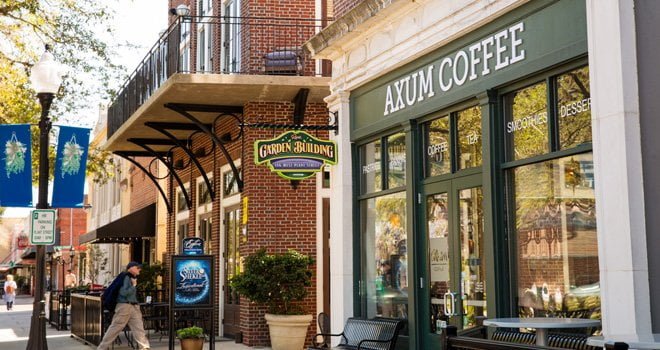 1. A Casual Affair
Appetizer: Moon Cricket Grille
14 Plant Street, Winter Garden | mooncricketgrille.com
Moon Cricket was recently voted as the "Best Winter Garden Restaurant" by the readers of Orlando Magazine. It's a fun progressive dinner starting point because it has a happy hour vibe thanks to an impressive list of 99 bottled beer varieties. For your appetizer course, select a brew to pair with Moon Cricket's signature dish, the Fried Green Tomato. The fresh, green tomatoes are hand-sliced, lightly breaded, fried to golden brown perfection and topped with a spicy Cajun remoulade.
The Moon Cricket Grille building dates back to 1912. I'm a fan of this saloon-style spot because it has rare and ornament charms that go unnoticed by most. For example, the pine floors, tin ceiling and skylight are all originals. The restaurant décor also includes wood trimmings carved from native trees, stained glass from a local church and, most impressive, a bar and tabletops crafted from bowling lanes. Plus, light fixtures and brass railings that once embellished the former Rosie O'Grady's on Church Street now adorn the walls.
Dinner: The Whole Enchilada
129 W. Plant Street, Winter Garden | twefreshmex.com
If you'd like to pair fresh air with fresh guacamole, this place is for you! Order your meal on the first floor and hit the salsa bar. Then, head upstairs to chill on the rooftop which has a covered bar, a few lawn games and spectacular views of the starry sky above. Sit together on a large wooden bench with plush pillows. A server will bring your grub up to you and ensure that you're set with cocktails.
Since it's an easy shareable for two, order the Two Fish Tacos with your choice of tortilla (soft corn, soft flour, crispy corn or crispy flour), mahi-mahi, lettuce, jack and cheddar cheese, avocado, tomato, and chipotle sauce, and accompanied by chips. To drink, the House Margarita is a good choice (or add a flavor, such as strawberry, mango, prickly pear or watermelon). My recommendation, however, is the Spicy Mule, a concoction of habanero-infused Absolut Cilantro, fresh lime and ginger beer.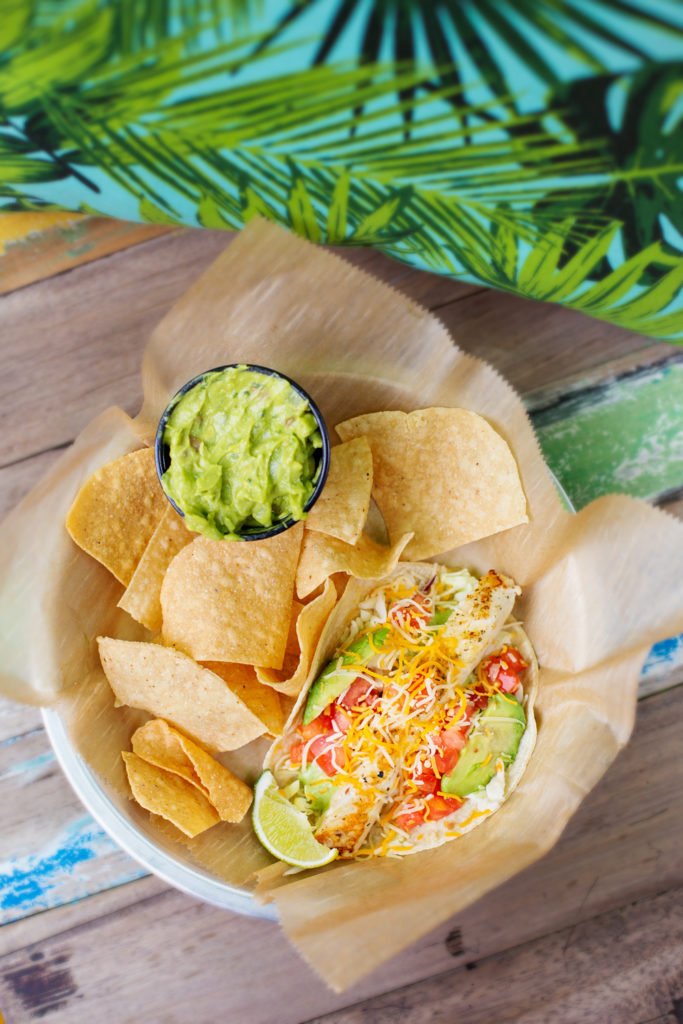 Dessert: Kaebisch Chocolate
50 W. Plant Street, Winter Garden | kchoc.com
This Belgian chocolate shop indulges all of your senses! As you walk in, breathe in the sweet aromas. Then, let your eyes feast on a fully stocked display counter filled with handmade bonbons, truffles, macarons and assorted mini-desserts. Kaebisch Chocolate boasts that it creates varying textures and fillings, such as hazelnut with caramel, warming spices like curry and cayenne, coconut and rum, raspberry, earl grey tea, fresh citrus fruits, champagne, fresh herbs, Caribbean espresso and more. There are plenty of bite-sized pieces so you can try an assortment. For something out of the ordinary, try the Affogato, gelato topped with shots of espresso and/or coffee.
Nightcap: The Attic Door
28 W. Plant Street, Winter Garden | facebook.com/AtticDoorLive
The "swankiest little wine bar and live music venue around" is a cozy spot to grab an after-dinner drink and light bite off the 'sofa snacks' menu. Check out The Attic Door's weekly calendar for happy hour info, trivia, live music and more. The wine list has selections of whites, reds, blushes and sparkling dessert wines. Craft beers are also available.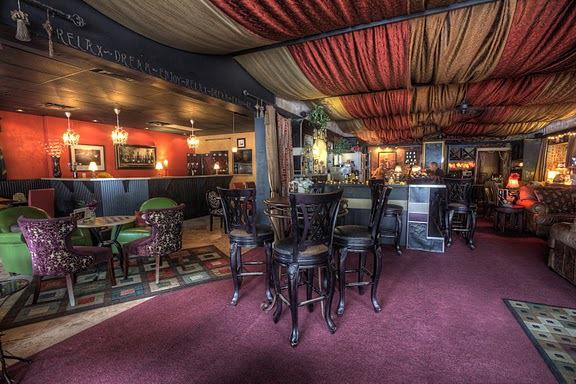 2. Fancy Pants
Appetizer: Chef's Table
99 W. Plant Street, Winter Garden | chefstableattheedgewater.com
Situated in the same building as the historic Edgewater Hotel, the upscale Chef's Table has earned tons of dining awards. It serves seasonally-inspired, three-course prix-fixe dinners with wine pairings in an intimate, dimly-lit room. Chef's Table is definitely the go-to place for special occasions and should be on your date night bucket list for an entire meal. However, since you're not staying put for all three courses this time, The Chef's Table alternative dining room, called the Tasting Room, is ideal for a progressive dinner with either house booths and tables or outdoor patio seating overlooking the iconic foundation. The menu features cold and hot small plates, mini desserts, craft cocktails, beer and wine.
You may not normally order French fries on a fancy night out, but the Duck Fat Fries are a must try. Hand-cut potatoes are fried and coated with Parmesan cheese, truffle oil and topped with green onions and a side of smoked aioli. Amazing! Pair with a signature beverage, like the Barrel Aged Seelbach, a mix of Dickle Rye, Old Forester, Madeira, Vanilla & Pepper Shrub, Benedictine, Angostura Bitters and sparkling wine.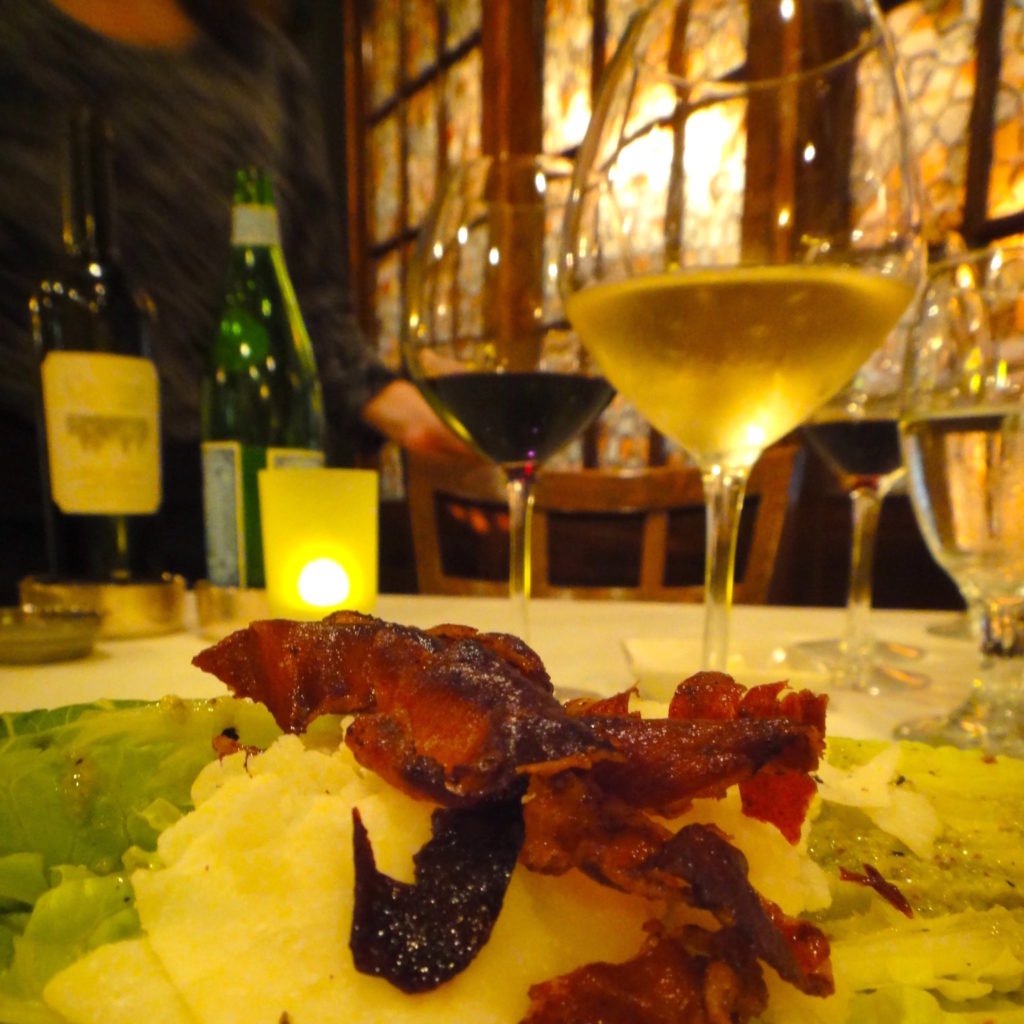 Dinner: Matthew's Steakhouse
360 W. Plant Street, Winter Garden | No business website | Reservations: (407) 520-7511
Following Chef's Table, perhaps walk around Plant Street for a bit to window shop and work back up your appetite. Matthew's Steakhouse ages the meat served (supreme Angus beef), hand-cuts the steaks (and trims the fat) and cooks to preferred temperatures on an oak wood grill. The restaurant interior is modern with black tablecloths and pops of color coming from the illuminated bar and a huge wall painting. This family-owned and operated restaurant uses their own family recipes to cook up German-inspired dishes.
If you want to order the smallest steak (to save room for your next progressive dinner stop), order the 6 oz. Filet Mignon (also available in 8 oz. and 10 oz.), served with a salad and a potato topped with homemade sour cream. Select a vino from the wine list.
Dessert: Market To Table Cuisine
146 W. Plant Street, Winter Garden | market2table.com
Chef Ryan Freelove started out with a farmer's market booth selling handcrafted soups, salad dressings, bone broths and compound butters. Now, he plates delectable American dishes in his semi-upscale restaurant located in the historic Roper building. For a twist on a classic French dessert, order the Lavender Crème Brûlée. The delicate cream and burnt sugar topping are enhanced with sweet floral notes. While you'll savor just one course here during a progressive dinner, Market To Table Cuisine definitely deserves a full three-course experience on another date night!
Nightcap: Pilar's Martini Bar
146 W. Plant Street, Ste. 120, Winter Garden | pilarsmartini.com
Pillar's Martini Bar is a colorful piano bar bringing martinis, mixology and music to life. Using the namesake as direction, order a martini like the Perfect Pear Martini (Grey Goose La Poire, Grapefruit & Lime, Pear Nectar, Pear Bitters, pear slice). For your second round, try Pilar's Have S'more Pie'Tini (Kahlua, Godiva White Chocolate, Three Olives Chocolate, toasted marshmallow & brown sugar, graham cracker rim). As you sip, you may be entertained by talents from the Winter Garden Theatre stage from right next door (or other distinguished entertainers) who often welcome crowd participation.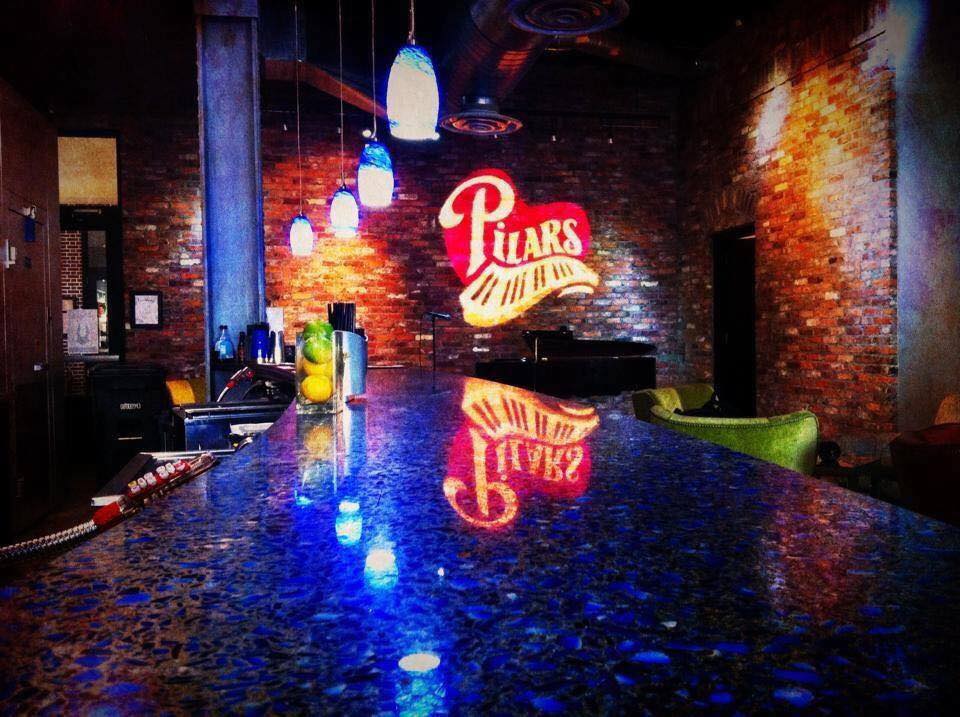 3. One-Stop-Shop
Plant Street Market
426 W. Plant Street, Winter Garden | crookedcan.com
Plant Street Market is now the cornerstone of this district. It houses several eateries, local retailers and a craft brewery all under one room. This one-stop-shop venue definitely makes for a convenient and fun progressive dinner! Snag a seat between courses on the outside patio to watch the trees sway to the tune of live acoustic music.
For your appetizer, opt for Morthan Cheese where you can watch a 13-lb. Raclette cheese wheel heat up. Once it's melted to perfection, top fresh ingredients – like potatoes and bacon – with the cheesy goodness.
For your first plate of the dinner course, stop at Jodo Sushi for sashimi, niguiri and uramaki hossomaki roll options. The simplicity of Salmon Niguiri pleases every time. It's just rice topped with two pieces sushi-grade salmon served with wasabi. Somehow salmon niguiri tastes sweet and melts in your mouth. For the second plate of your dinner course, This Little Piggy satisfies with southern barbeque delights. The meat is slow-cooked with smoke from firewood which boosts flavor. Go with the Brisket Sandwich, served with homemade potato salad, cheese grits or coleslaw.
For dessert, Paleteria Handcrafted Popsicles is a cool choice – literally. These treats have one delish popsicle flavor on the outside and another stuffed on the inside. Because Nutella makes everything better, get the Banana Nutella Popsicle.
For your after-dinner drink, hit up Crooked Can Brewery, of course. Choose an amber, cider, IPA, porter, stout or seasonally fun brew. Can't decide? No worries! Order a flight to try four beers. A crowd pleaser is the Cloud Chaser, a German-style Hefeweizen.
4. Progressive Brunch
First Course: Eggs & Oats
126 W. Plant St, Winter Garden | eggsandoats.com
The menu of this morning meal mainstay features an array of omelets and scrambles, organic waffles, organic oatmeal and gourmet selections like breakfast pizzas and truffle mac-and-cheese with bacon. Share an order of Chicken n' Waffles for a crispy bite loaded with pecans, served with sides of maple syrup, buffalo sauce and fruit. Be sure to add on an order of roasted potatoes infused with herbs and truffle oil. Sip either a cup of Piccolo coffee or a mimosa – or both!
Second Course: Urban Flats Restaurant & Wine Bar
132 W. Plant Street, Winter Garden | urbanflats-wintergarden.com
Urban Flats has a fun brunch menu which includes adult beverages beyond the standard Bloody Mary and mimosa. For example, try a Blackberry Lemonade (Evan Williams bourbon, fresh blackberries, lemonade), Spicy Mango-Rita (tequila, orange liqueur, jalapeno & cilantro, mango) or Lillet Rose' Bellini (Lillet Rose', Sparkling wine, fresh strawberry). Split the BreakFast Burger, topped with local thick-cut bacon from Lake Meadow Naturals, an egg, and housemade chips.
Third Course: Winter Garden Farmer's Market
104 S. Lakeview Ave, Winter Garden | wintergardenfarmersmarket.com
Stroll through the farmer's market to sample nibbles as you shop for artisan goods. Then, snag another brunch bite from one of the many food truck vendors and pull up an Adirondack chair to take in the acoustic tunes as you munch. Visit The Crepe Company for either a savory or sweet crepe, like the Harvest Apple Crepe (apple slices, bacon, cheddar cheese, honey).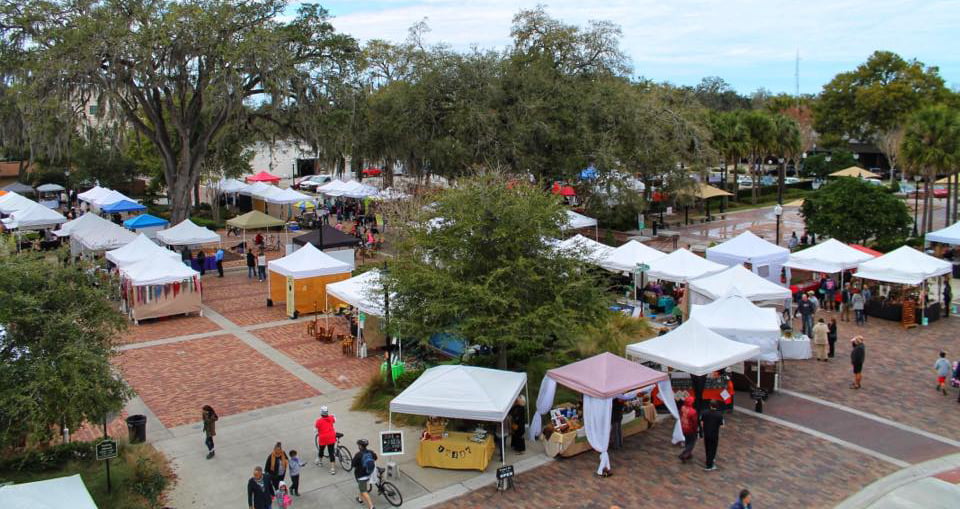 Fourth Course: Rosallie Le French Café
141 W. Plant St, Winter Garden | rosallie.com
This adorable French café serves sweet and savory brunch-style dishes all day, such as quiches, sandwiches and salads. But temptation really takes over as your peruse the display counter stocked with an array of French pastries, tarts, cookies and other gorgeous nibbles. For a sweet note, opt for the Petit Dejeuner Francais, your choice of a croissant or chocolate croissant, toasted French bread, jams and a beverage. Drink up the flavors of Paris with a Crème Brulee Latte, one of the many tasty coffee and tea choices.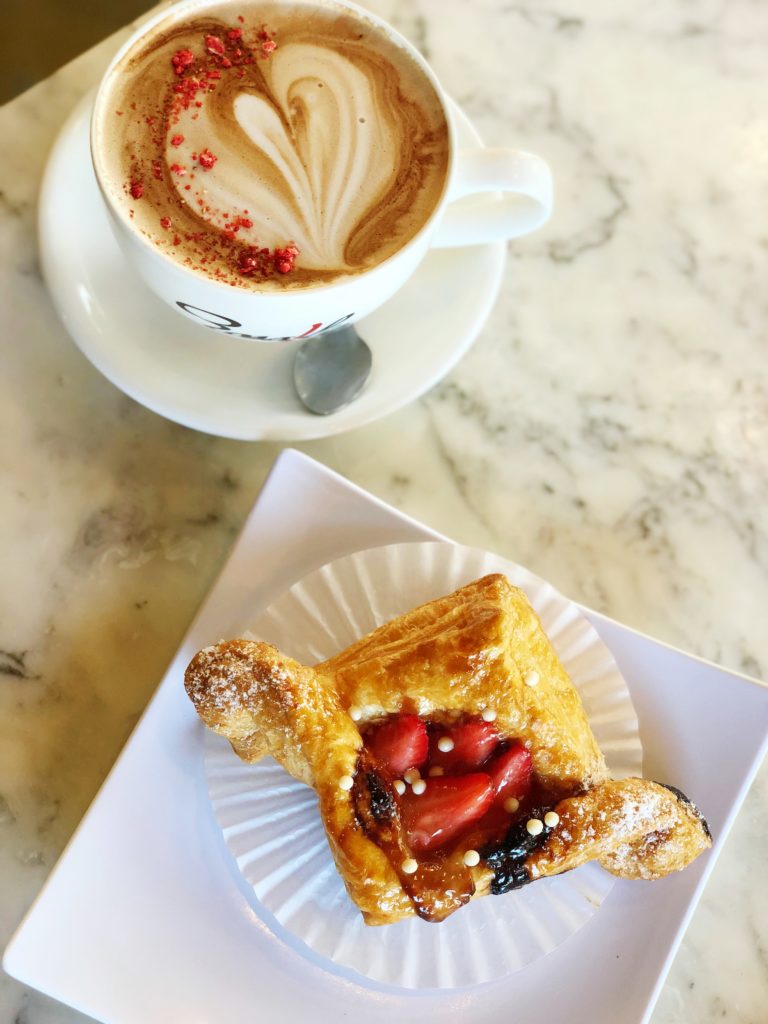 Doggie Bag: Sir Benji's Donuts & AntiquiTeas
426 W. Plant Street, Winter Garden | facebook.com/sirbenjisdonuts; antiquiteasonline.com
You're likely stuffed by now on this progressive adventure, but pop into Plant Street Market for a take-home treat or two. At Sir Benji's Donuts, try the Churro Doughnut, a blend of spices, cinnamon and brown sugar. A hot donut needs a hot beverage, right? Order a tea at AntiqiTeas, like the Moroccan Mint Green Tea.
More eateries to try:
Feature image credit: Plant Street Market