If you're really looking to liven up your date nights, think WILD. Central Florida is home to zoos, preserves, and wildlife sanctuaries abound with Floridian animals and exotic species from abroad. Explore, admire, and even care for these animals on your next date adventure. These wild animal encounters in Central Florida beat dinner and movie any night of the week.
By Swamp
There's no other animal that says "Florida" more than the alligator. Find out more about these prehistoric creatures by visiting Gatorland, aka the "Alligator Capital of the World." This marsh is home to hundreds of gators and offers a variety of ways to explore and interact with the creatures. Zipline over a gator swamp, or see the reptiles at night on the Night Shine night tour. More than just gators, Gatorland is also home for other animals like snakes, critters, tortoises, birds, and even Florida big cats.
For gators and more, try Wild Florida, a wildlife sanctuary home to more than 200 animals. Wild Florida features up-close encounters with lemurs, sloths, porcupines, and their albino alligator. Try an airboat tour and dive into the nature that makes up Florida's Everglades ecosystem. See gators in the wild on an airboat tour through Lake Jesup at The Black Hammock. After your ride, grab a beer at the Lazy Gator bar and watch the sunset over the lake.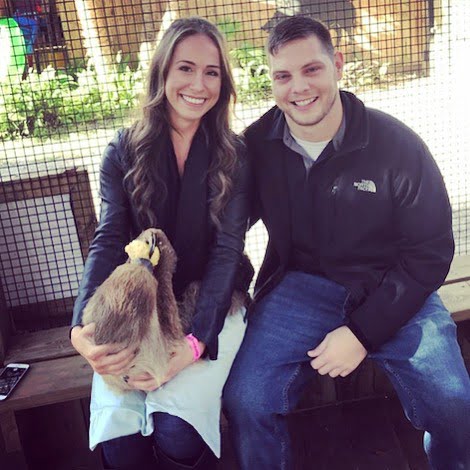 Wild Florida has also recently opened a Drive-Thru Safari Park, putting you up close and personal with animals from the comfort of your car! You'll see over 100 native and exotic animals roaming freely during your ride, and you'll be able to complete an animal scavanger hunt as you explore. Once you enter, you are able to go through the Drive-Thru Safari as many times as you'd like. In addition, admission to the Gator Park is included with Drive-Thru Safari admission. Keep this in mind for an awesome rainy-day activity!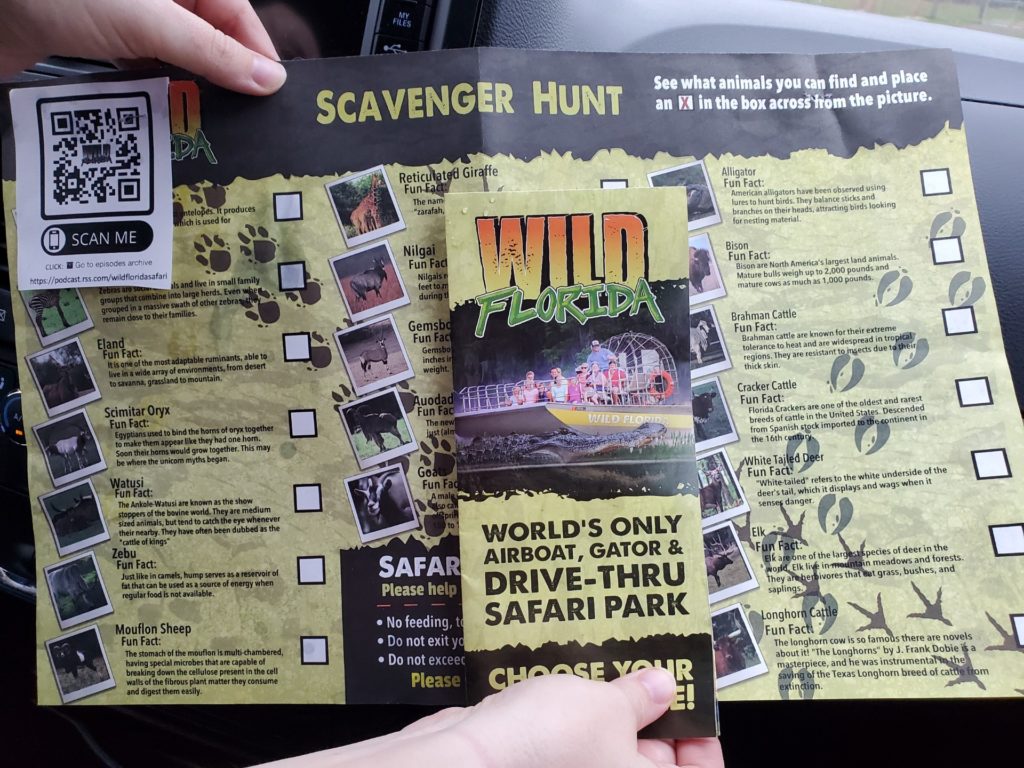 By Land
For an all-around animal experience head to ZooTampa at Lowry Park. This award-winning zoo is home to 1300 different species. ZooTampa's tropical grounds are a comfortable home to the animals and a visual treat for guests. Try one of their up-close encounters with elephants, penguins, tortoises, or rhinos.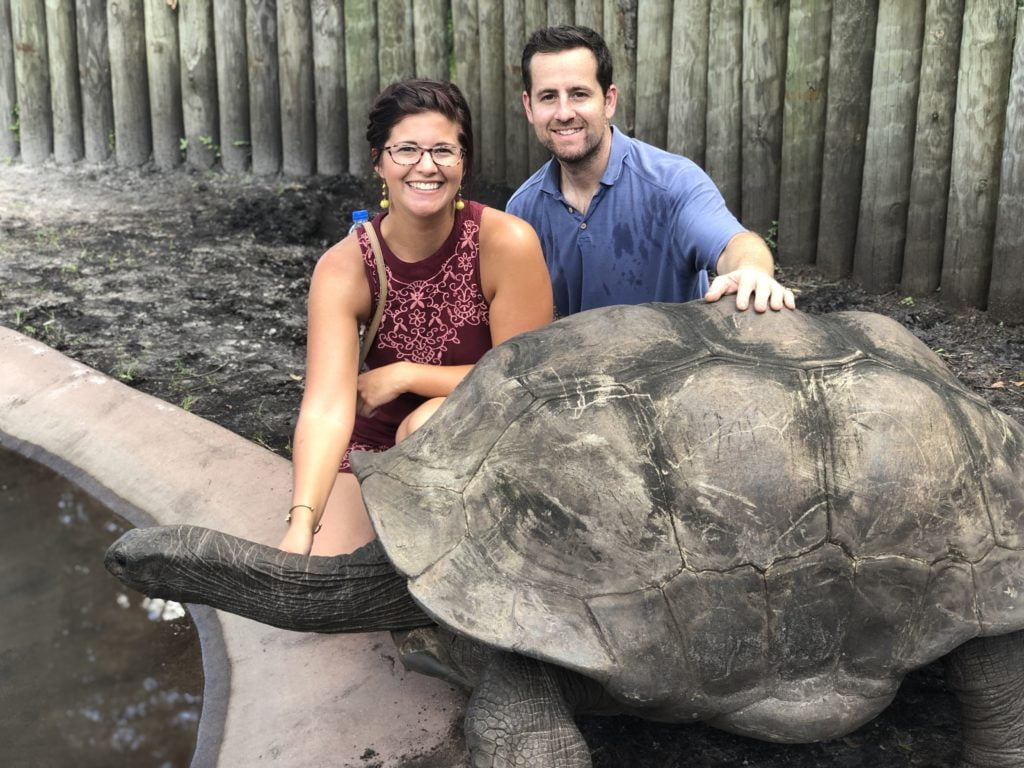 For a safari experience, head just north of Tampa to Giraffe Ranch. These 200 acres are home to animals from Asia, Australia, Africa, and the Americas. This working game farm and wildlife preserve allows the animals to run the grounds. Giraffe Ranch's off-road vehicles allow you to see the animals in an unenclosed habitat. Be sure to make a reservation; there are only two tours per day.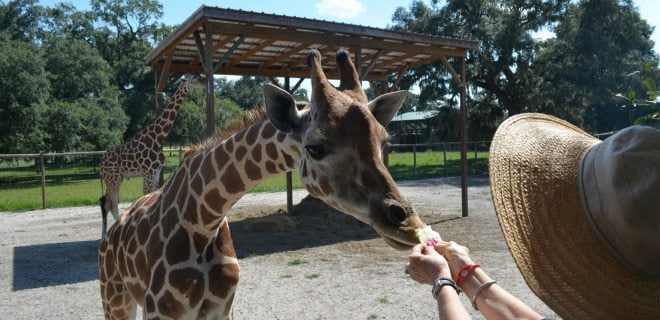 Get up close with Disney's Animal Kingdom African elephant herd on an intimate guided tour. This unique experience takes guests on a private session with the animal specialists that care for Disney's herd of elephants. You'll also learn about Disney's conservation efforts for this majestic species.
Just outside of Orlando in Lakeland is 260 acres of wildlife preserve home to animals from all over the world. Safari Wilderness offers off-road safari tours in the comfort of a vehicle. Or for the more adventurous explorers, try exploring the ranch by kayak or on the back of a camel. You can also feed ring-tailed lemurs, budgies, and a guinea pig colony.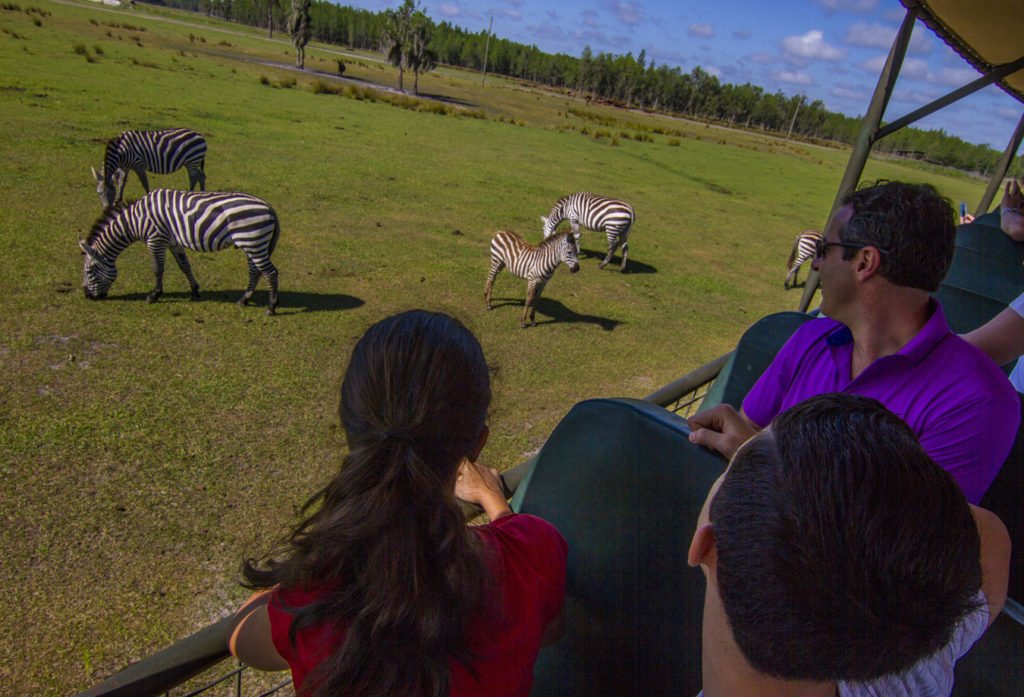 By Sea
Take your date kayaking with bioluminescent organisms in Cocoa Beach. This over-water experience will have you brushing your paddle through luminous organisms. In the summer months, the bioluminescence comes from dinoflagellates, a type of marine plankton. For the most illuminating date night, book your tour during as close to a new moon as possible. Our favorite local companies are A Day Away Kayaking Tours.
Just Northwest of Orlando in Crystal River you can swim with Florida's gentle sea cows–the manatee. Manatees flock to Florida's temperate spring waters in the winter months, when this tour is best enjoyed. There are also dozens of places throughout Central Florida to see manatees. Check out our list here.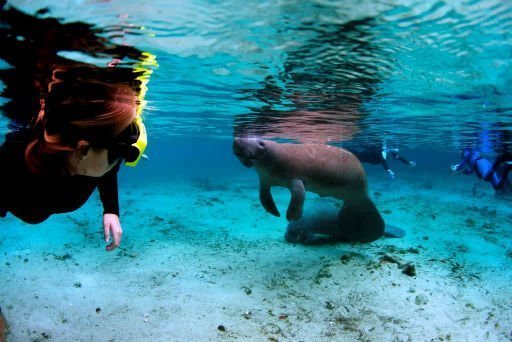 Also try:
By Flight
One of Orlando's best-kept secrets, Audobon Center for Birds of Prey in Maitland offers up close and personal encounters with Florida's flying predators such as bald eagles, falcons, owls, and kites. This education and rehabilitation center cares for raptors of all kinds. Your entry benefits the preservation of these birds' natural habitat, and their rehabilitation and eventual release back into the wild. Be sure to time your stay to catch the sunset over the lake.
Feature image credit: Wild Florida