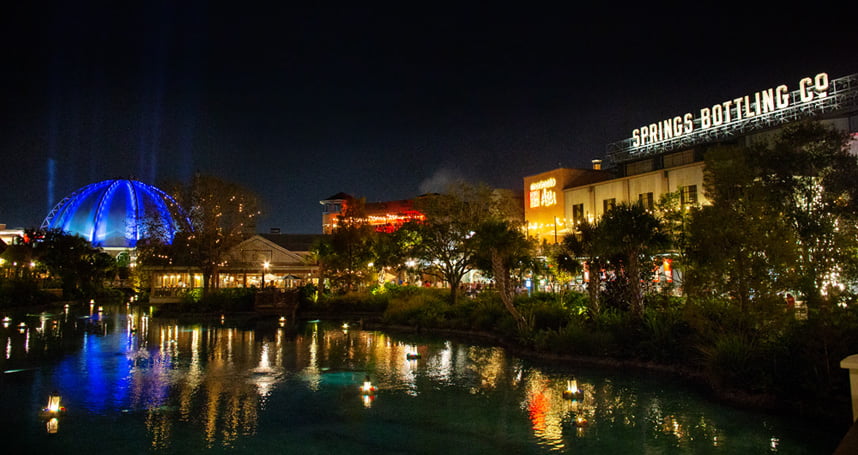 Disney Springs may function primarily as a tourist destination, but if you know where to look it's full of exciting and romantic options for date night. At this dining, shopping and entertainment hub, you can snuggle up in the back seat of a vintage amphicar for a sunset boat ride, sip wine in a Master Sommelier-owned wine bar, dine beneath twinkling lights, sip craft cocktails and even listen to a little live jazz.
While I still slightly mourn the Pleasure Island and Downtown Disney days (oh the memories), there's no denying that the transformation into Disney Springs has made this tourist complex a winner for date night.
My boyfriend and I were recently invited by Disney to craft a custom date night itinerary. We loved the chance to rediscover what Disney Springs has to offer for local couples. And while you can certainly go over the top, there are a surprising number of ways to enjoy a date for under $40, too.
Here's how to craft your own perfect evening for two no matter your budget. Note: these prices don't include gratuity; don't forget to tip your servers when applicable.
ON A BUDGET: UNDER $40
Contrary to popular belief, date night at Disney Springs doesn't have to cost an insane amount of money. There's plenty to do for under $40 if you know where to look. Follow this itinerary for a date night that's fun, filling and budget-conscious.
Share food truck fare
Share a dish from one of the food trucks parked permanently at Disney Springs to save a few dollars without the risk of encountering hangry feelings. The drool-worthy taco cone from the new 4R Cantina Barbacoa Food Truck is big enough to share and will only set you back $11.99. Other items on the menu include a burrito bowl, nachos, tacos (order of 3) and a squash blossom quesadilla. Find the truck parked in the Marketplace area of Disney Springs.
You'll also find a few food trucks at the other end of the complex at Exposition Park. Dishes are priced around $10-$12 each.
Cost: $11.99
Also try: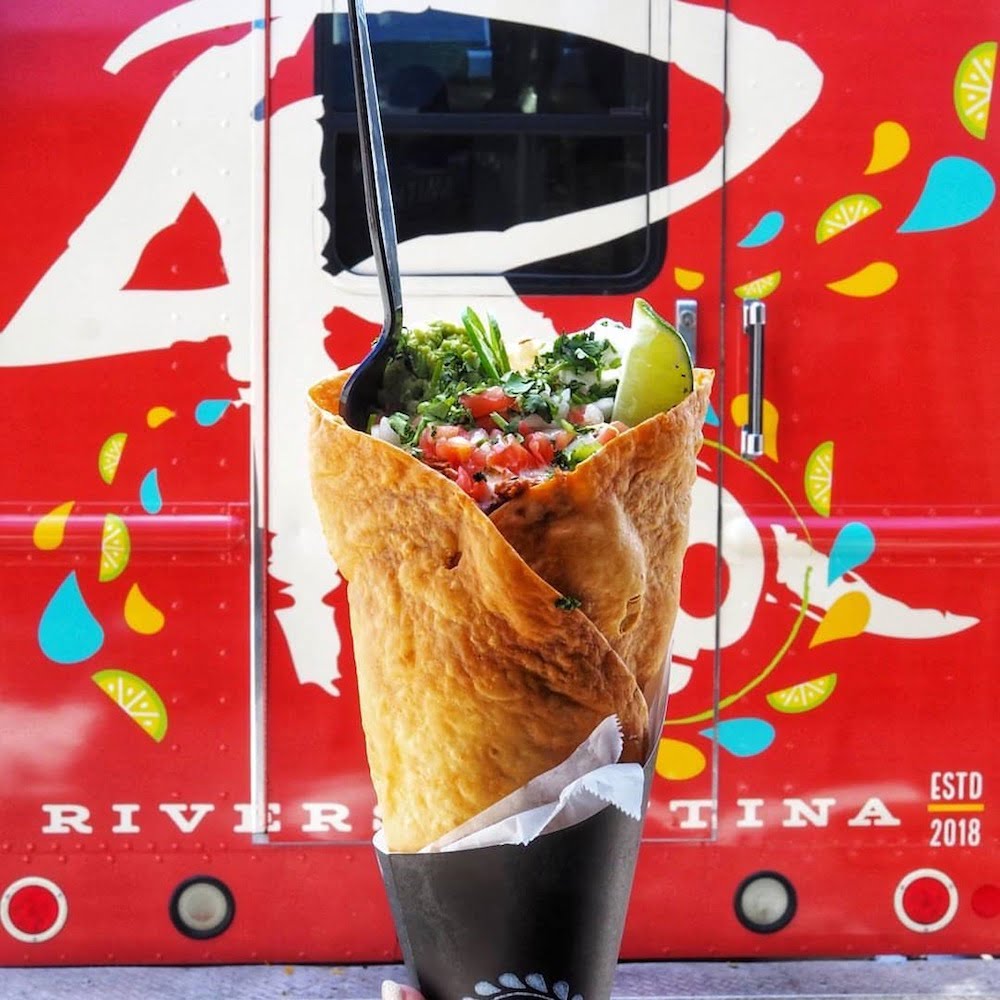 Listen to free live music and sip happy hour beers
House of Blues is one of our favorite local concert venues, but you don't need a ticket to listen to live tunes. Make your way to The Front Porch, the venue's outdoor patio, to listen to free live music every night beginning at 5pm. Arrive a little early to take advantage of happy hour pricing (daily from 11:30am-5pm) and to snag $3.75-$4.50 beers, $4.50 glasses of house wine and $4.50 well drinks.
Happy hour starts at 4pm in the Courtyard Bar, and the Smokehouse (also located out front) has a happy hour from 11:30am-5pm (beer and wine only, mixed drinks included from 4-5pm). If you prefer to visit later, come back for the late night happy hour Friday and Saturday nights from 10pm-close.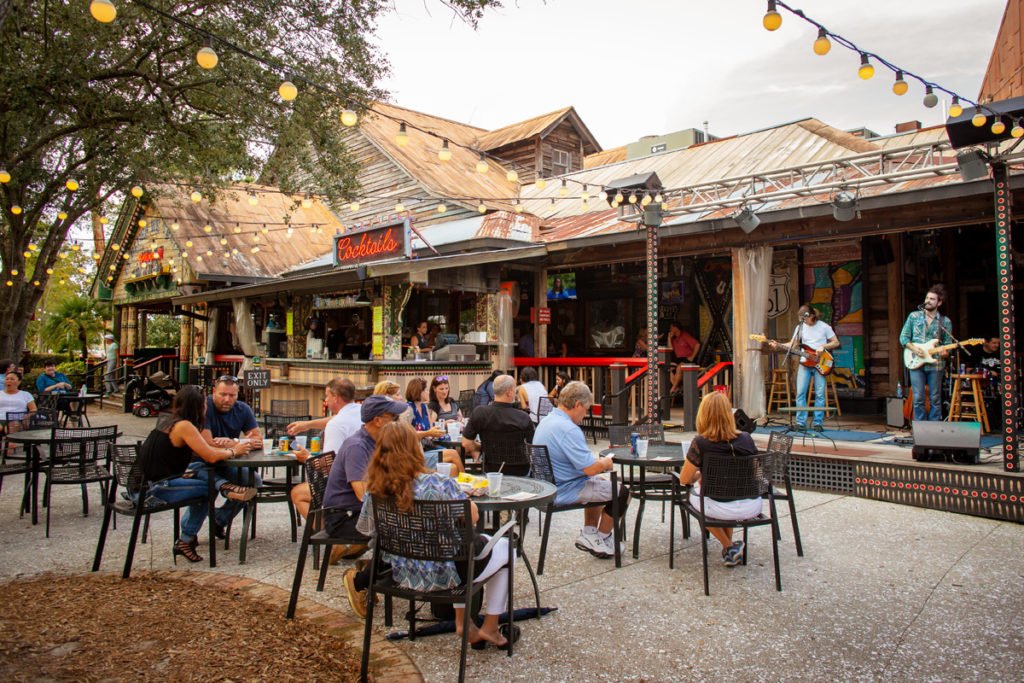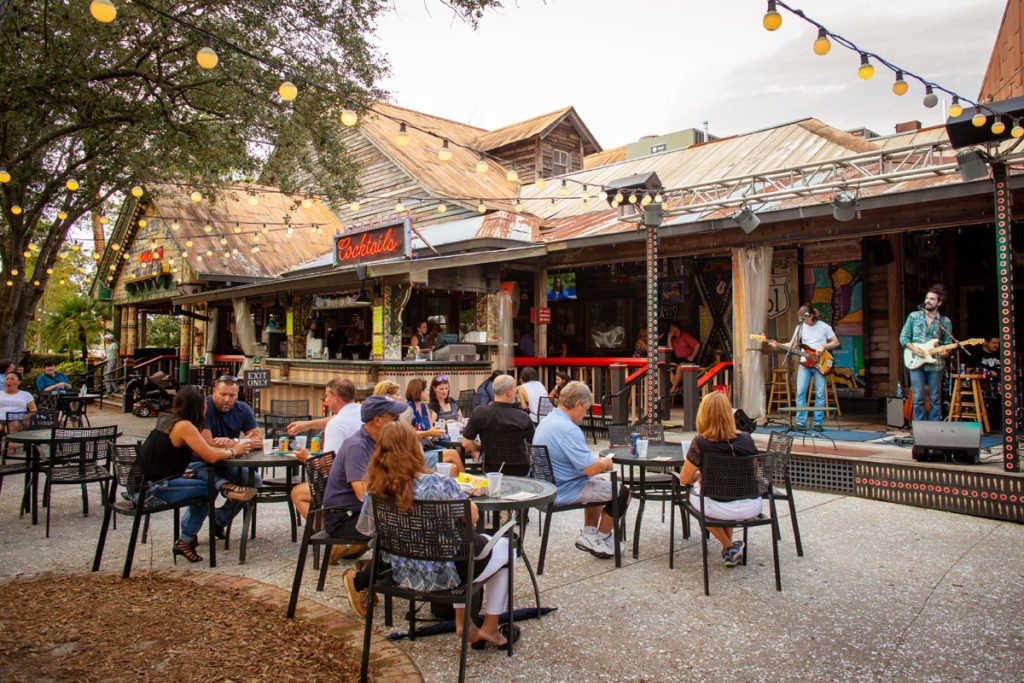 Raglan Road is another favorite for beers and live music, featuring daily live entertainment inside and outside on the patio, plus performances from Irish Dancers. Although be prepared to spend a little extra for your brews here.
For totally free fun, make your way to one of the outdoor stages located throughout Disney Springs. Performances include everything from live DJs and concerts to Spanish guitar, the Australian didgeridoo, and jazz. A few of my favorite locations include Waterview Park (next to The Boathouse), the Marketplace Stage (across from the World of Disney store) and Sunshine Highline (next to Starbucks by the Cirque du Soleil tent). Entertainment begins nightly at each location around 6-7pm.
Keep your eyes peeled for local celebrity Eddie Maserati dancing his way through the Springs in colorful bejeweled Ferrari attire. You can't miss him!
Cost: $9 for two beers, plus gratuity
Also try:
Frontera Cocina ($5 clasica margaritas on Mondays, $6 Modelo drafts and free live music Thursdays from 5-8pm)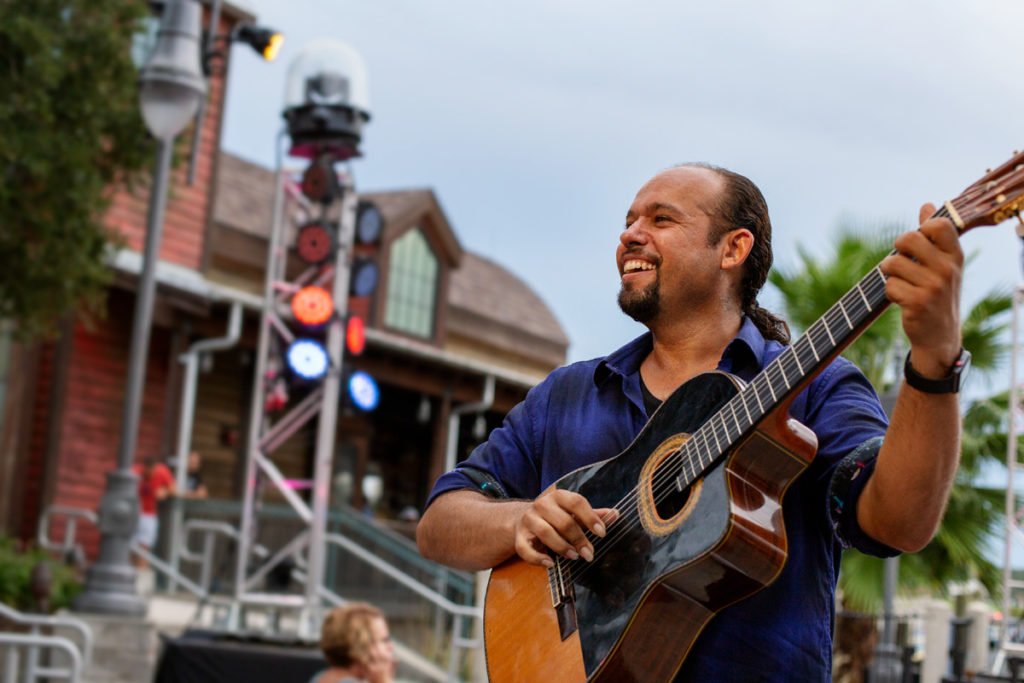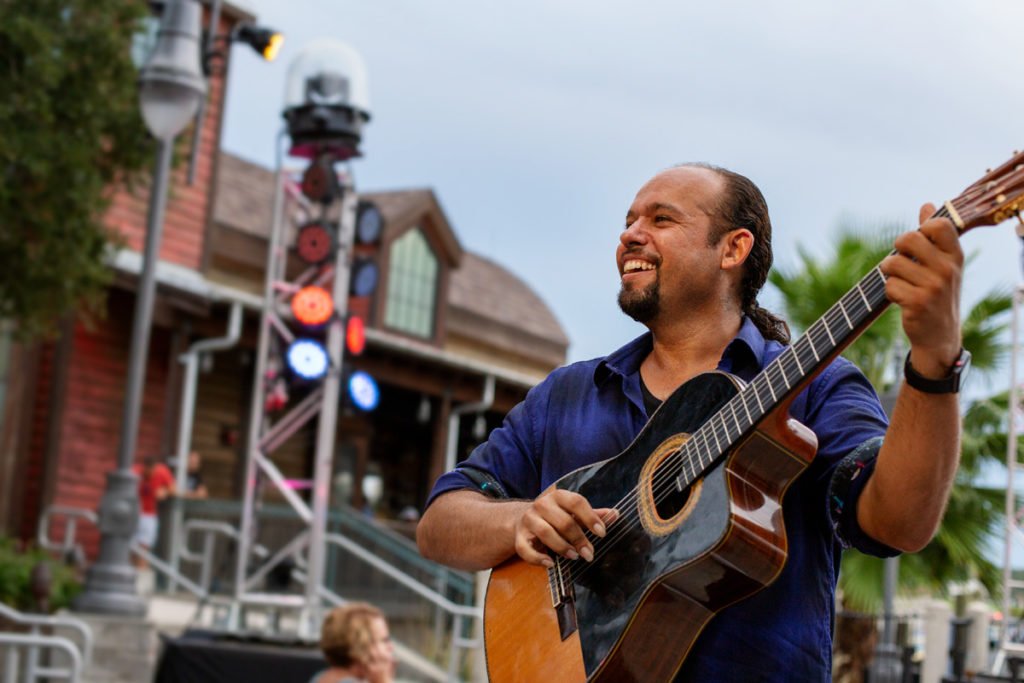 Pick up a sweet treat from the Sprinkles Cupcake ATM
If you're going to stand in line for a Sprinkles cupcake, you might as well do so at the photo-worthy bright pink Cupcake ATM located outside of the store. Following prompts from the touch screen, you'll pick your flavor and then watch a video feed of your cupcake being retrieved and boxed. Then, a little door opens and voila, your boxed cupcakes appear! You've got to do it at least once.
The cupcake flavors at Sprinkles Cupcakes can be hit or miss but I love the Salty Caramel, Red Velvet, Sprinkle and Carrot varieties. Cupcakes cost $4.95 each. Vegan, sugar-free and gluten-free options are available.
Cost: $9.90 for two cupcakes
Also try:
Swing by the Ghirardelli chocolate shop for a free chocolate sample
Total cost for two: $30, plus gratuity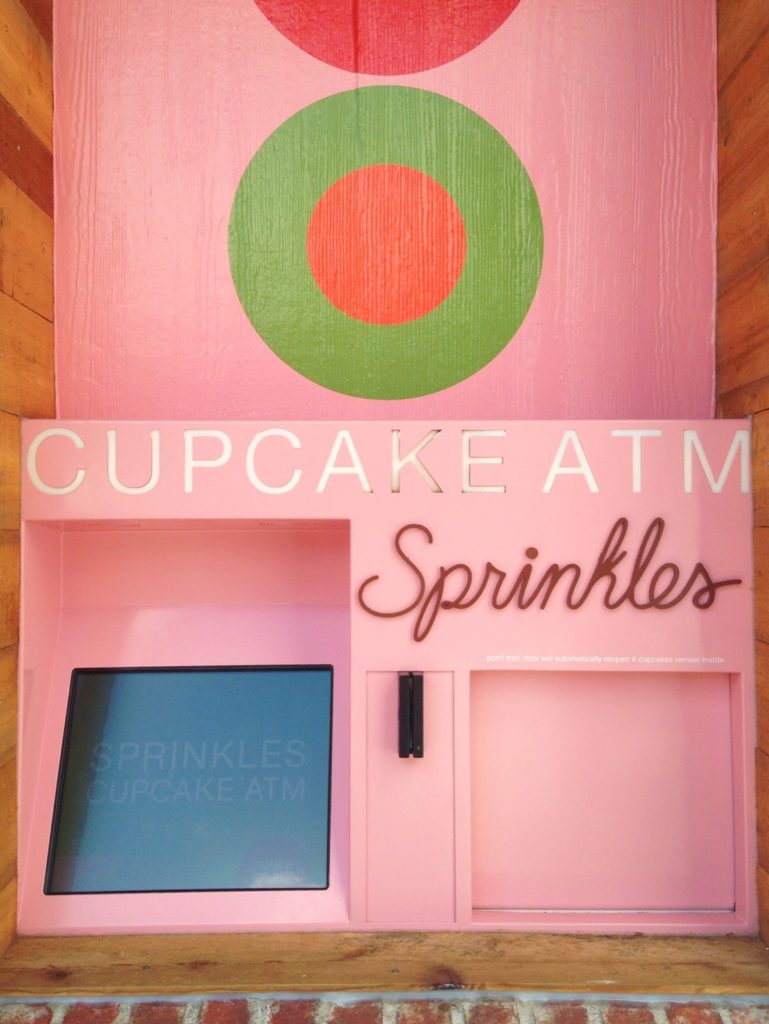 OVER THE TOP: $250 OR LESS
Choose this itinerary if you're looking for a momentous night out that will last several hours. While it's easy to splurge at Disney Springs, there are a few special activities that pack a romantic punch.
Enjoy a sunset Amphicar ride around the lake
How many times have you stood at the Amphicar launch next to The Boathouse, tempted to hop into one for a ride? It's hard to miss the vintage cars in colorful hues like mint green, bright red and baby blue as they plunge into the lake from the boat launch. The Vintage Amphicar boat ride lasts around 20 minutes and costs $125 per car.
While you can take a ride any time of day, I recommend boarding right before sunset when the temperatures cool and the sky begins to burst with color. After an exciting entry into the lake (to the joy of onlookers), sit back and relax on the leisurely cruise as your captain takes you around the perimeter of the lake. This peaceful tour is a welcome reprieve from the hustle and bustle of the Springs.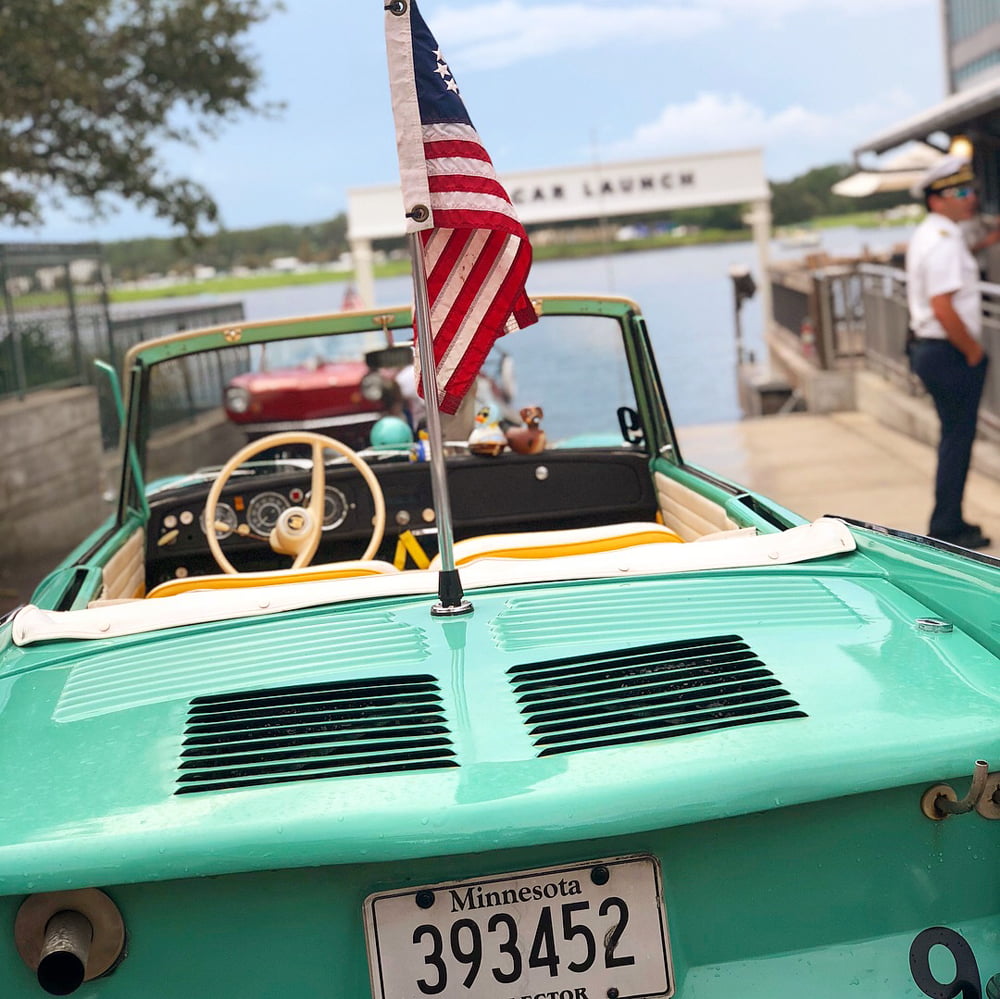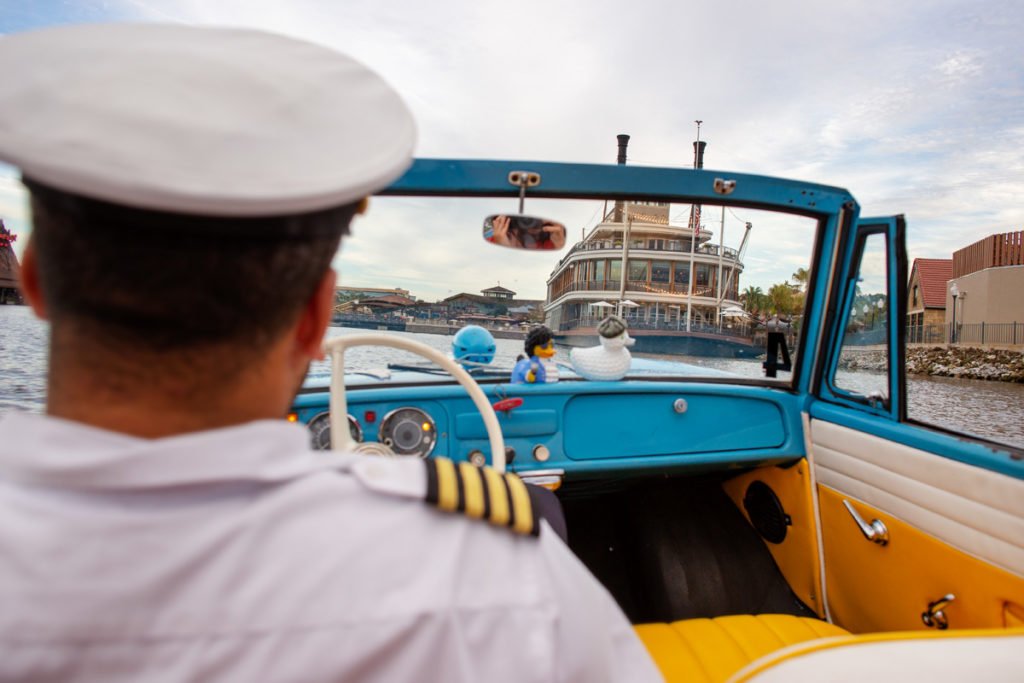 The price for this experience is a bit steep for two, but it's a fun splurge for commemorating a special occasion. And you'll get great photos!
Bonus: the captains are friendly and will be happy to snap a few photos of you and your date in front of the car before your ride.
Cost: $125, plus gratuity
Also try: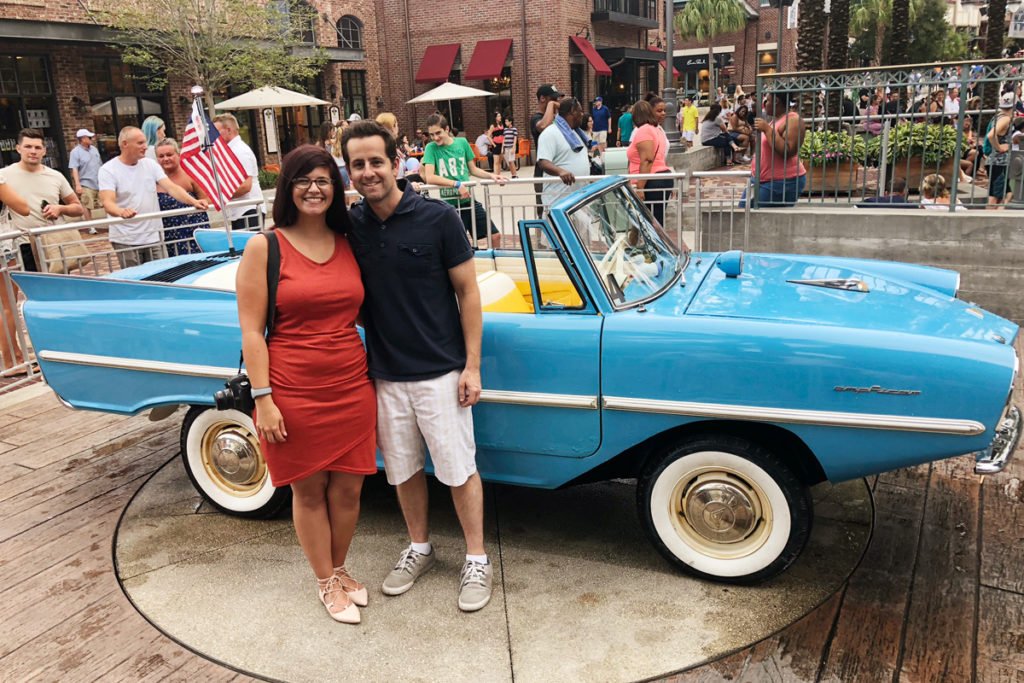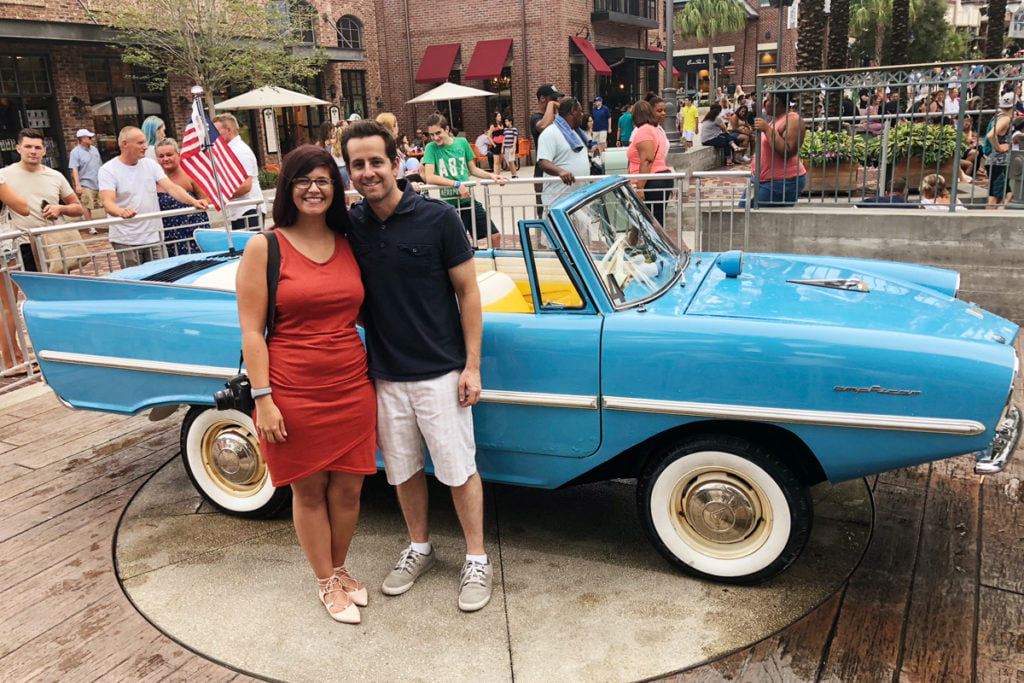 Have a romantic dinner
New restaurants are opening up in Disney Springs on a regular basis, Terralina Crafted Italian (from James Beard Award-winning chef Tony Mantuano) among them. From the airy outdoor terrace to the casual bar and multiple dining rooms, the space effortlessly combines upscale and casual details. And—on par with the majority of Disney dining establishments—the service is top notch.
Entrees are priced around $20-$30 on average, so plan on spending about $85 for two entrees, a glass of wine each ($9-$10) and a shared dessert. I enjoyed the Seafood Cannelloni, a generous serving of housemade pasta stuffed with fish, shrimp, scallops and mascarpone accompanied by a lobster cream sauce.
Speaking of wine…if resident wine expert Olivier makes his way to your table, allow him to help you choose the perfect wine to pair with your meal.
Cost: $85, plus gratuity
Also try:
Paddlefish
The Boathouse
Maria & Enzo's
STK Orlando
Morimoto Asia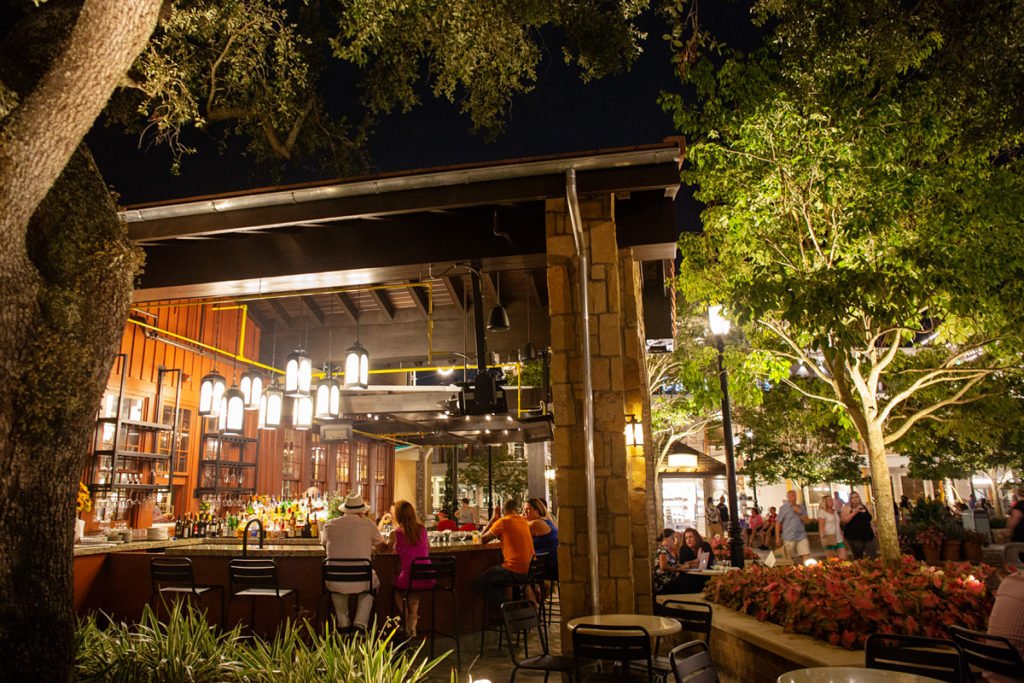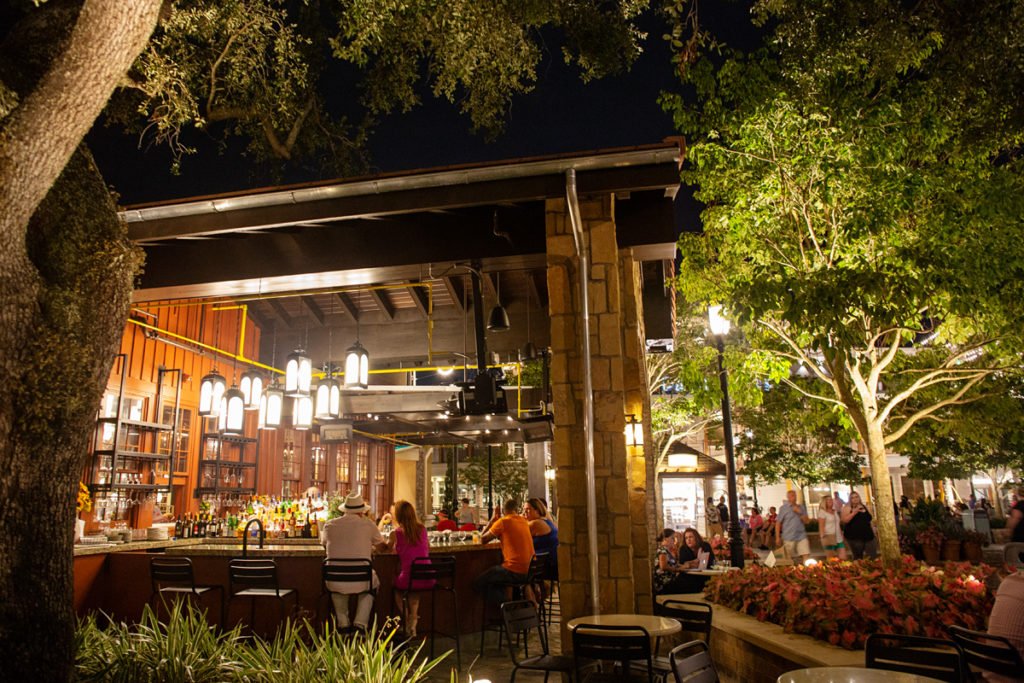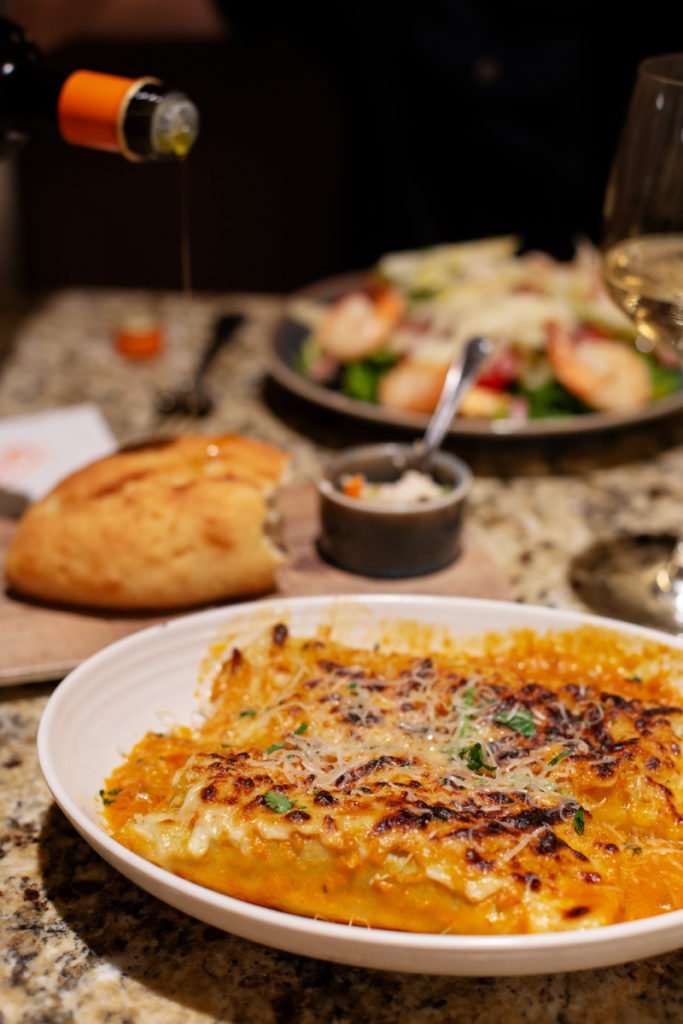 Sip cocktails while enjoying live entertainment at The Edison
A newcomer to the Disney Springs scene, The Edison is a happening place to continue the night. At 10pm, the restaurant and bar transforms into a 21+ adults-only affair. There's nightly live entertainment, including flapper dancers and an aerialist. If you feel like dancing, there's a DJ and spacious dance floor.
Signature and house cocktails are $13-$14 each. Sip on A Hand in Thyme (gin, blueberry cordial, lemon juice, green chartreuse and lime) or the Patented Old-Fashioned (bourbon, angostura bitters, simple syrup) while soaking up the old school vibes.
The semi-hidden Forbidden Lounge at Morimoto Asia is a more low-key late night option. Once you've located the special entrance (hint, you can find the entry door on the outside of the building), climb the stairs to enter the swanky lounge. Savor late night bites or just share a few drinks. Cocktails are around $10 each.
Cost: $28 for two cocktails, plus gratuity
Also try:
Total cost for two: $238, plus gratuity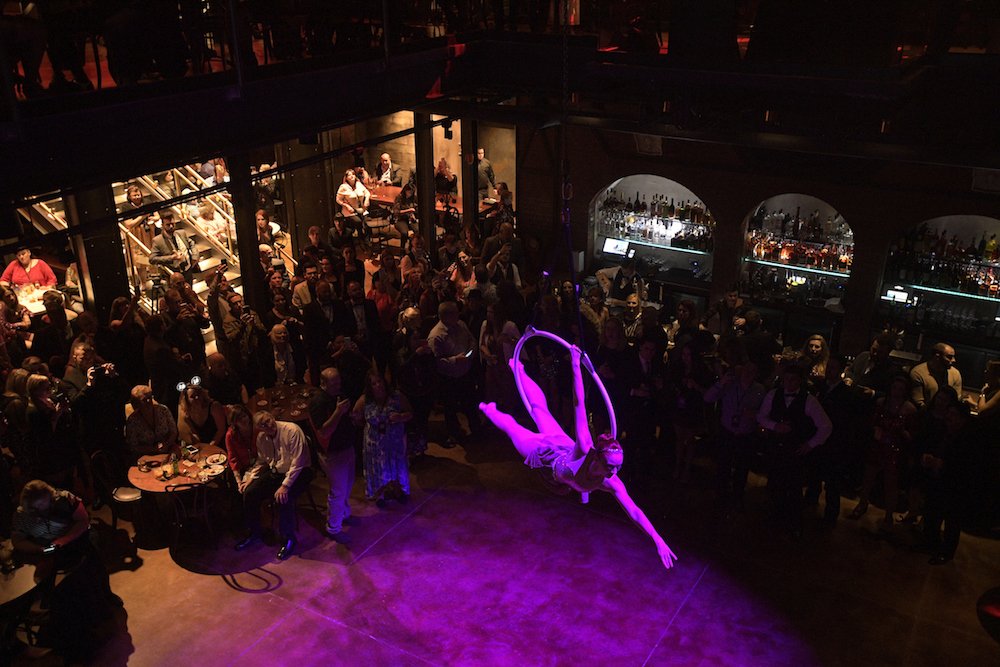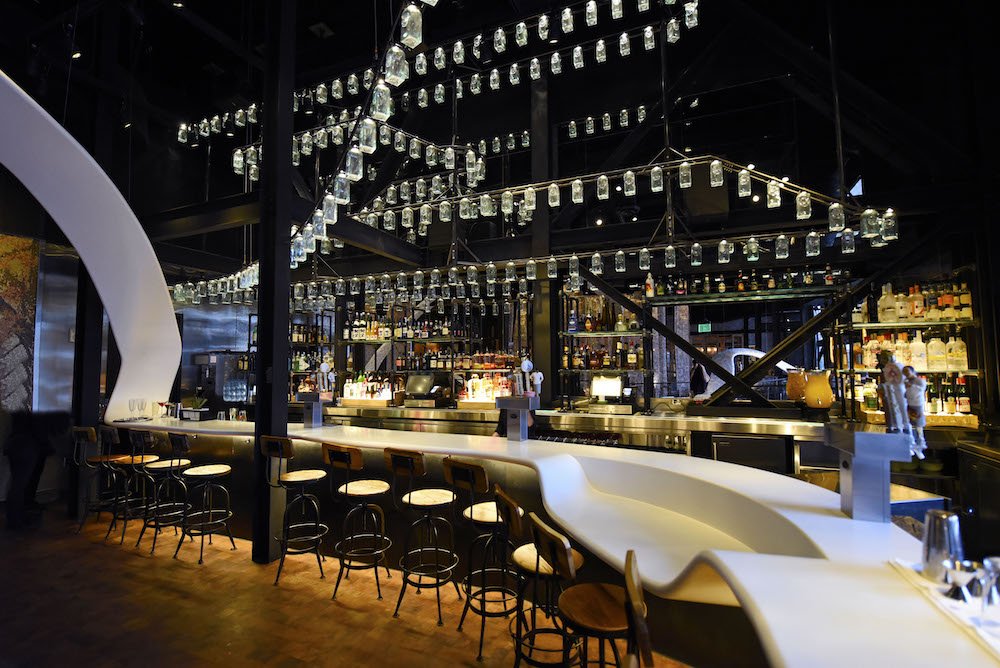 Bonus: Make it an overnight at Disney's Saratoga Springs Resort & Spa
If you want to plan a weekend staycation within walking distance of Disney Springs, check into a villa at the sprawling Saratoga Springs Resort & Spa. There's free transportation to Disney Springs via water taxi, or you can walk over in about 10-15 minutes. The villas are decked out with full kitchens, a terrace, living room, bedroom and a bathroom with a Jacuzzi tub. There's also complimentary bus transportation to the Disney parks, and parking at the resort is free. Rates begin at $347/night.
IN BETWEEN: $125 OR LESS
Want to taste a little bit of everything without spending all of your date night bucks in one place? Follow this itinerary for a progressive dinner experience at a few of our favorite Disney Springs date night dining destinations. Bonus: you'll totally impress your date by sweeping him or her from place to place on this dining adventure.
Sip wine and share a cheese board at Wine Bar George
There's no better place to begin your food adventure than Wine Bar George. You'll feel more like you're at a swanky downtown wine bar than Disney Springs while dining and drinking inside of this new wine bar, owned by Master Sommelier George Miliotes. Start with the Artisanal Cheese Board ($26), which includes grilled bread and an assortment of four cheeses. There's also a Charcuterie Board ($25) and The Big Board ($59), the latter of which includes six cheeses and five meats and condiments.
Pair your cheese with something on the extensive wine list. There are dozens of wines available by the glass, and tons of choices in the $8-$15 per glass range. Alternatively, pick a few wines from the Outstanding by the Ounce section of the menu. This option gives you the chance to try a taste (1 oz, 3 oz or 6 oz) of renowned wines. Many of the 1 oz pours are in the $5-$10 range.
Bonus: if you have a few dollars to spare, pick up a glass of frosé ($12) to go from the to-go counter outside. You're allowed to stroll through Disney Springs with your drink in tow.
Cost: $48 (pick a wine priced at $8-$11/glass), plus gratuity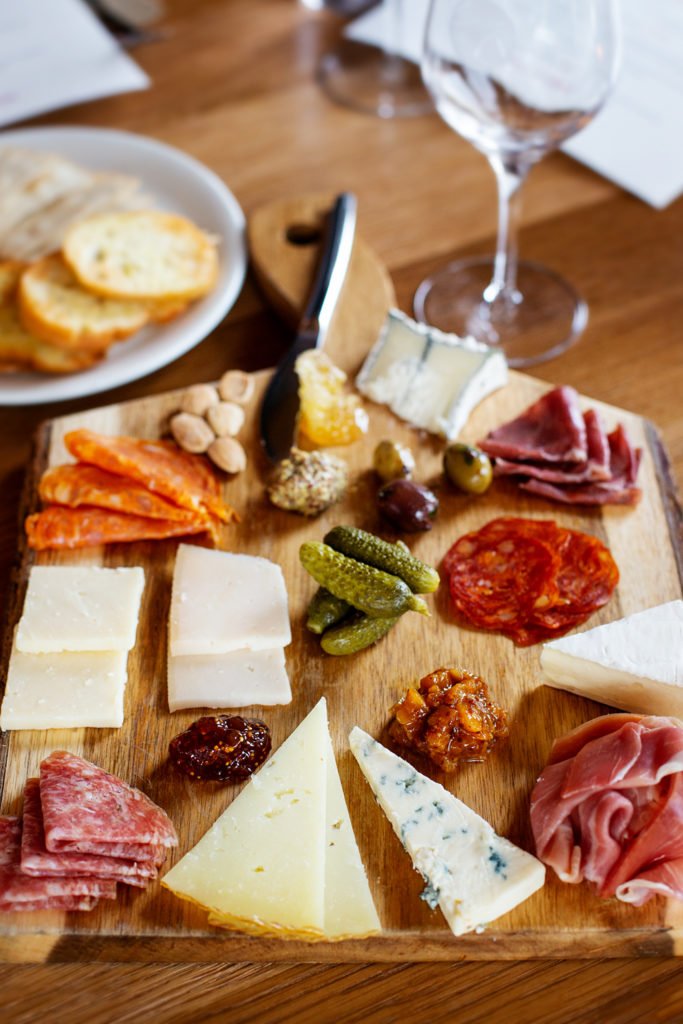 Split a few appetizers at Paddlefish
Continue your foodie quest by hopping aboard Paddlefish, a restaurant housed in a stationary paddleboat. Select a few of the hearty appetizers to share as your main course, like the Charred Octopus ($15) and Lobster Corn Dogs ($16).
Paddlefish is located along the waterfront and the sunset views from the rooftop deck can't be beat. After indulging in your shared tapas-style meal, climb to the rooftop deck to watch the sunset before continuing on to your next stop.
Cost: $30, plus gratuity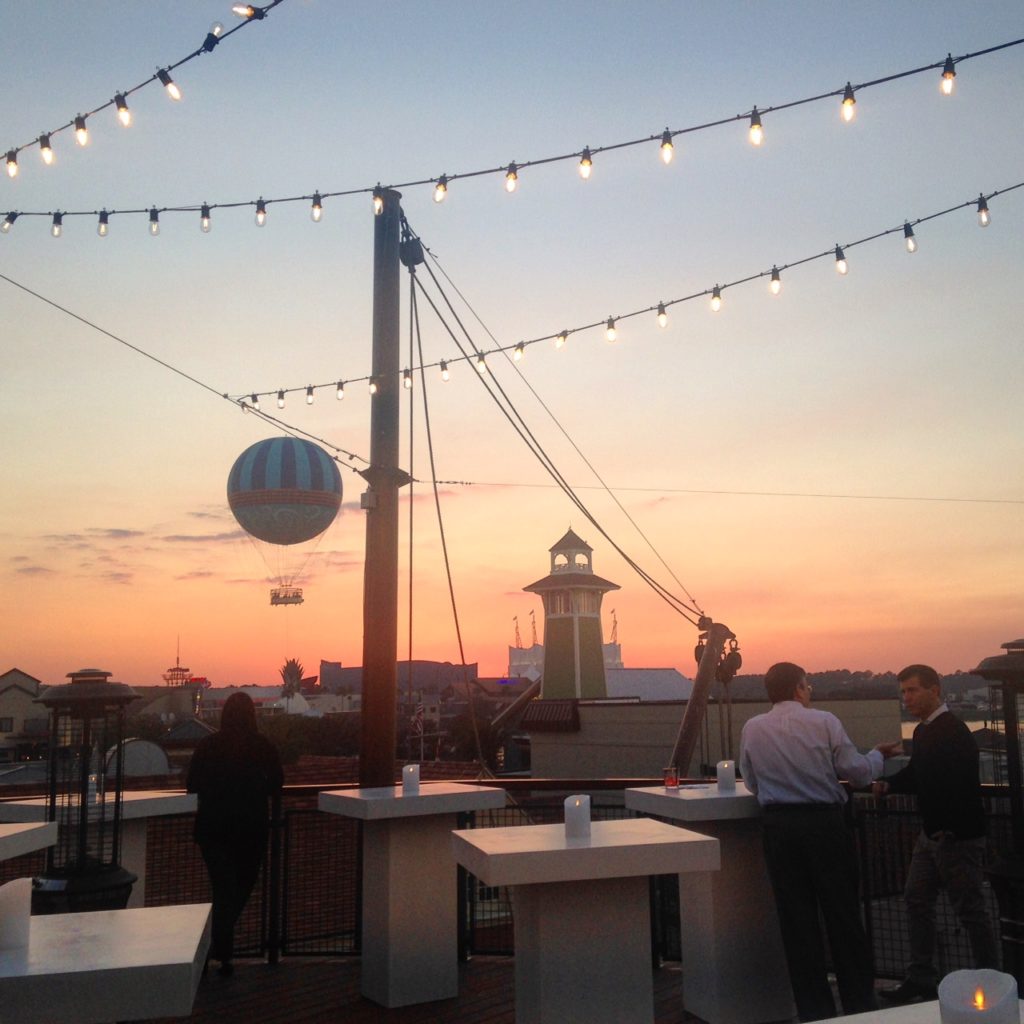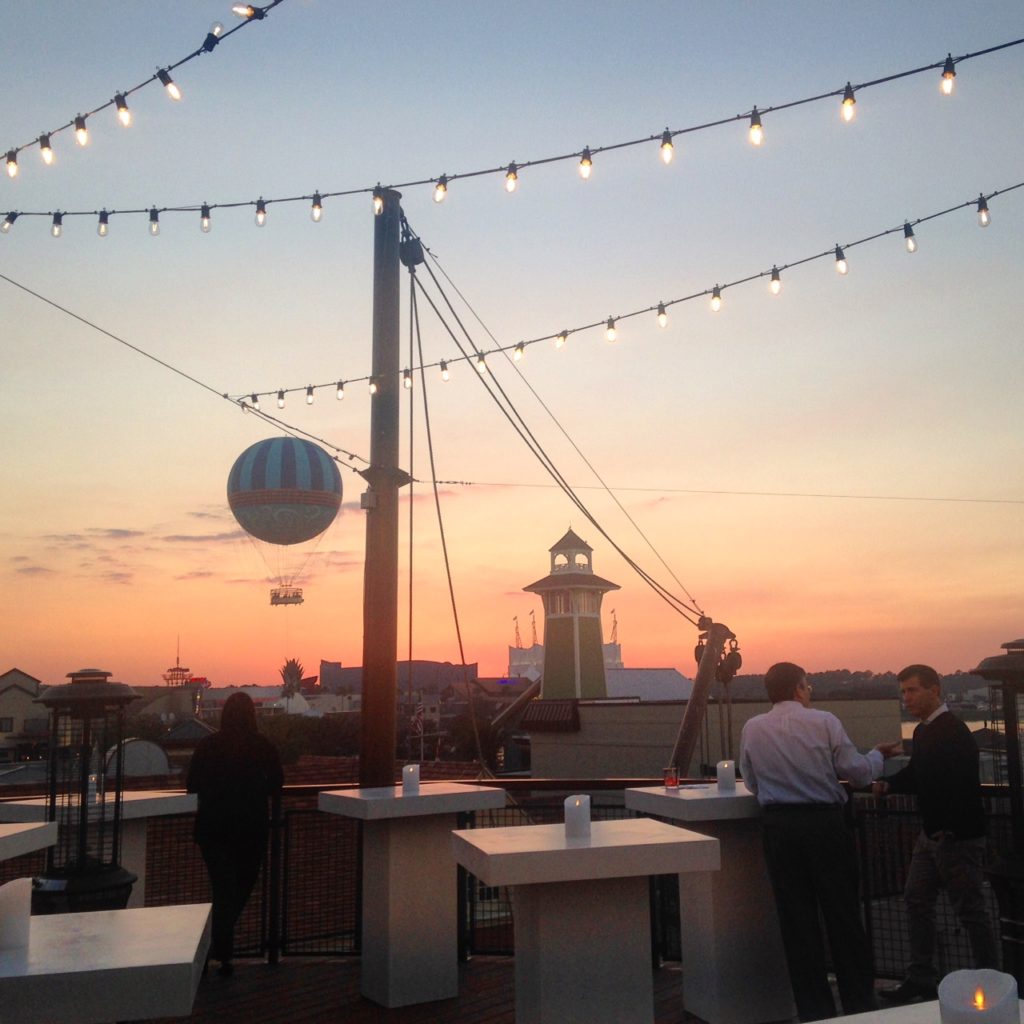 Savor something sweet
No meal is complete without dessert. While there are a handful of dedicated sweet shops throughout Disney Springs, several restaurants have delightful desserts you won't want to miss. At Chef Art Smith's Homecomin', share a slice of the famous Shine Cake (a boozy cake soaked with Moonshine Syrup) or the Hummingbird Cake, a pineapple-banana confection topped with cream cheese frosting. Desserts are priced around $8-$11 each.
Alternatively, you can't go wrong with Raglan Road's savory Bread and Butter Pudding ($9.50) or Mini Dessert Flight ($12).
Cost: $8-$12, plus gratuity
Also try:
Amorette's Patisserie
Erin McKenna's Bakery
Vivoli il Gelato
End with cocktails at Jock Lindsey's Hangar Bar
Jock Lindsey's Hangar Bar is in my top 5 favorite spots at Disney Springs (and a fun stop on a Disney Springs pub crawl). The vibe is laid back, the playlist is part Indiana Jones part James Bond and the cocktails and delicious and decently priced. True to Disney form, the bar has an elaborate backstory in which Indiana Jones and his pilot, Jock Lindsey, discovered Disney Springs, bought some property and built the airplane hangar that now houses the bar in present day.
While there is a small food menu, I prefer stopping by for a drink, so save this bar for a nightcap. There are 15+ signature cocktails including my personal favorite, The Scottish Professor (Monkey Shoulder Blended malt Scotch Whiskey, Hendrick's Gin, pear nectar, simple syrup and lemon juice). Most cocktails are around $12 each.
Cost: $24, plus gratuity
Total cost for two: $114 plus gratuity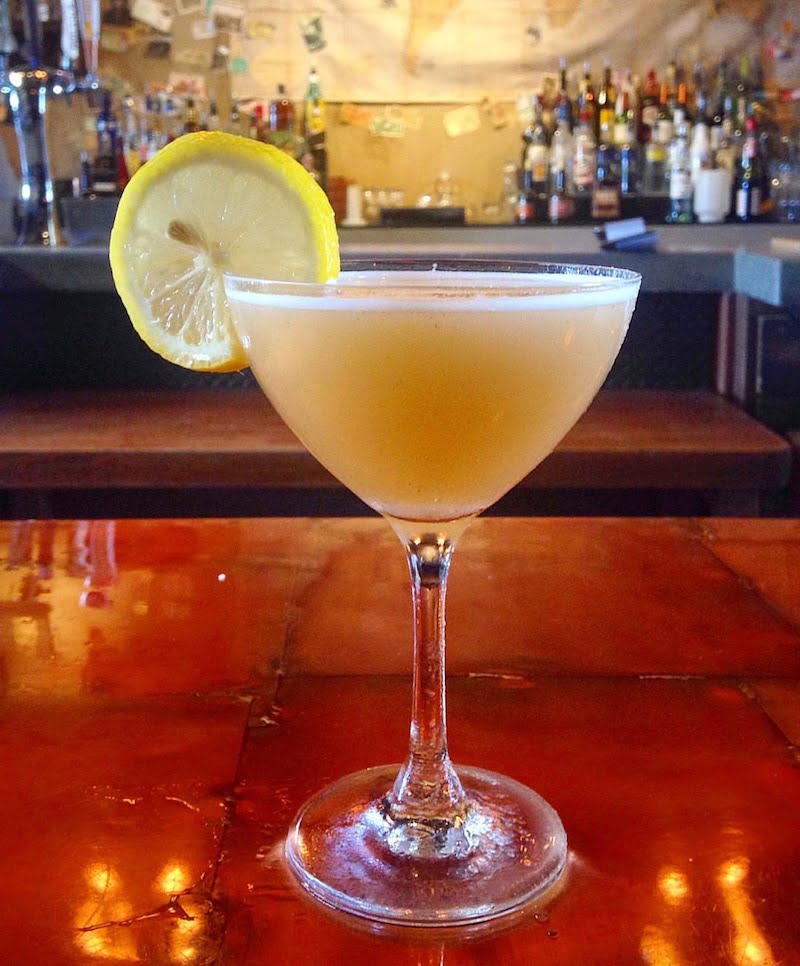 KNOW BEFORE YOU GO
Free parking is available at surface lots and multiple parking garages. The Lime Garage provides the closest access to most of the activities mentioned in this itinerary.
Visit later in the evening on a weekend to enjoy a kid-free date night. The Landing features more than a dozen restaurants and bars that stay open late, some until 2am. Some are adults-only after 10pm.

Disclosure: We received an invitation from Disney to customize a Disney Springs date night itinerary. The amphicar ride, dinner at Terralina Crafted Italian, a Disney gift card, and overnight accommodations at Disney's Saratoga Springs Resort & Spa were provided at no cost to the writer.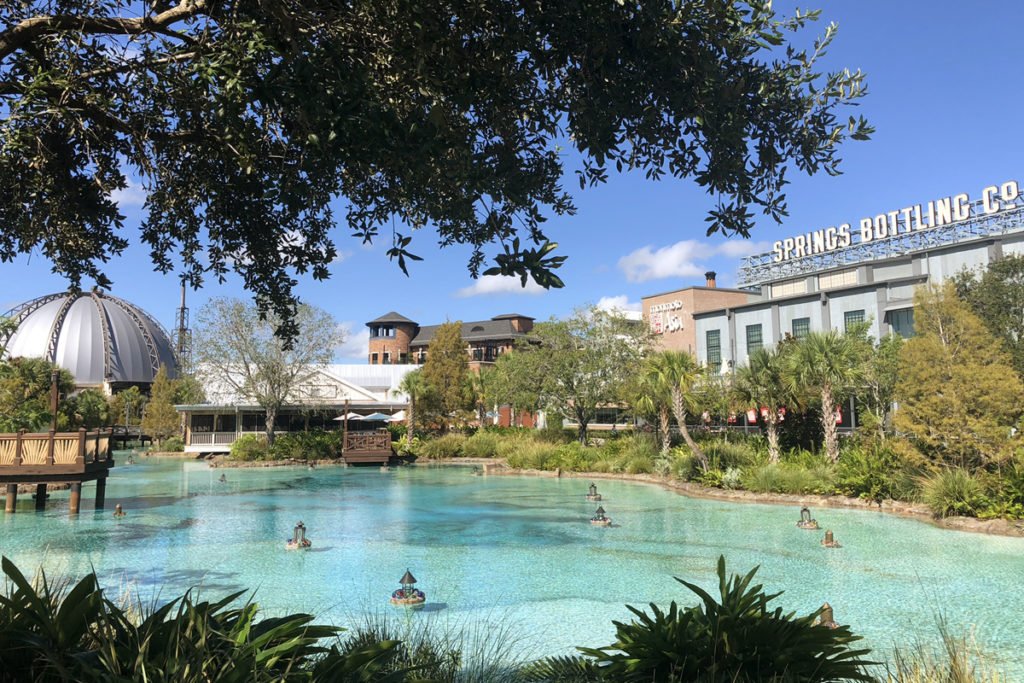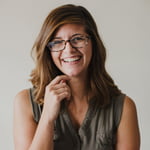 About the Author/Photographer:
Stephanie Patterson is a talented professional food and travel photographer and writer with a passion for creativity, the beach and great eats. When she's not taking photos or writing, you can find her exploring the state for her Florida travel blog, Travel Taste Click. Find her online at www.spattersoncreative.com and www.traveltasteclick.com.
All photos by Stephanie Patterson