Remember the fun of youthful scavenger hunts? Thanks to technology, couples can bond in a new way with the ease of smartphone apps. Step out of the norm on your next rendezvous with your love and try something unique while flexing your brain muscles. Mobile scavenger hunts have popped up in recent years giving you the opportunity to interact while seeing cities through a different lens. These mobile hunts can shed fresh light on a city for local residents, or give tourists a creative and exciting way to explore an unfamiliar city.
We've gathered a list of mobile scavenger hunts in Central Florida to connect you to your inner child while connecting with your dearie. Happy hunting!
Lake Eola Scavenger Hunt
Reservations aren't needed for a date night expedition of Lake Eola's art scene from Big City Hunt. Snap a selfie in front of an iconic downtown sculpture while solving puzzles during this two hour hunt. You can venture out at any time between the hours of 7am and 11pm, seven days a week. The hunt consists of riddles, photo challenges, and activities that have to be completed in order to find your next landmark. Should you decide to explore an area or perhaps grab a bite to eat during your game, you have the flexibility to pause the hunt and pick back up whenever you are ready. Big City Hunt has mobile hunts in over 200 locations including nearby Winter Park. Check out Orlando area scavenger hunts here.
Purchase the Date Pack for a hunt that's geared toward connection. As an added bonus, you'll have plenty of playful photos to relive your experience over and over.
Psst! If you're looking for an inexpensive date, you can also download the See Art Orlando guide to locate eight unique sculptures throughout downtown Orlando. The map doesn't include any high-tech puzzles, but there's still plenty of fun to be had on this walking tour jaunt. And it's totally free!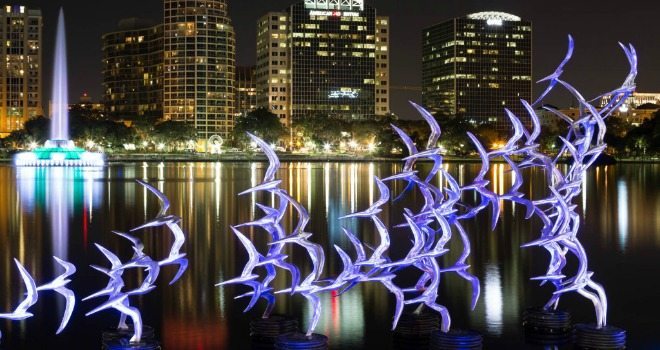 Fleet Feet Sports Orlando
Do you and your partner enjoy staying quick on your feet? Then add a little exploratory exhilaration to your next run. Fleet Feet Sports Orlando and Running For Brews Orlando have teamed up to host their annual Scavenger Hunt including drinks and prizes. The scavenger hunt takes place each year in the fall, so stay tuned for more details. All you and your team (up to five people) have to do to win is collect the most points within 90 minutes. Pair up with another couple for a double date and hit the pavement!
Ripley's Believe It Or Not!
There's no shortage of conversational topics when meandering through Ripley's Believe It or Not! Odditorium. This 10,000 square foot facility is filled with 600 exhibits and artifacts within 16 themed galleries. Grab your entry tickets and score a freebie with the new scavenger hunt experience, Ripley's Challenge. Every gallery contains a scavenger hunt, quiz, poll, social media activity, or photo op challenge to complete. Aside from being free to play, you don't have to download any apps to your smartphone.
Ripley's is open every day of the year from 9am-midnight with the last entry at 11pm. Tickets can be purchased online.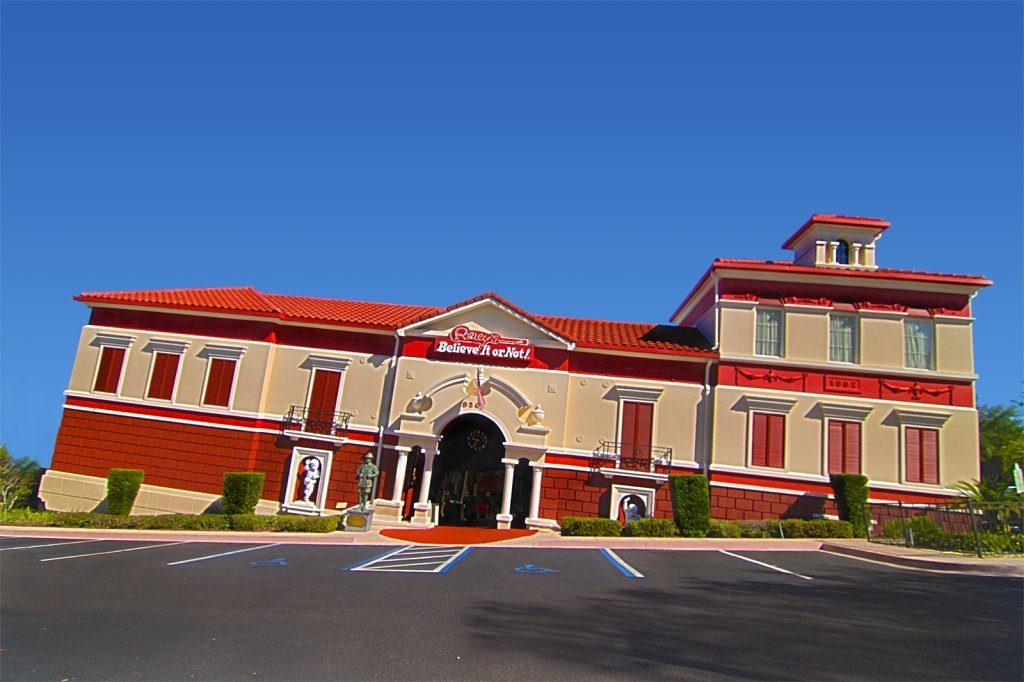 Epcot
Although I've visited Disney many times, it seems I am continually learning something new about the happiest place on earth. The family-friendly Phineas and Ferb: Agent P's World Showcase Adventure at Epcot is no exception. Once you've entered Epcot, you can register to participate in the mobile scavenger hunt online here. There you will connect with "The Agency" to receive text message clues to solve before Dr. Doofenshmirtz begins his evil schemes. Participants travel through the China, France, Germany, Japan, Mexico, and United Kingdom pavilions for a sleuth adventure that lasts 30 – 45 minutes at each location. You must finish the mission before park closure. Failing to do so will require you to begin the hunt again when you return.
This bamboozling quest isn't the only scavenger hunt you'll find at the international destination. Touring Plans has a great post detailing more seasonal scavenger hunts offered throughout Epcot.
Before departing the home of our squeaky host, we must mention the Hidden Mickey challenge. While there isn't an official website or app regarding hidden Mickeys, there are a beaucoup of websites with blogs dedicated to this well-known scavenger hunt. Throughout the Walt Disney World Resort, guests can entertain themselves by searching for hidden Mickeys scattered throughout the parks and resorts. Some are easy and in plain sight while others require a detective's eye to spot. To find these gems, look for the recognizable tri-circles of Mickey's head and ears, face profile, or full-body silhouette.
The Florida Aquarium – Tampa
Spend a day in amazement of Florida's ecosystems and the aquatic animals that inhibit them at The Florida Aquarium. The Aquarium is comprised of seven exhibits situated to illustrate how water flows from springs to the Gulf. Print the Aquarium scavenger hunt before you leave the house or bookmark the page on your mobile device to answer riddles as you peruse the various exhibits. The scavenger hunt coincides with the layout of the aquarium. Cafe Ray is located to the side of the main lobby in case you need nibbles to nosh. There is also a 4-D theater that includes 3-D viewing with bubbles, snow, scents, FX lighting, water mist, seat vibration, and wind.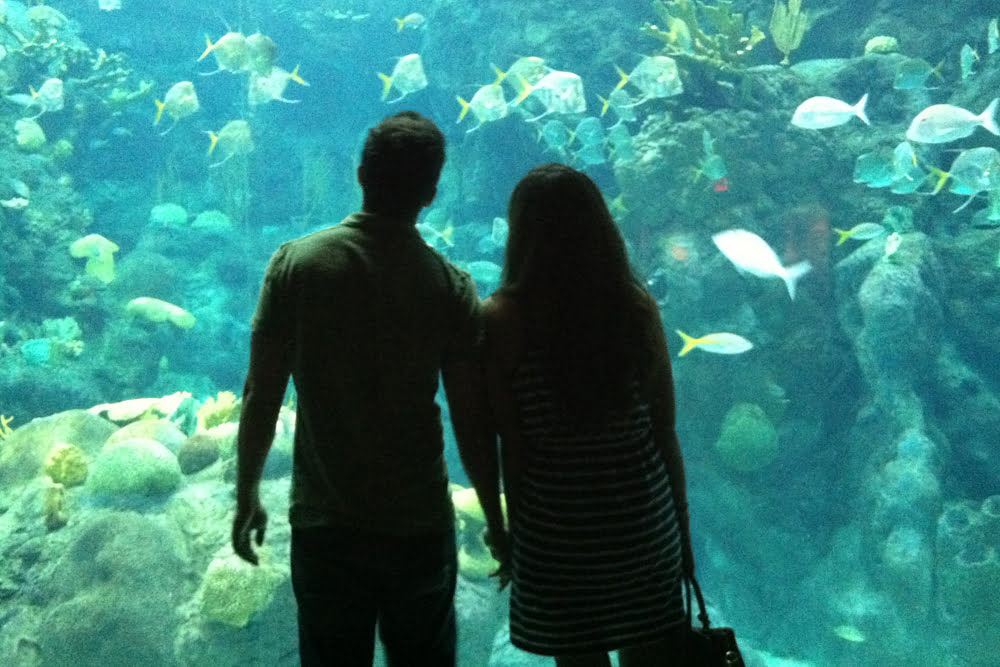 Amazing Scavenger Hunt Adventure – St.Pete/Clearwater
We previously provided the perfect getaway itinerary to discover St. Pete. Add to the already incredible list with an Amazing Race-style scavenger hunt. As you complete this amusing adventure, you'll see acclaimed and obscure areas of this beach town while learning about its history. The hunt is available on your smartphone from sunrise to sunset every day of the year. While you can play at your pace, the hunt typically lasts three hours. To register, visit Urban Adventure Quest.
Here's a video detailing how the scavenger hunt works.
Lover's Scavenger Hunt – St. Augustine
The captivating city of St. Augustine has it all. History, romance, charm, epicurean eats, and architectural areas abound around every corner. When you escape to this quintessential retreat, be sure to make time for the Lover's Scavenger Hunt. Participating in this hunt will throw you and your lover into the old love tree legend. The folklore suggests that your love will last forever when you kiss under a love tree. What exactly is a love tree you may ask? It's when two trees are intertwined so tightly that they will embrace forever or die together. Cue the ah's. This whimsical hunt will take you to all seven love trees with sweet treat stops along the way.
When you purchase this hunt, it is emailed to you for printing or downloading on your smartphone. To travel through the city, you can walk, bike, drive, or hitch a ride with a ride share service. Alternatively, check out this list of the St. Augustine Love Trees and locations from Simply St. Augustine.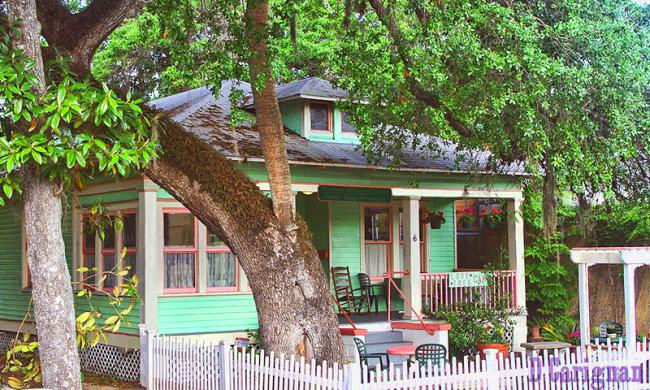 Daytona Beach Scavenger Hunt
Daytona: beaches and bike week! While those are great reasons to visit this coastal town, there's more to explore in this metropolitan area. Plan your getaway to the Atlantic coast and be sure to make time for a historical scavenger hunt. This hunt takes place around Beach Street and City Island for a total of a little over 2 miles. It takes about two hours to complete the historical hunt packed with 7,000 years of history. Since this is the same company that orchestrates the Lake Eola and Winter Park hunts, you can purchase a date night pack for any day of the week.
Do you have a mobile scavenger hunt you'd like to share? We'd love to hear about it!