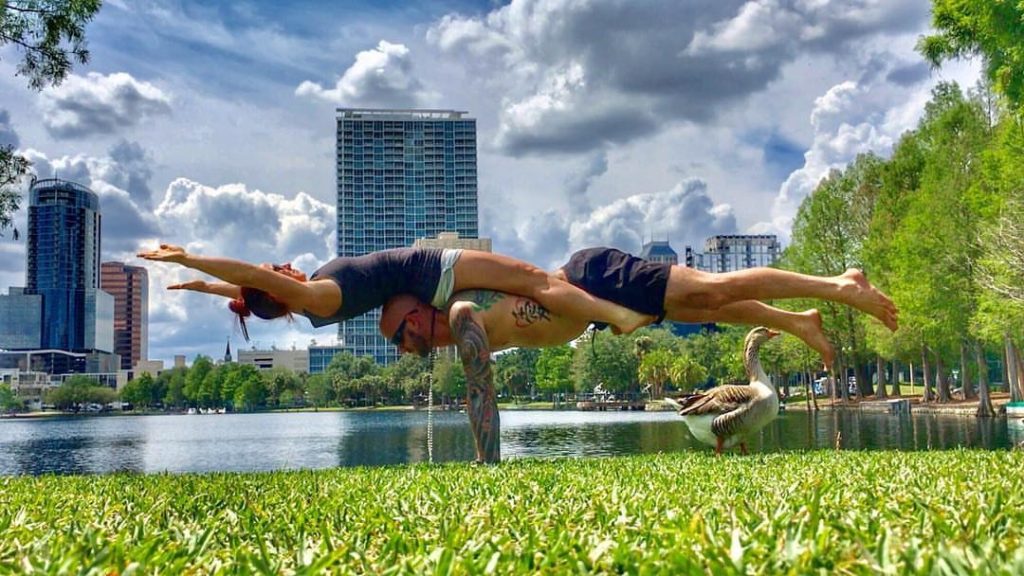 Healthy relationships are all about balance. And if you're looking to interpret that literally in your relationship, why not take advantage of the fabulous spring weather by practicing outdoor yoga in Orlando? From a picturesque blueberry farm to Downtown Orlando parks, here are a few places to get lost in the flow together.
Updated July 2021
Paddleboard Yoga
A fun way to bond as a couple is to try something new and outside of your comfort zone. Once you're comfortable with yoga on land, hop on a paddleboard for a true test of balance. Here are a few places around town to give it a try:
LAKE LIFE PADDLE
When: Select dates
Where: Locations and events vary
Cost: $75, varies depending on event
Start your day with yoga and meditation followed by a complimentary mimosa. Lake Life Paddle leads periodic paddle board yoga classes throughout Orlando. The class is appropriate for all levels. You must sign up in advance to reserve your spot and board rental.
WAVE OF WELLNESS
When: Select dates (check the Meetup page for details)
Where: Lake Mary Jane (Orlando) and Lake Mizell (Winter Park)
Cost: $35 including board rental (or $20 if you bring your own board)
Jessica Cichra of Wave of Wellness hosts seasonal paddleboard yoga classes, inviting you to align body, mind, and spirit while practicing balance and breath. During the 1 hour 15 minute class, you'll paddle out to a serene spot on the water and the balancing act begins. While the class is open to beginners, I'd recommend some prior experience with yoga and paddle boarding so that the experience isn't a total shock. Wave of Wellness hosts beginners lessons to get you acquainted with paddleboarding.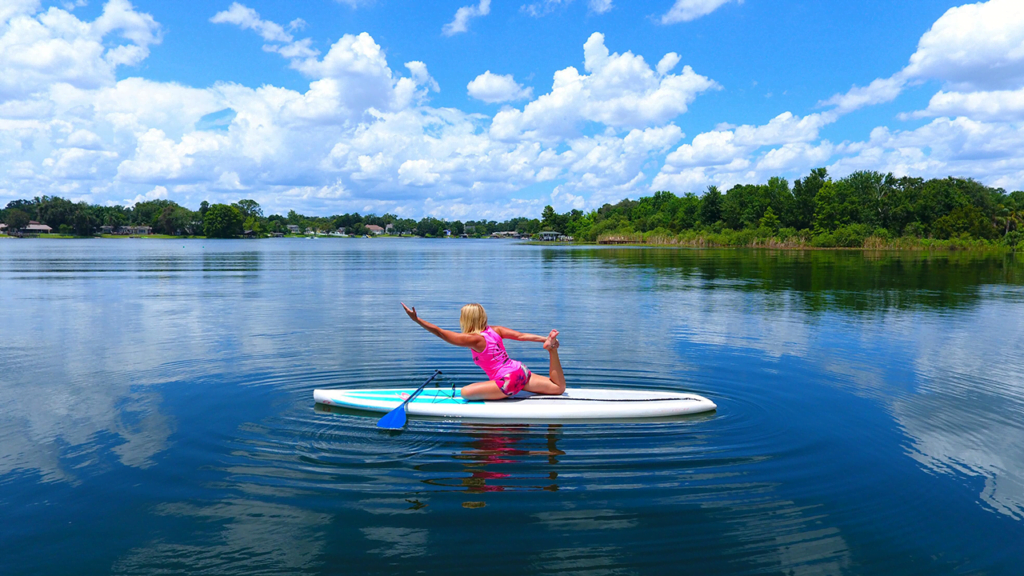 Yoga on the Lawn at Southern Hill Farms
When: SEASONAL
Where: Southern Hill Farms – 16651 Schofield Rd, Clermont
Cost: Varies
Blueberry season in Florida runs from April-June, and at Southern Hill Farms you can pair blueberry picking with a 1-hour all levels yoga class. After class, peruse the farm's 40 acres of blueberry bushes as you pick your own berries. One pound of u-pick berries are included in the cost of the yoga class. The farm is a hotbed of activity on the weekends with food trucks, live music, mimosas and more in addition to yoga and u-pick. You'll need to bring your own mat, towel, and water.
Yoga Nona at Crescent Park
When: Saturdays at 9am
Where: Crescent Park in Laureate Park, Lake Nona
Cost: Free
Headed to Lake Nona for a waterfront brunch at Canvas? Arrive a little earlier to practice yoga on the lawn of Crescent Park, located less than 5 minutes from the restaurant. This weekly yoga class is community-oriented, free, and open to all skill levels. Bring along plenty of water, a yoga mat, and a towel to participate.
Grady Goat Yoga Tampa Bay
When: Saturdays at 10am
Where: Hat Trick Ranch, Thonotosassa
Cost: $37
Practice your down dog in the company of dozens of adorable goats at this quaint farm near Plant City. Grady Goat Yoga invites you to the farm every weekend to do yoga amongst dozens of playful goats. Yes, they will jump on your back and yes, it's totally acceptable to play with the goats instead of focusing on your poses the whole time. The proceeds support the Grady Goat Foundation, which supports children with disabilities and facing adversity. Tickets are required to attend and classes typically sell out, so get your tickets in advance.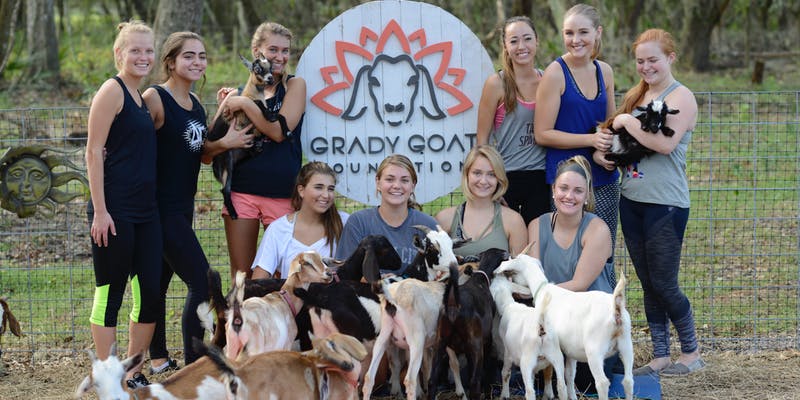 More places to practice outdoor yoga in Orlando:
Yoga in Lake Eola Park
When: Sundays at 11am
Where: Northeast lawn of Lake Eola Park (corner of Robinson & Eola Dr)
Cost: $10 (cash, Cash App or PayPal)
Partake in a 1-hour all levels community outdoor yoga class with Lake Eola as the backdrop. This class pairs well with a visit to the Orlando Farmer's Market or a Sunday brunch in Thornton Park.
Yoga Under the Stars at Orlando Brewing
When: Third Friday of each month at 7:30pm
Where: Orlando Brewing – 1301 Atlanta Ave, Orlando
Cost: $12 in advance; $14 walk ins
Stay cool during this nighttime outdoor yoga class held at Orlando Brewing. A free 16oz. beer of your choice is included in the ticket price.
Read our guide to Wild and Crazy Places to do Yoga in Orlando for more ideas.
Feature image credit: @sabrinaratkins / @kristopherpace on Instagram