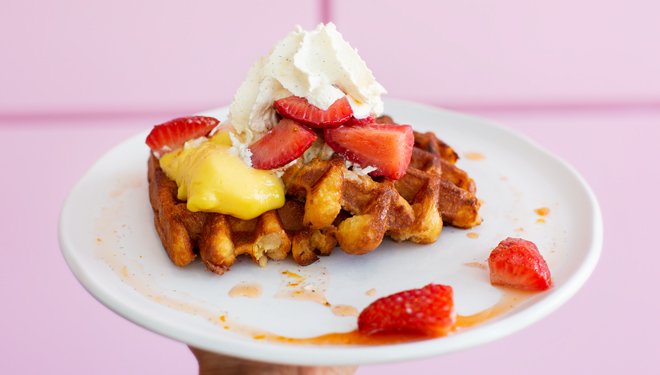 Tempting photos of decadent cakes and handcrafted doughnuts may lure you through The Glass Knife's doors, but the restaurant's more savory side is equally delicious, especially during brunch.
Served on Saturdays and Sundays from 8am-4pm, brunch proves that the restaurant packs more than just a sugar-filled punch.
I wouldn't frown upon visiting for a meal comprised entirely of indulgent cakes, small-batch buttermilk brioche doughnuts, pastries and other assorted baked goods (like the new macarons). But do so and you'll sorely miss out on Executive Chef Stuart Whitfield's non-dessert creations, like an indulgent avocado toast with a touch of lemon, and Belgian waffles topped with vanilla whip and fresh strawberries.
The restaurant's interior is equally luxe, featuring a cozy date night booth, pink and black accents, and a long communal table doubling as a display case for an extensive glass cake knife collection, which belonged to owner Steve Brown's mother, Jacque. There's also a lush outdoor patio, which is dog friendly.
In the name of research, we recently visited for a brunch feast, which struck the ideal balance of savory and sweet and left me in the happiest of food comas. Here are all of the delectable details…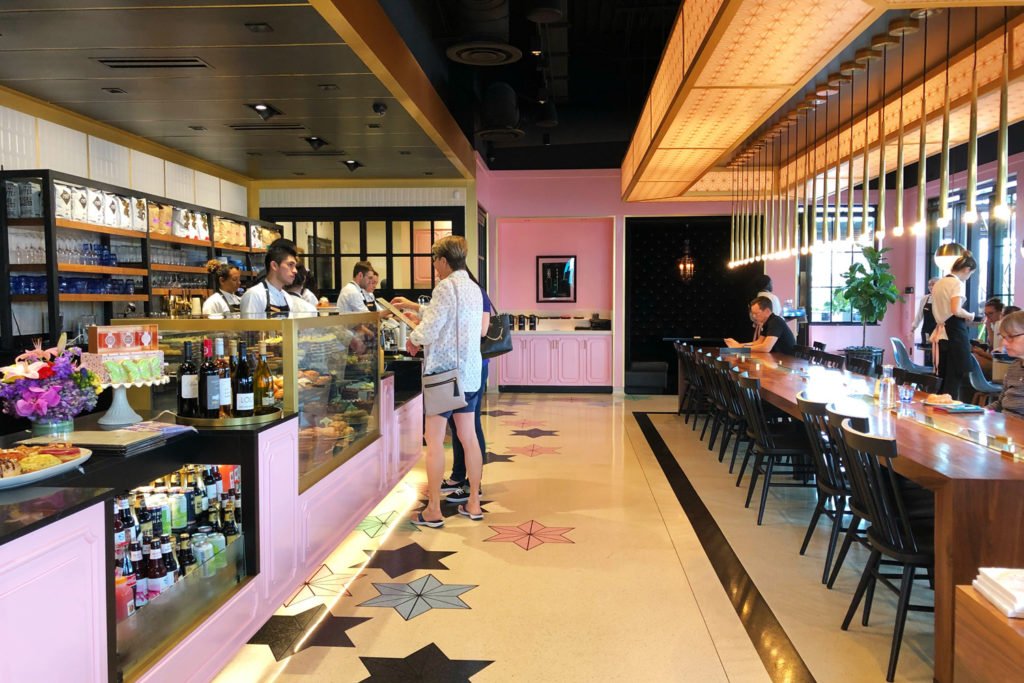 DRINKS
Nothing says brunch quite like over the top eats paired with flavorful bubbles. Mimosas are a brunch standby and a personal favorite, and the menu features four varieties.
Apart from the classic orange, there's also blood orange, spiked cherry, and strawberry lemonade. I felt extra classy sipping the blood orange variety, which came served in a coupe glass.
If you're visiting earlier and prefer to caffeinate instead of imbibe, there's a full coffee menu available featuring beans from Onyx Coffee Labs.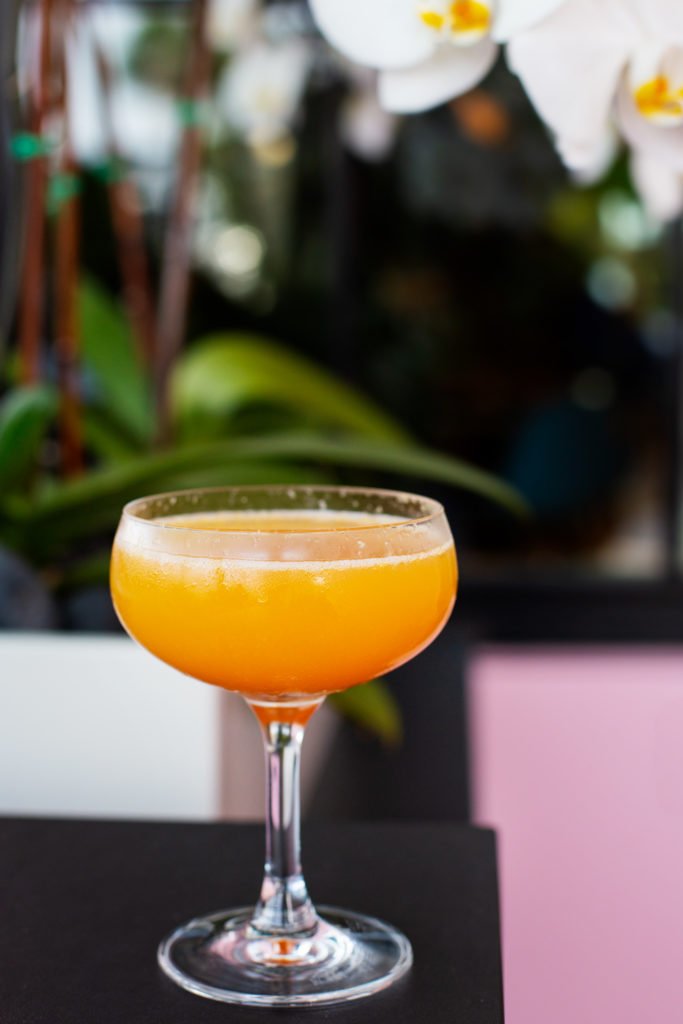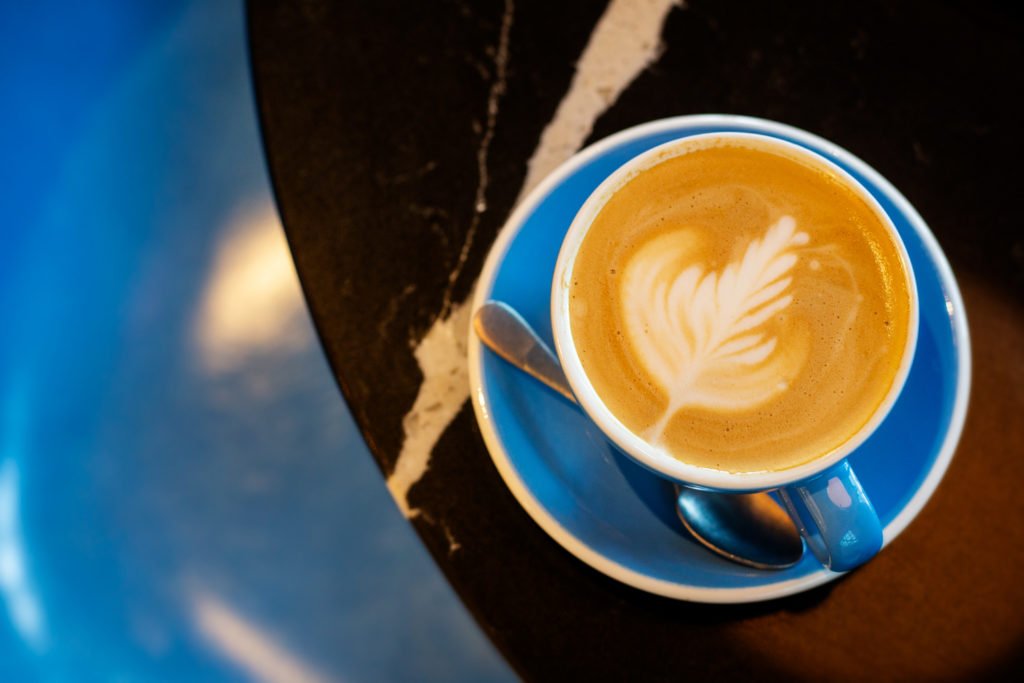 FOOD
Nothing on the brunch menu is exclusive; rather, it's a mash-up of the breakfast and lunchtime menus. Take your pick of salads, breakfast items, sandwiches, and, of course, plenty of doughnuts and baked goods.
Of the five dishes we sampled, the cheddar biscuit sandwich was a clear favorite. The flaky cheddar biscuit is worthy of praise on its own, but the real star of the sandwich is the feather light egg soufflé, nestled between layers of bacon jam, Applewood-smoked bacon, and arugula. Eventually, we discarded bits of the biscuit altogether (after all of the doughnuts and waffles, protein trumped more carbs) and not a bite of egg soufflé was left behind.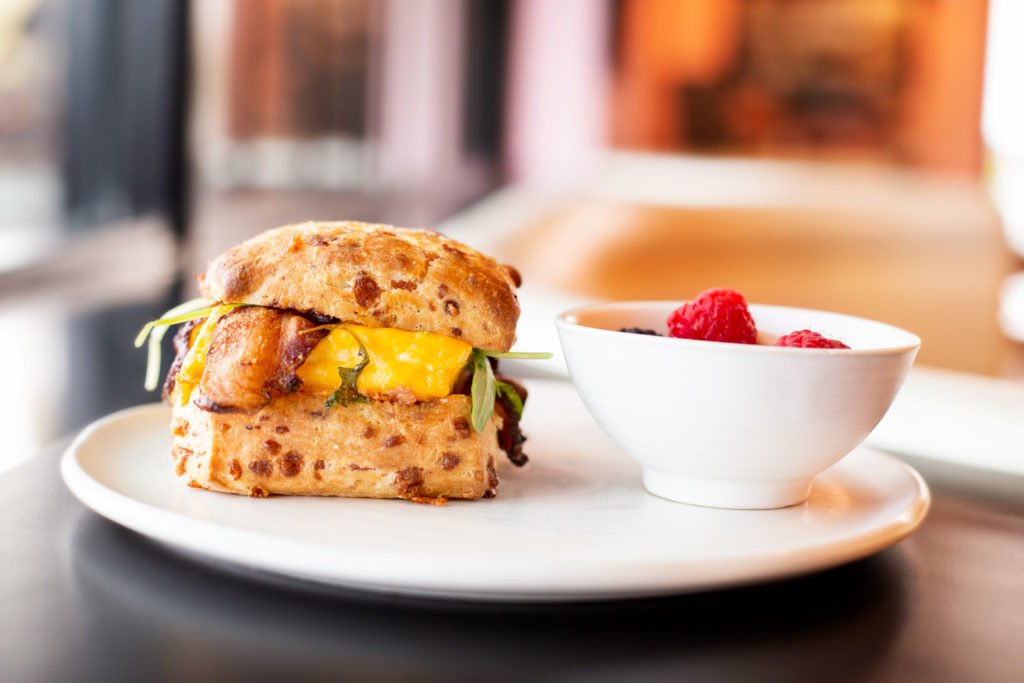 Thick wedges of fresh avocado, a poached egg, house-made tomato confit, and pickled red onion plus a kiss of lemon–thanks to the lemon crème fraiche–round out the savory avocado & egg toast, which is one of the best I've had lately.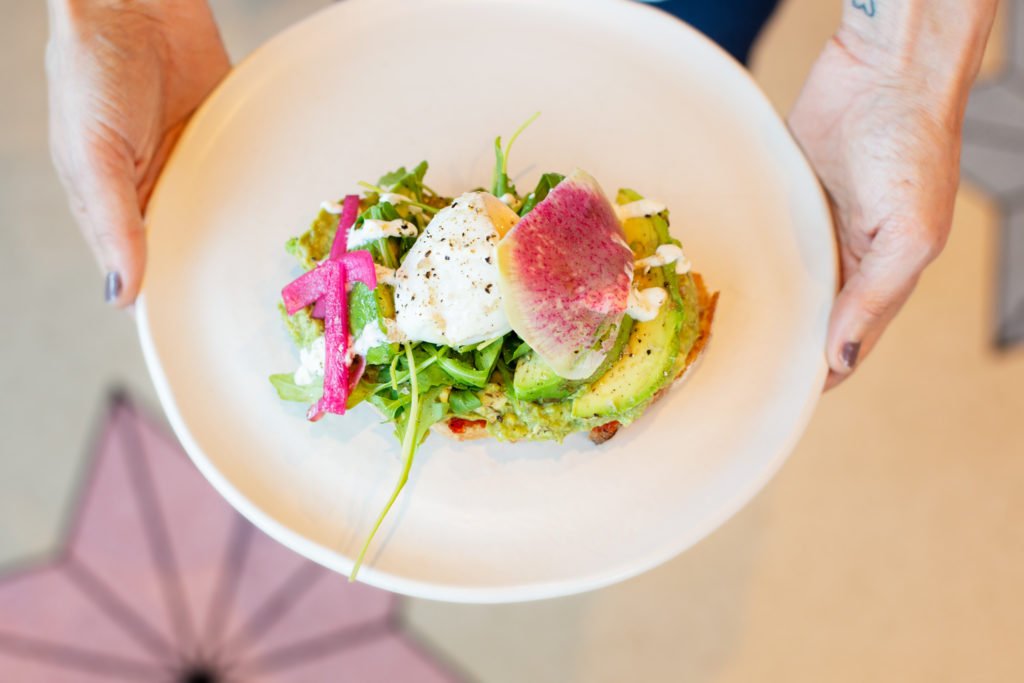 If you're looking to minimize guilt while still indulging, the berry bacon spinach salad fits the bill. It comes loaded with fresh fruit, crumbles of feta cheese, pine nuts, and Applewood-smoked bacon. Top it off with a drizzle of the heavenly bacon Dijon vinaigrette, served warm.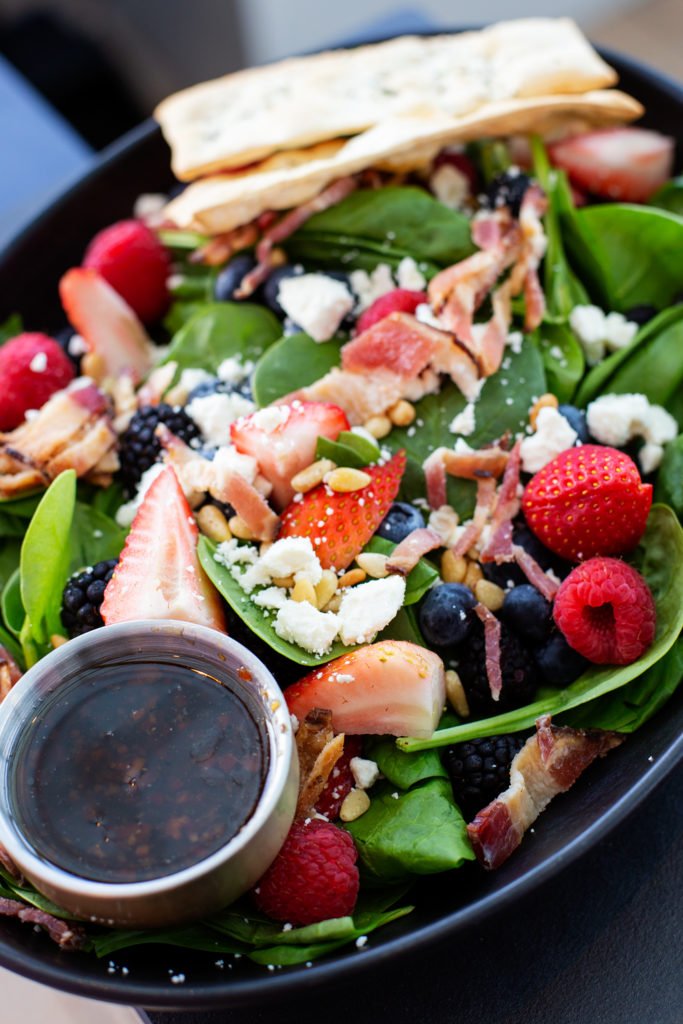 Returning to the sweeter side, we gobbled up the strawberry lemon waffles (pictured above in feature image), which are topped with a healthy dollop of vanilla whipped cream, house made lemon curd, and fresh strawberries. Alongside doughnuts, they were a bit too sweet to consume in their entirety. But if you're craving a dessert-like item for brunch and aren't pairing it with anything else sugary, it's a delicious choice.
Of course, you can't visit The Glass Knife without getting some form of dessert. And for brunch, the sweet of our choosing was an assortment of fresh buttermilk brioche doughnuts in assorted flavors. We ordered three but left with a dozen (thanks to the team). The extras held up incredibly well in the days that followed, serving as a savory extension of brunch each morning at home. Standout flavors include The PB&J, pistachio orange, creme brulee, and apple fritter. But honestly, there wasn't a weak flavor in the bunch.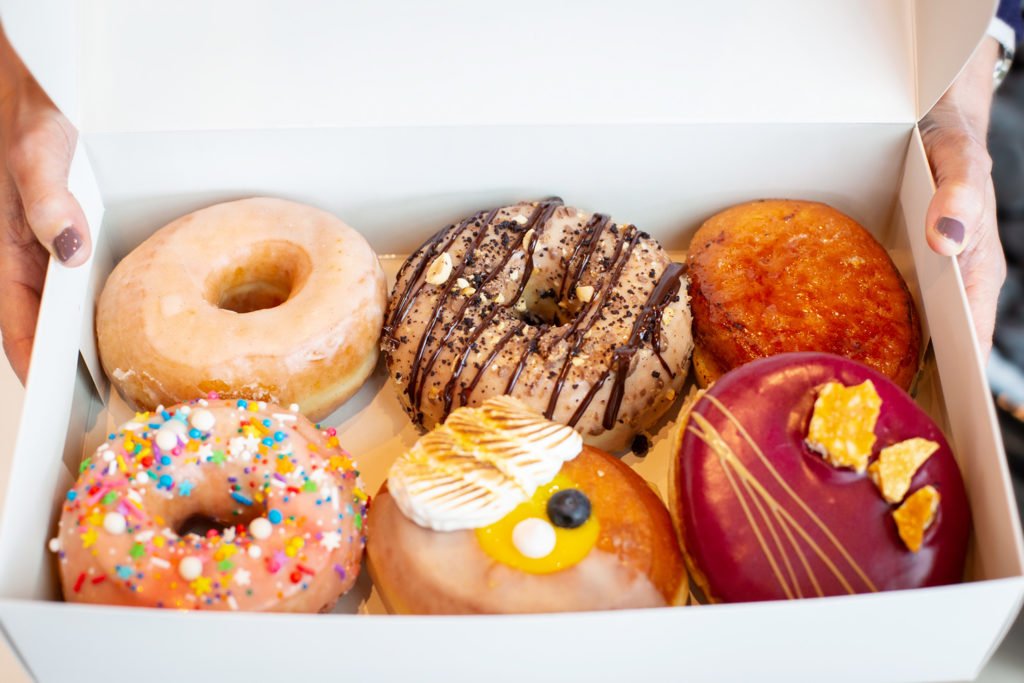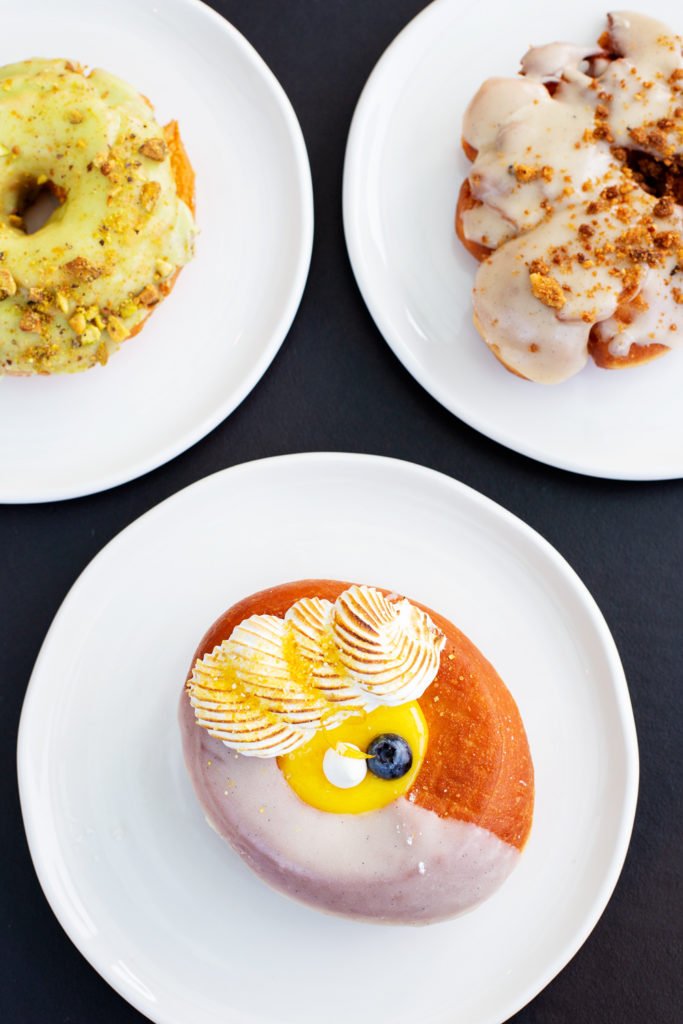 DETAILS
Brunch is served every Saturday and Sunday from 7am-4pm.
Check out the full menu here.
Know before you go:
The restaurant does not accept cash.
When you arrive, you'll place your order at the counter and receive a number to place on your table, where your food will be delivered.
Reservations are not accepted.
Saturdays are the busiest day of the week, so you may want to arrive early. We had no problem snagging a seat right away on a Saturday around 8:30am.
The Glass Knife
276 N. Orlando Ave
Winter Park, FL 32789
theglassknife.com
For more brunch info, read our guide to the Best Restaurants for Brunch in Orlando and check out the rest of our Brunch Buzz series.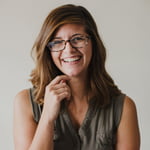 About the Author/Photographer:
Stephanie Patterson is a talented professional food and travel photographer and writer with a passion for creativity, the beach and great eats. When she's not taking photos or writing, you can find her exploring the state for her Florida travel blog, Travel Taste Click. Find her online at www.spattersonphotography.com and www.traveltasteclick.com.