Are you and your date totally space-obsessed? Then you won't want to miss the upcoming Winter Sky Festival Saturday, January 27, 2018, at the Seminole State Planetarium.
The lineup for the stellar evening includes a host of FREE activities including science demonstrations and presentations, telescope observations, and the planetarium's flagship Central Florida Nights, an outdoor laser tour of the night sky. In addition to the free fun, five laser shows (paid admission required) will play throughout the evening. Admission is $10 per adult.
Admission to the event is free, and it's family-friendly if you want to bring the kids. Food trucks will be on-site to make the evening a complete date night.
PS – want more space-themed fun? This event is part of Space Week 2018, a weeklong celebration of space at the planetarium. Get all the details regarding Space Week events HERE.
TELESCOPE OBSERVATIONS
Thanks to the Central Florida Astronomical Society, you'll be able to enjoy a magnified view of the night sky from 5-11pm in the outdoor star party area. Take a peek at the moon, Neptune, and Uranus, plus various viewable galaxies, star clusters, and nebulae in the winter sky.
Dress warmly and feel free to bring along chairs and blankets.
LASER SHOWS
Immerse yourself in a stunning show set to the tune of classic albums. Take your pick of five laser shows scheduled throughout the evening. Paid admission (cash or check only) is required for laser shows.
5:30pm – "Laser Beatles"
6:30pm – "Laser Vinyl"
8:30pm – "Laser Zeppelin"
9:30pm – Rush's "2112"
10pm – Pink Floyd's "Dark Side of the Moon"
Admission to the laser special presentations is $10 for adults, $8 for students and adults 55+, and $5 for Seminole State faculty, staff, and students with college ID. Ticketing will take place in room B-100 beginning at 4:30pm.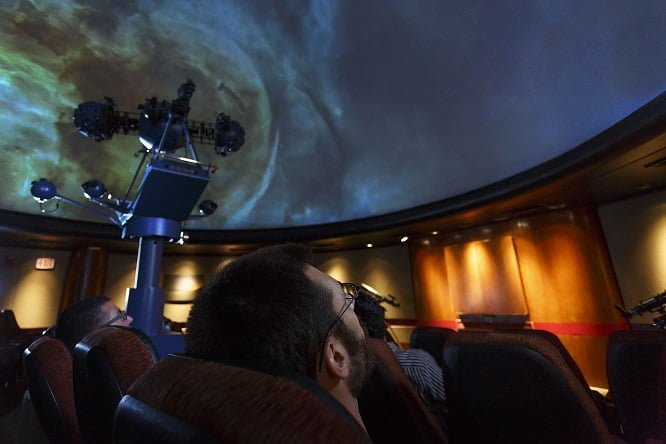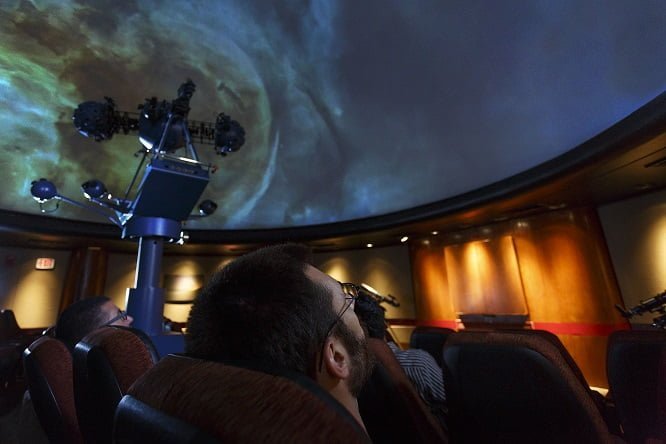 DEMONSTRATIONS AND PRESENTATIONS
The evening includes a full lineup of free presentations covering everything from chemistry to dinosaurs and electricity to birds of prey.
5:15pm: Chemistry demonstrations with Prof. Rafal Grudzien of Seminole State College (planetarium courtyard)
5-7pm: The Avian Reconditioning Center for Birds of Prey (room B-136/138)
View and learn about the various birds of prey brought to you by the Avian Reconditioning Center.
5-8:30pm: "The Science of Dinosaurs" with Dr. John Werner of Seminole State College (room B-135)
Who doesn't love dinosaurs? Discover the science between these fascinating creatures and learn about the link between dinosaurs and birds.
5-9pm: Virtual Reality and Multi-Use Demonstrations (room B-134)
Immerse yourself in the wonders of virtual reality.
(TENTATIVE) 6-11pm: High Voltage- Speaker Series on Electricity to Spark Imagination, hosted by Synthestruct (room B-127)
HIGH VOLTAGE is a speaker series about electricity and the many ways it's used in the world around us. Join them from 6-8pm as each speaker gives a behind the scenes look at the role that electricity plays in their craft, followed by live demonstrations and open Q&A with the speakers from 8pm-11pm.
8:30-9:15pm: "Astronomy Apps," hosted by astronomy software engineer Richard Wright (planetarium courtyard)
Join astronomer and software engineer Richard Wright as he highlights some of the best astronomy apps for both iOS and Android.
9:15-10pm: "Central Florida Nights," hosted by planetarium staff members Michael McConville and Derek Demeter
Join us for a live laser tour of the night sky inside the star party area. Weather permitting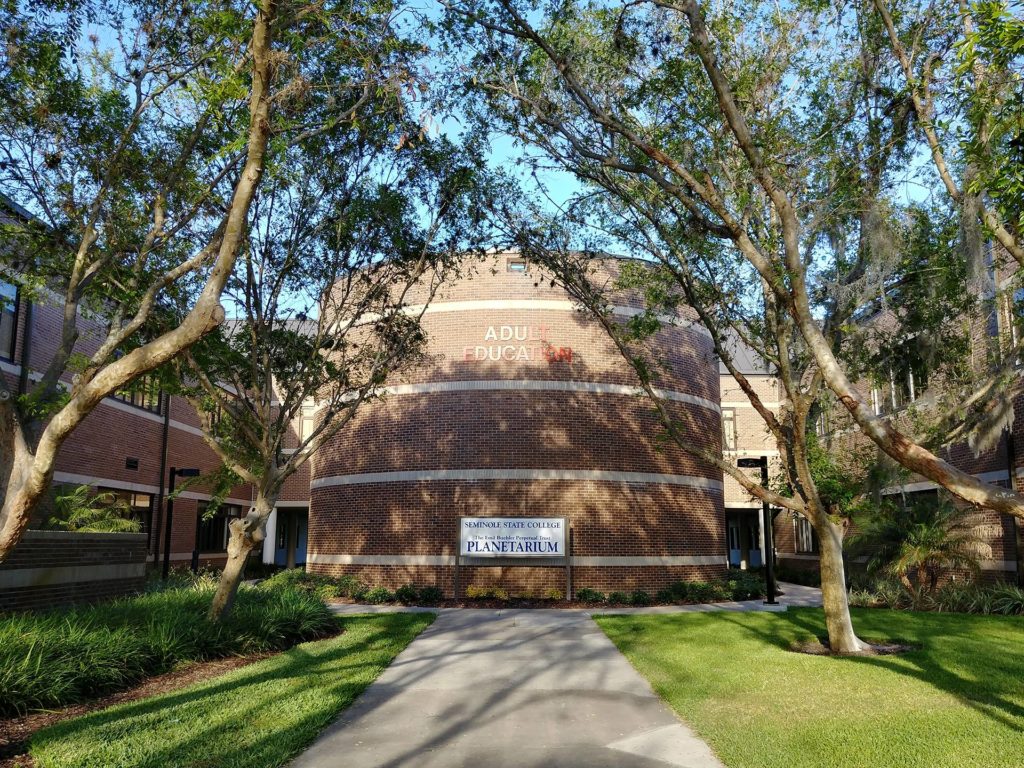 DETAILS
What: Winter Sky Festival
Where: Emil Buehler Perpetual Trust Planetarium at Seminole State College (100 Weldon Blvd, Sanford)
When: Saturday, January 27, 2018, 5-11pm
Cost: FREE (paid admission required for laser shows)
Telescope viewings, outdoor activities, and Central Florida Nights are weather permitting.
For details and a full event lineup, visit the Facebook event page or https://www.seminolestate.edu/planet/.
The Winter Sky Festival takes place throughout buildings B and SC on the Sanford/Lake Mary Campus of Seminole State College of Florida, as well as in the faculty and staff parking lot adjacent to Building B. Food trucks and community vendors will be set up near the front sidewalks of the new Student Center, and visitors can park in lots for buildings B, D, and UP.
All images courtesy of the Emil Buehler Perpetual Trust Planetarium at Seminole State College