If you haven't already heard, August 21, 2017 marks the date of the first total solar eclipse visible from coast to coast in the United States in a whopping 99 years. So yes, this eclipse is kind of a big deal!
While Orlando is not in the path of totality (meaning we will see a partial solar eclipse), we will be able to view the solar eclipse at 85% totality. During the eclipse, which will be visible midday, you'll be able to see the moon almost completely cover the sun.
The solar eclipse in Orlando will be visible between 1-4:30pm. The best time to view will be around 2:45pm when maximum (85% in our case) totality is visible. These times will vary depending on location, so research and plan ahead.
Please note that you'll need special eclipse viewing glasses at all times – you can purchase glasses in advance, or head to one of the viewing locations we've listed below.
To help you plan, we've rounded up details on solar eclipse viewings and activities happening around Orlando. Head out with your date for some afternoon fun, and witness a piece of history together.
Where to View
Orlando Science Center
August 21, 1-4pm
Included with general admission
The Orlando Science Center will host a special viewing event complete with eclipse glasses, solar telescope filters, special solar eclipse demos and presentations, crafts, and art activities. You'll also be able to make a phone filter for getting photos of the eclipse.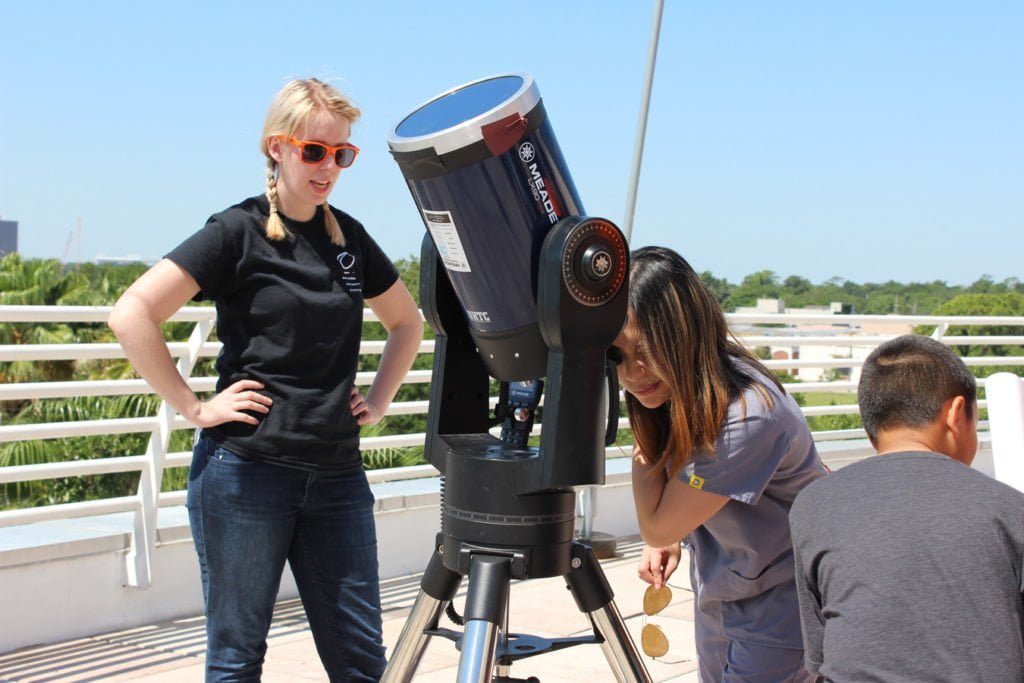 Central Park Winter Park (West Meadow) and Dr. Phillips Center for the Performing Arts
August 21, 12-4:30pm
FREE
The Orlando Science Center will host two pop-up viewing locations in Central Park (Winter Park) and Dr. Phillips Center for the Performing Arts. Free eclipse glasses will be distributed at both locations on a first-come, first-served basis. If you plan on attending the Winter Park event, local restaurant Cocina 214 will be featuring a special drink to celebrate the eclipse. The Grand Marnier floater is served with a shot glass of black sangria, which, when poured into the glass, slowly turns the drink black.
Seminole State College
August 21, noon-4:30pm
FREE
The Buehler Planetarium will host a special viewing event on the front sidewalk of the Automotive Technology building on campus. Short presentations will be given on the eclipse, including a presentation on the science behind eclipses. Free glasses will be provided for viewing the eclipse. Maximum eclipse viewing will occur around 2:51pm. In the days leading up to the event, visit the planetarium for a special new show, "Eclipse" which will be showing six times from August 11-19, 2017. More details can be found on their Facebook event page.
NOTE: Due to the large number of expected visitors on campus, arrival is recommended via Lake Mary Boulevard:
· From Lake Mary Boulevard, turn onto College Drive
· Turn right onto Campus Lane (near the softball and baseball fields)
· Proceed straight at the stop sign
· Event parking will be designated with signs straight ahead (parking is free)
Eastern Florida State College Planetarium
August 21, 1-4:30pm
FREE
Head to the Observatory at the Eastern Florida State College Planetarium where you'll be able to view the eclipse at 88% totality around 2:55pm. The observatory will be open for the entire duration of the eclipse. Solar eclipse glasses will be available for $1 each.
Orange County Library System
August 21, times vary
FREE, registration required
Many branches of the OCLS are hosting special solar eclipse viewing parties on August 21. Learn about and view the eclipse, and participate in fun activities and crafts. Viewing glasses will be provided. Registration is required.
Wekiva Island
August 21, 2:30-5pm
FREE
Spend the late morning relaxing at Wekiva Island, and then stick around for a special viewing party. Wekiva Island will be providing free viewing glasses and Kona Brewing drafts will be on special for $3. Plan to be there right when the event starts so you don't miss out on the maximum eclipse viewing time around 2:51pm.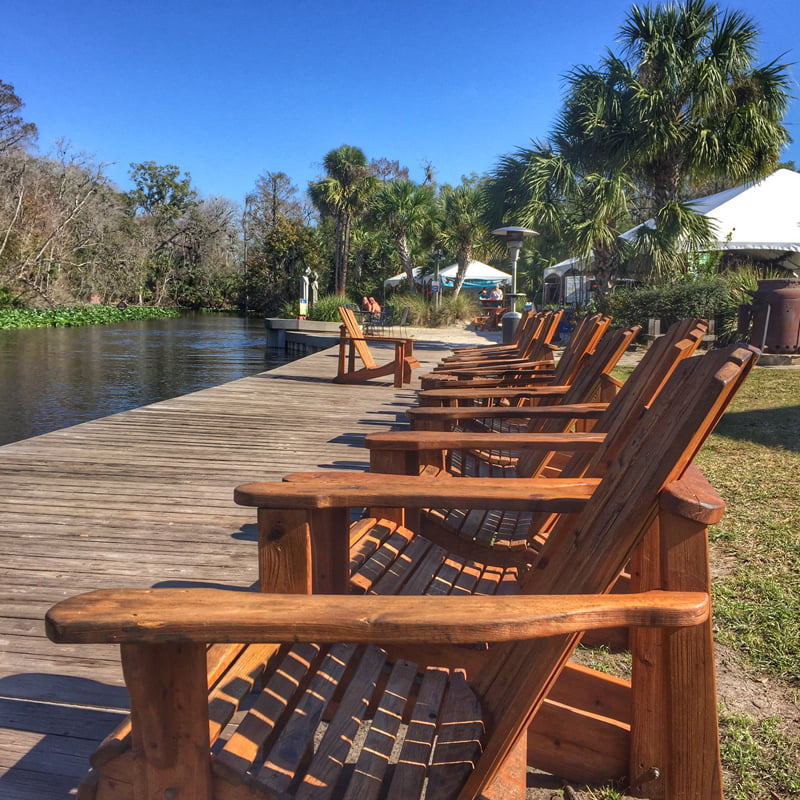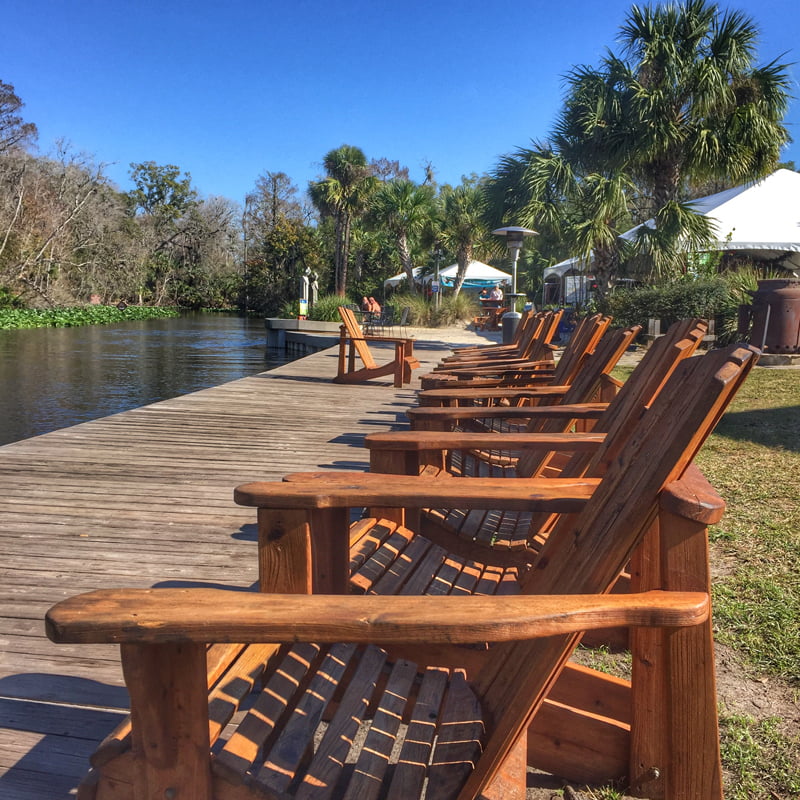 University of Central Florida
August 21, 2-3:30pm
FREE
UCF will host a special "Knights Under the Stars" viewing event open to the public at the Reflection Pond near Millican Hall. Telescopes will be set up for viewing the eclipse, along with eclipse glasses. Plan to arrive early to allow time for finding parking, especially if you've never been on campus before. The maximum eclipse viewing time will be around 2:50pm. This will be the deepest solar eclipse visible from UCF in 47 years.
Kennedy Space Center Visitor Complex
August 21, 11am-430pm
Included with general admission
What better place to view the eclipse than at our local hub for space knowledge? From 11am-4:30pm in the Rocket Garden, chat with space experts, watch NASA TV's eclipse coverage, watch eclipse-themed shows, and view the event with complimentary NASA-approved viewing glasses. Arrive early to experience the complex, and then head to the Rocket Garden for viewing fun.
New Smyrna Beach Library
August 21, 1-4pm
FREE
Watch the total eclipse live streamed by NASA while making crafts, or head outside to view the eclipse with free glasses from the library (while supplies last). The partial eclipse will begin in NSB at 1:14pm and maximum eclipse viewing will take place around 2:51pm. This event is open to the public and no registration is required.
Bok Tower Gardens
August 21, 8am-6pm
Included with general admission ($14/adult)
Spend the morning exploring the peaceful gardens and then watch the eclipse from one of the highest elevations in Florida. Free solar eclipse glasses will be given to the first 400 visitors to the Visitor Center, beginning at 9am. If you don't snag a pair of glasses, you'll be able to cut out your own commemorative pinhole viewer from 10am-12pm in Hammock Hollow. Peak viewing time will be around 2:45pm.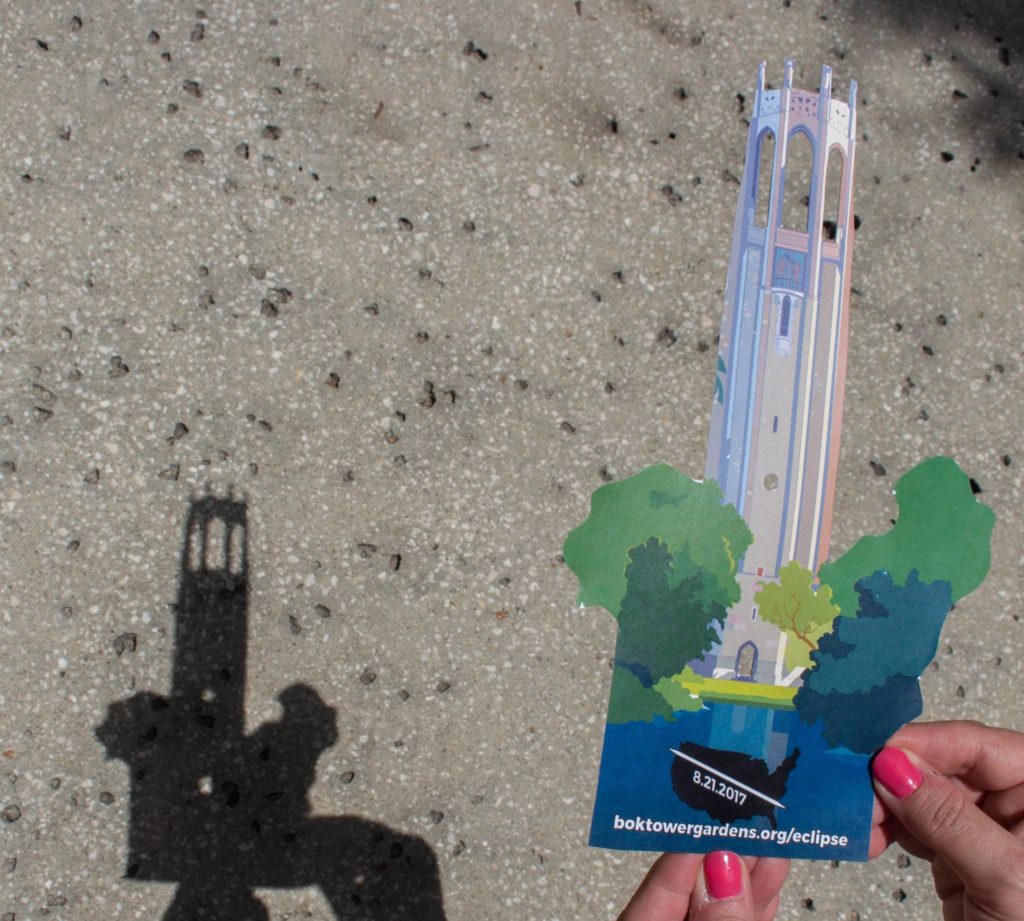 The Waterfront Orlando
August 21, 12-4pm
FREE Admission, menu prices vary
Grab some lunch and watch the eclipse at The Waterfront Orlando. Purchase a $0.99 Kona and receive a pair of complimentary viewing glasses to catch the eclipse.
Other great locations:
– Eleven at Reunion Resort
– Florida State Parks
– Canaveral National Seashore
– Smyrna Dunes Park
– Ponce Inlet Lighthouse
Know Before You Go
If you plan on heading to a location outside of those listed above, make sure to purchase special eclipse glasses if you don't already have some. You will need them at all times in order to safely view the eclipse. Here's an informative guide on where to purchase glasses. Following the recommendations on the list will ensure you don't accidentally buy fake glasses.
The eclipse is occurring on a Monday, so if you'll be at work you can still join the fun. NASA will be live streaming the full eclipse at https://www.nasa.gov/eclipselive.
Know of an event we've missed? Please share it with us in the comments!
Feature image credit: ximagination / 123RF Stock Photo