Maybe the romantic city of Rome, Italy holds the crown for most impressive ruins. But, you may be surprised to know that Central Florida has its fair share of notable ruins as well. A day trip visit to the following ruins can make for a historic date night experience!
Lake Wales
Legend says that a French-speaking Canadian Catholic traveled to Florida with his terminally ill son. After swimming in the healing waters of St. Anne, the boy was cured. The father hand-built this rural stone shrine near the water surrounded by woods in 1920. The tranquil space includes a statue of St. Anne and is free to visit.
Flagler Beach
Apparently, East Florida has a sweet (and salty) history… well, sort of. The 150 acres that comprise the Bulow Plantation Ruins are a testament to the rise and fall of sugar plantations in our sunshine state. The Bulow family grew sugar cane, cotton, and rice until the Second Seminole War (also known as the Florida War) in 1836. A walking trail grants access to the remains of the sugar mill, house, wells and more, which are now listed on the National Register of Historic Sites. The park also has picnic facilities and a boat ramp for canoes and small powerboats on Bulow Creek. Admission is $4/vehicle.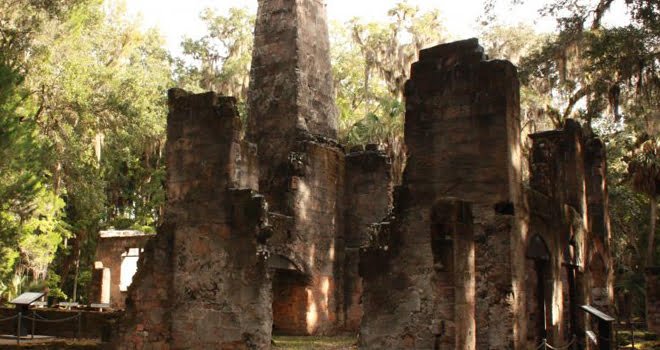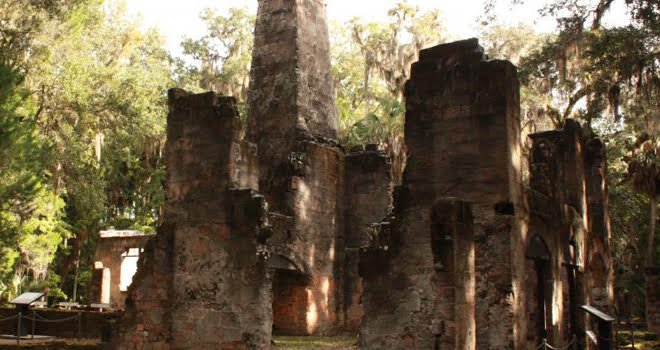 New Smyrna
While most Florida plantations relied on manual sugar cane crushers, the site owned by Henry Cruger and William dePeyster was powered by a steam engine and, thus, allowed greater volumes and faster production. As noted above, eventually war raids ended sugar production in Central Florida. Some of this sugar mill's equipment was relocated to the Dunlawton Plantation (which was also burned down) in Port Orange. Admission is free.
Port Orange
As with its fellow plantations, this sugar mill once produced sugar and molasses. In the 1940s-50s, the land housed an amusement park called Bongoland, featuring animals and a train ride. In the 80s, it was converted in Dunlawton Sugar Mill Gardens which blooms today with an array of plants and flowers. Aside from remaining ruins, you'll find interesting things like full-size stone dinosaurs, a human sundial and an herb garden shaped like Florida. Admission is free.
New Smyrna Beach
Perhaps the most visually intriguing ruins in Central Florida, the true origination of these interesting, grid-like, shell ruins overlooking the Intracoastal is unknown. Some believe them to be an Indian village, unfinished fort, or church. Others say that colonist Andrew Turnbull, founder of New Smyrna, planned to build his personal mansion out of coquina material sometime between 1766-1777, but abandoned the project and relocated. Later, the location was home to a sugar mill and then a hotel which was destroyed during the Civil War. The ruins are located within Old Fort Park. Admission is free.
Homosassa
Near the Crystal River Reserve, the Yulee Sugar Mill Ruins are designated as a Florida State Park. Here you'll find the remnants of another once-thriving 5,100-acre sugar plantation with a forty-foot limestone masonry chimney, iron gears and cane press. The steam-driven mill operated from 1851-1864 and served as a supplier of sugar products for southern troops during the Civil War. Informative signs offer historical facts. Head across the way to find a pavilion to chat about the ruins with your date. Grills and picnic tables are located throughout the area as well. Admission is free.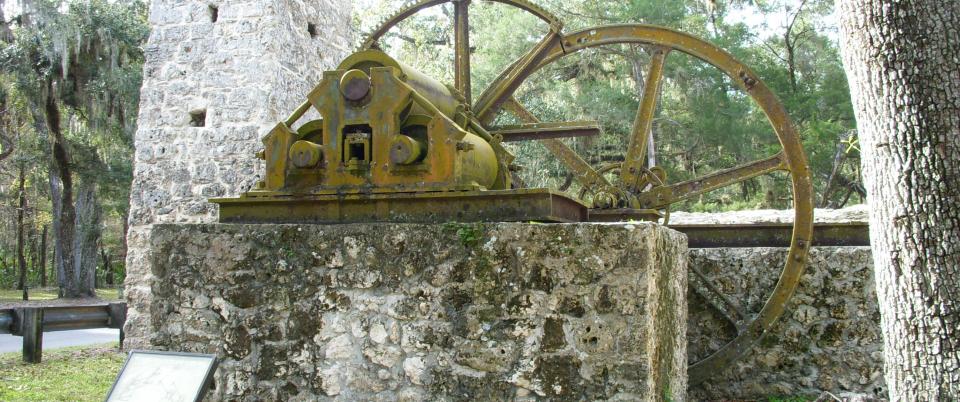 Crystal River
Also a Florida State Park, these 61-acres on the outskirts of coastal marsh were used for 1,600 years by Native Americans. The ruins are not building structures but rather burial mounds, temple/platform mounds and midden/shell. The tallest of the six mounds has a "stairway to heaven" to reach the top. Bring your fishing pool to cast a few lines and binoculars to bird watch. Admission is $3/vehicle.
St. Petersburg
Accessible only by private boat, Egmont Key is a wildlife refuge that has remnants of Fort Dade, built during the Spanish-American War in 1898. Look into the ocean to spot the sea mine, a self-contained explosive device placed in water to damage or destroy ships. The island has a war history but today is a calm beach paradise. Take a beach hike, swim, fish and soak up the salty air. Admission is free.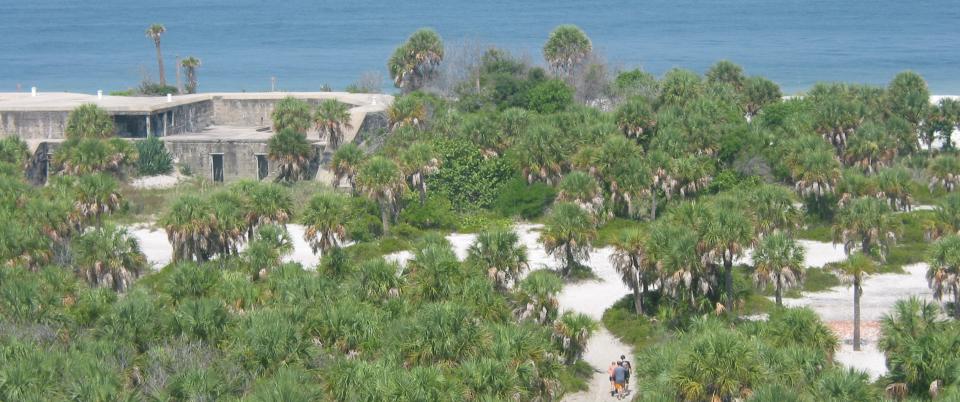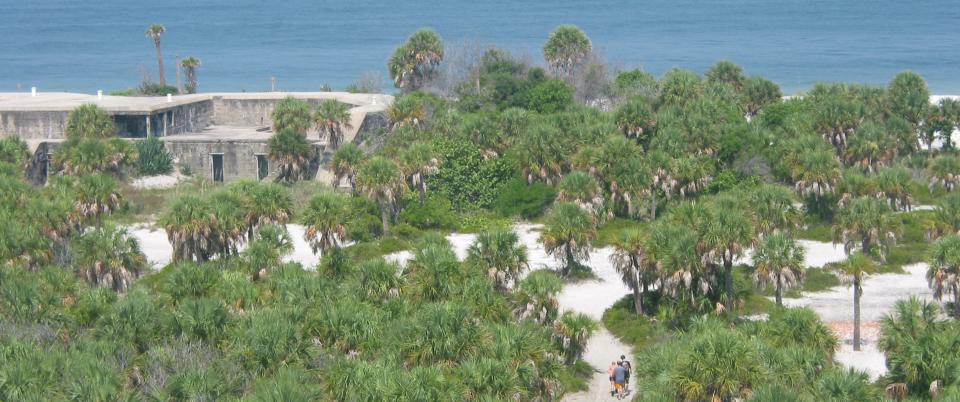 Feature image credit: Jan W. on TripAdvisor