It's been nearly a year since the tragic Pulse nightclub shooting that changed the lives of so many in Orlando and beyond. We lost friends, partners, colleagues, family members, and loved ones. Many of us felt anger, hurt, confusion, and loss. We also rose united as a city, spreading love, kindness, and acceptance.
With the one-year anniversary of Pulse approaching, those feelings are again stirred inside us. We're inspired to take action and honor everyone involved, while also uniting and spreading #OrlandoLove.
In honor of the 49 lives lost nearly a year ago and all of those affected by the Pulse tragedy, The City of Orlando has deemed June 12 Orlando United Day – A Day of Love and Kindness. We will all be honoring and remembering this day in a way that feels right to each one of us.
Below, we've compiled a list of events, memorials, and ways to help. We will continuously update this list, so check back often for new information.
49 Portraits
Terrace Gallery at Orlando City Hall
May 1 – June 14, 2017
This art project is comprised of 49 portraits created by 49 different artists across the country. Each portrait portrays one of the Pulse victims. The portraits will be given as gifts to each of the victim's families. The portraits are currently on display at Orlando City Hall's Terrace Gallery. An opening reception will be held on Saturday, June 3 from 4:30-6:30pm.
OneBlood Blood Drives in Honor of Pulse
Various locations
Beginning June 1, 2017
Blood donations were vital in helping all those affected by the Pulse tragedy. Honor the victims and all those affected by donating blood. Your donation will ensure a safe and sufficient blood supply is maintained for those in need. OneBlood will be hosting blood drives all throughout the state in honor of Pulse.
UCF Remembers: 6.12.16
University of Central Florida
June 8, 2017 | 11am-8:30pm
UCF will be hosting various Pulse events and tributes throughout the day including an artistic tribute, blood drive, an opening reception for "Resilience: Remembering Pulse" (on display through June 30), and UCF Remembers, a special event commemorating the lives of the 49 victims while also celebrating equality and diversity.
CommUNITY Rainbow Run
Wadeview Park (2177 S. Summerlin Ave)
June 10, 2017 | 8-11am
Celebrate the diversity of our community and honor the lives of the 49 we lost during a community 4.9k run. The course begins at Wadeview Park, passes through many of Downtown Orlando's best streets, and passes by Pulse Nightclub before returning to Wadeview Park. A portion of the proceeds will benefit the Zebra Coalition. Registration is $35/person.
Gather + Love Orlando
Go Big Tees
June 10, 2017 | 9-11am
Gather with Yelp and friends to celebrate life and love while also honoring the 49 Pulse victims. Free Pulse Tribute t-shirts will be given to the first 200 guests to arrive. Complimentary food and drink will be provided by Farm + Haus, Downtown Credo, Valkyrie, and New Moon Market. There will be a meditation break at 10am.
Pridefest Kissimmee
Kissimmee Lakefront Park
June 10, 2017 | noon-5pm
Pridefest will begin with a Pulse memorial at noon. The festival is a celebration of the contributions of the LGBTQ community in addition to a means to raise awareness for and welcome all members of the community. The free event includes exhibitors, advocacy organizations, live music, food trucks, and a kids zone.
Rainbow Bagels & Fundraiser for Better Together Fund
Brooklyn Water Bagels – Winter Park & Lake Mary locations
June 10, 2017 – June 12, 2017
In support of Orlando United Day, Brooklyn Water Bagel's Winter Park and Lake Mary store locations will serve special limited-time only rainbow bagels – with 100% of the proceeds from rainbow bagel sales to benefit the Better Together Fund at Central Florida Foundation. The bagels will be available in-store Saturday, June 10 through Monday, June 12.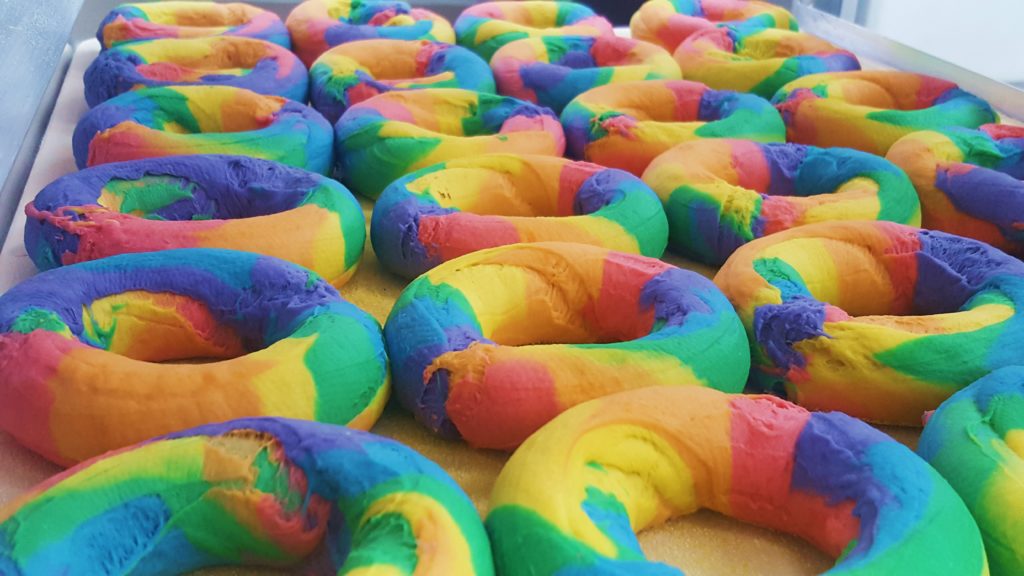 #OrlandoUnited Themed FilmSlam
Enzian Theater
June 11, 2017 | 1pm
June's FilmSlam lineup will feature the work of LGBTQ and LatinX filmmakers in addition to films highlighting what was felt after Pulse and how the Central Florida community has remained united for equality and against hate. Tickets are $8.
Pulse Remembrance Through Music & Poetry
Orlando Public Library
June 11, 2017 | 2-3pm
Gather with the community for an afternoon of remembrance featuring poets and a performance of "World of Love" by local band Sugar City.
A Vigil in Remembrance of Pulse
Cathedral Church of Saint Luke
June 11, 2017 | 5pm
This special service will include scripture and prayer, a candlelight vigil, and performances by The Chancel Choir from First United Methodist Church, the Cathedral Choir, Orlando Gay Chorus, and the Orlando Fire Department Bagpipe Band.
Human Rainbow for Pulse
The Other Bar
June 11, 2017 | 7pm
BASE Orlando will paint 49 bodies to create a human rainbow, with each person representing a life lost.
Orlando United Day Round Up for Kids
Various participating local restaurants
June 12, 2017
Orlando After-School All-Stars and the Florida Restaurant and Lodging Association's Central Florida Chapter have partnered to host "Round Up For Kids" in honor of the victims and those affected by the Pulse tragedy. Proceeds will help fund the Summer of Dreams program which provides homeless youth with meals, academic enrichment and mentoring. On Orlando United Day, dine at a participating restaurant and round up your check to the nearest dollar amount. Let your server know you'd like to Round Up For Kids and your donation will be contributed to the cause.
The Expanded One Orlando Collection and Digital Gallery
The Orange County Regional History Center
June 12, 2017 | 10am – 7pm
The History Center will offer free admission all day on June 12. View the expanded One Orlando Collection and Digital Gallery, which includes images of items gathered from the Pulse memorial site. Pieces from the One Orlando Collection, including community artwork, will also be on display.
Unveiling of the Sea-to-Sea Flag
The Orange County Administration Center
June 12, 2017 | 10am (updated)
Join the community-wide observance unveiling of the Sea-to-Sea Rainbow Flag, which has become a powerful symbol of the LGBTQ movement. The flag symbolizes acceptance, understanding, education, solidarity, and inclusion.
Reflections and Remembrance
Pulse Nightclub
June 12, 2017 | 11am – 1pm
Visit Pulse Nightclub on June 12 to honor all those affected by the Pulse tragedy. A special ceremony with speakers, prayer, a reading of the 49 names, wreath display, and music will take place between 11am-1pm. The Inspiration Orlando mural, Angel Force, Hang-a-Heart, Stars of Hope and comfort dogs will be attending.
Service of Remembrance and Reconciliation
St Stephen Lutheran Church, Longwood
June 12, 2017 | 11:40am-12:10pm
Gather for a service of remembrance with prayer, candles, and communion. The bells will chime 49 times in honor of the 49 lives lost.
Love Rocks
Winter Garden Branch Library
June 12, 2017 | 3:30pm
Paint a river rock with a message or symbol of love and kindness to honor Orlando United Day.
Inspiration Orlando Mural
Pulse Nightclub and Lake Eola Park
June 12, 2017
The Inspiration Orlando Mural will be on display at Pulse Nightclub until 2pm. The mural will then be moved to Lake Eola for Orlando United Day events. Families of the victims, survivors, and first responders will be adding their handprints to the mural. The virtual reality app that works in conjunction with the mural will be available for free on June 12.
Orlando United: Letters to Strangers
Hiawassee Branch, 7391 W. Colonial Drive
June 12, 2017 | 6–8pm
Alafaya Branch, 12000 E. Colonial Drive
June 14, 2017 | 7pm
Local library branches invite you to write an encouraging and uplifting note to a stranger. The notes will be placed around the city or sent to someone in need of a boost. No registration required.
We Still Believe: A Theatrical Benefit of Hope and Love
Theatre South Playhouse – The Marketplace at Dr. Phillips
June 12, 2017 | 6:30-9pm
Join the local community for a city-wide night of acts of love and kindness with dance and song. Tickets are by donation only, with 50% of the proceeds benefitting the Pulse monument, and 50% to the TSP Acts of Kindness Scholarship Fund.
Orlando Love: Remembering Our Angels
Lake Eola Park Amphitheater
June 12, 2017 | 7pm
Join Orlando Mayor Buddy Dyer, Orange County Mayor Teresa Jacobs, Orlando Commissioner Patty Sheehan, and others for a remembrance ceremony at Lake Eola. The ceremony will include speakers, music, and a reading of the 49 names.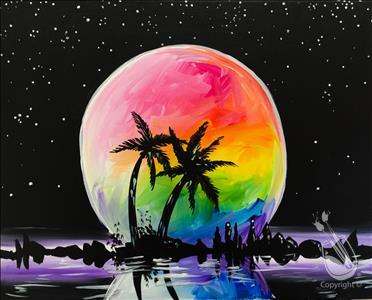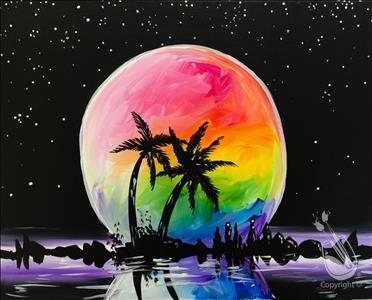 Painting with a Twist Pulse Memorial/Fundraiser for onePULSE Foundation
Painting with a Twist – Winter Park, FL
June 12, 2017 | 7-9pm
Sip, paint a commemorative piece, and relax at Painting with a Twist in Winter Park. The evening's event will also serve as a memorial and fundraiser for the onePULSE Foundation. The cost is $45/person.
Moments of Hope and Healing
Pulse Nightclub
June 12, 2017 | 10pm–midnight
Gather with the community at Pulse Nightclub for a night of prayer, music, dance, and reflection beginning at 10pm.
Pulse Memorial Hunger Project
Feeding Children Everywhere
June 12, 2017
On June 12, Volunteer with Feeding Children Everywhere to package 10,000 meals in honor of the 49 lives taken. 490,000 meals will be packaged and sent to the home countries of the victims.
Love YA!: A Celebration of Diverse Young Adult Literature
Orlando Public Library
Tuesday, June 13, 2017 | 6pm
Reflect on the Pulse tragedy and its impact on our community while attending this moderated panel discussion featuring diverse young adult authors. Authors include Alex Sanchez, Shaun David Hutchinson and Jenny Torres Sanchez, moderated by Lauren Gibaldi. Ages 13 and up.
Tuesday Night United Run with Ten10 Run Club
Ten10 Brewing Company
Tuesday, June 13, 2017 | 6:30pm
Show your support for the Pulse victims and the Orlando community, and spread the message of love and acceptance during this free community run. Rainbow "PRIDE" wristbands will be given to the first 50 people to claim them. Those participating are encouraged to wear anything that shows support for the LGBTQ community. Running routes include 2 mile, 5k and 10k loops.
Paint for Pulse
Alafaya Branch Library
June 13, 2017 | 7-8pm
Paint a piece that communicates what the past year has meant to you personally and to the community. Supplies will be provided. Completed pieces will be displayed at the Alafaya Branch Library.
L.O.V.E.: Lessons on Vulnerability and Empathy
Orlando Public Library
June 14, 2017 | 6:30pm
This discussion and craft will be focused on L.O.V.E.: Lessons on Vulnerability and Empathy. Ages 18 and up.
One City – One Pulse: An Artistic Tribute
City Arts Factory
June 15 – July 14, 2017
View the work of local artists created to inspire hope and healing. The gallery will be on display at City Arts Factory and is open to the public during normal gallery hours.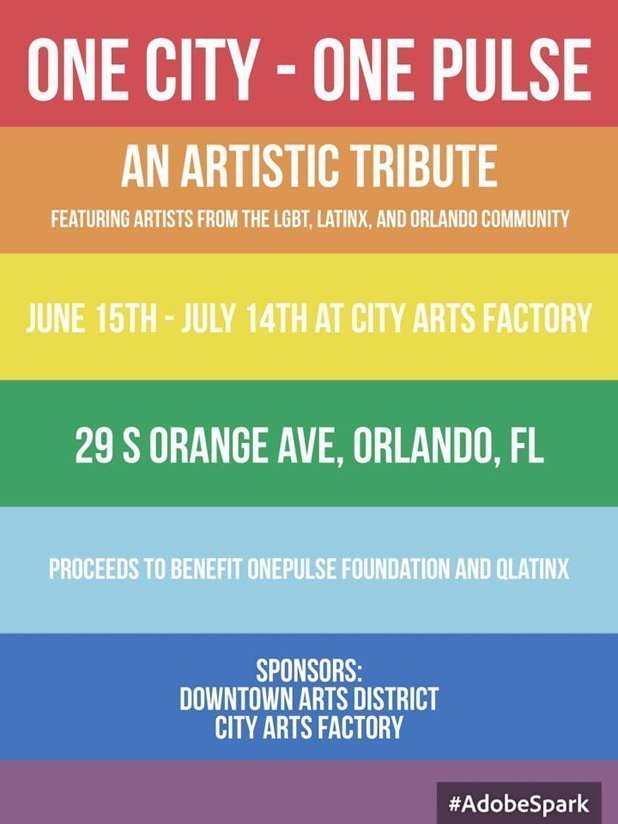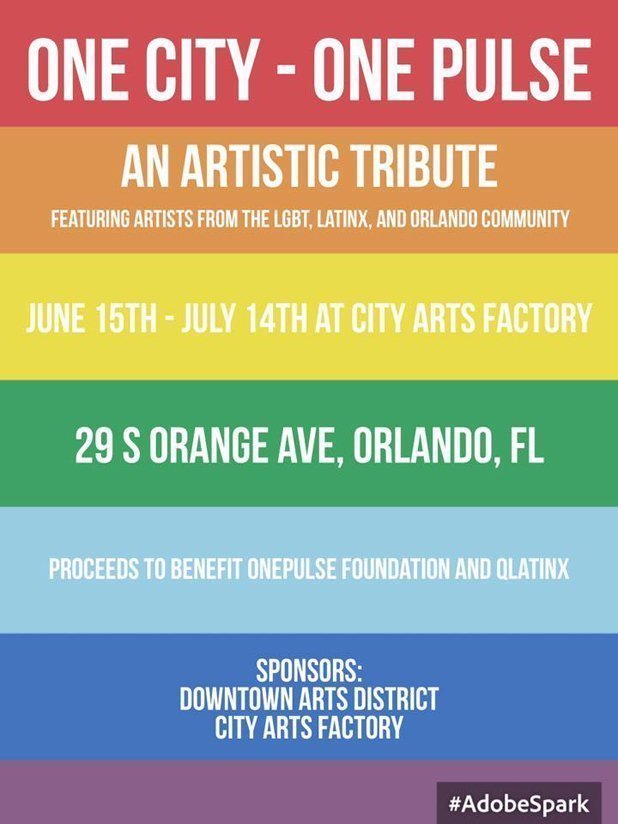 Pulse – One Year Later – In Your Own Words
Melrose Center, 101 E. Central Blvd.
June 15, 2017 | 6pm
Come to the Melrose Center Video Studio and share your personal story of how the Pulse tragedy affected you and the community. Stories will be uploaded to the library's Orlando Memory website.
What Has Changed?
Orlando Public Library
June 15, 2017 | 6-7:45pm
This art show, on display through July at the Orlando Public Library, features art addressing each artist's feelings on what has changed since June 12, 2016. The Orlando Gay Chorus and Latin guitar/percussionists Antone Affronti and Adalberto Bravo will perform during the opening event. Participants will also be invited to record a video addressing how they feel the community has changed in the past year.
Pulse: One Year Later – In Their Own Words
Melrose Center, 101 E. Central Blvd.
June 15, 2017 | 6:30pm
A special presentation of muralists Michael Pilato and Yuri Karabash's multi-canvas mural (work in progress) depicting victims, survivors and those who responded to the tragedy.
Get involved:
Support an LGBTQ Supporting Organization. The One Orlando Alliance list is a good place to start.
Make a donation to the onePULSE Foundation, Contigo Fund or Better Together Fund.
Donate blood. Here's a list of blood drives in honor of Pulse.
#ActLoveGive – share your story and join the One Orlando Alliance Acts of Love and Kindness movement.
Contribute to the Valencia Foundation Pulse Memorial Scholarship.
Read the stories of the Orlando 49 in this series from Orlando Weekly.
#HonorThemWithAction by attending an event from this list of local and national Pulse partner events and solidarity marches.
Dine at one of these Orlando restaurants holding fundraisers on Orlando United Day.
Do you know of an event, memorial, or project that we missed? Please share it with us in the comments.