Summer is here and there are way more free things to do in Orlando than you could have ever imagined! From watching movies at Lake Eola, to visiting the Cornell Fine Arts Museum, to a fun monthly street party in downtown Sanford, Orlando is full of fun date night activities that won't cost you a dime. We are lucky to have so many wonderful gardens and parks right in our backyard for us to explore (we know, it's HOT) but the experiences are worth it. We also included some fun Independence Day celebrations!
Independence Day Celebrations
July 3rd:
Red, Hot and Boom
Cranes Roost Park
Held at Cranes Roost Park in Altamonte Springs, this event includes live performances from Austin Mahone, Kaleo, and Hey Violet. Fireworks are scheduled to begin at 9:30pm, but the event lasts from 4-11pm.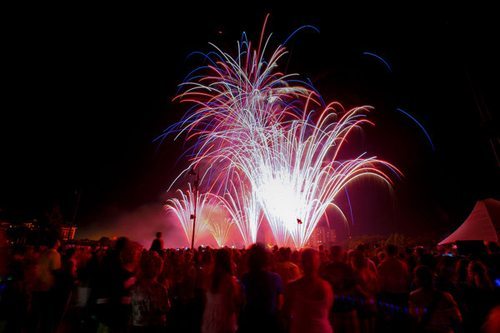 Baldwin Park Independence Day Bash
4990 New Broad Street, Orlando FL 32814
The event will feature a variety of vendors including artisans, food trucks, face painting, and balloon art. Live music will be provided by Baldwin Park's very own, ROOM2 BAND and DJ BradmasterJ will be playing music from 6-7pm. Fireworks are scheduled to begin at 9:15pm.
Independence Day Celebration
Mt. Dora
This event begins at 5pm and will feature live music and fireworks at dusk. The festivities will take place at Elizabeth Evans Park, 510 N. Baker St, Mt. Dora.
July 4th:
City of Winter Park 22nd Annual 4th of July Celebration
This event will be held in Central Park from 9am-noon featuring live music, games, an inflatable slide, and a patriotic decoration station. In addition, the Charles Hosmer Morse Museum of American Art will also be celebrating 22 years in Winter Park and will waive the admission fee to their galleries from 9:30am-4pm.
Fireworks At The Fountain
Lake Eola Park
Fireworks At The Fountain, one of the most quintessential Orlando events, will celebrate its 40th year this year. The event is from 4-10pm, with live music as well as kid-friendly activities. The fireworks display will begin at 9:10 p.m.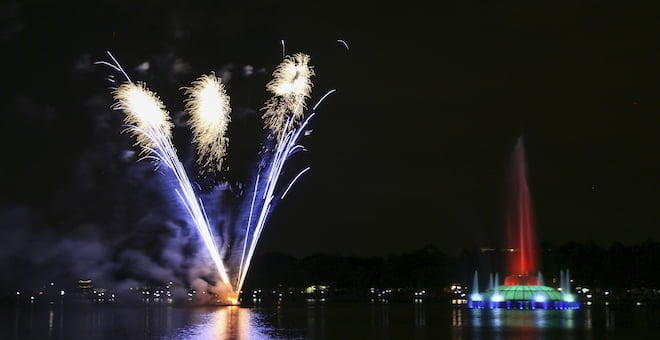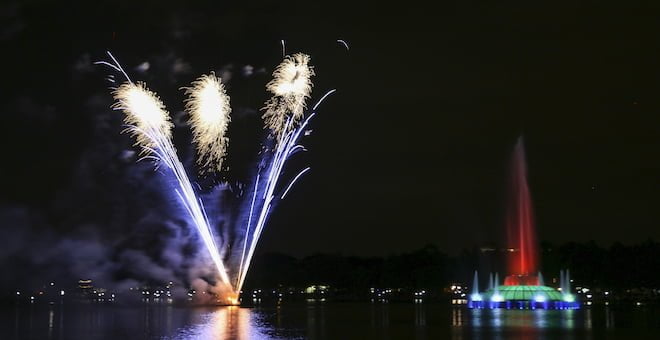 Star Spangled Sanford
Fort Mellon Park
Take in the sights, live music, and fireworks overlooking Lake Monroe from 4-10pm.
Fourth of July Celebration
Avalon Park
Enjoy food trucks, craft vendors, and more from 5-9pm in beautiful Avalon Park.
Winter Springs Celebration Of Freedom 17
Central Winds Park
Gates open at 5pm, with activities including a kid's area with face painting, games, and bounce houses. The Winter Springs' Got Talent competition will start at 6pm, and fireworks will light up the sky starting around 9:10pm.
Movies
Movieola
Lake Eola Park
What better place to watch a movie than in Lake Eola Park? Every last Friday of the month a different movie will be showing, so bring a blanket and some food and enjoy a movie date like no other. The movie begins around 8:15 and this summer's showings are as follows: June 30th: Gremlins, July 28th: Sing, and August 25th: Rogue One: A Star Wars Story.
Popcorn Flicks In The Park
Central Park, Winter Park
Enzian Theater offers a variety of free movies throughout the summer. Popcorn Flicks In The Park, held in Central Park (Winter Park) on the second Thursday of each month, features family-friendly films free of charge. Upcoming showings include Beauty and the Beast on July 13th and Harry Potter And The Prisoner of Azkaban on August 10th. Movie showings are at 8pm.
Check out our full guide to free outdoor movies in Orlando for more events.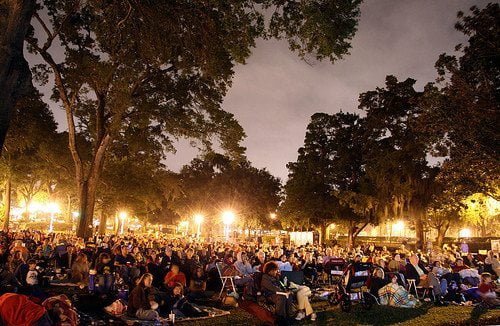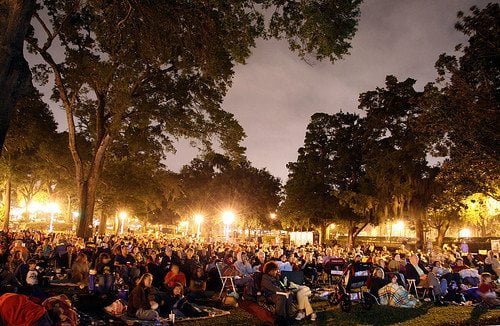 Monthly Events
Critical Mass
For a truly unique date night, join the world's largest bike ride! Critical Mass is held every last Friday of the month and departs from Loch Haven Park at 6pm. June's ride will be held June 29th and will be a special ride in remembrance of the victims of Pulse as well as all lost loved ones.
Rifle Paper Co. After Hours
Rifle Paper Co.
You need some new stationary! Why not get it at 15% while also enjoying complimentary drinks? Held every first Thursday of the month at 5pm.
Alive After 5
Sanford
This monthly street party features local artists and live music, and is held on the second Thursday of each month from 5-8pm, rain or shine. Food and drinks are available for purchase. This is a great opportunity to walk around Historic Downtown Sanford and check out the many local shops, antique stores, and art galleries.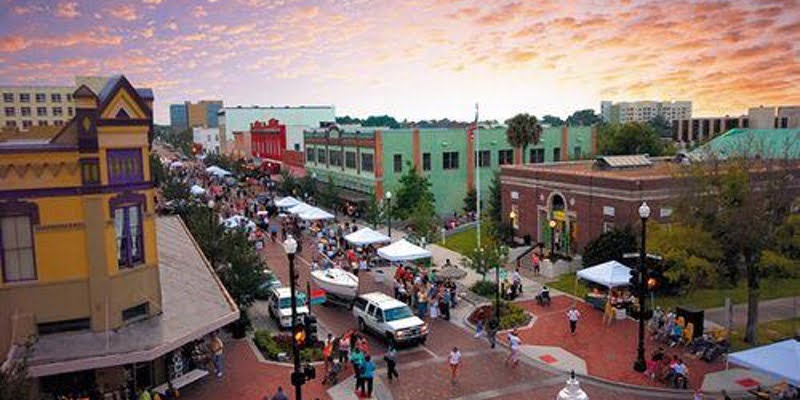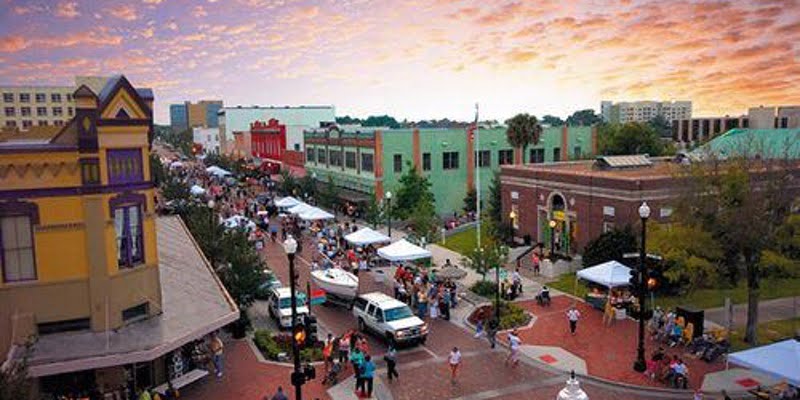 Sanford Art Walk
Sanford
The Sanford Art Walk provides guests with a wonderful opportunity to browse through art at several galleries within walking distance of each other. The event is held every third Saturday from 6-9pm. The themes switch every month, with July's being Aperture for all the photography lovers, and August's being Heatwave, which will feature cool art. Another treat of attending the Art Walk is running into Jeff Sonsken's art. He paints pop culture icons and memorable quotes on panels made out of fence pickets. You can find more of his art along the Seminole Wekiva Trail.
Baldwin Park First Friday Festival & Art Stroll
New Broad Street & Jake Street
This family and pet-friendly event is held the first Friday each month from 5:30-9:30pm. Peruse goods from a variety of local and small businesses ranging from beauty and fashion to health and fitness, as well as over 70 local artisans who will have their art on display.
Art & Music In The Park
Secret Lake Park
Head to Casselberry on the second Friday of each month for this festival, which features local vendors, live music, and the Daily City Food Truck Bazaar.
Weekly Events
Curtis Earth Trivia
Bikes, Beans & Bordeaux Cafe
Enjoy free Curtis Earth Trivia every Monday at 6:30pm at this bicycled themed cafe in Audubon Park.
Open Mic Poetry
Austin's Coffee
Open mic night is held every week on Wednesdays featuring poetry and spoken word. This event is free to attend and begins at 9pm.
Standup Comedy
Drunken Monkey Coffee Bar
Enjoy a free comedy showcase every Friday at 8:30pm while you sip on some of Orlando's best coffee. Saturday nights are open mic.
Total Punk Turnbuckle Tuesdays
Will's Pub
Total Punk takes over Will's Pub every Tuesday, where punk and hard rock music are combined with vintage wrestling and drink specials. Performing in July will be Heavy Lids, Muddle, the Mold, Golden Pelicans and Problem Pack. The event is free, but drinks are extra.
Saturday Summer Sessions
East End Market
Audubon Park's hub of local eateries and artisans hosts different musicians every Saturday from 4-7pm in their beautiful courtyard. The schedule for July is as follows:  July 9: Tommy Cooper,  July 16: Lesha Marie Lopez,  July 23: Drew Yardis, and July 30: Garine Adams.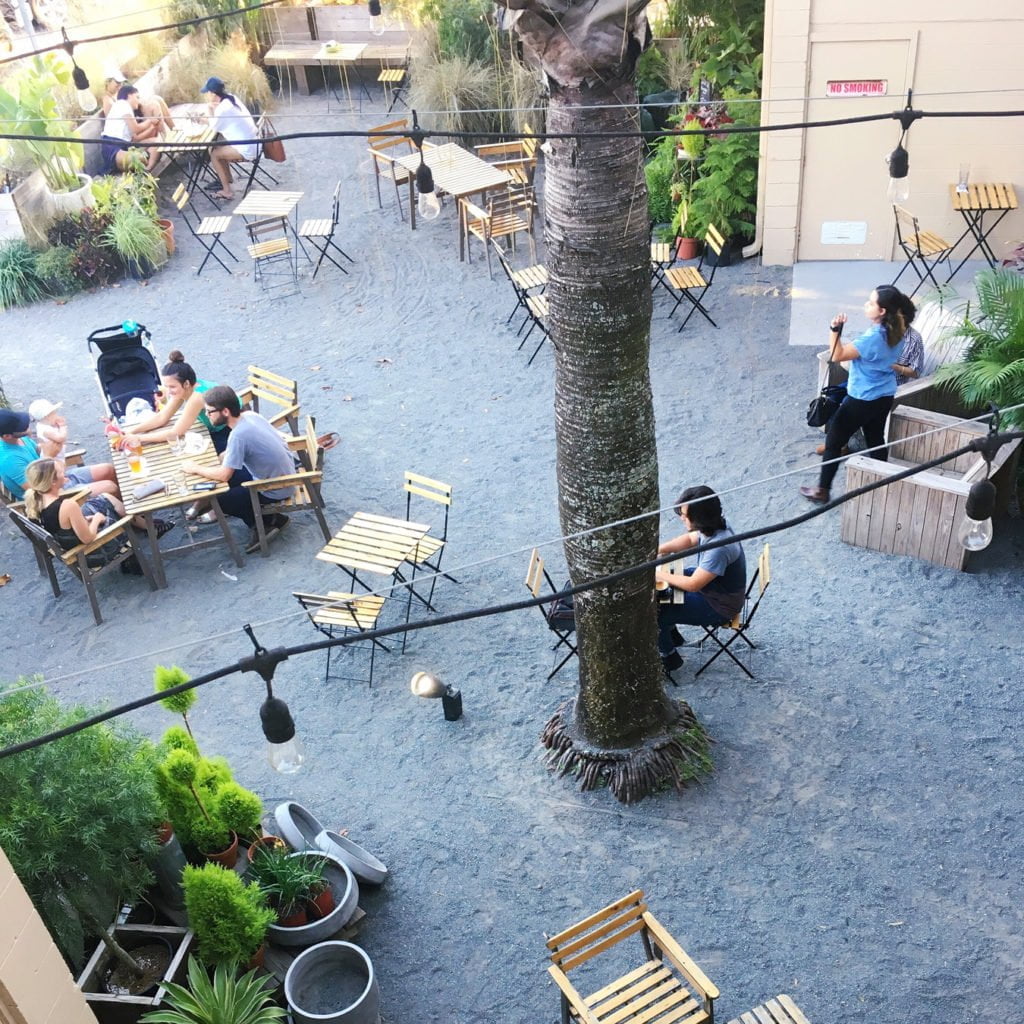 Tours
Orlando Brewing
If you've never had the chance to tour a brewery, this is where you need to go. Tours are offered Monday – Saturday at 6pm, except for Beer:30 (The 30th of each month) or during special occasions such as Oktoberfest.
Lakeridge Winery
A wine tour doesn't need to cost you a dime! Lakeridge Winery offers complimentary winery tours and wine tasting 7 days a week. The winery is located in Clermont, about a half hour away from downtown Orlando. Road trip!
The Alfond Inn
Visit this boutique hotel for a free guided tour of the Alfond Collection of Contemporary Art on display. Tours are led by a Cornell Fine Arts Museum staff member every Sunday beginning at 1pm.
Museums/Galleries
Cornell Fine Arts Museum
Located on the campus of Rollins College, the museum is open Tuesday – Sunday and offers a free museum tour on Saturdays at 1pm. There is also a collection of art displayed at the Alfond Inn in Winter Park which is open to the public to view at any time, and for those wishing for a more informational tour, a free tour is given at the Alfond every Sunday at 1pm.
CityArts Factory
Downtown's largest collective of galleries which features both local and international works rotated monthly. They are open Tuesday – Saturday and from 11-6pm, and every third Thursday, a Downtown Orlando Gallery Hop is held and a number of galleries open their doors from 6-10pm. Redefine Art Gallery, whose focus is on contemporary art including street art and graffiti is located inside CityArts Factory.
UCF Art Gallery
The gallery offers free admission, though visitors who aren't UCF students or staff will have to pay for parking.
Music At The Casa
Casa Feliz Historic Home Museum & Venue
This stunning and historic piece of Winter Park history is open to the public Sunday from 12-3pm. In addition to touring the home and learning about its significance, guests can also enjoy live music ranging from jazz to folk. The musical group changes each week. Casa Feliz is also open to the public Tuesdays & Thursdays between 10-12pm.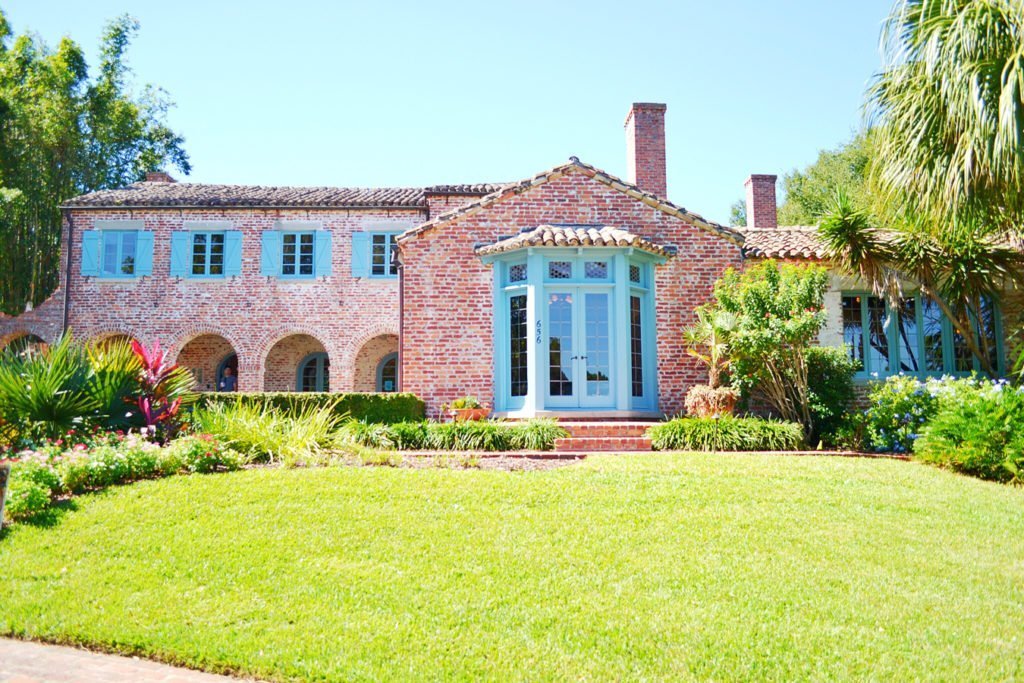 Self Guided/Walking Tours
Mills 50 Mural Tour
You've driven by them a hundred times but you have to walk around to fully see the beauty, detail and time that was invested in these works of art. Begin at Santiago's Bodega in the Ivanhoe Village District and walk towards Mills, and finish at Colonial and Mills where you'll find the stunning Pulse tribute mural done by Andrew Spear. The Mills 50 website contains a listing of murals, their locations, and the artist.
WestArt District
If the Mills 50 walk made you want to see more murals, the place to visit is the WestArt District. There is an abundance of art gracing practically every square inch of available walls, boasting art from both local artists as well as those from around the world.
Get Outside!
Take your bike or walk through one of our many beautiful trails! There is no better way to get out there and see the real reason Orlando is called The City Beautiful.
Gardens/Parks
Leu Gardens
Summer is the perfect time to check out Leu Gardens, as they offer a free day every month! Admission is waived on the following dates: July 3, August 7, and September 4. In addition to Mary Jane's Rose Garden and the wonderful butterfly garden, the Leu House Museum offers tours every half hour from 10-3:30pm.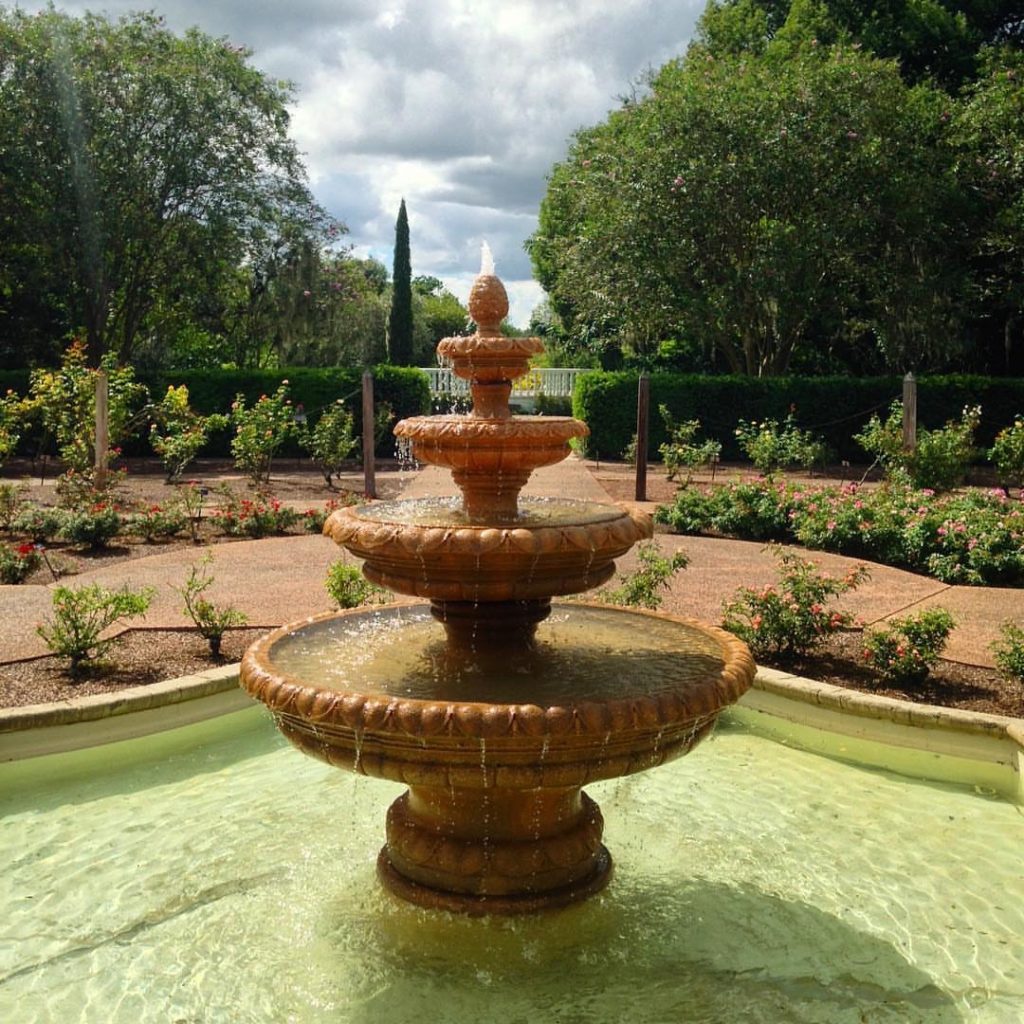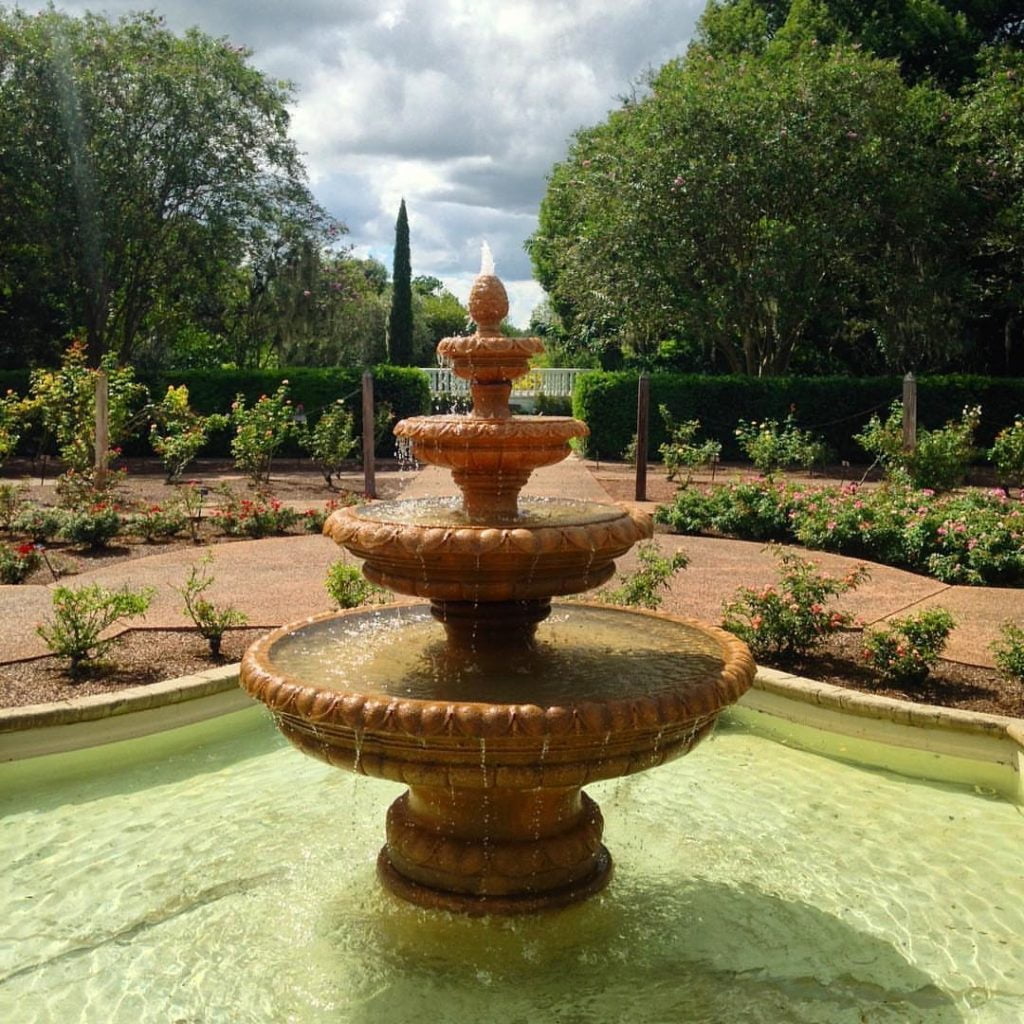 Kraft Azalea Gardens
This lakefront public garden is located on the shore of Lake Maitland and is a true Winter Park Gem. Visitors can enjoy its beauty 7 days a week, from 8am-dusk.
Mead Gardens
This beautiful botanical garden is open every day 7:30am-dusk and is always free. It's a wonderful place to spend an afternoon walking around enjoying the many sights, including the butterfly garden and Camellia garden.
Blue Jacket Park
This park was previously the Orlando Naval Training Center and was home to thousands of service personnel, or "Blue Jackets", hence the name. Blue Jacket Park has a nice playground, a beautiful fountain, and offers plenty of areas to walk or jog at any time of day.
All images by Arlene Laboy unless otherwise noted