Get a Taste of the Sunshine State with Vine-to-Wine Adventures
Did you know that the Sunshine State is the birthplace of American-made wine? In 1562, missionaries in St. Augustine used local grapes to make wine for religious ceremonies. Today, Florida has 24 certified farm wineries that collectively produce approximately two million gallons of deliciousness from over 500 vine acres, ranking Florida seventh by state in wine production. Fortunately for winos, most Florida wineries are open to the public for tours and tastings. Cheers!
Orlando Area
A modern, mission-style estate set on 127-acres in Clermont, Lakeridge Winery & Vineyards is Florida's largest winery. Its free tour includes a video presentation, views of rolling fruit fields, and a tasting of award-winning wines (including a bubbly Pink Crescendo) poured at the gift shop bar. Take home gourmet foods, wine accessories and specialty keepsakes. We love this local winery because it hosts flavorful festivals EVERY month, such as the super fun harvest grape stomp! Red wine is said to be heart-healthy, but you can also participate in the Lakeridge Winery half Marathon, 10K & 5K.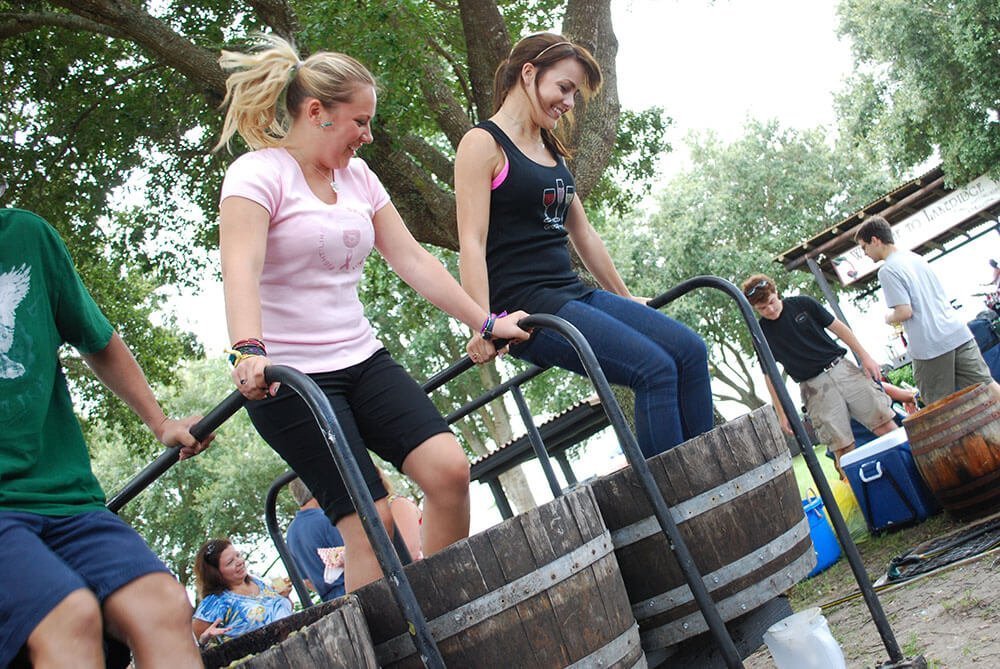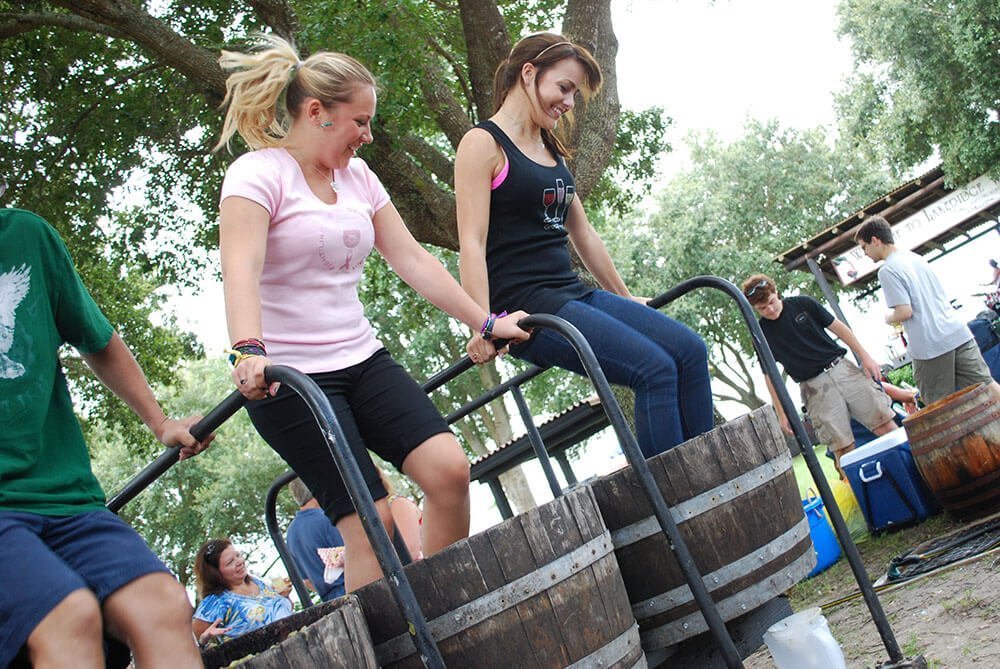 Wine on tap? Yes, please! Stop at Quantum Leap Winery in Orlando's Mills 50 District. This facility focuses on environmentally-friendly production and reuses kegs that hold the equivalent of 26 bottles! Savor the flavors of live music, food trucks and great wine in this eclectic neighborhood space.
Hutchinson Farm Winery, known as the "Best Keep Secret in Apopka", produces over 10 wines from its own grapes and through local partnerships, such its Blue Darter Wine blended with Tom West Blueberries from Ocoee. Sip a glass as you chat it up with owners John & Sherry Hutchinson, a retired couple who turned their passion for wine into a profession!
Day trip to sip
Many Florida vineyards take advantage of seasonally-fresh citrus and berries. Keel & Curley Winery, founded in 2003 by a Plant City blueberry farmer, produces distinctive juice blend creations including Wild Blueberry, Key West-Key Lime, Tangerine Tango, Winemakers Reserve Blackberry, and more. There's also an on site brewery.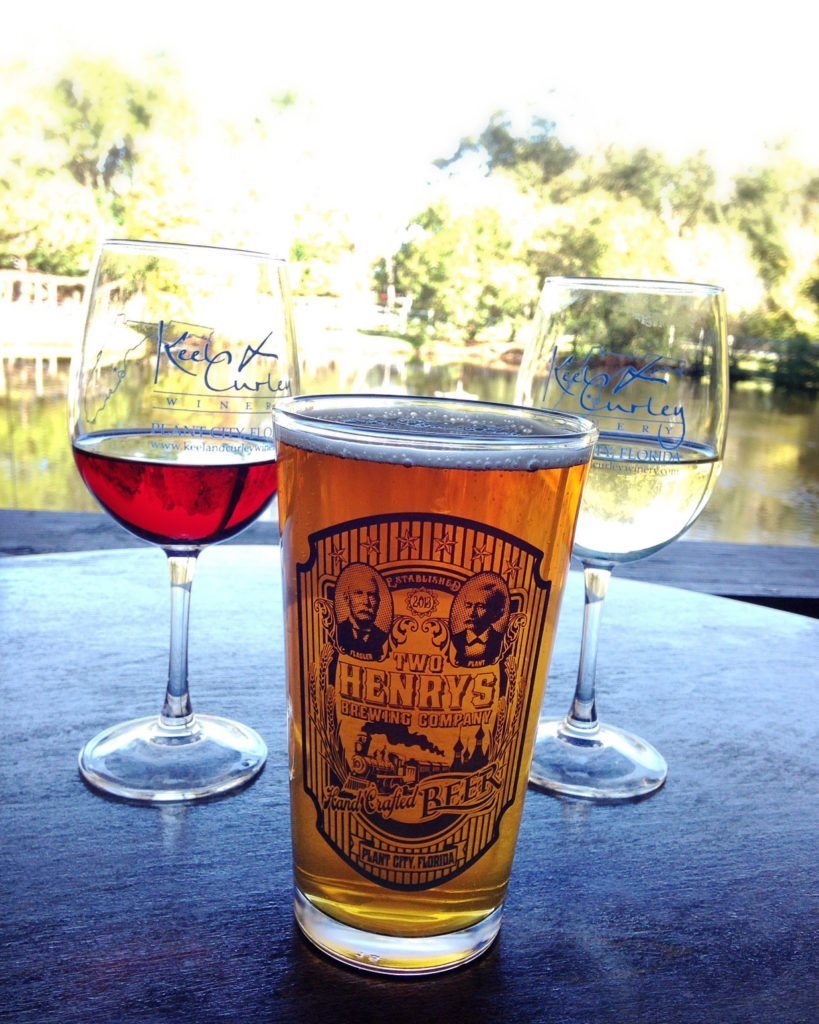 Aspirations Winery, a micro winery in Clearwater, produces traditional white and red varieties but specializes in fruit-infused and dessert wines. Sip on Swamp Juice, the winery's signature low sulphite, dry red. Or indulge with Category 5, instilled with flavors of banana, pineapple, mango and guava. Other varieties include the Poolside Blush, bursting with raspberry flavors, and Chocolate Port, a sweet cocoa concoction.
Grape-gulping getaways
Toast the origin of native vino by heading to San Sebastian Winery, founded in 1996 in one of Henry Flagler's old East Coast Railway buildings just blocks from historic downtown St. Augustine (and a sister property to Lakeridge Winery). San Sebastian is currently the second largest winery in the state, hosting tours and tastings of table, sparkling, and dessert wines from hybrid and muscadine grapes. Shop for gourmet gifts such as olive oils, cheeses, mustards, cork openers, and cookbooks before drinking up the city skyline from the rooftop of The Cellar Upstairs Wine, Jazz & Blues Bar. Fun fact: The St. Augustine Lighthouse bottle design embodies the structure of its namesake with proceeds from each sale benefiting the St. Augustine Lighthouse & Maritime Museum.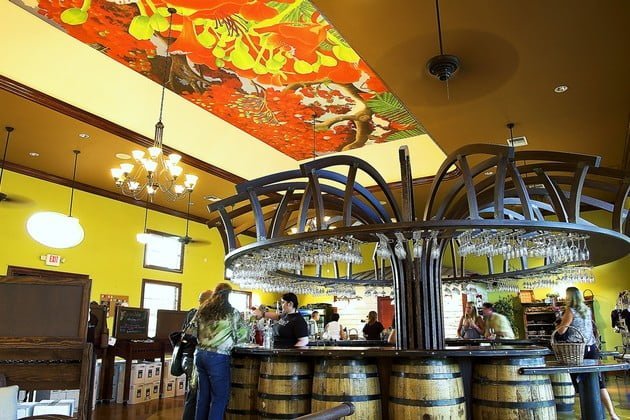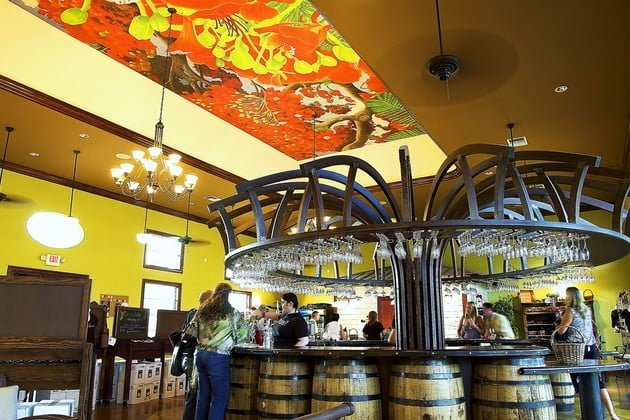 Get a taste of the Florida tropics at Schnebly Redland's Winery and Brewery in Homestead, creator of "the most exotic wines and beers in the world." The lush grounds boast a colorful courtyard, natural coral waterfalls, gardens of tropical fruits and vegetables and an impressive Grand Tasting Room. Savor unique selections comprised of mango, lychee, guava and passion fruit, all personally picked for fermentation.
Emerald Coast Wine Cellars in Miramar Beach in the Florida Panhandle has a cool approach to wine with reds, whites and more. Situated across from the pristine shores of the Gulf of Mexico, cool off with a fruity Wine Freezer! Or opt for a more traditional selection like the Sugar Sands White Wine, a semi-dry white wine made from fragrant Niagara grapes with beach-inspired flare.
Feature image credit: Quantum Leap Winery