You can take date night to new heights…literally! You'll love tackling this ultimate bucket list with your thrill-seeking partner in crime.
Aerial Yoga
If your yogi has high standards for date night, add some oomph to the "om" through aerial yoga. Elevate Yoga offers a number of classes to accommodate beginner to experienced aerial yogis ($20 drop-in rate) that will strengthen your body (and relationship) with fun flips and poses using an aerial hammock. Aerial Yoga is also offered at Vixen Fitness.
Flip Over Trapeze Fun
Sometimes you just want to clown around with your partner, right? The Orlando Circus School, located near Universal Studios, hosts flying trapeze classes for $75, in addition to trampoline, stilts and other impressive stunt lessons. Or explore aerial-inspired dance at Metro Aerial Arts and Orlando Aerial Arts.
Flyboarding 
Flyboarding began gaining popularity a couple of years back but this intriguing water sport still seems oddly futuristic! Head to Dinky Dock Park on Lake Virginia, next to Rollins College in Winter Park, to be outfitted with a water jetpack attached to a powerful motor of a jet ski through a long hose and connected to jet boots. You'll propel to 30 feet and dive headfirst (or face-plant depending on how graceful you are) back into the water. Invented in 2011 by French Jet Ski Champion Franky Zapata, this sport has taken off since its introduction to the public in 2012, and you can try it with FlyBoard Rentals of Orlando for $125 per half hour. The half day rate is $750, and a full day is $1,250.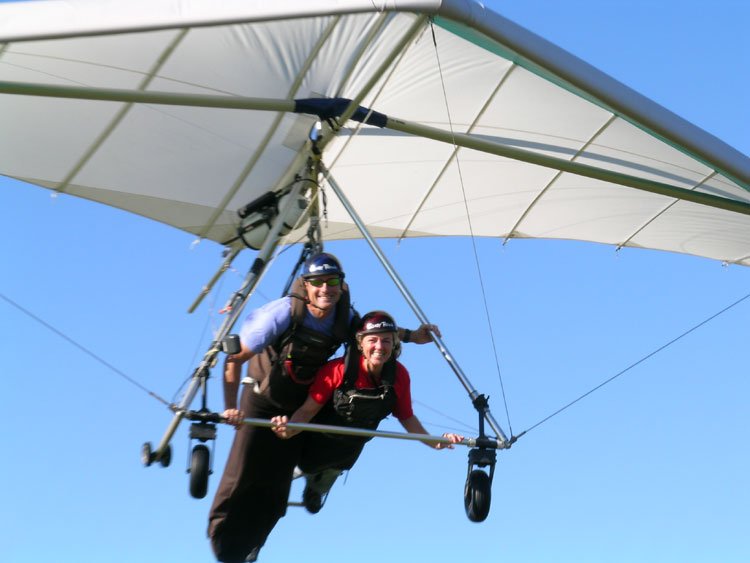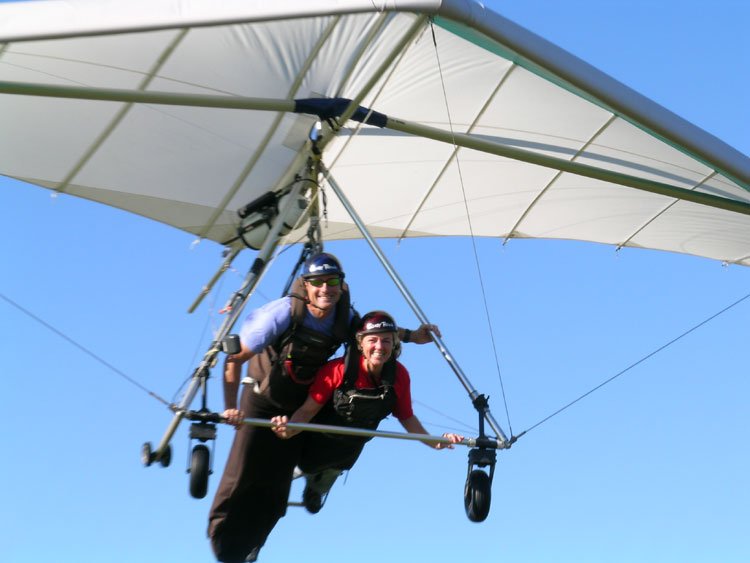 Hang Gliding
Wallaby Ranch, situated near Celebration, is one of Central Florida's best kept secrets. Founder/owner Malcolm Jones revolutionized the sport of hang gliding when he equipped tandem gliders with wheels for easy take-offs and landings. Thanks to aerotowing ─ a method where a hang glider is towed up in the air by a specially designed ultralight tow-plane ─ you'll take dating up a notch over 500 remote acres of natural Florida lands. A standard tandem flight is $175 and a Go Pro Camera video or photographs is an additional $30.
Hot Air Balloon Rides
If you've traveled west on I-4 during the early morning hours, you've likely seen the beautiful sunrise sky filled with huge colorful balloons. Now, picture taking in that stunning sight from within a floating basket ─ yes, it's both literally and figuratively a 'bucket' list item, starting at $169. Orlando Balloon Rides flies compartmental carriers that accommodate about 24 passengers (including a FAA-certified pilot) that rise more than 11 stories high. From a birds-eye view, take in sights of orange groves, forests, houses, lakes and animals running on local pastures.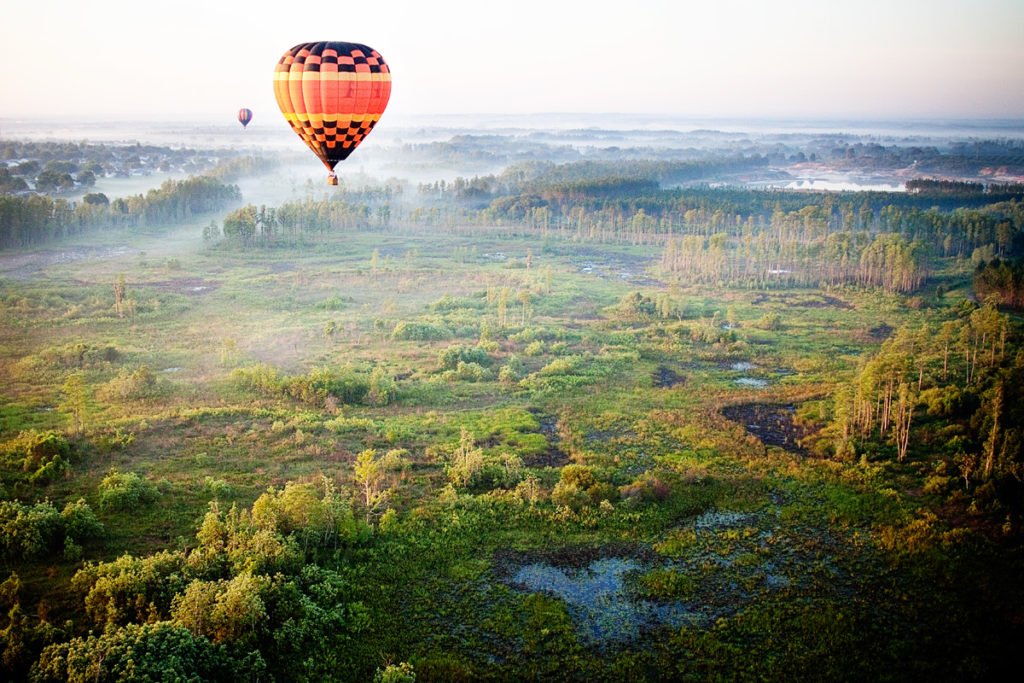 Indoor Skydiving
iFLY Indoor Skydiving, located on International Drive, simulates the adrenaline of skydiving without taking the plunge from 13,000 ft., starting at $59.95. There are five parts to skydiving: plane ride, exit, free fall, parachute opening and landing. The iFLY tunnel simulates the most exhilarating part without the fear factor: the free fall! Outfitted with a fly suit, helmet, goggles and ear plugs, you'll feel "weightless" soaring in 130-175 mph wind gusts.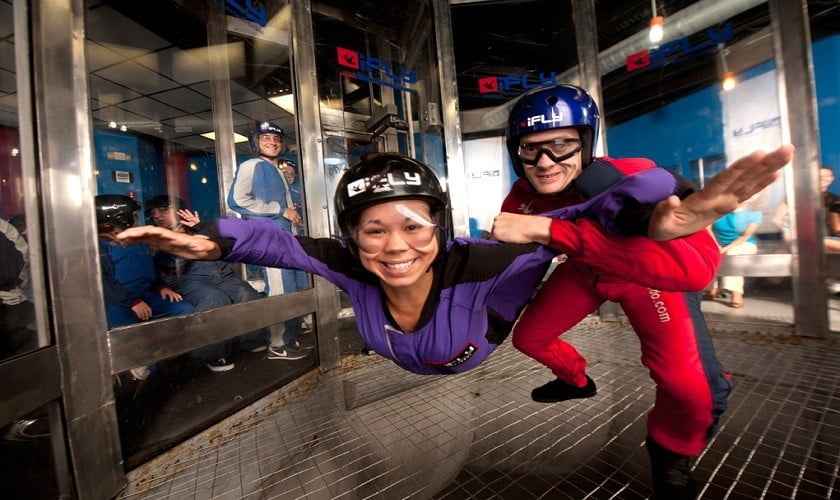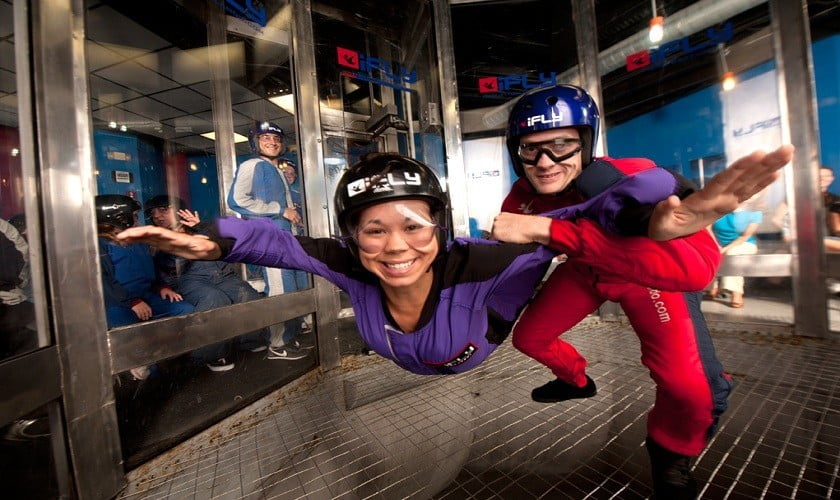 Just Plane Fun
The sky's the limit on dates with excursions by Jones Brothers & Co. Air and Sea Adventures. Docked just off the historic train tracks in Tavares, now known as "America's Seaplane City," climb aboard as co-pilots for a wide variety of flight options. The Gator Tour, the most popular choice, coasts over Lake Apopka and Clermont with maximized sightings of Florida's beloved reptiles. Flight durations range from 10 to 75 minutes and prices start at just $34 and cap at $349. Try the Fly Out and Paddle In tour ($139) departing from Lake Dora for a 15-20 minute flight offering top-notch views of the Harris Chain of Lakes and a rolling landscape. Steady for a 'splash-and-dash' landing on Lake Eustis where kayaks await. Led by an Adventure Outdoor Paddle guide, spend one hour drifting through the pristine Dora Canal.
Kiteboarding
Finding a fresh water sport is a breeze! Kiteboarding is a surface water sport combining aspects of wakeboarding, snowboarding, windsurfing, surfing, paragliding, skateboarding and gymnastics into one super fun extreme sport. Head to Good Breeze Kiteboarding in Cocoa Beach to harness the power of the wind with a large controllable power kite propelled across the water on a board similar to a wakeboard or a small surfboard. Prices vary starting at $75.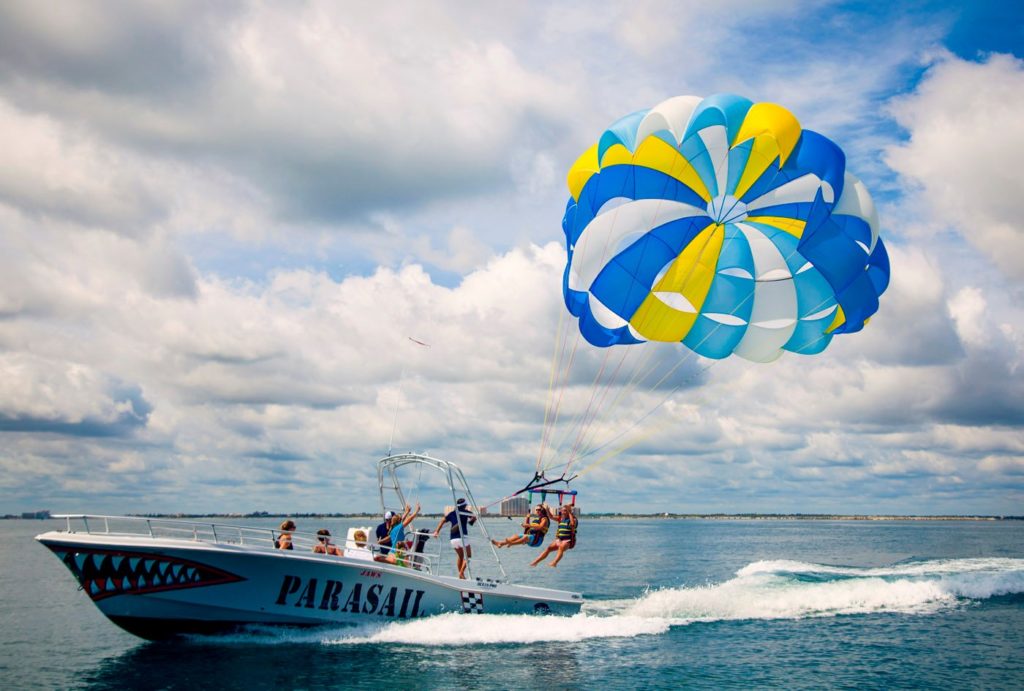 Parasailing
Don't let a fear of heights keep you from giving parasailing a shot because it is a surprisingly tranquil experience. And this sky-high experience is, of course, best in tandem with your date. You'll first enjoy a boat ride on Florida's beautiful waters and then step into a harness secured to the boat. Then, just squat into a seated position and enjoy a gentle elevation into the bright blue sky. Head to the coast for this breathtaking experience facilitated by Daytona Beach Parasailing, located in Ponce Inlet, where parasailing flights start at $65. Aside from drifting 600-1200 ft. high, parascenders can opt to be "dipped" into the water.
Zip Lining
Central Floridians have numerous location choices to experience the exhilaration of zip lining. Superhero wannabes might opt for The Canyon's Zip Line and Canopy Tour, located north of Ocala, to ride "superman style" down the 1,600' dual-racing Super Zip. Or, perhaps true dare-devils might prefer to clip in and zip off on the Screamin' Gator Zip Line at Gatorland in Orlando. You'll zoom between multi-leveled towers over the alligator breeding marsh, filled with 130 giant chompers. Individuals with disabilities can also enjoy the boundless zip line at Gatorland. Maybe opt for the somewhat romantic Starlight and Moonlight Zipline Adventures at Forever Florida in St. Cloud.
Feature image credit: www.zipthecanyons.com