Del Frisco's Double Eagle Steakhouse on International Drive has certainly mastered the art of first impressions. Immediately upon walking in the door, you'll be greeted by a large chandelier, classy decor, and temperature controlled two-story glass walls filled with a seemingly endless variety of wine bottles. While the modern atmosphere and top-notch steaks are noteworthy, the new high-end happy hour, Del's at Dusk, will also leave a lasting impression.
We were recently invited to come check out the Del's at Dusk happy hour. Served in the spacious and stylish downstairs bar, Del's at Dusk invites diners to indulge in happy hour selections featuring hearty eats and signature cocktails daily from 4-7pm. Settle into a cozy booth, pull up a seat at the bar, or snag a high-top table and prepare for a real happy hour treat.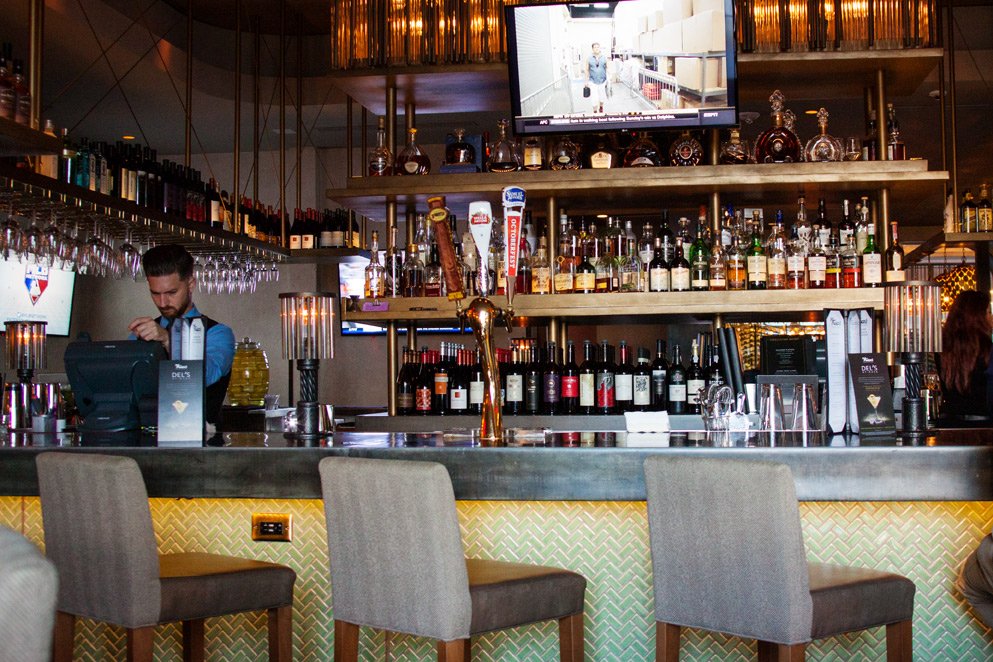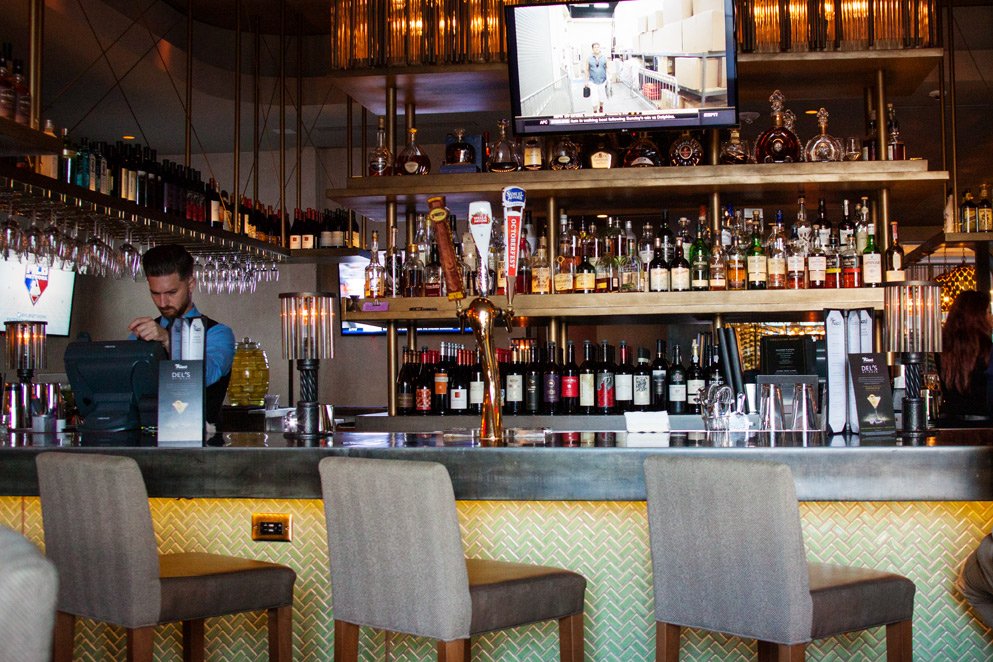 DRINKS
The menu features six cocktails all priced at $9 each. I sampled The Gold Standard Mule, the Pomegranate Martini, and The VIP, the latter of which was a standout favorite. Made with Pineapple infused Svedka Clementine Vodka and garnished with an orange peel, it's a refreshing drink with a subtle citrus flavor that can be enjoyed any time of the year.
The Gold Standard Mule was another favorite, made with Gosling's Ginger Beer and served in a signature copper mug.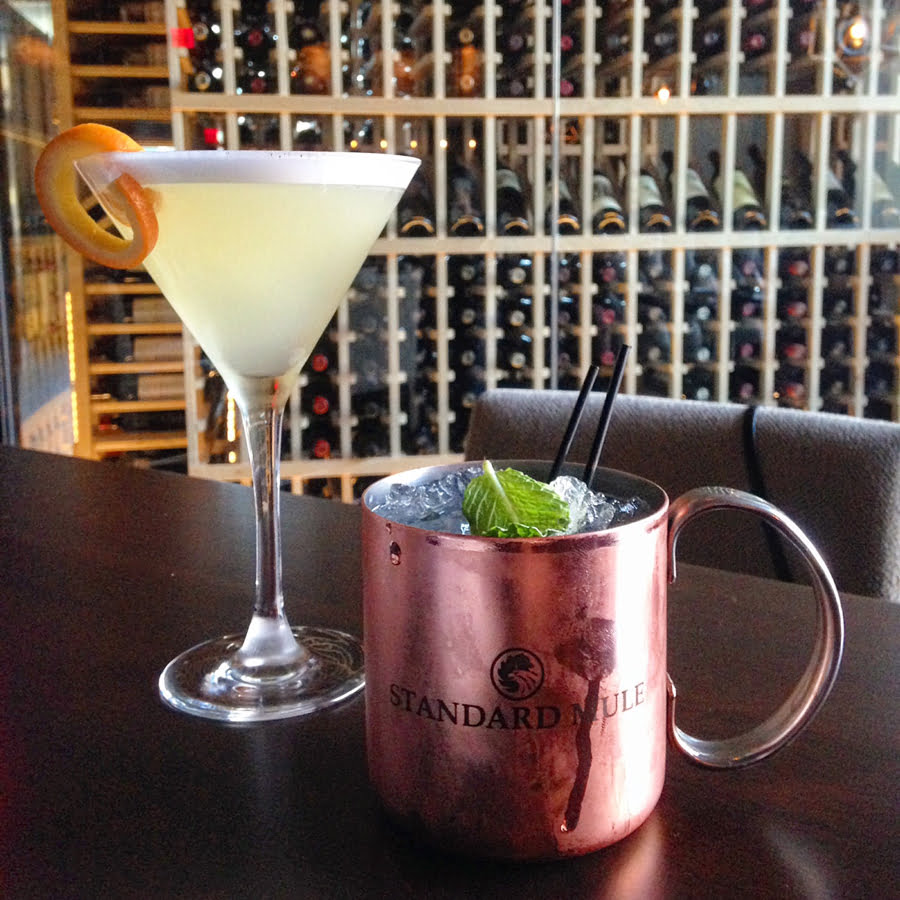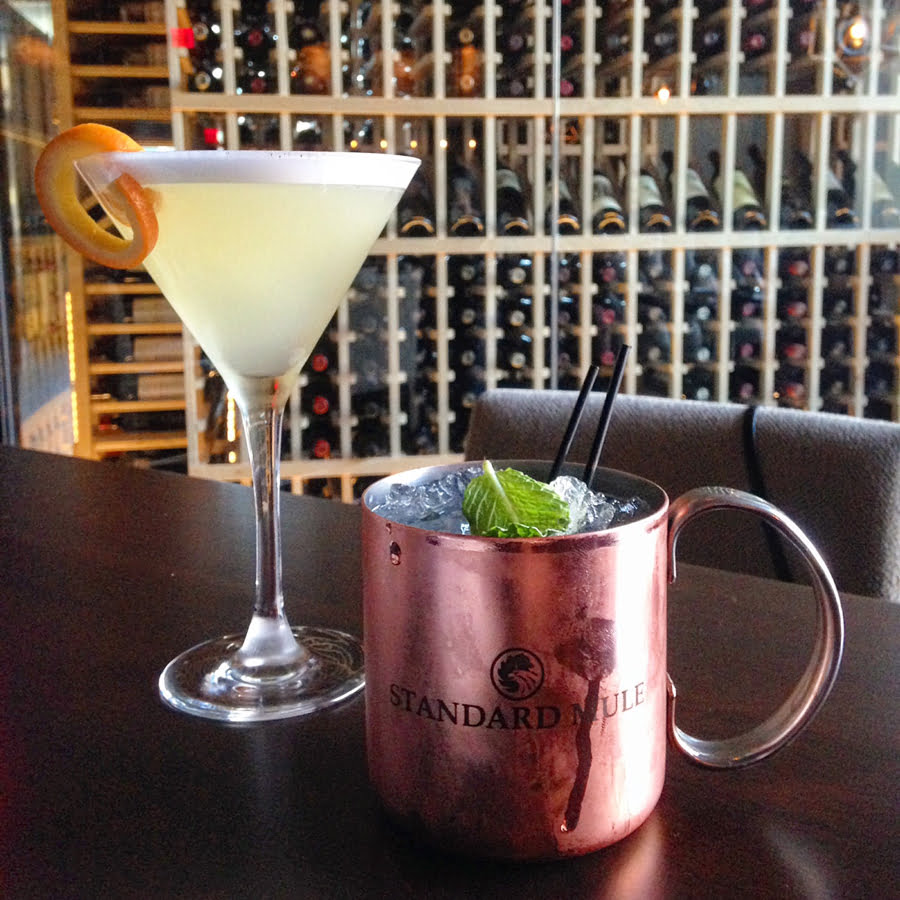 Other offerings include the Scottish Smash (made with Monkey Shoulder Scotch), A Breath of Fresh Pear, and the Old Fashioned.
If cocktails aren't your favorite, take your pick of 7 wines by the glass ($8 each) and 3 beers ($5 each).
FOOD
With five different food options priced at $8 each, you really can't go wrong no matter what you choose. Each dish is high quality, both in presentation and in taste. I especially loved the Kurobuta Pork Belly Bao, a healthy serving of three steamed buns filled with pork belly, pickled cucumber, cilantro, and hoisin sauce with a slight spicy kick.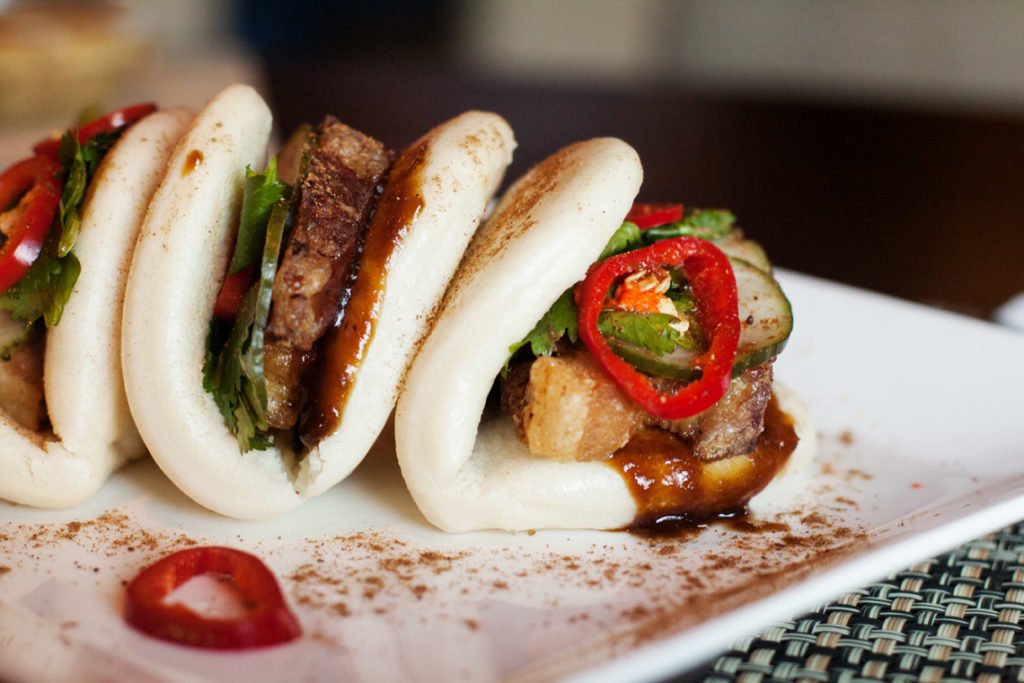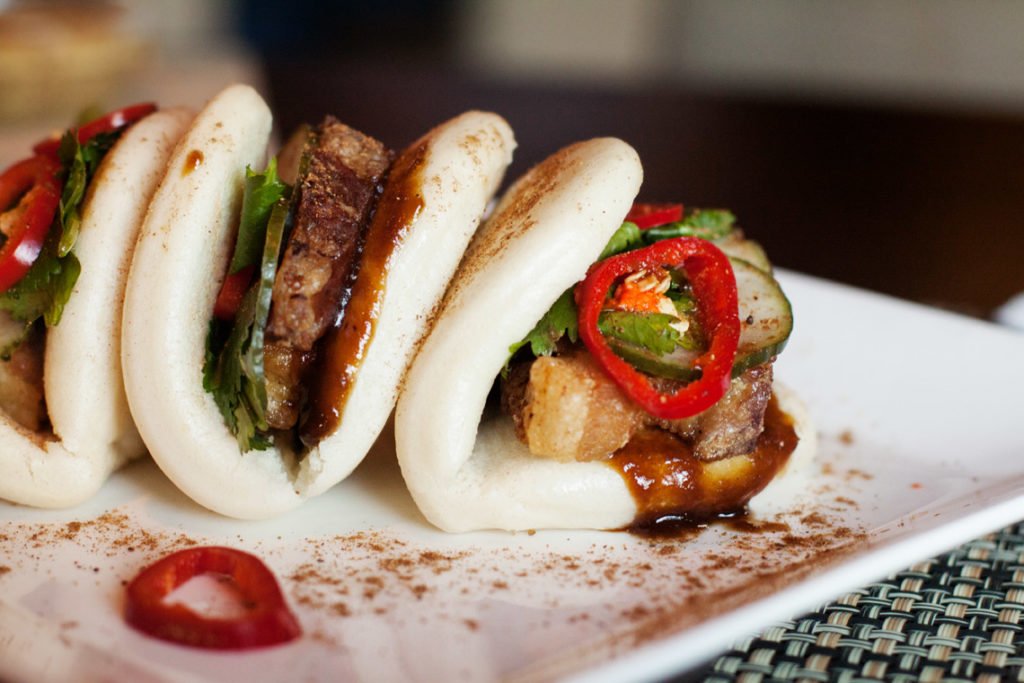 If you're after something a bit more indulgent, don't miss the Tenderloin Tips. They come served over a heavenly bed of creamy Chateau potatoes and are topped with crispy onions for a dish that's melt in your mouth good.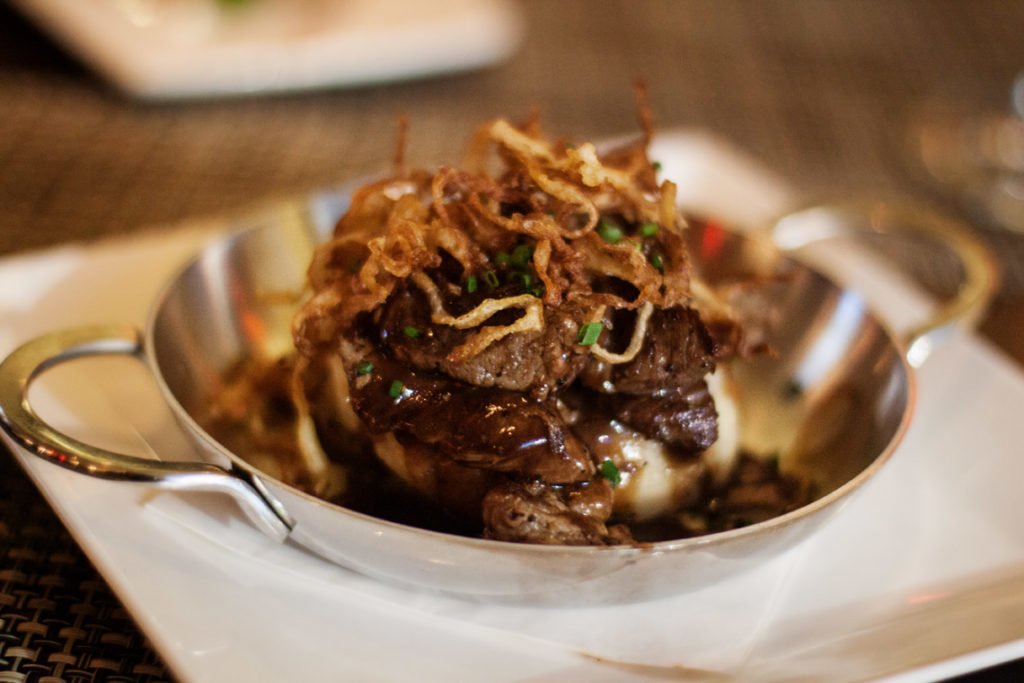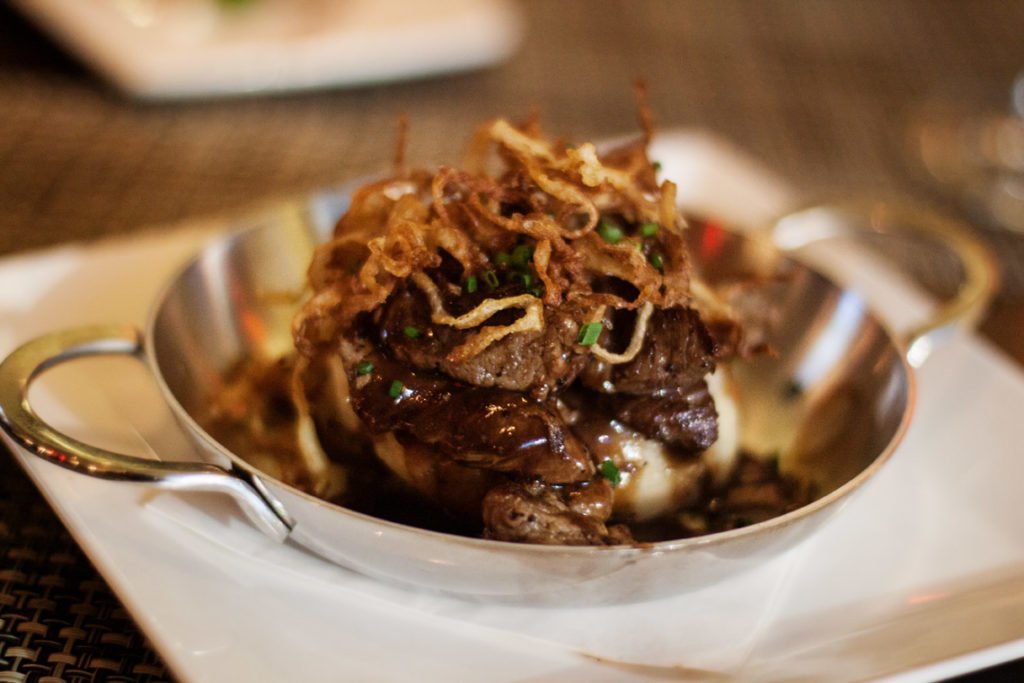 The Wagyu Beef Corn Dogs get an A+ for presentation. 4 delectable bite-sized corn dogs are served standing upright on mini skewers and jazzed up with creole honey mustard and chipotle ketchup as dipping sauces.
The Del's at Dusk menu is rounded out with two more inventive and tasty dishes–the Cheesesteak Eggrolls and Lobster & Shrimp Dumplings.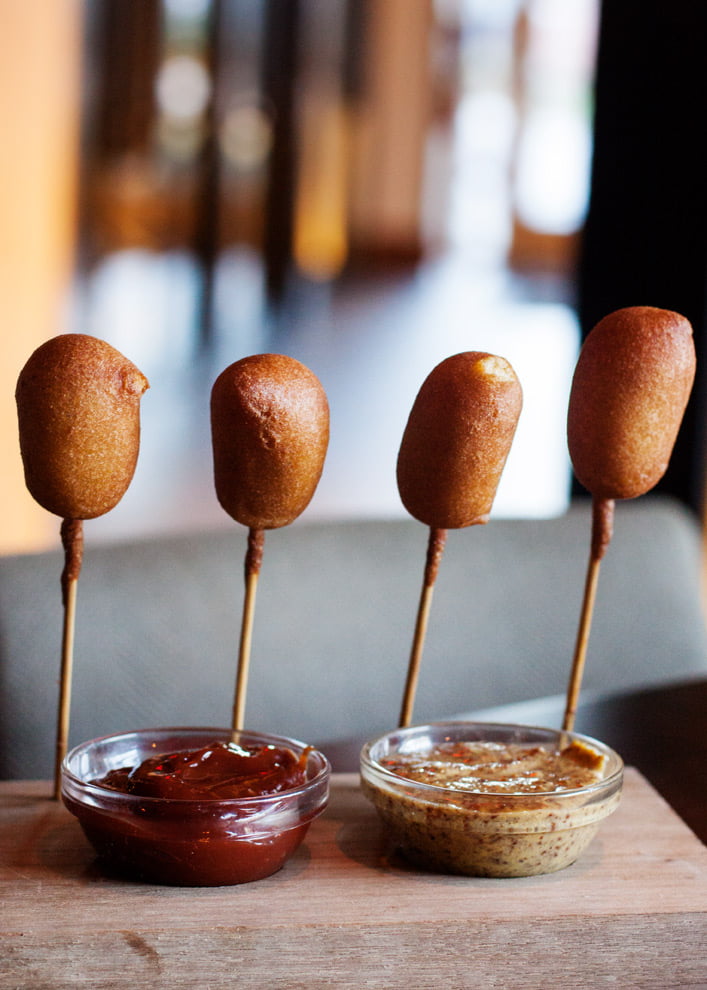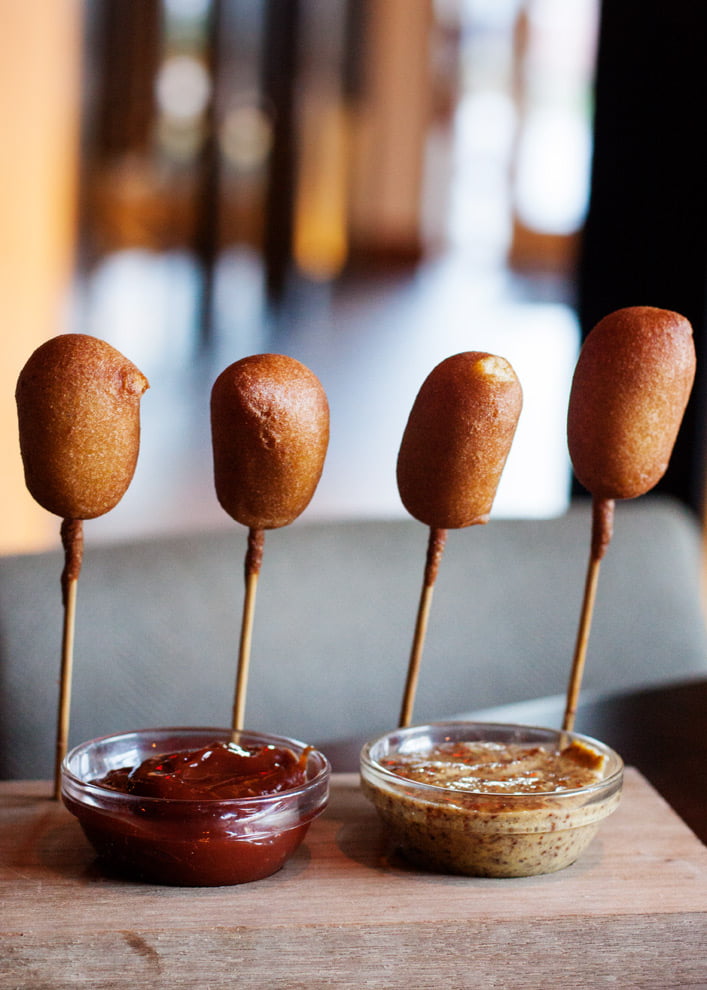 THE GRADE
Drinks: All of the cocktails I tried were refreshing and balanced. While the prices are a bit steeper than usual for happy hour, the quality makes each drink worth the slight splurge. You won't want to miss The VIP which is a guest favorite for a reason. Del Frisco's infuses the vodka in-house!
Food: Each dish was hearty and filling which came as a pleasant surprise. Furthermore, the selection is varied and highlights the restaurant's signature offerings. You can easily fill up on an order of 2-3 dishes.
Setting: You can't beat the ambiance, which is modern, inviting, and upscale without feeling intimidating. The downstairs bar is incredibly spacious with plenty of seating and a peek-a-boo view of the main dining room.
Del Frisco's Double Eagle Steakhouse scores an A. The ambiance feels worlds away from the touristy attractions along I-Drive. The pricing may be a bit higher than your average happy hour, but the dishes and drinks speak for themselves. You can treat yourself to 2-3 dishes and 2 cocktails for less than $50, which is a great value for what you receive.
Del Frisco's Double Eagle Steakhouse
9150 International Drive
Orlando, FL 32819
https://delfriscos.com/steakhouse/orlando
Del's at Dusk: Served daily from 4 – 7pm in the downstairs bar.
Want more happy hour info? Check out our Guide to Orlando Happy Hours.