After a busy week, nothing says date night like the relaxing yet romantic vibe of a beach town. Less than an hour from Orlando, New Smyrna Beach is the perfect seaside escape. In the heart of this much-loved town is Flagler Avenue, which features quaint local restaurants just waiting to charm you and your date for the perfect romantic evening. Here's your guide to a perfect date night on Flagler Ave.
1. That's Amore Ristorante Pizzeria
Just a block off of Flagler Avenue is one of the best hidden gems New Smyrna has to offer: That's Amore Ristorante Pizzeria. Locally owned and defying the cliché Italian date night, this eatery is unlike most chain Italian restaurants. It's as cozy and authentic as it comes, with traditional café style Italian wicker back chairs and Tuscan hues, it's easy to feel as if you are in the heart of Italy without being immersed in the stereotypical American – Italian décor.
On weekends, the restaurant is usually pretty full, so you may have a short wait, but it's well worth it. From classic lasagna to crispy wood fired pizzas, every dish is worth savoring and the wine menu never disappoints. The owner can frequently be found chatting with patrons or proudly delivering food, cultivating a welcoming ambiance. If the weather is nice, opt for your meal to be served al fresco where you can take in the sights and sounds of Flagler Ave while enjoying a glass of wine under the soft romantic lighting. The portions are generous and the price is moderate, so you and your date are sure to leave full and happy.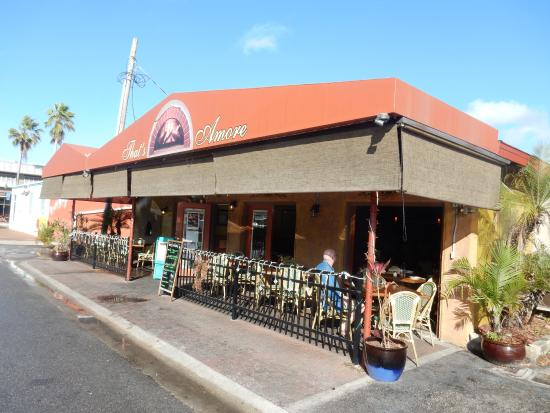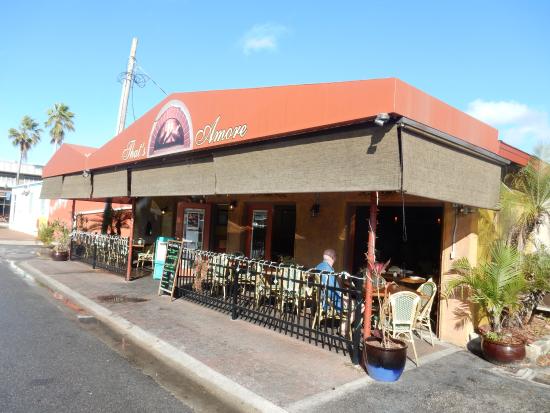 2. Flagler Tavern
Next, take a short walk down the street to Flagler Tavern for after-dinner drinks. With live music, spacious deck seating and a dance floor, Flagler Tavern attracts locals and tourists alike. While there is fun to be had on the main floor, the real secret to Flagler Tavern is upstairs. The stairway can be easy to miss, so be sure to take a left as soon as you walk in and head to the closed door with a bouncer sitting next to it. The door will take you to a staircase covered in red velvet flocked wallpaper which transports you into an old fashioned speakeasy with a nautical twist, formally called The Bounty at Flagler Tavern.
The Bounty serves handcrafted cocktails, a full menu with a twist and even features a case of cigars for guests to enjoy on the upper deck while taking in the view. There is plenty of cozy seating available under dimmed lighting inside, or you can head outside to the upper deck overlooking Flagler Ave and enjoy a drink amongst the tops of the palm trees while watching the activity on the street below. After a drink or two, head on back down to the main floor and pull your date onto the dance floor where live music awaits.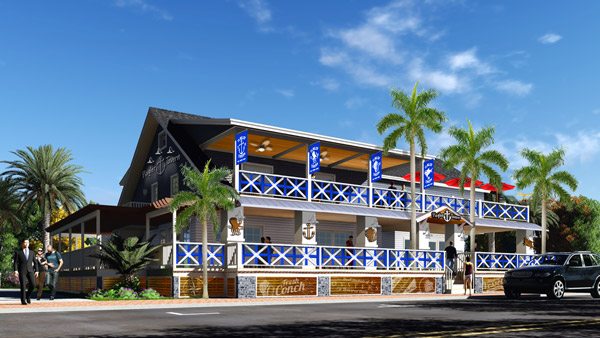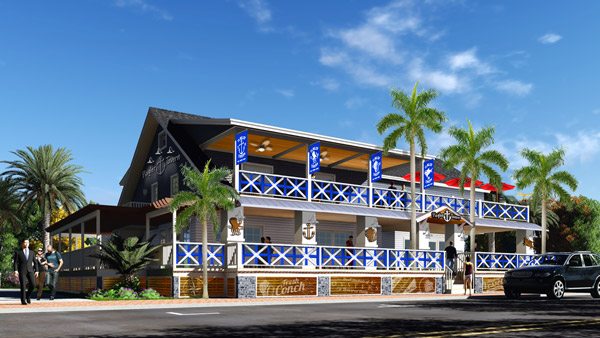 3. Beachside Candy Co.
After dancing, be sure to head back down the street to Beachside Candy Co. for a sweet treat to end the evening. Covered in teal and pink, Beachside Candy Co. looks like it was plucked right out of Key West and can't be missed. Here you can indulge in alligator or starfish shaped chocolate, taffy, old fashioned candy or ice cream. Beachside Candy Co. has a nice courtyard with Adirondack chairs surrounded by a picket fence for guests to leisurely enjoy their sweets, which is also the perfect ending to a romantic date night. Soak in the relaxing beach town atmosphere before heading back, and be sure to visit again!
Happy date night!
Loving our new New Smyrna Beach coverage? Check out this post about a How to Brunch then Beach in New Smyrna
Feature image credit: nsbfla.com