Since the Do Good Date Night series launched last year, we've had several requests to allow kids to participate. While I love kids (got two of my own), my commitment to creating a date night atmosphere for couples seeking adult refuge has remained steadfast… until now. Next month, kiddos (ages 4 and older) are welcome at our first family-friendly edition of the Do Good Date Night event series.
On Thursday, December 8, 2016 we'll partner with Harvest Time International to help this Sanford non-profit prepare for its annual Christmas Bags of Joy program.
Every year, Harvest Time International provides thousands of free Christmas gifts and stocking stuffers to local families who struggle to provide presents on Christmas morning.
Our group will help sort donations from 6pm – 8pm. Pizza and non-alcoholic beverages will be served throughout the evening allowing volunteers to refresh when they see fit.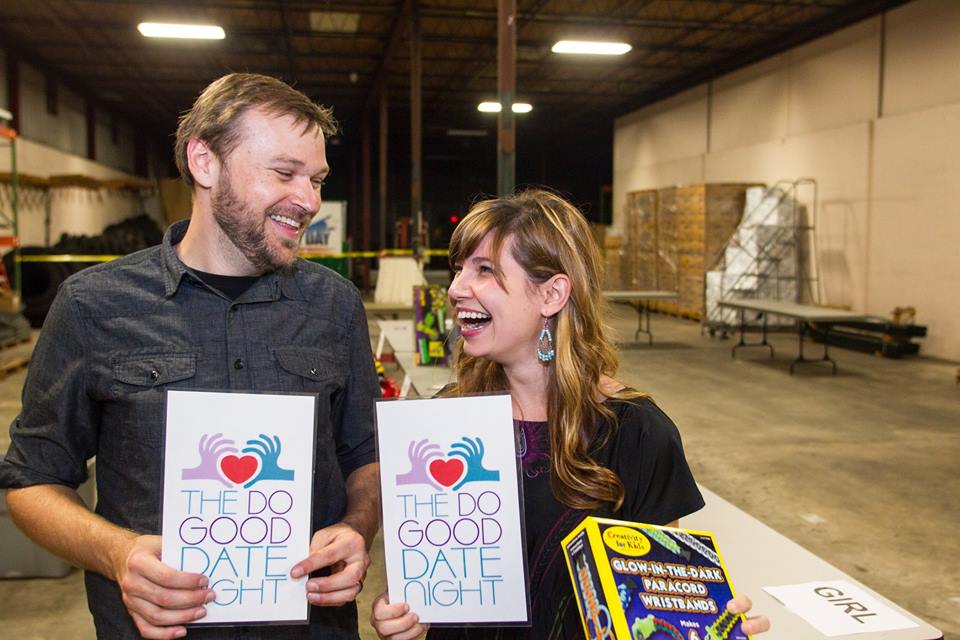 Tickets to this 12th edition of Do Good Date Night are $10/person for adults and children. You can purchase them here.
Want to give more? Please bring a new and unwrapped toy to donate to Christmas Bags of Joy. The age group of 12 and up is where there is the most need. Ideas: basket balls, soccer balls, lava lamps, Lego, gift cards, board games and bath and body kits. There is also a need for baby dolls.
DETAILS
When: Thursday, December 8, 2016, from 6pm – 8pm
Who: any participants ages 4 and up.
Where: 225 N Kennel Road, Sanford, FL 32771
Cost: $10 per person including pizza and non-alcoholic beverages
ABOUT DO GOOD DATE NIGHT
The Do Good Date Night is a 100% non-profit event series that connects couples with local non-profits through a fun and connective volunteer project. Couples volunteer for about an hour and then enjoy food, refreshments and entertainment. To learn more and to see images from past Do Good Date Nights, visit DoGoodDateNight.com.
ABOUT HARVEST TIME INTERNATIONAL
Harvest Time International is a 501 (c)(3) charitable Non-Profit Organization meeting the needs of children and families worldwide. Each day Harvest Time International assists over 500 families in Central Florida. Harvest Time International distributes food, household goods and medical supplies to sustain nonprofit organizations in the US as well as distributes hunger & disaster relief products to families in need in developing countries and responds to disasters worldwide. More than 20,000,000 people have been served since 1991.