The Stubborn Mule is the newest addition to the Thornton Park foodie scene, located where Sonoma Kitchen used to reside. The brainchild of co-owners Brian Buttner and Jonathan Canonaco, also the co-owners of RusTeak Restaurant & Wine Bar in Ocoee and College Park, this New American restaurant features hand-crafted mule cocktails, approachable food and an extensive cocktail, beer and wine list.
Drawing off the décor and ambience of RusTeak, the restaurant has a very modern look with earthy undertones and lots of dark colors and wooden décor. It also has a lovely outdoor patio.
The Stubborn Mule's happy hour is offered Tuesday through Saturday from 4-7pm and 10-11pm, and also on Sunday from 4-7pm.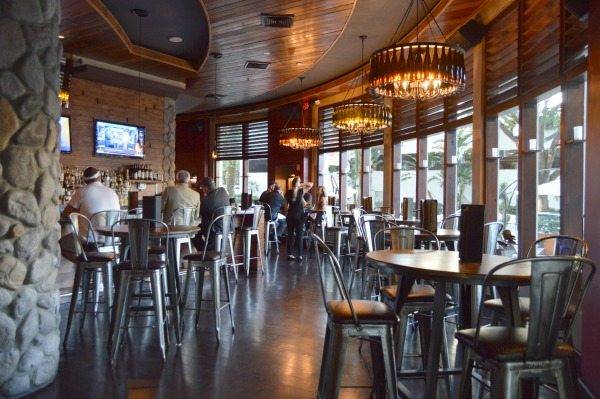 DRINKS

Mules are the specialty at The Stubborn Mule (obviously) and all of the signature mules are $6 during happy hour. There are five mules offered now and we're told there are plans to add many more to the cocktail list.
The Stubborn Mule, drawing from the restaurant's name, was refreshing classic mule: Russian standard vodka, fresh lime, orange bitters and ginger beer. All mules are poured in a copper mug, and this particular one was garnished with a lime and mint leaf.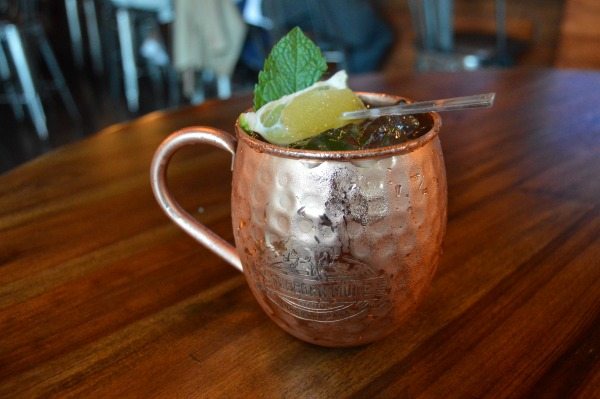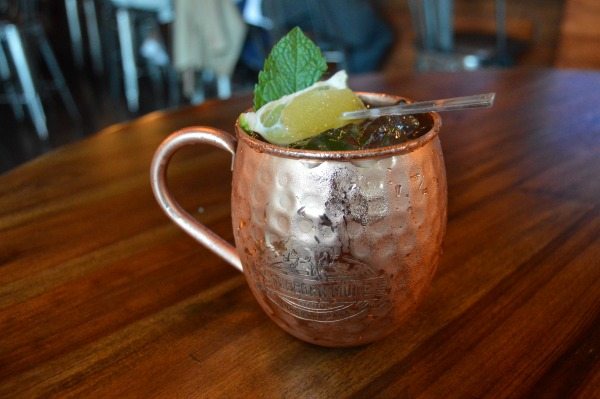 Some other mule options offered include a Strawberry Mint mule and a Fig & Berry mule.
You'll also have a craft cocktail list to choose from, with all signature cocktails priced at $6 during happy hour. We tried the Apple Bixby, a rum cocktail mixed with ginger beer and rimmed with cinnamon sugar and garnished with cinnamon-dusted red apple slices and mint. It tastes like fall in a glass!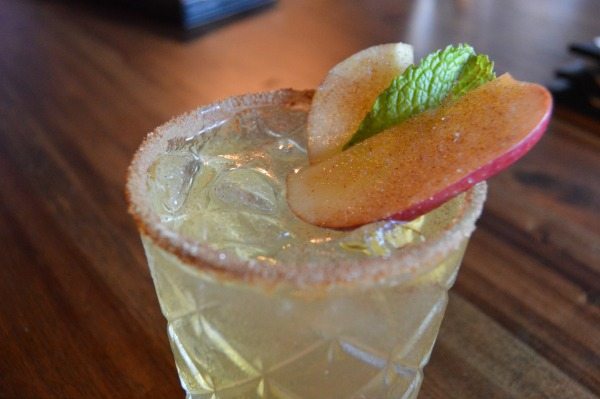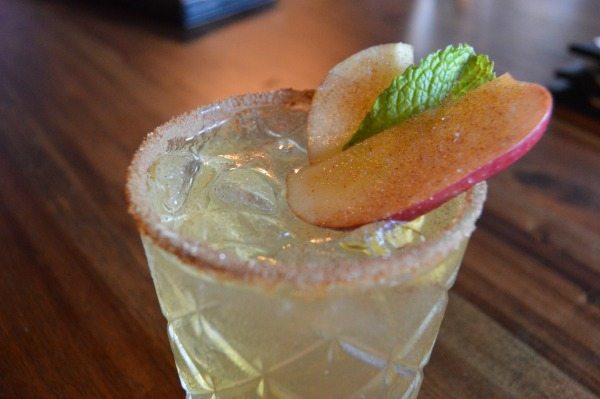 Another unique cocktail offered is the Twister Root, a whiskey cocktail that uses chocolate bitters in the drink.
Happy hour drink specials:
$5 Draft Beers
$5 Wines By The Glass
$6 Signature Cocktails
$6 Signature Mules
FOOD

During happy hour, three select appetizers are offered for $5 each. They're all shareable and pretty darn delicious. The happy hour food menu includes: Stubborn Bruschetta, Soft Pretzel Rolls and Garlic Parmesan Edamame.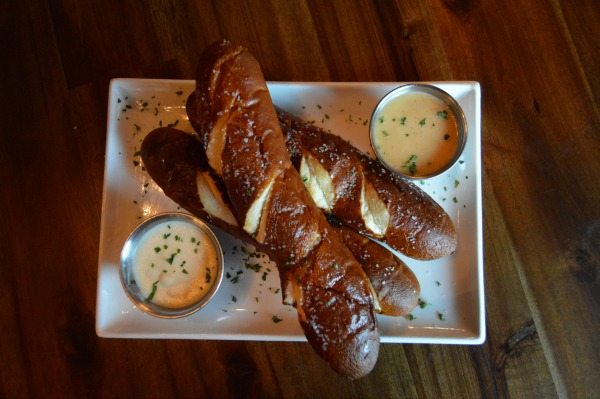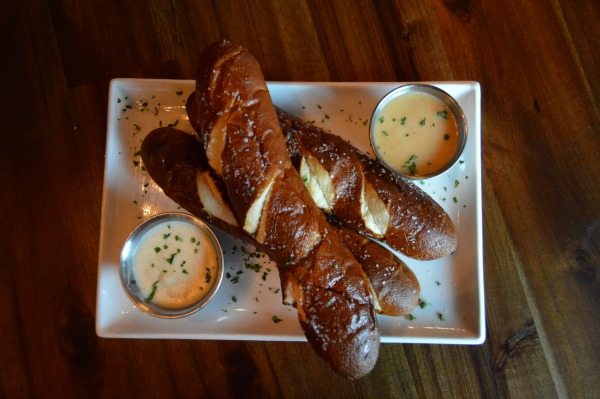 The Stubborn Bruschetta was particularly good. It uses house made ricotta and an outstanding spinach almond pesto, which is so flavorful and rich, and perfectly adds flavor to the ricotta.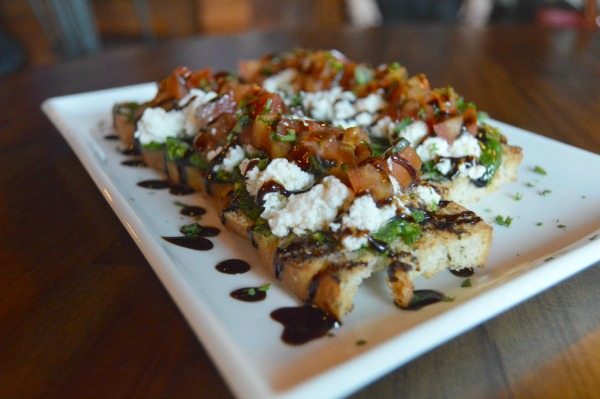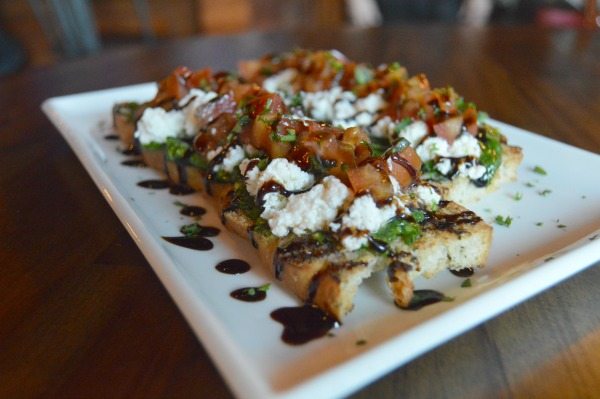 While not offered as a $5 happy hour appetizer, the Sticky Pork Belly ($9), Pad Thai Chicken Wings ($10) and Mussels ($9) appetizers are three other big sellers you might want to splurge on.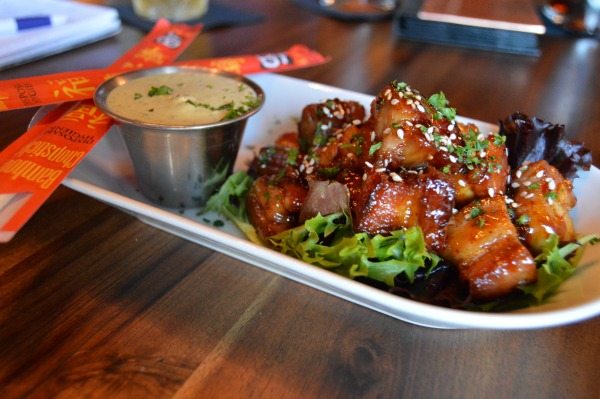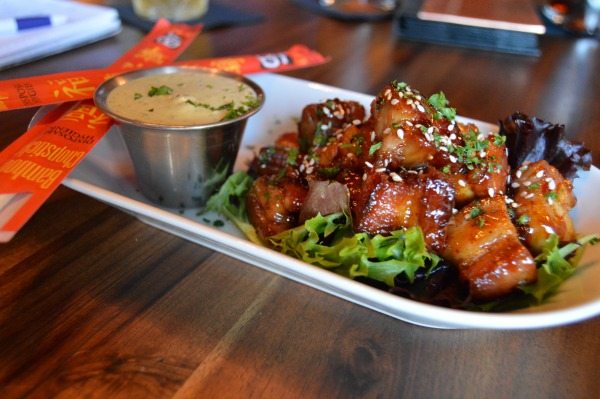 THE GRADE

Drinks: There are so many different kinds of cocktails offered, there is surely a drink for everyone here. Plus, the mule cocktails offered offer such a fun slant on this classic favorite. With the mule cocktail list expansion in the future, the drinks are only going to get better and I can't wait to see the new mule concoctions that are added to the menu.
Food: The $5 food offerings were delicious and perfectly shareable for you and your happy hour pals. But I'd like to see a few more food options. Until then, the regular appetizer menu has some great options to pick from — all decently priced and easily shareable, too.
Setting: The Stubborn Mule has a very casual and comfortable atmosphere. Open for only two months, this new eatery has been noticed by Thornton Park residents as was evident by the well-attended happy hour crowd filling the restaurant the day we visited.
The Stubborn Mule scores an A. Good quality cocktails and drinks that reached beyond the typical bar fare.
The Stubborn Mule
100 S. Eola Drive, Ste. 103
Orlando, FL 32801
http://www.thestubbornmuleorlando.com/
Opens every day at 11 am; closed on Mondays
Want more happy hour info? Check out our Guide to Orlando Happy Hours.