Sundae Mondays! Taco Tuesdays! Daily specials at Soco Thornton Park will keep you coming back again and again.
It's not easy staying at the top in Orlando's ever-growing restaurant scene. Last year's best restaurants can quickly become overshadowed by this year's new restaurants. Soco, a much-loved restaurant in downtown Orlando's Thornton Park District, might have the solution to staying top of mind.
"We wanted to create some daily features that people would find to be fun, approachable and wallet-friendly," says Greg Richie, Soco's Executive Chef/Partner, who has designed a different special for every day of the week. "Knowing that each of these specials are running every week gives folks something to look forward to and they can make their upcoming week's dinner plans accordingly."
Here's what's on deck:
Monday – Ice Cream Sundaes
Enjoy inventive and delicious versions of ice cream sundaes, such as Banana Pudding Split or our "Cracker Jack" Sundae (made with Sweet Corn Ice Cream, Salted Caramel, Candied Peanuts and House Made Caramel Corn), for $8 each. Soco also offers a pairing of a specialty cocktail or whiskey with each signature sundae.
Bonus: You'll also get ½ off of select bottles of wine!
Tuesday – Southern Style Taco
Chef Richie's secret house made tortilla and flair for creative concoctions make this a must antidote to your boring Taco Tuesday at home.  $12

Wednesday – Breakfast for Dinner
Enjoy a  trio of yummy breakfast items for Breakfast for Dinner $15 including:
Fried Green Tomato with Poached Egg and Tomato Gravy
Crisp Waffle with Fried Quail and Salted Maple Syrup
House Made Blueberry Chicken Sausage
Thursday – TV Dinners
Soco offers a weekly changing selection of a full meal in a compartmental box for $17. Each meal contains items such as Fried Chicken, Meatloaf, Pork Chops, Salisbury Steak, paired with side dishes such as succotash, molasses baked black eyed peas, Zellwood corn on the cob, etc. Of course, it's always served with a dessert, such as hot chocolate brownie, peach cake or cobbler.  The TV Dinner is presented covered with foil, which the server removes when served.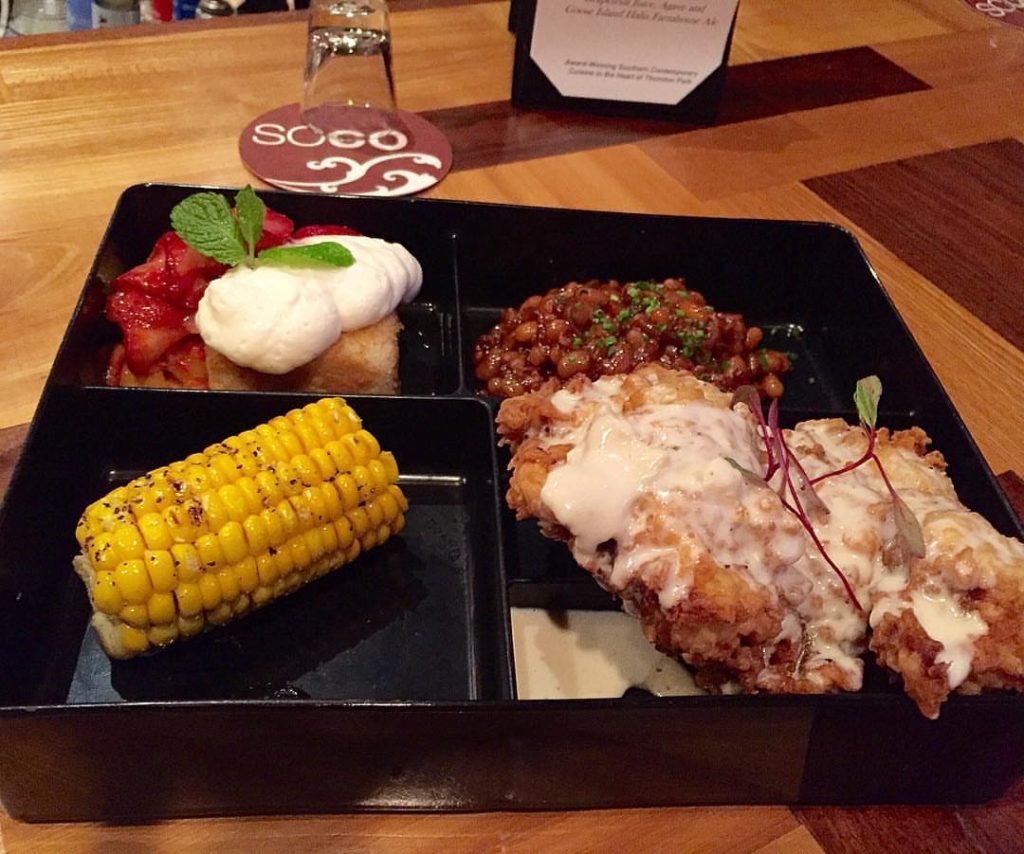 Friday – Burger & Bourbon
Devour one of Soco's amazing house burgers (with hand breaded onion rings!) and you'll also be served a Duke Bourbon poured to your preference: up, on the rocks, in a cocktail, etc. $18 for both!
Saturday – Shrimp and Grits
Try varying takes on the classic dish with different gravies, sauces, cheese etc. $19
Sunday – Sunday Supper
Hand over Sunday cooking to Chef Richie and enjoy a full meal for only $18. Past meals have included Pot Roast, a Fish Fry and Pot Pie.
Soco
629 E Central Blvd, Orlando
407-849-1800
www.socothorntonpark.com