Last week I headed out with a group of moms on Limo Cycle's new Shenanigans tour. Located in Sanford with satellite tours in Port Canaveral, Limo Cycle offers pub tours, Sunday brunch tours, scavenger hunt tours, escape room tours and trivia tours, all of which make for a great date night, girls night or group team building experience.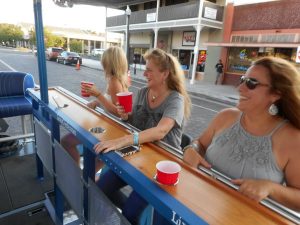 Having been on a tour before, I had an inkling that the Shenanigans tour would be fun. Limo Cycle tours are well organized, led by professional but laid back guides and they give a glimpse into Sanford's charming downtown corridor, an area Orlandoans truly need to appreciate and utilize more.
We arrived at 7pm with our BYO wine/beer and a readiness to fully participate in what Limo Cycle has dubbed a "wild and wacky game event." Hopping on the 15-person party bike, we pedaled onto 3rd street… and the shenanigans began!
We made multiple stops around Sanford, hopping off the bike to confront each quirky challenge as we faced-off in teams. From stacking dice on tongue depressors to attempting to roll a cookie down our faces and into our mouths (way harder than you might think), these sidesplitting tasks brought out our silly side and made for a hilarious 'winner take all' competition.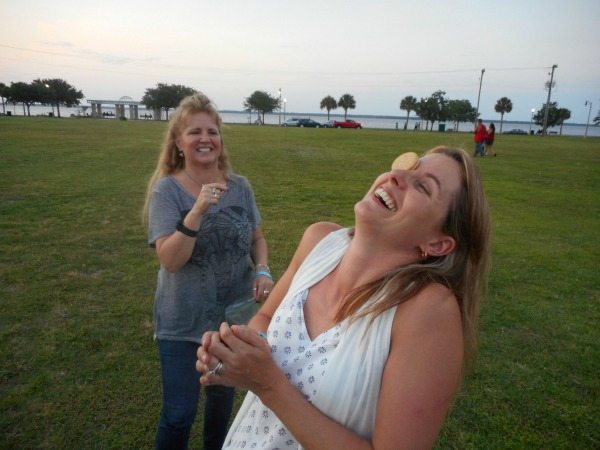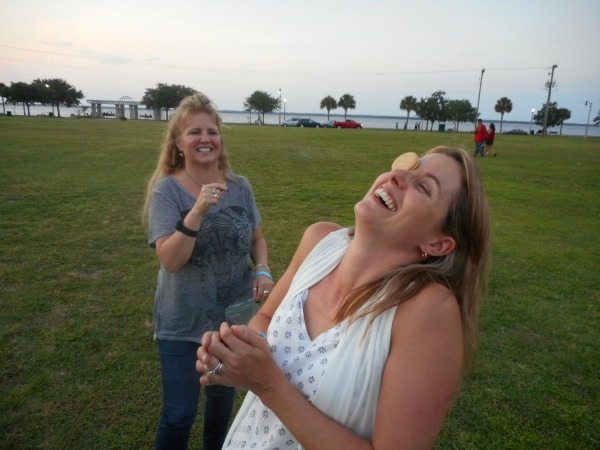 It was SO much fun. As a grown-up, I don't think I laugh enough. I mean really laugh. I laughed harder on Limo Cycle's Shenanigans tour than I have laughed in a long, long time. Everyone agreed that it was such a great time and we've already made plans to do it again.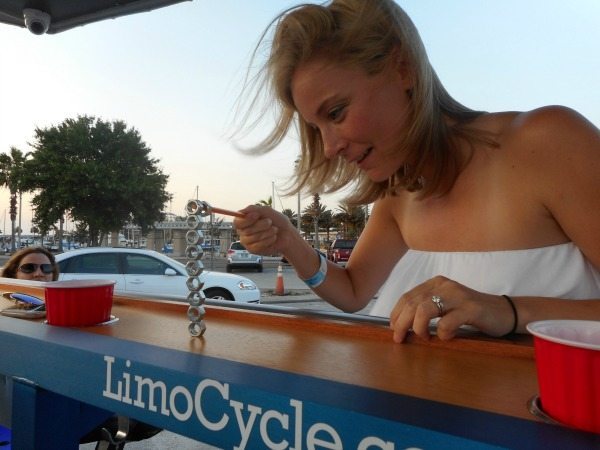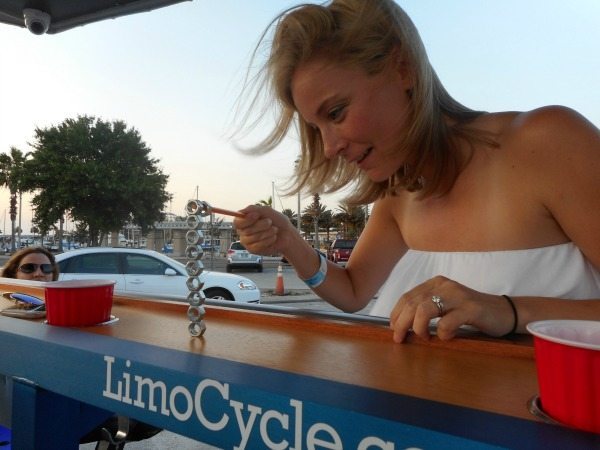 So, here's what you need to do: grab a group of 10 – 15 friends. These could be coworkers, neighbors, moms, couples. Then book a private, two-hour Shenanigans tour. Cost is $400 ($440 on weekends), which works out to $30-$40/per person, depending on how many people you load onto the bike. Tours can be booked any day but Monday; the Shenanigans tour is currently only available in Sanford. Visit limocycle.com or call 855-7569-FUN for more details.
And when you go, don't forget to tag Orlando Date Night Guide in your Instagram pics. I can't wait to see how much fun you'll be having!