Sandi and Aram Ebben were the winners of the Dr. Phillips Date Night Giveaway. Here's a review of their special night:
We won! I excitedly announced to my adorable hubby of 12 years. We had just been notified by Kristen Manieri, the founder and editor of the Orlando Date Night Guide, that we were the lucky recipients of the Dr. Phillips Giveaway – woot! The giveaway was a fantastic date night out on the town. I really do mean night out because the package included an overnight stay at the Aloft Hotel in downtown Orlando.
On March 10, my hubby and I got to be the Orlando Date Night Guide's – Couple at Large. Our fantastic date night included dinner at Kres Chophouse, tickets to IL VOLO at the Dr. Phillips Center and as previously mentioned, an overnight at Aloft. Can I just say, we were both so excited, that we almost forgot to kiss our kiddos goodbye as we left for our date night? I'm sure there are a few parents out there that can totally relate! (Love you, kids – mean it!)
The evening began with us arriving at Aloft to change and get ready to be the Couple at Large (input echo effect). We pulled into the 'often passed by but never entered' Aloft Hotel. Wow! From the minute we pulled in, the staff took great care of us. The valet was very attentive and got our bags up the steps and parked our car near the entrance when we told them that we'd be leaving in a few minutes. Service with a smile – much appreciated.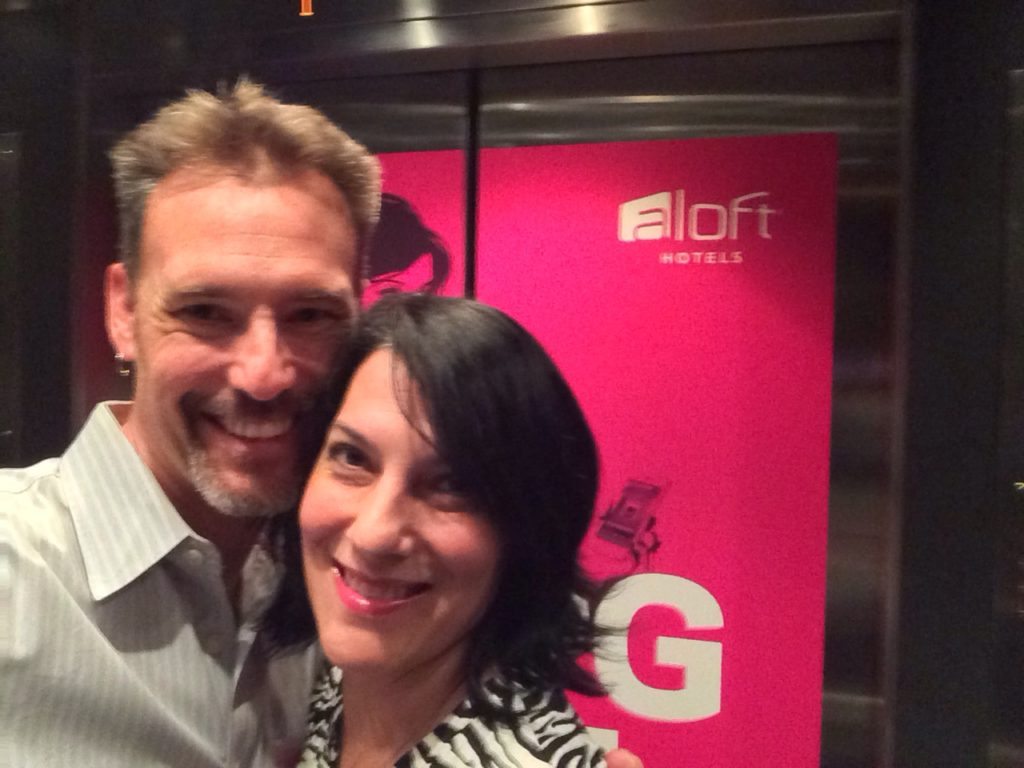 Then we entered the modern lobby and checked in the with two upbeat girls at the round front desk. They explained all of the hotel's amenities and that the bar area was open late if we wanted to catch a nightcap after the show. They also told us that the basketball team playing the Orlando Magic was also staying at Aloft (I see tall people).
The modern décor was very appealing and the tall chairs in the lobby made me want to sit down and enjoy a cocktail. They also have a snack / breakfast area, gym, pool, free wifi and computers for guests to use and many other amenities that made me decide to recommend them as the place to stay for any out of town guests. Even the elevator was hip and had really cool mood tiles on the floor that changed colors when you stepped on them – super fun.
Up to our room! Nicely designed with comfortable, clean modern decor. The bed had a clever storage area tucked in behind the head board that contained an iron and ironing board, the mirrored bathroom door was on rollers as was the frosted closest doors, which slid open to reveal drawers for clothes, safe, coffee/tea options and gratis water. There was a mini fridge in the room and the shower had built in Bliss body wash and shampoo dispensers. What more could you want? More?! Ok, so there was also a desk and long bench seating in front of the two floor-to-ceiling windows (thankfully with black out curtains) displaying all that Orlando has to offer, a super funky alarm clock and hilarious pixelated bed pillows. Did I mention that they are a smoke-free hotel and pet friendly?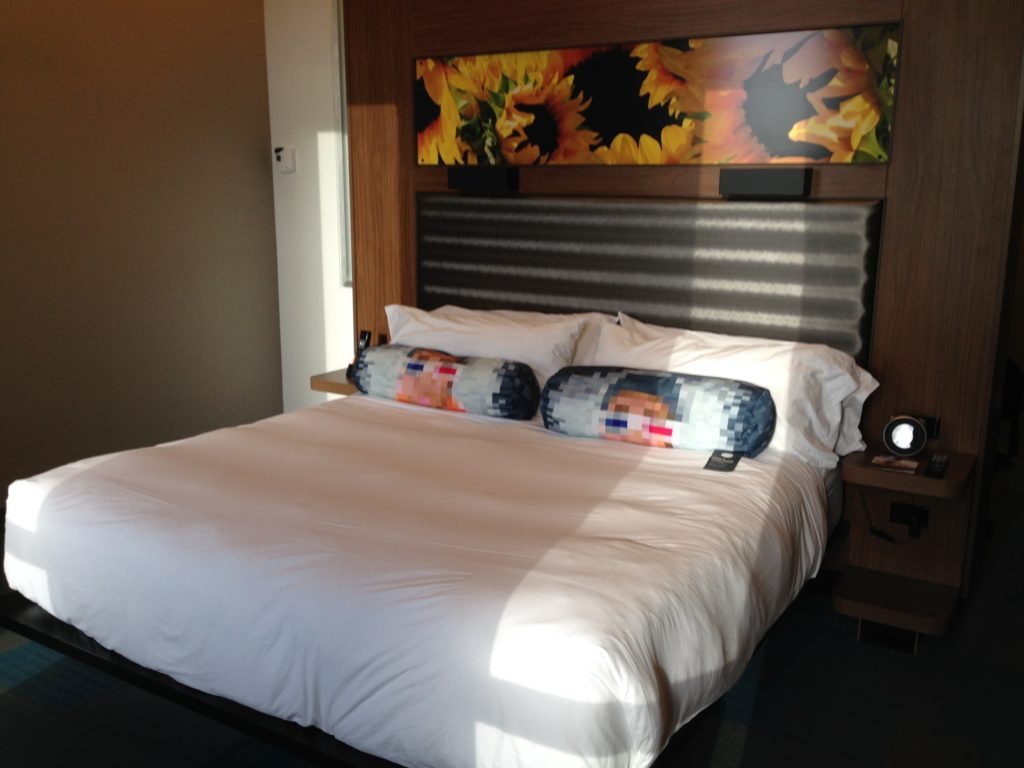 Off to dinner! Our car was waiting for us at Aloft's valet and we whisked off to Kres. Kres Chophouse also has valet service and they let us know that since we were eating at their restaurant beforehand, we could leave our car with them for the evenings activities at no additional charge. Good to know! We entered Kres, had our valet ticket validated for the discounted patron price and absorbed the ambiance. Kres, back in the day, was the old Pebbles Restaurant. If you ever visited Pebbles you would remember the Balinese fertility goddesses hanging from the ceiling. Kres has 3 of the larger ones displayed in the alcove above the entrance doors as a homage to those days gone by. Their Sommelier who kindly came by our table, told us that they kept all of the fertility goddesses and if you make a tax deductible donation of $1,500+ to the charity of your choice (www.dsfflorida.org is a good one) they will give you one for free. What a wonderful way for them to find new homes for their beloved statues. Contact them for specific details.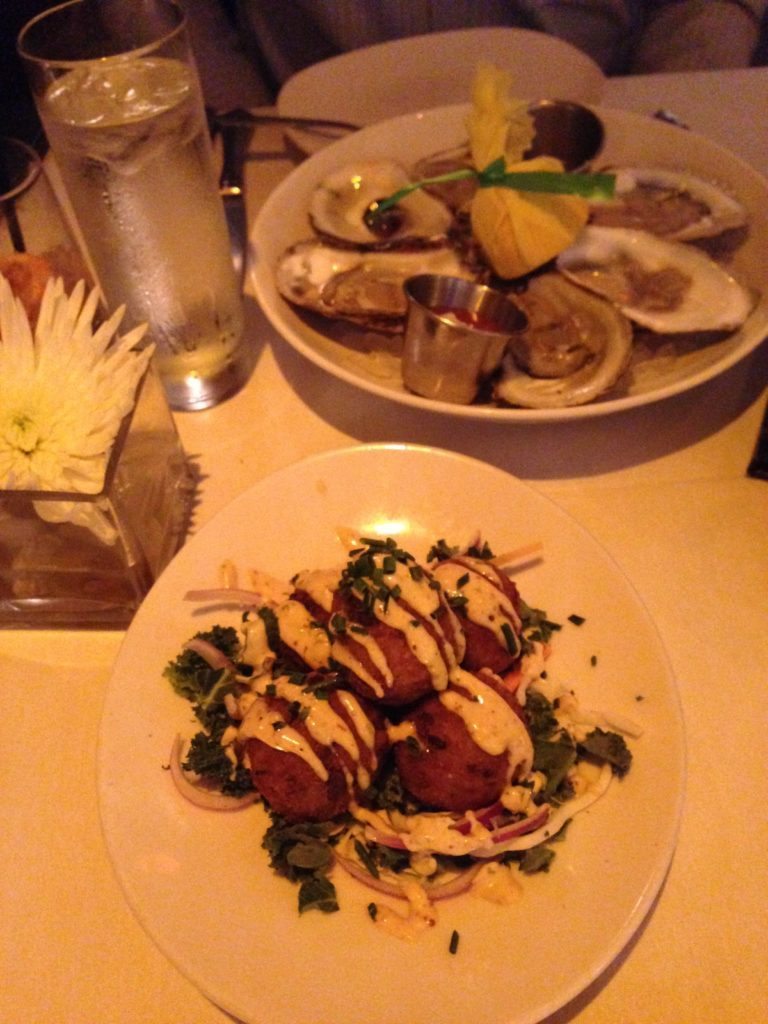 We were on time for our reservation and they allowed us to pick where we wanted to sit. We chose the very front table for two that overlooks church street. Score! It's a very intimate area, perfect for a – Couple at Large (echo, echo, echo). We could watch the world go by or close the sheers and make it more private. Our server, Tiffany, helped us make selections for the evening. She was responsive and attentive without being overly so.
We began with appetizers of their Blue Point Oysters on the Half Shell and Wild Mushroom & Chèvre Arrancini. I am not a raw oyster kinda girl but I tried one and it was quite tasty, my hubby wholly agreed. Arrancini you ask? I had to ask too because the rest of it sounded so good. Arrancini is rice that is breaded and deep fried. So the Wild Mushroom & Chèvre Arrancini was a delicious ball of yumminess.
Next we went for the Caesar salad after Tiffany explained that it was Kres' home made Caesar dressing with anchovies. This was no ho hum caesar and we added it to our "must have again list." Since dinner also came with a fresh loaf of bread baked in-house, we decided to share the salad and entree. Even after they divided it for us, there was plenty.
Now the entree . . . We decided upon the Elk & Filet Combo with three cheese au gratin potatoes and seasonal vegetables. The seasonal vegetable was cabbage. I can hear you all say ugh, cabbage (or maybe that was just me) but yet again, I was in for a surprise. The cabbage was tender and delicious, I didn't know what it was at first but after a few bites, much to the delight of my cabbage loving husband, was enlightened. So our entree of Elk and Filet was something to experience for yourself. Kres is known as a top quality steak house and they definitely lived up to their reputation.
To finish we ordered frothy cappuccinos and shared their White Chocolate Bread Pudding with Bourbon Sauce. OMG – next time, I'm ordering dessert first! I wanted to finish every-last-bite but my stomach had reached maximum capacity. Tiffany, who had been keeping an eye on the time for us said it was "time to go". So, with a last forlorn glance at the few remaining bites of our heavenly dessert, we waddled out of Kres to jet off to the Dr. Phillips Center.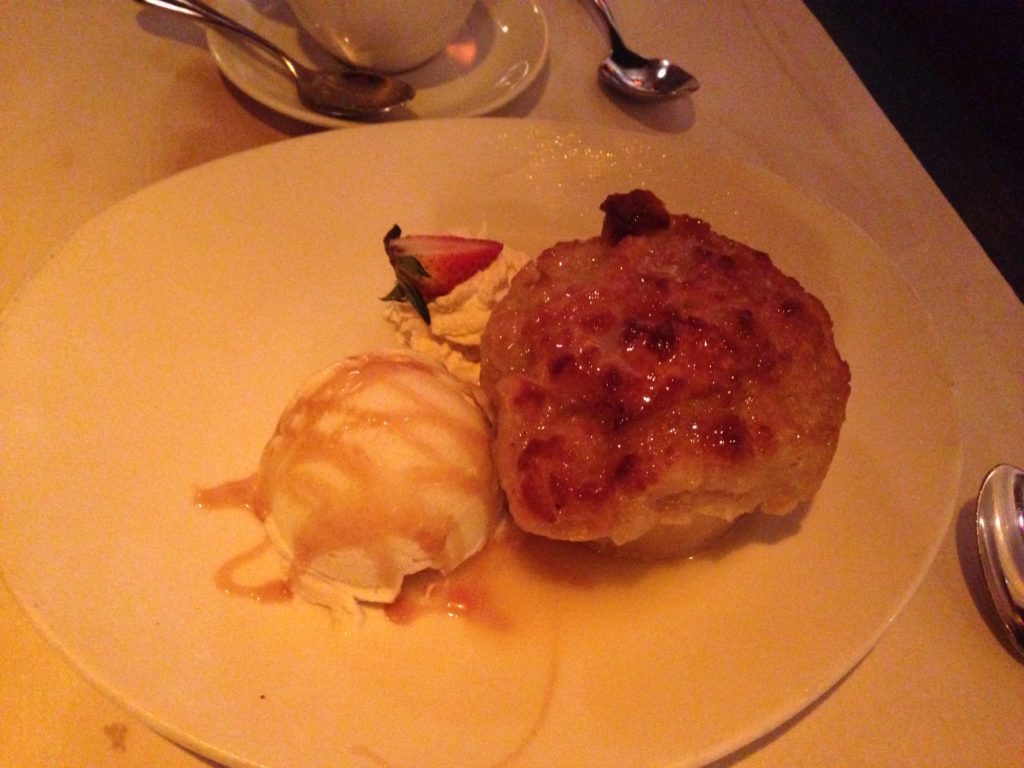 The Dr. Phillip's Center is quite a sight to be seen when it's all lit up at night. Truly a beautiful building. We entered the lobby doors and were directed to the third floor and I (and my 4" heels) were happy they have elevators. We made it to our seats with 30 seconds to spare and then sat back to enjoy our first experience of POPera. The operatic voices of the Italian born trio of IL VOLO are a fusion of pop and classical music. They have opened for Barbara Streisand and sung with the likes of Celine Dion and Josh Grobin. Each singer had his own particular sound and personality and backed by an orchestra, electric guitar, piano and drums – they held us captive for over two hours of nonstop singing.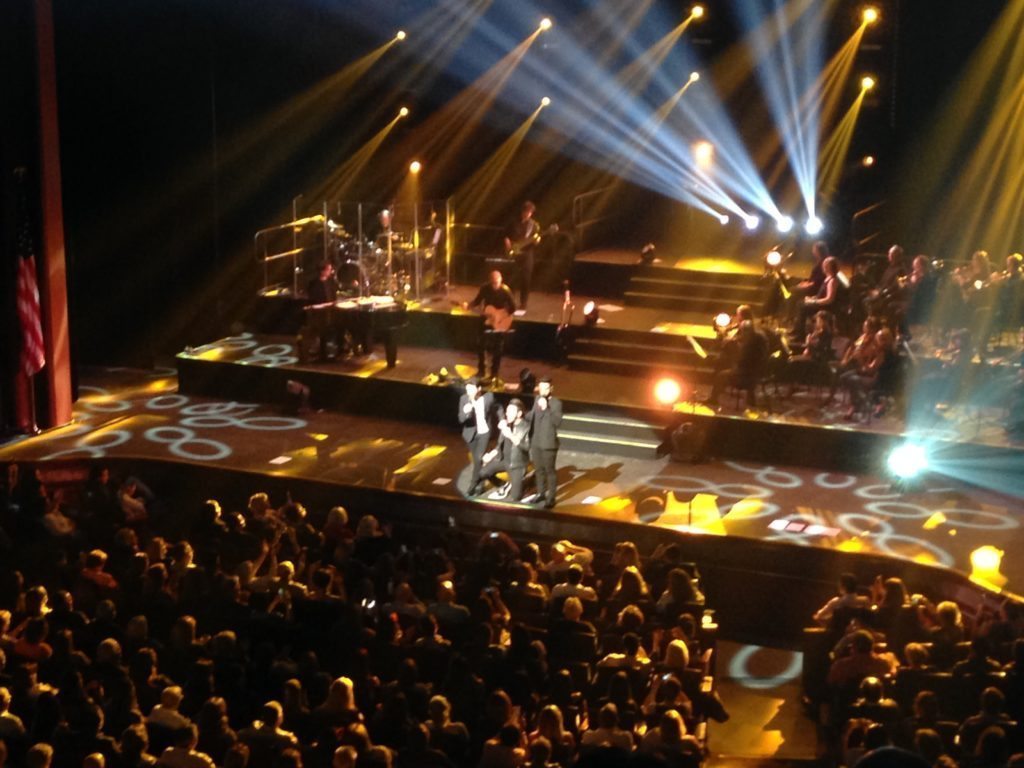 We returned to Aloft, fat and happy, after a night of good food, great entertainment and excellent company. Thank you Orlando Date Night Guide for such a wonderful evening out!