CLOSED January 2017
The ever-popular Citrus Restaurant, with its emphasis on "regionally-inspired new American cuisine," recently introduced a new happy hour menu to kick off 2016.
Located on Orange Avenue in the North Quarter District of downtown Orlando, Citrus Restaurant launched the new happy hour menu January 11 and features $3 beers, $5 wines by the glass $5 mixed drinks and $8 specialty cocktails, as well as an array of small and shared plate food options to choose from.
The happy hour menu is available Monday through Friday from 4-7 pm.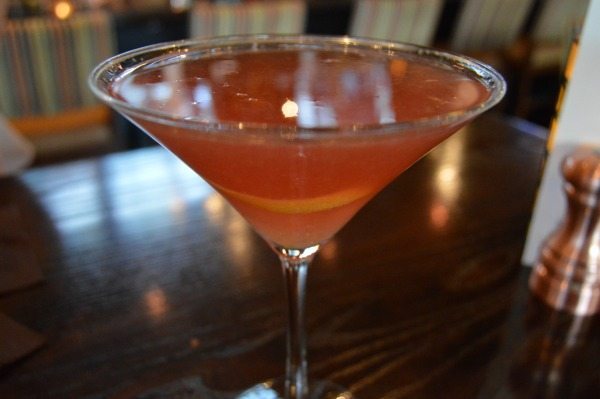 DRINKS
The drink menu for happy hour is so varied it's assured there will be something to quench every palate's thirst. Specialty cocktails are $2 off during happy hour, and they're all beautifully crafted. Many are seasonal, too.
The Tangerine Cosmo was a refreshing drink made with Tito's Vodka. The mix of tangerine and the house-made orange brandy gives the cocktail a very pleasing citrus taste—almost like it's Florida in a martini glass. The drink was garnished nicely with a lemon peel twist.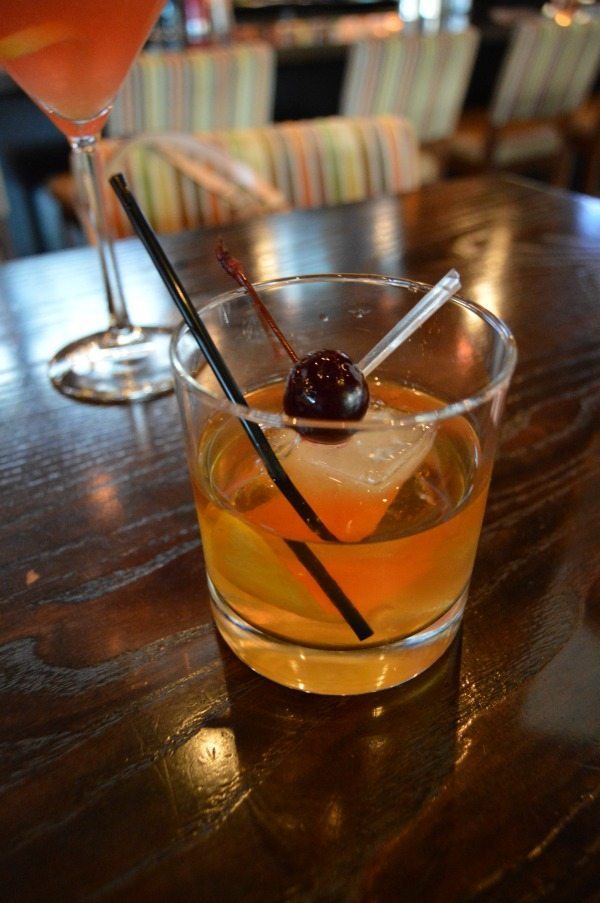 The Oak Barrel Aged Old Fashion is another cocktail offered for $8 during happy hour, and it is definitely for the spiritually forward individual. The Old Fashion uses Rough Rider Bourbon, which is strong in taste but the use of maple syrup in the drink balances it out and gives it a very subtle and lovely sweetness to it. The drink, like all the other specialty cocktails offered, is also garnished beautifully with a thinly-shaved orange peel, huge ice cube to keep the drink cool and a black forest cherry.
My favorite drink by far was the Wicked Spiced Rum Punch—it tasted like warmth and coziness in a glass, if that ever were a possible thing. The Wicked Dolphin Florida Spiced Rum, which is from Ft. Myers, is what makes this drink and gives it a strong spiced taste. Yet when mixed with the cranberry, lime and house-made orange brandy, it is so delicious.
FOOD
After trying all the different small food plates offered on the happy hour menu, it is hard to pick which one stood out from the pack.
The Blue Crab Cakes were very fresh, moist and well-formed into bite-sized cakes. Each one is topped with a fennel remoulade, which gave it a good crisp touch. The Mississippi Comeback Sauce drizzled on the plating was what made the dish. Made with Cajun spices and the kitchen's house-made hot sauce, the sauce was a perfect accompaniment to the sweetness of the crab.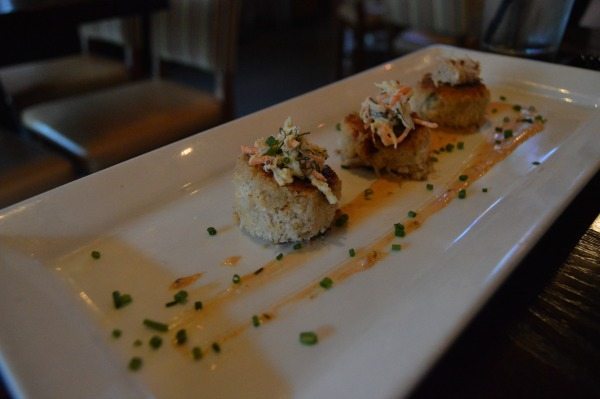 They also offer a Bruschetta, which is made out of sourdough bread from local bakery Olde Hearth Bread Company. The sourdough is topped with a ricotta salata and drizzled in a 15-year balsamic. The Bruschetta is very flavorful, especially the ricotta salata, and plated wonderfully on a wooden serving platter.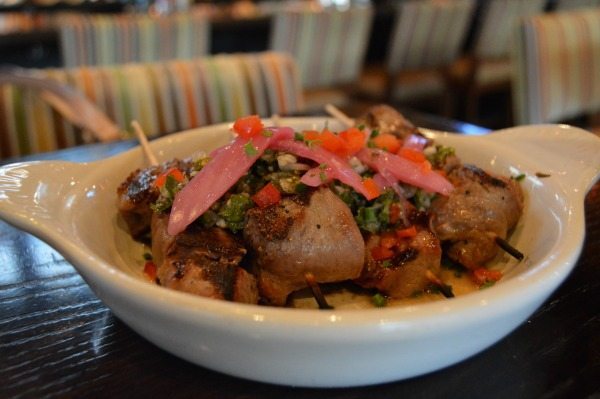 One of my favorite happy hour food items was the Grilled Ribeye Skewers. The grass-fed Florida ribeye was very juicy and tender, and it was topped with some of the best chimichurri I've tasted (and I'm from Miami, so that says something). The chimichurri gives the ribeye a zesty bold flavor, complementing the meat and not overpowering it.
When I saw the Blue Cheese Fritters, I was skeptical but it turns out they're a good happy hour menu item to have while sipping on one of their cocktails. The fritters were light and fluffy, while still maintaining a gold and crispy outside. The champagne-mustard aioli that you can dip the fritters in was terrific.
My favorite happy hour food dish was the Fish Tacos, which were full of flavor and made entirely of local and house-made ingredients. The fish used was mahi-mahi, which was from Canaveral. The blue corn tortillas, which gave the dish a nice color along with its two orange wedge garnishes, were made in house. The black bean salsa, made with datil aioli, gave the tacos a punch.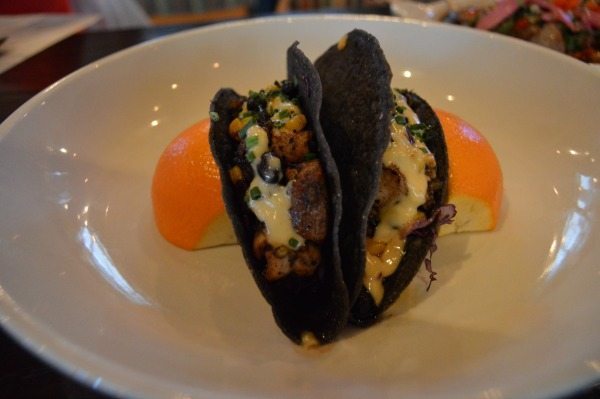 THE GRADE
Drinks: The cocktail menu is varied and something you definitely would want to try, but there are many other options if you prefer a glass of wine to a cosmo.
Food: A great selection of food menu items to choose from, most with a local-focus to them. You can easily share three plates among two to three people.
Setting: The restaurant has a very laid back but classy vibe to it. I loved the décor and how the lighting was dimmed but not too much where you couldn't see anything you were eating or the people you were with. Also, the happy hour runs until 7 pm, which is a HUGE plus.
Value: While the prices might be more than some other local happy hours, it's worth it because the quality of the food and drinks is very high.
I give Citrus an A-. This isn't Orlando's cheapest happy hour because Citrus is shooting for quality, and it shows. The food, cocktails and wines offered are simply incredible, and the overall décor and atmosphere of this classy downtown restaurant makes for a lovely setting to unwind in.
Citrus Restaurant
821 N. Orange Ave.
Orlando, FL  32801
407-373-0622
citrusorlando.com