By Samantha Rosenthal
Nestled on Park Avenue is a Japanese fusion restaurant that's fast becoming an area favorite for sushi, sashimi and robata. Umi in Winter Park, which opened in February, also offers a stellar happy hour Monday through Friday from 5-6:30 p.m., and Saturday and Sunday from 12-3 pm. The happy hour food menu is only offered Monday through Thursday 5-6:30 pm. We took the happy hour on a test drive and here's what we found:
Umi's menu changes every four to six months, and they are one of three local Japanese restaurants that use an authentic robata grill.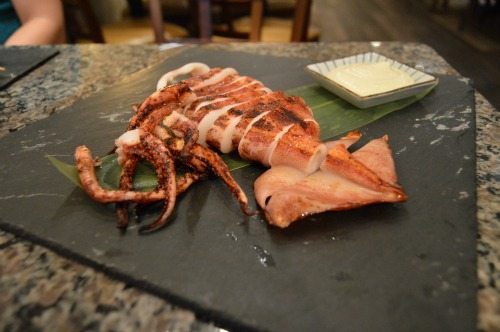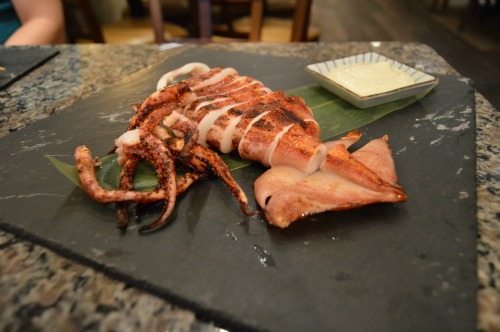 The happy hour menu offers squid, which is cooked on the robata grill and has a fresh and smoky flavor. The yuzu kosho aioli dip on the side gives it a nice kick.
The bacon-wrapped enokitake is a golden-needle mushroom wrapped in seared bacon. The mushrooms have a distinct texture and flavor that make them a very juicy dish. They are brushed with Umi's house balsamic teriyaki glaze and served with a side of it. And for only $3.50 for two kebobs, it's a steal!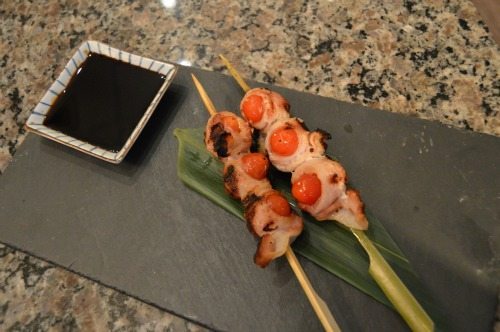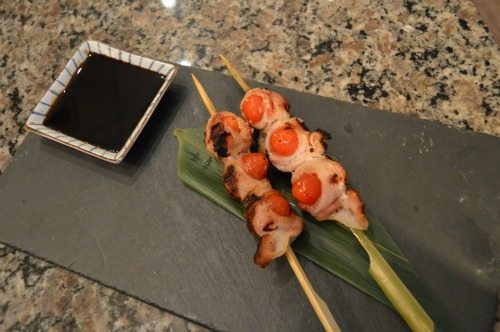 They also have the bacon-wrapped cherry tomatoes, which are cooked very similar to the mushrooms in that the bacon encircles the tomatoes. They are brushed with the house balsamic teriyaki glaze before being cooked on the grill, and then served up as kebobs with a side of the house balsamic teriyaki glaze.
On the happy hour food menu, two rolls are currently offered, and they are both great.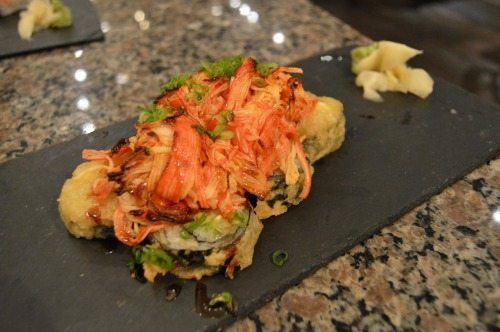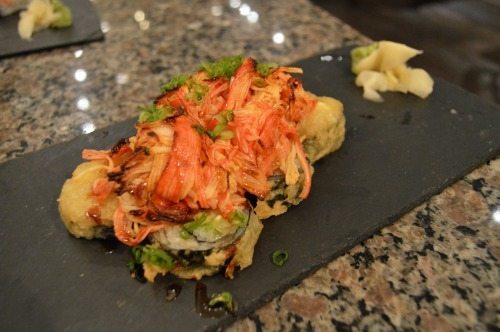 The Hurricane signature roll was my favorite menu item. It's a tempura-fried roll with cured salmon, avocado and cream cheese inside, and topped with baked spicy krab—and that is what makes the item. The crab is so tender and full of flavor. When you combine the sweetness of the krab topping, the spicy flavor and the crunch of the roll all together, it makes for one of the best sushi rolls I've had.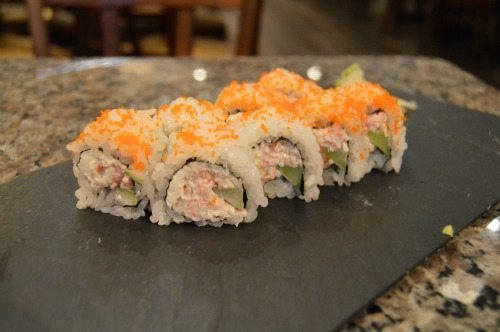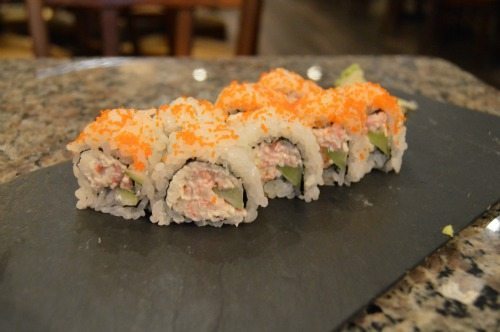 They also offer the crab urumaki roll, which has snow crab salad, cucumber and cream cheese on the inside with the outside rolled in masago. The masago on top give sit a great texture and all the things inside the roll were so fresh and combined so beautifully.
When it comes to drinks, Umi's happy hour menu list has it all – wines, beer cocktails and sakes. All the cocktails are made with Japanese soju, which is a spirit distilled from grains or like a Japanese-type vodka with a lower alcohol percentage. All the cocktails are prepared with premium sake, soju or sparkling wine; house-made organic juice or mix; and organic fruits and herbs.
The lemon drop martini is made with soju, fresh lemon juice, splash of Sprite, garnished with a lemon wheel and rimmed with sugar. And the soju really makes the difference in the drink! Usually vodka will make a cocktail like a lemon drop very rough to swallow, but the soju is so subtle and has a hint of sweetness that it adds to the freshness of the cocktail.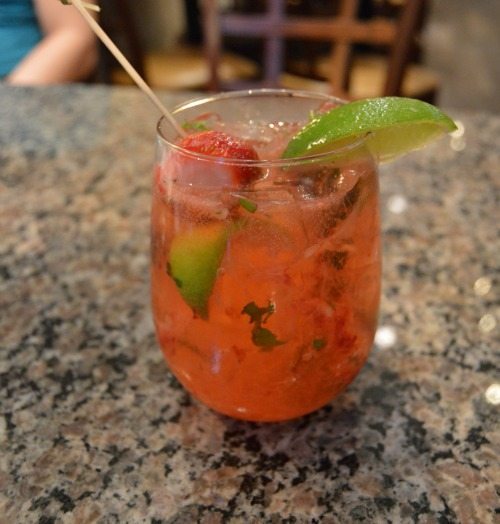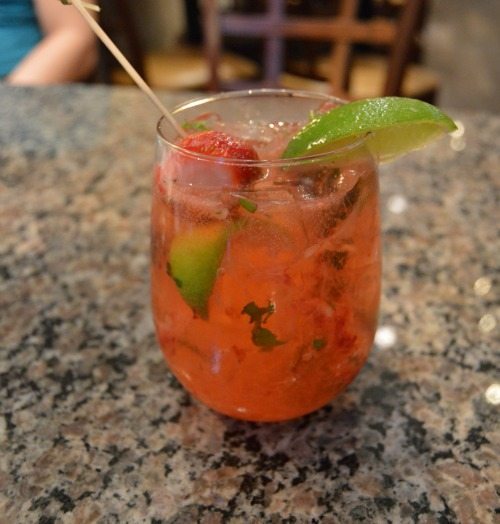 A popular happy hour cocktail is the strawberry mojito. They use soju, club soda, fresh muddled mint, strawberry and lime and a house-made mint simple syrup. The muddled mint stands out in the drink, making every sip like it is your first.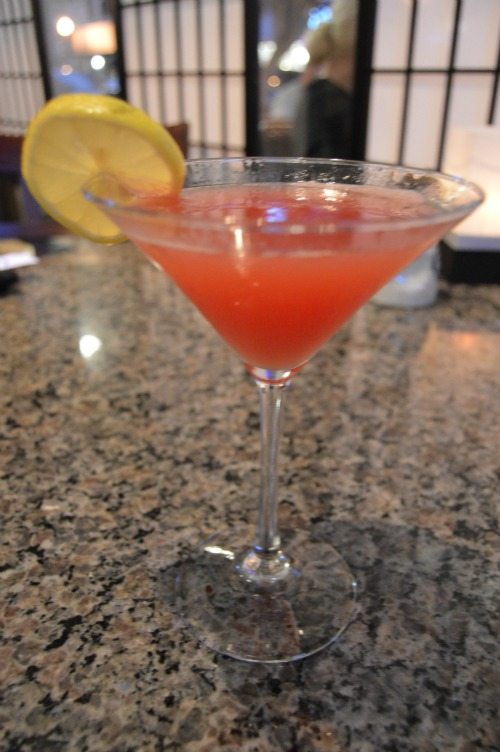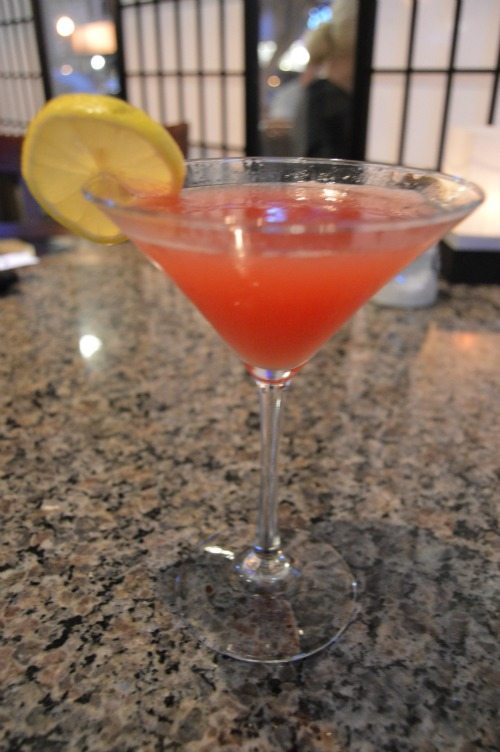 One of my favorite drinks offered on the happy hour menu was the fresh suika. Suika is like a Japanese watermelon, so this drink s essentially a watermelon martini. It is made with soju, lemon juice and fresh muddled watermelon. There were watermelon seeds in our martini—that's how freshly prepared the drink was. The lemon wheel garnish added a nice offset to all the sweetness of the drink.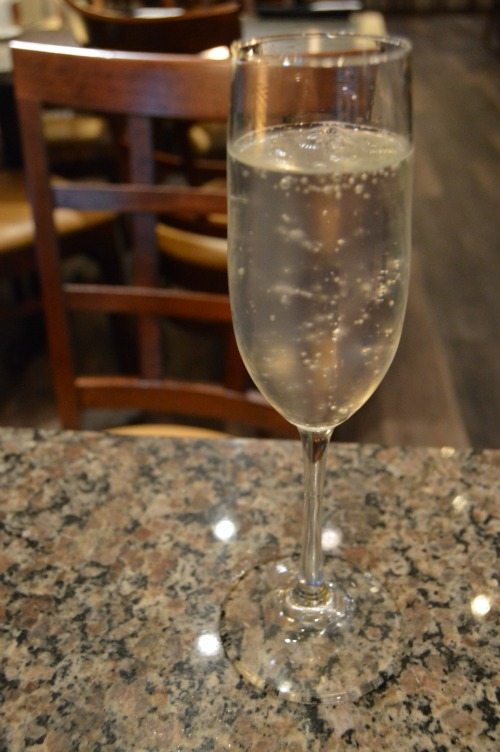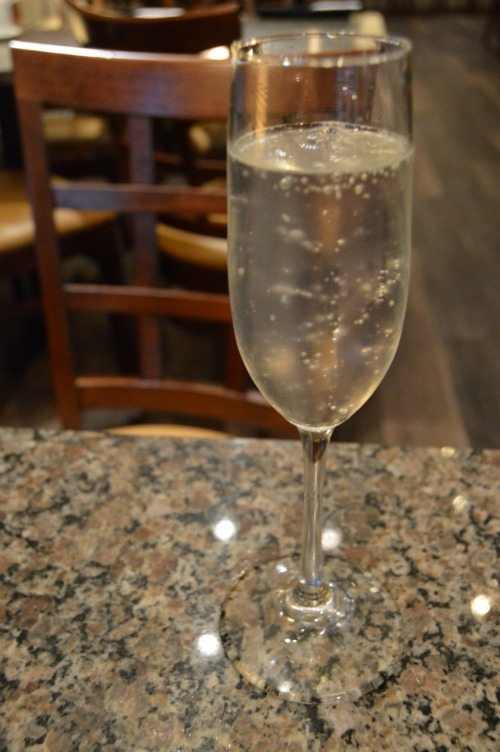 We were given a preview of a drink that is about to be added to the happy hour menu—sparkling jelly sake. It was hands down the most unique and best tasting drink we had the entire night. It had a peach flavor and was poured from a can. When poured, it fizzed like champagne but has blobs of jelly evenly distributed throughout the glass. It was a cross between sake, champagne and Jell-O, and it was amazing. The blobs allowed you to see the fizz and bubbles almost frozen-like within the drink. It is a must-try for anyone that visits Umi.
THE GRADE: A
Drinks: There are so many different kinds of drinks to choose from—sake, cocktails, beer or wine—and the prices range from $3-$6.
Food: Umi's happy hour food menu ($3 – $6) is ideal for the couple that loves to share everything. You can easily order three things off the happy hour menu that fill you up and spend only $15.
Value: You could order one of the rolls, both kebob food items and a cocktail for both people and spend less than $25. The value is there but the quality is not sacrificed. Everything we tried was fresh and delicious.
Umi – Winter Park
525 S. Park Ave.
Winter Park, FL 32789
Want more happy hour info? Check out our Guide to Orlando Happy Hours.