Orlando has seen a flurry of new restaurant openings in the last few months, including new additions to downtown's dining scene and Disney Springs. And while new restaurants are flinging open their doors every week, tried and true mainstays are revamping their menus, hiring new chefs and updating their space in an effort to stay ahead of the herd. The result is a slew of restaurants, both new and seasoned, giving us all another reason to let someone else do the cooking on date night. Here are six selections we recently experienced and can recommend: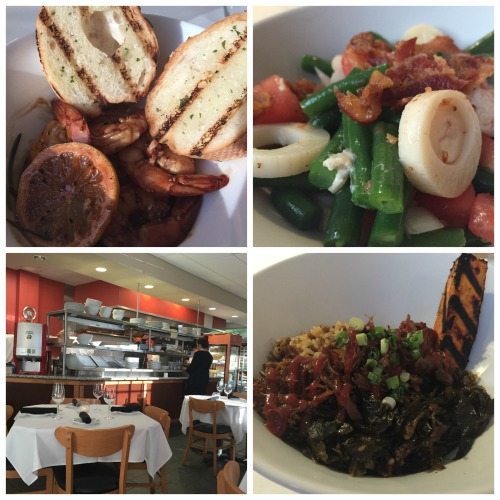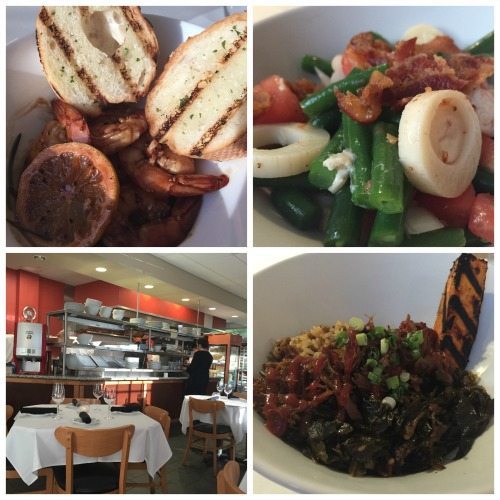 Two Chefs Seafood & Oyster Bar
The brainchild of Bernard Caramouche and Larry Sinibaldi, Two Chefs opened on Magnolia Avenue in April and immediately earned critical praise. Caramouche, the former culinary director of Emeril's Orlando, and Sinibaldi , the former executive chef at the Palm Restaurant, have brought the flavors of New Orleans to Orlando's newly dubbed North Quarter District, and while that section of town might feel a little sleepy at times, the flavors coming out of the kitchen at Two Chefs are far from sluggish. The Cajun Bowl, a layering of Chef Bernard's collard greens, dirty rice, sweet potatoes and roasted pork or grilled chicken, was a delicious merger of spicy heat and smoke. We also tried the crispy Fried Chicken and the Chicken & Andouille Sausage Gumbo. Everything was perfect. The dining room won't wow you—it's fairly no frills—but the food sure will. Two Chefs is open Tuesday to Saturday from 11am to 10pm and on Sundays for brunch from 11:30am to 3pm.
743 N Magnolia Ave
Orlando, FL 32803
407-270-4740
twochefsseafood.com
Morimoto Asia
With much hoopla, pounding drums and ceremonial fanfare, Morimoto Asia opened at Disney Springs (formerly Downtown Disney) in September and now serves as one the premier restaurants in that newly re-imagined dining district. With Japanese master chef Masaharu Morimoto at the culinary helm, the bedazzled restaurant features cuisine from across Asia served nightly for dinner service. Exciting fusion fare, top-shelf sushi and innovative cocktails are sure to make the culinary experience memorable but so too will the spectacular two-level space housing a grand staircase, cascading chandelier, private dining rooms and sweeping, 270-foot sculptural bar. Morimoto Asia is a feast for the senses.
The Landing At Disney Springs
1600 E. Buena Vista Drive
Lake Buena Vista 32839
407-939-6686
morimotoasia.com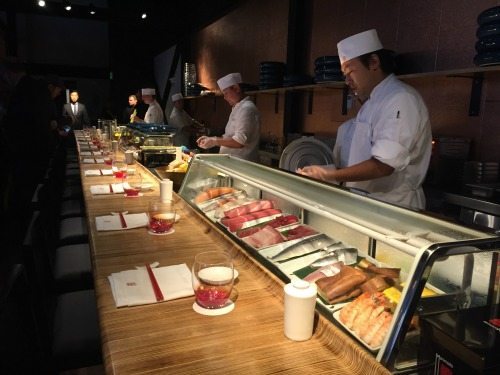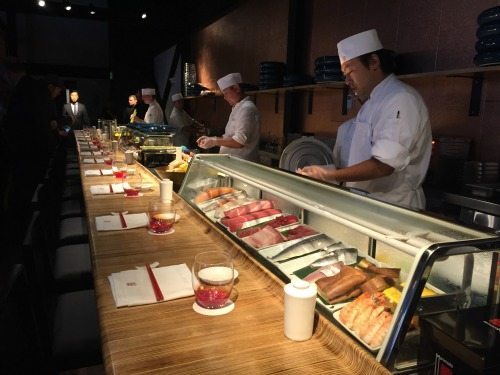 Pharmacy
I'm still mourning the loss of The Table, a much-loved communal chef's table concept created by Loren Falsone, Tyler Brassil, and Dominick Tardugno several years ago. But the closing of The Table was always about making Pharmacy, the trio's 2013 venture, better and better. And a recent visit proved that the decision-making was sound.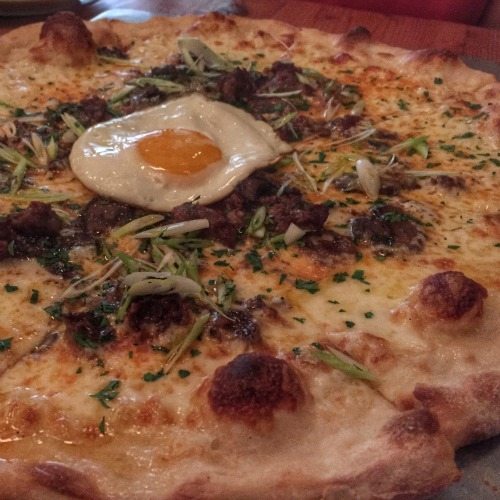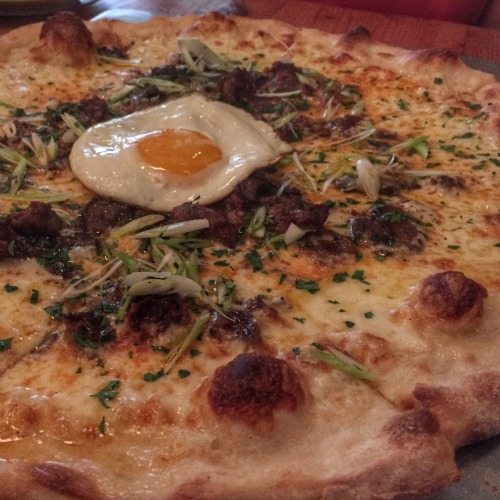 The Table's loss is certainly Pharmacy's gain, as demonstrated by the continual forward momentum of the restaurant's innovative food and beverage program. Spirits are a pivotal cornerstone of the Pharmacy experience and you'll find 24 different house cocktails tempting you to explore the boundaries of the craft cocktail movement. As you start sipping your way through these options, start ordering some shared selections for the table. Pharmacy's tapas style menu, which changes daily, is perfect for group nibbling. We loved the Portuguese Pizza and the French fries served with a duck fat dipping sauce. The speakeasy concept, something Pharmacy had originally hitched its horse to, may have lost is novelty but quality eats and drinks at this restaurant live on. Even if Pharmacy's 'secret' door doesn't impress you, what lands on the table surely will.
Dellagio Town Center
8060 Via Dellagio Way
Orlando, FL 32819
407-985-2972
thepharmacyorlando.com
Tabla
At first blush, you might not think much about a restaurant located within a Clarrion Suites hotel but Tabla, an Asian fusion restaurant near Universal Orlando, is the perfect example of why you should never judge a book by its cover. After attending a grand reopening and media tasting last month, I can now see why Tabla is so highly regarded by local food writers and Yelp reviewers. With Executive Chef Ian Piamonte—a graduate of Le Cordon Bleu Culinary Academy—steering the way, the kitchen churns out a wide array of cuisine that pays homage to Thailand, China and India. Many dishes you'll be familiar with (General Taos Chicken, Thai Green Curry, Tandoori Chicken) while others invite you to veer off the well-beaten path. We enjoyed everything we tasted. But besides the chef-driven cuisine and the new sleek décor, what I love about Tabla is that couples no longer have to choose between a Thai or Chinese or Indian restaurant, because Tabla does all three really well. We'd definitely go back again.
5827 Caravan Court
Orlando, FL 32819
407-248-9400
tablacuisine.com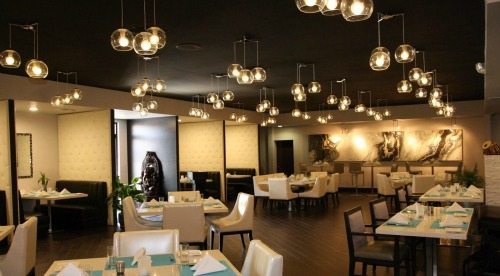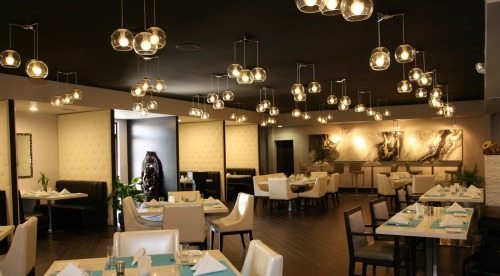 Seito Sushi – Baldwin Park
Jason and Sue Chin, owners of Seito Baldwin Park and The Osprey Tavern, met 15 years ago as employees of Seito in Winter Park. That, plus a new Seito chef (Executive Chef Austin Boyd) who has helped the duo refresh and reinvigorate Seito's already stellar cuisine, feels like cause to celebrate. Last week I attended a tasting of a few new menu items that gave Chef Boyd the chance to showcase ways in which Seito's cuisine is evolving. I was impressed not only by the quality and creativity of all seven dishes served, but the layering of flavors and the arrangement of tastes showed an ability to offer cutting edge cuisine without losing its true Japanese roots.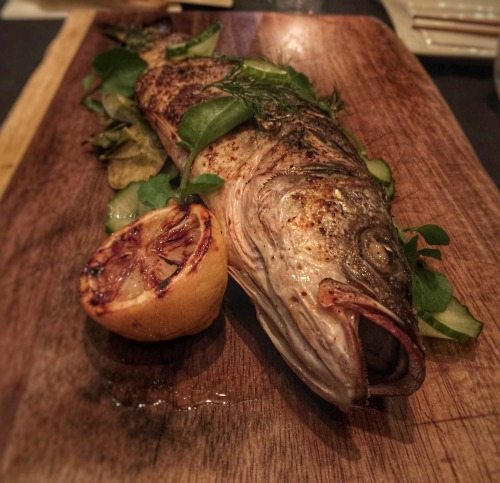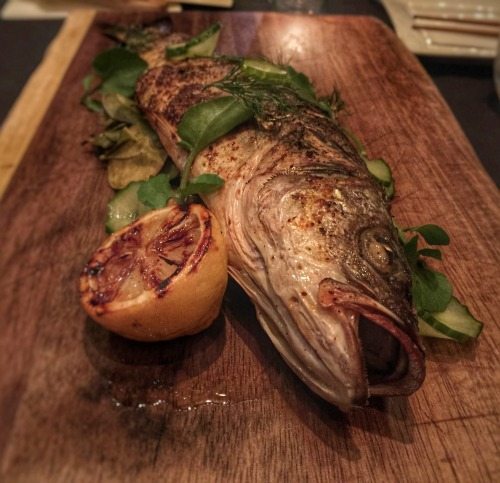 Not normally a whole fish girl, I was leery of the Roasted Branzino that arrived at our table. But the effort it took to carefully navigate around bones was well rewarded by perfect texture and a wonderful aromatic flavor created by the kaffir lime leaves stuffed inside. I would order this dish again in a heartbeat. It can't be easy to compete with a slew of other sushi restaurants in town as well as the many non-Japanese restaurants that vie for our taste buds in Orlando. Honestly, I don't think Seito has to worry. With a tenacity and a fervor that shows it is anything but resting on its laurels, this Baldwin Park gem continues to shine.
4898 New Broad St
Orlando, FL 32814
407-898-8801
seitosushi.com
Baoery (CLOSED)
This new "Asian Gastropub" is still technically in its soft opening stage, though few would notice or even care about the absence of art work or surround sound. Diners are heading to Baoery to check out what's really important: the food. Having mastered modern southern cuisine a few doors down at Soco, Chef Greg Richie aims to unfurl his talents for Asian cuisine, something he knows quite a lot about having worked with Roy Yamaguchi at the original Roy's Restaurant in Hawaii. Richie was also the executive chef/partner for Roy's in Orlando and reigned as king of the kitchen for a spell at Tchoup Chop at the Royal Pacific Resort at Universal Orlando. Translation: he knows Asian fusion food, which is abundantly evident at Baoery. Explore the menu via a selection of 21 small plates, appetizers and salads, priced from $5 to $14 each. This sharable feast should definitely include the Asian Style Crispy Chicken Wings and the PEI Mussels in Red Thai Curry Broth. Even though I didn't love the Roti flatbread that accompanied the broth, this was a spectacular demonstration of Richie's Thai talents. The cocktail menu, which gives a cheeky nod to old kung-fu movies, offers seven options priced at $9 each. We tried the Malaysian Mule and the Kama Sutra; both were excellent. Baoery aims to be a great neighborhood hangout where you can get a quality meal at an affordable price. If you ask me, it's hitting the mark.
617 E Central Blvd
Orlando, FL 32801
407-849-9779
baoery.com