By Samantha Rosenthal
Located on New Broad Street, Seito Sushi opened in 2005 and is still bringing in the masses. Owner Jason Chin, who recently opened Osprey Tavern across the street, breathed new life into Seito when he added Executive Chef Austin Boyd to his team. The food, which has always been well-regarded, has garnered some buzz lately, and so I stopped by to give Seito's happy hour menu and izakaya menu a test drive.
Seito Sushi's happy hour drink menu is offered Monday through Friday from 5pm to 7pm and Saturday and Sunday from noon to 7pm. This is when you'll find:
$3 Sapporo draft
$6 vodka or gin martinis
$4 hot sake
$4 single well cocktails
$6 select wines by the glass
The happy hour food menu is offered Monday through Thursday from 5 to 7pm and features 9 different dishes priced at $6 each.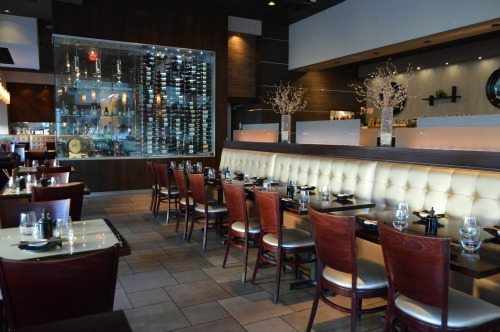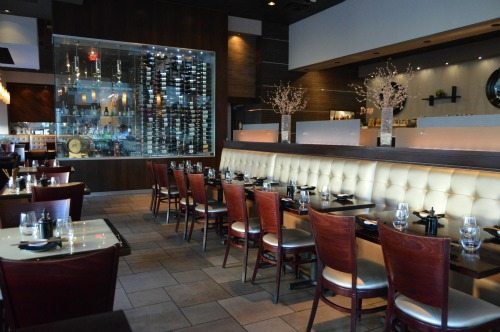 While cocktails are not offered at a reduced price for happy hour, we ordered the Shiro Mule ($10) and the Ume Sour ($9) anyway. The Shiro Mule is modeled after a Moscow Mule, but the Hakutake "Shiro" Shochu is what makes it different. The "Shiro" Shochu is a Japanese spirit that is similar to vodka but has a subliminally fruity and vanilla taste to it, but it is not too much that it overpowers the entire taste of the Shiro Mule. It adds to it.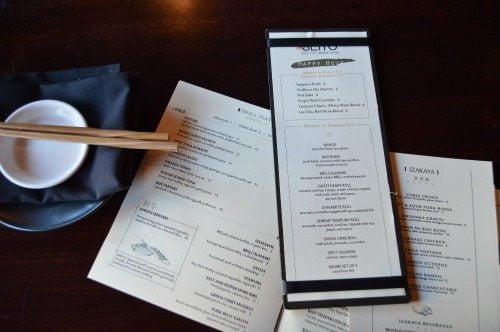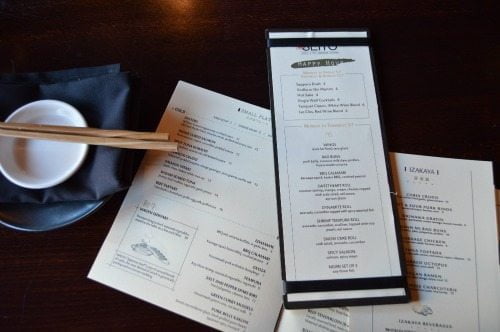 Made similar to a whiskey sour (they use Oola whiskey), the Ume Sour's use of plum wine and umeboshi (pickled plum) give it just the right fruity touch to counter the sourness of the lemon. One of the things I loved throughout the entire happy hour experience is the little attention to details that makes the drink and food items stand out, such as the little dollop of umeboshi on top of the lemon in the Ume Sour, which gives it that extra something.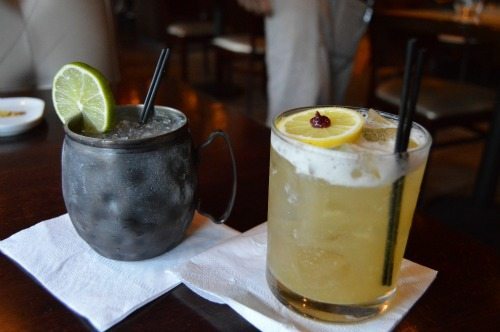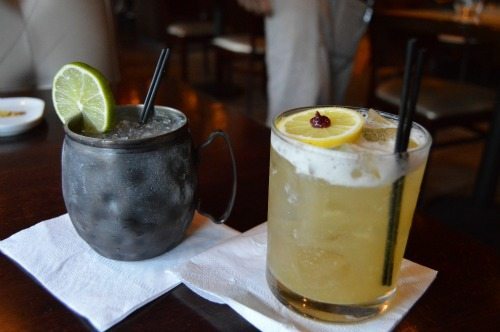 The food menu items we tried on the happy hour menu were so good you would almost think it's a crime that they're only $6 each. We tried the wings, which are fried in duck fat and glazed for a very smoky and rich flavor. The dish comes with about six wings, sprinkled with sesames seeds on top as a garnish.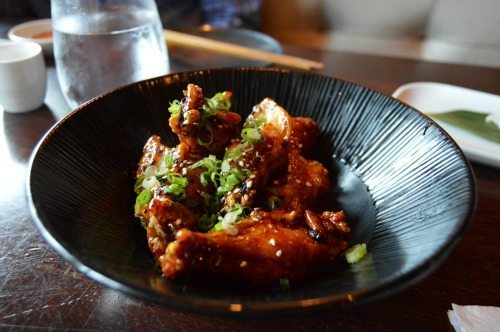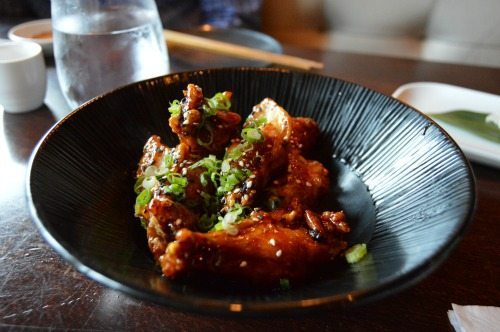 We also tried the BBQ Calamari. Growing up in an Italian household, I've had my share of calamari, but nothing like this! I loved how they used a mixture of calamari rings and the actual squid tentacles, and they were fried very well, too. But the hoisin BBQ they were tossed in was what made this dish so spectacular.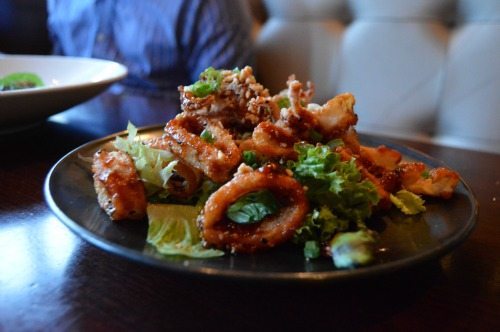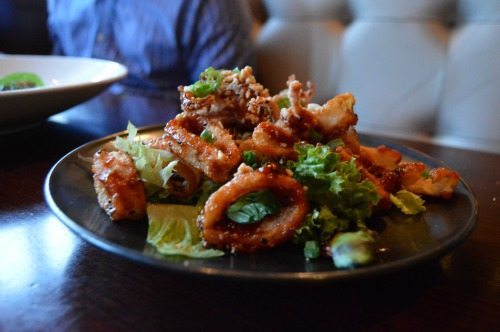 We tried the Nigiri Set of Three – tuna, salmon and Japanese snapper – and it was fantastic.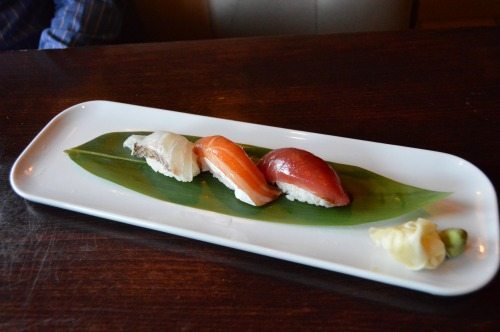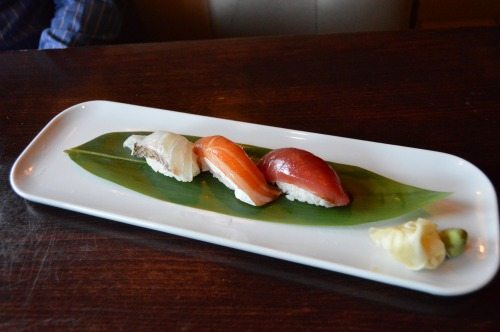 The last two things we tried on the happy hour food menu were the Sweetheart Roll and Dynamite Roll. The Sweetheart Roll is a roll that is just sweet enough – with the coconut shrimp and crab salad on top – that it doesn't overpower the entire flavor. The roll comes with an apricot glaze and eel sauce drizzled next to it to dip the sushi pieces into. Not sure the roll needs the sauce. It was pretty amazing all on its own.
We also tried the Dynamite Roll, which was a roll made with cucumber and avocado but topped with a spicy fish mix. I liked how the roll is made very simply to let the spicy fish medley stand out. The fish mix is spicy. In fact, it has quite a kick to it, so no need to spread any wasabi on it, unless you're daring.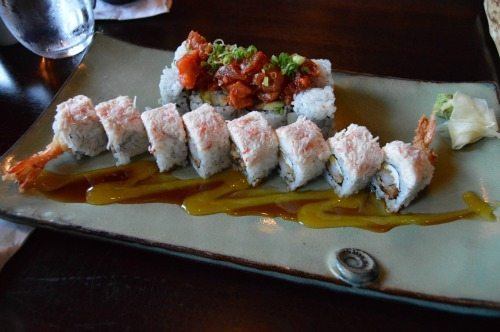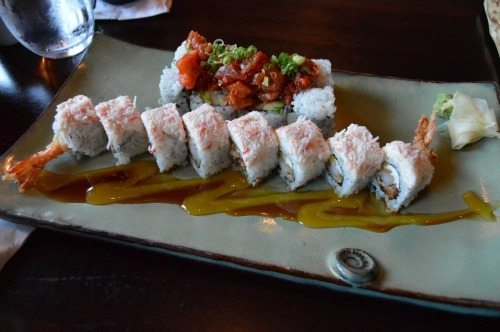 Izakaya
There is also a Izakaya menu offered Friday and Saturday evenings. The Japanese word "izakaya" means a non-formal drinking establishment that also serves food to go along with the drinks.
We also tried a few items from this menu, including the Cobia Crudo ($12), which translates to "raw cobia." The raw fish comes thinly sliced and drizzled in oil. Seito chefs then add a Thai relish, fried garlic, green beans, lemongrass, garlic and shallots. Delicious!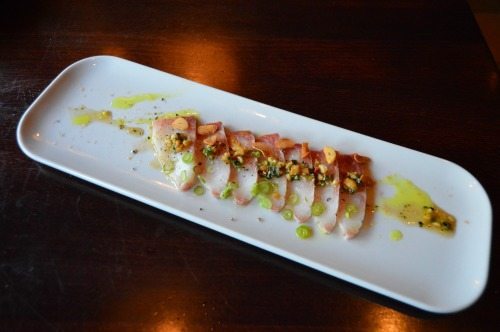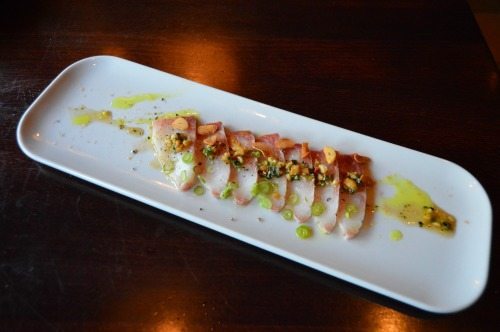 The Charred Octopus ($12) was one of the more visually appealing prepared dishes; there was a lot to see besides just the charred octopus. The dish also includes shishitos, small green peppers, which are also charred. The charred octopus and shishitos sit on top of a yuzu aioli (yuzu is a sour Asian citrus fruit). Once again, the chef really pays attention to the details, garnishing the plate with what looked like dandelions, a small lily pad-looking leaf and an orange hibiscus flower. It was little too charred for my taste but others might not think so.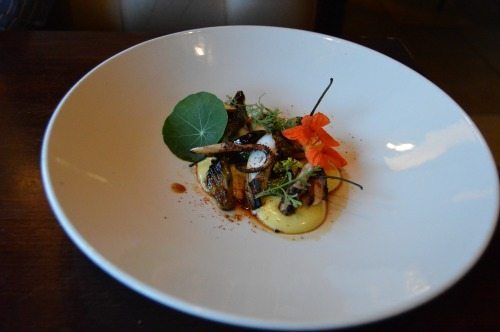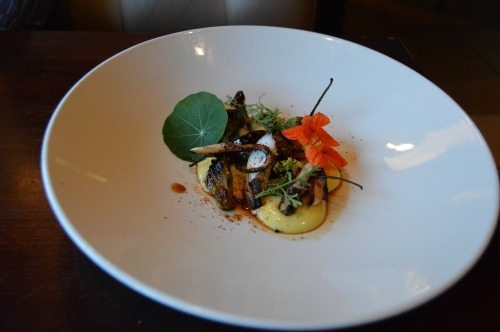 Last, but not least, was the Vietnamese Charcuterie ($15) – my favorite dish of the evening. It featured brioche made from a local baker, in-house Vietnamese bologna, nori butter, chicken liver pate drizzled with honey on top, in-house made beef jerky and in-house made sriracha dip. And every last bit of it was delicious!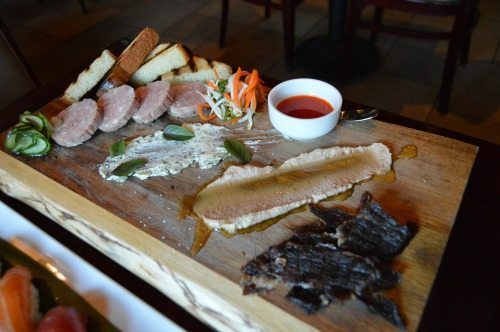 THE GRADE
Drinks: $6 wines by the glass, $3 sapporo draft and $3.50 sake
Food: Seito has a large selection of distinctive offerings, priced at $6 each and paired perfectly well with after-work drinks
Setting: chic and sleek but comfortable
Value: For less than $30, you can get two cocktails and two appetizers. You won't be full, but you'll be satisfied.
We give Seito Sushi an overall grade of A. The happy hour experience was excellent at Seito Sushi. It's a nice, hip Japanese restaurant that I could see myself going to any time. But you really get a steal on drinks and the interesting assortment of happy hour dishes are a nice diversion from standard happy hour fare.
Seito Sushi
4898 New Broad St, Orlando
407-898-8801
seitosushi.com/baldwin-park
Happy hour drinks: Monday through Friday from 5pm to 7pm & Saturday and Sunday from noon to 7pm
Happy hour food: Monday through Thursday from 5 to 7pm
Want more happy hour info? Check out our Guide to Orlando Happy Hours.