Rheanna Howard was the winner of our September Couple at Large Giveaway for a Seasons 52 Chef's Table experience for 6 guests. 
On October 10, my boyfriend and I, as well as two other couples, indulged in a dinner at Seasons 52 Orlando we will never forget. We checked in at the host stand and were seated immediately at the chef's table. The first thing I noticed was how secluded our table was even though it was right off the kitchen. This made it easy to watch the chefs cook our feast without feeling that we were in the way!
Our server, Mark, greeted us quickly with bottles of still and sparkling water. As he went around the table, he was really excited to learn more about us, he asked where we were from and how we won such a fantastic dinner.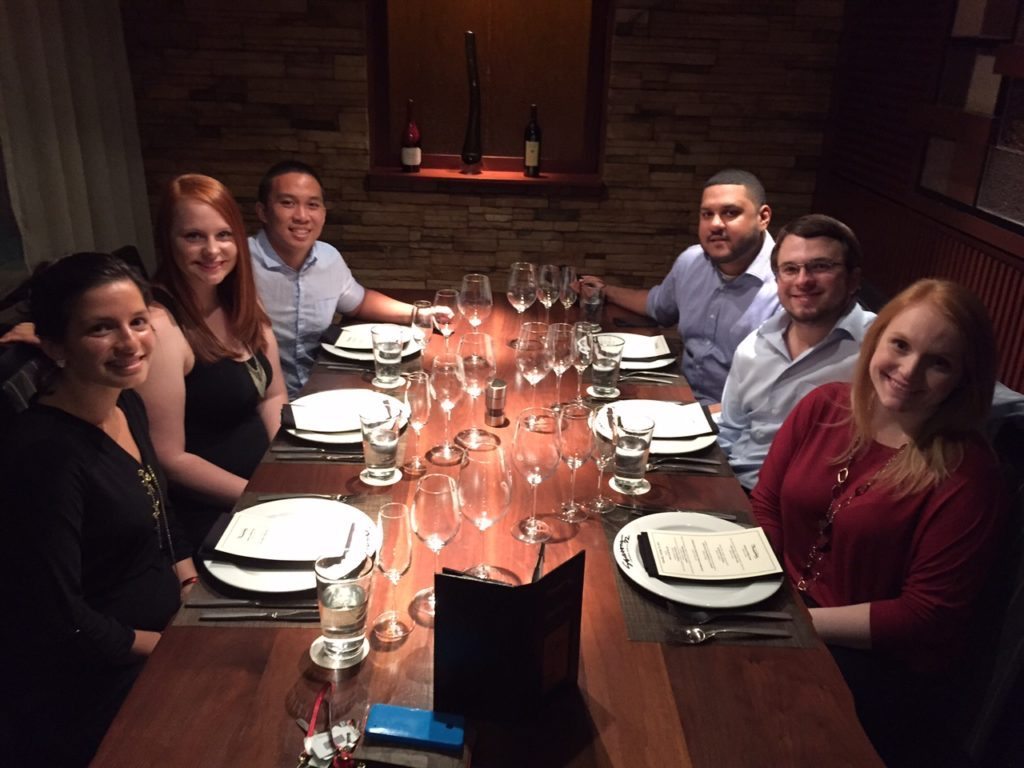 He then presented the cocktail menu and gave us some of his personal recommendations. Seasons 52 is known for its constantly changing menu that reflects the seasons, and the cocktail menu is no exception. Two of us got the Pearfect Storm, two enjoyed Hawaiian Pineapple Cosmopolitans, and the other two had a Prairie Mule and a Bourbon Berry Bramble. All of our cocktails were delicious and we enjoyed them throughout our meal.
Before we knew it, the Chef was at the table and the Chef's Amuse was being brought out. He explained that we would be having a meatball with a pesto cream sauce to begin with. The meatball was prefectly cooked and seasoned. It was the perfect beginning for our meal.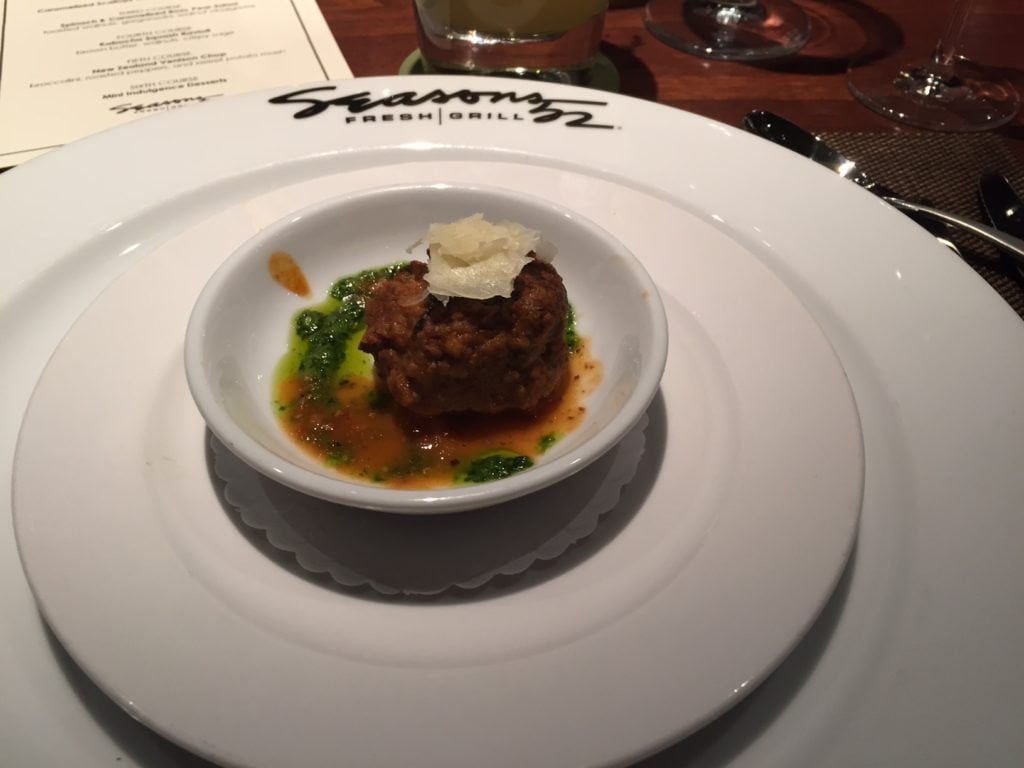 As we were enjoying the Chef's Amuse Bouche, our Sommelier, Richard, joined the fun with our first wine of the night. He brought to the table a bottle of Gaston Chiquet Champagne. He was very informative with the description of the wine and explained that this champagne would pair well with our Chef's Amuse Bouche.
Next up was our flatbread course. We enjoyed a Roasted Roma Tomato flatbread and a Lobster & Fresh Mozzarella flatbread. Both flatbreads were very flavorful and amazing.
I just have to say that the timing of each course was absolutely perfect, each time we were brought a new course, we were given enough time to really enjoy it and talk. At no point did we feel rushed, and that was really nice.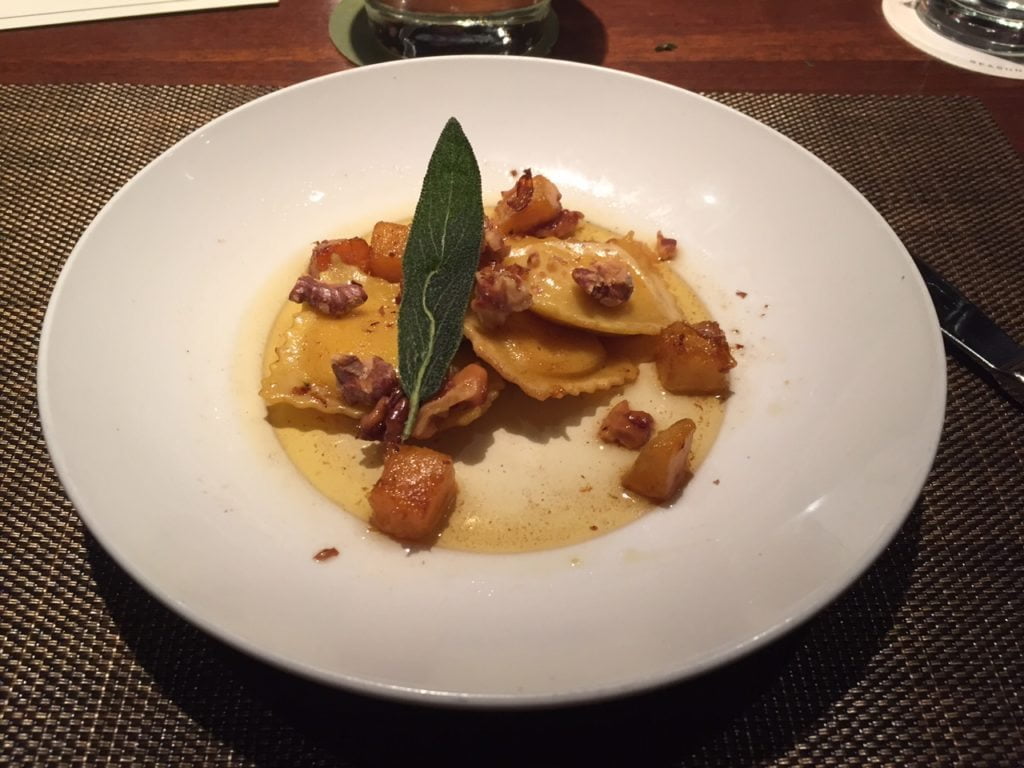 We were then delivered our second course, Caramelized Scallops with Butternut Squash Risotto and Brocolinni and were well informed about the dish by the chef. We also were brought our second wine of the night, Mer Soleil chardonnay. Both were spectacular. The scallops were cooked just right and were a favorite of the night! Richard was great and described where the grapes came from and how that affected the taste of the chardonnay.
Course three was a Spinach and Caramelized Bosc Pear Salad with toasted walnuts, gorgonzola, and a walnut vinaigrette. This salad was absolutely amazing and we all enjoyed it!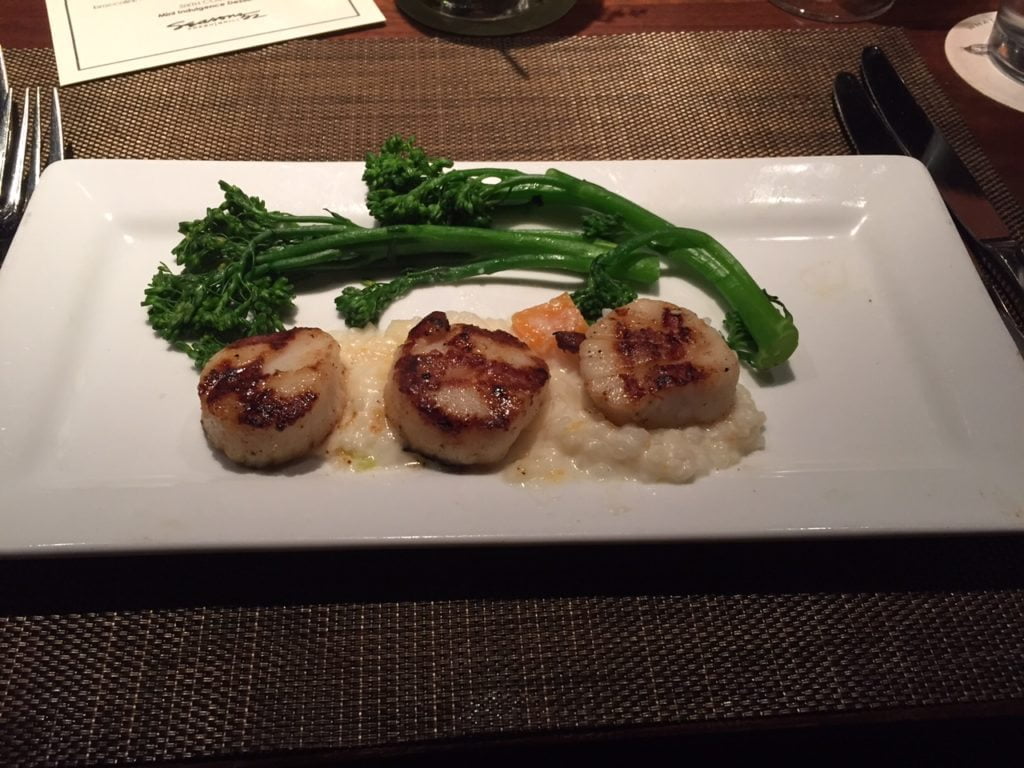 Course four was Kabocha Squash Ravioli with brown butter, walnuts, and sage. This was my absolute favorite of the night, it was the perfect fall dish. Course four was paired with Belle Glos Pinot Noir. The pairing was phenomenal! The Belle Glos is coated with wax, so it took a little but longer to open and Richard didn't hesitate to use that opportunity to talk with the table about where we were from and jokingly ask about our lives. He knew exactly how to keep the table engaged while he opened the bottle and not leave an awkward silence.
Our fifth course was a New Zealand Venison Chop with brocollini, roasted peppers, and sweet potato mash. The meat was cooked and seasoned perfectly. We all devoured the venison before I knew it. Our last wine of the night was Cakebread Cellars' Cabernet Sauvignon straight from Napa Valley.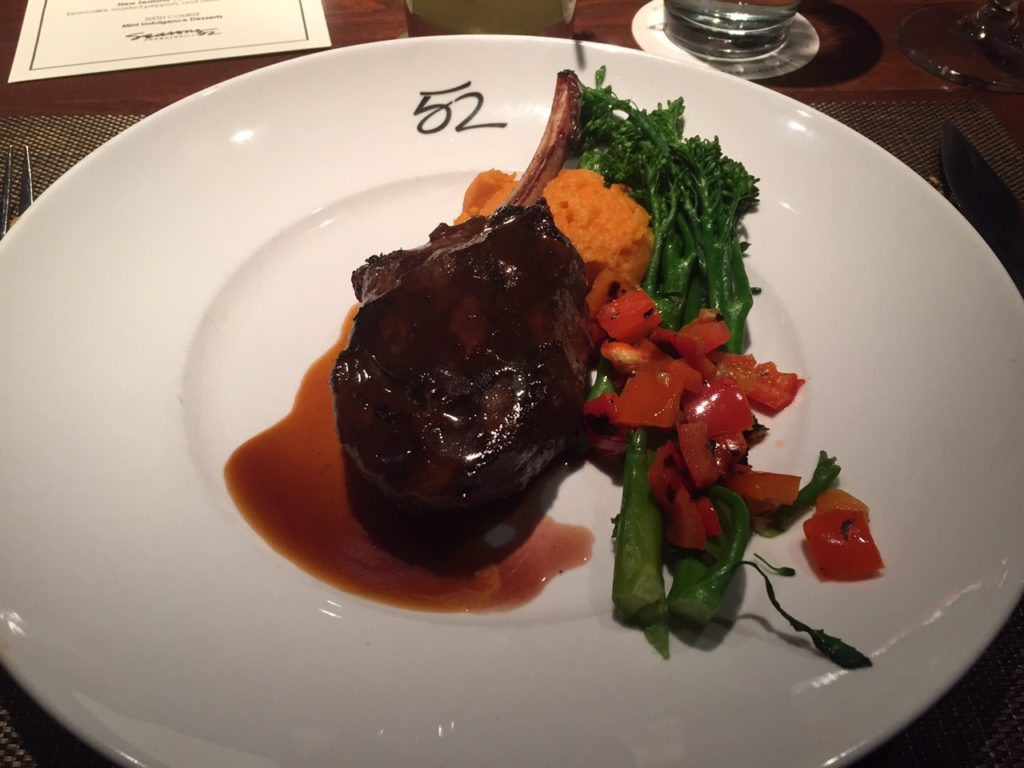 Last but not least, our sixth course was dessert. We were delivered the mini indulgences tray and Mark described each one in full detail. Some of these include blueberry and lemon, pumpkin, smores, and a chocolate peanut butter. Mark was so great, he got doubles and triples of some of the minis for us who wanted to try multiple.
At the end of our meal, chef Sayli, Mark, and Richard came to the table to make sure that we were satisfied with everything. We were warmly welcomed back and told to ask for them and we would be taken care of for our future meal. We were so thankful for this experience and can't wait to be back for a future date night.
I think Seasons 52 is the perfect place for a romantic date night out with a significant other. The staff is very attentive, warm, and friendly. Mark was constantly checking on us and keeping our glasses of water full. We also didn't feel rushed at all and could take our time and appreciate each bite of our courses.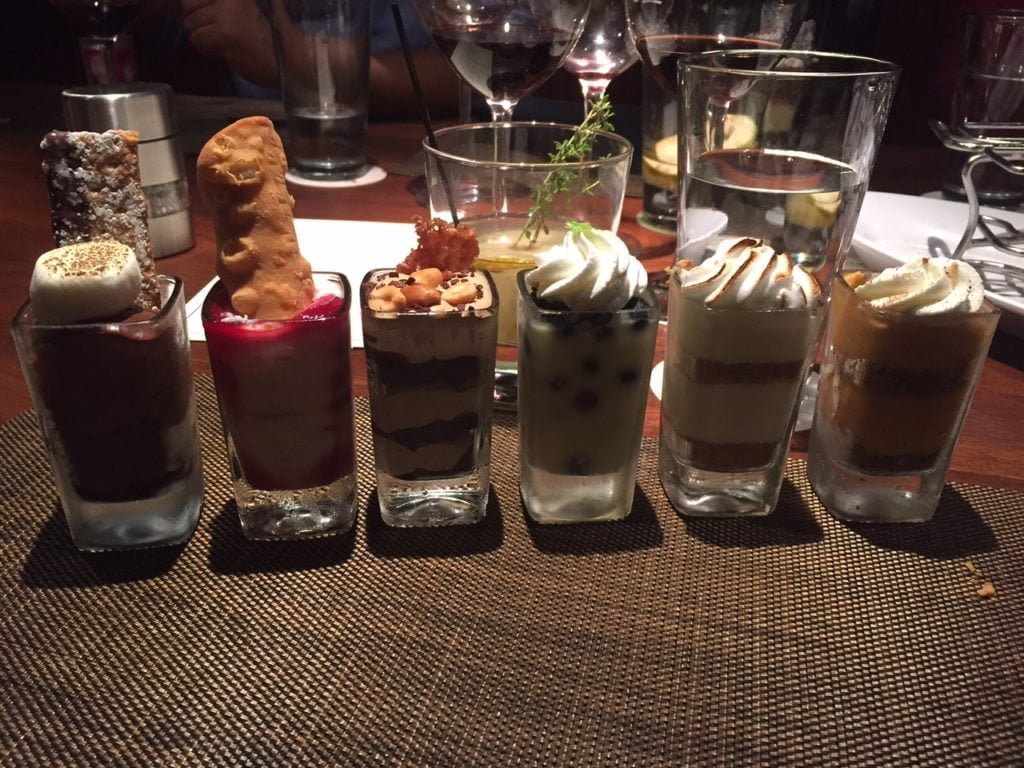 Also, the atmosphere of the main dining room is very romantic. The dim lighting and seclusion of the tables can make the dinner romantic and personal, which is perfect for date night. You can't forget the ever-changing menu that Seasons 52 offers. The menu changes by season, which ensures that the freshest items are being used. This makes it perfect for coming back for a unique experience each time.
EDITOR'S NOTE: Want to enjoy the Seasons 52 Chef Table for yourself? From seasonal appetizers to desserts, Seasons 52's 5-course Chef's Table experience will give you and up to 10 guests a fresh taste of the season. Visit Seasons52.com, or your nearest location, to book your experience!