The Osprey Tavern in Baldwin Park is getting a lot of great press lately. Orlando Sentinel's Heather McPherson wrote a glowing review in September. Tasty Chomp's Ricky Ly gushed over Osprey's brunch a few weeks ago writing: "Overall, one of the best brunches we've had in Orlando so far." Scott Joseph has described it as "lively and fun" with a menu that's "off to a good start." Everyone seems to be in agreement: The Osprey Tavern is terrific.
We can't help but nod our head in agreement after our own dining experience in August. I'm still telling people about the Jerk Chicken Wings and the Charred Peel 'n' Eat Shrimp.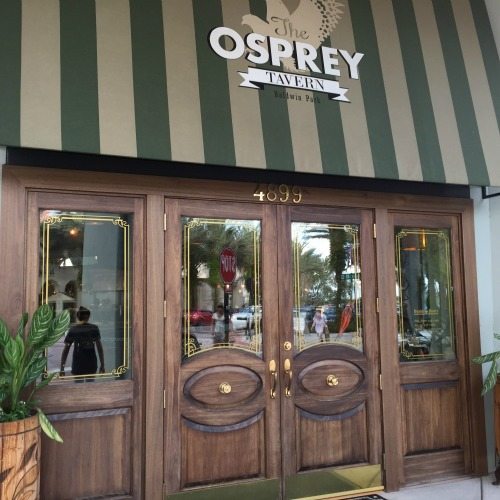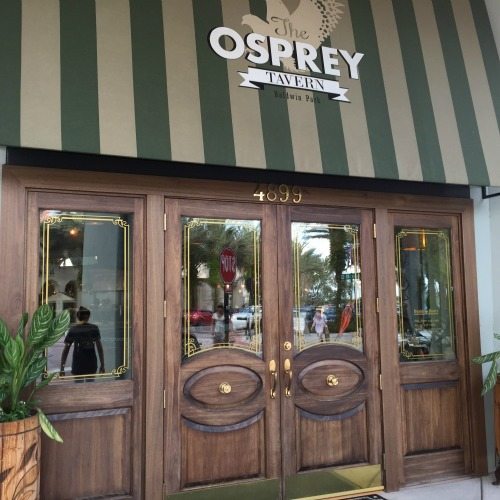 But rumor has it that Osprey's happy hour is a fête worthy of note and so we wandered in last week to check it out.
A stellar selection of drinks and dishes are featured during happy hour, which is offered Tuesday through Sunday from 5pm to 6:30pm at the expansive bar overlooking the immaculate exhibition kitchen, as well as throughout the dining room.
Wine lovers get their choice of six options by the glass (three red and three white) for $6 each.
Are you a spirit person? You'll have three cocktails to choose from:
Old Fashioned (Old Forrester bourbon, sugar, orange bitters)
South Side (St. Augustine Gin, mint, lime, sugar)
Rum Mule (Corsair spiced rum, Barritt's ginger beer)
Each is priced at $6.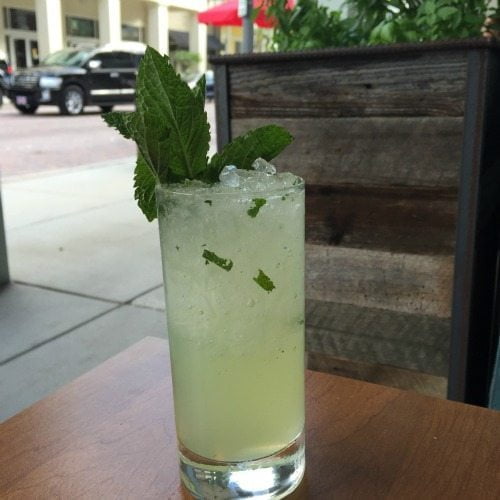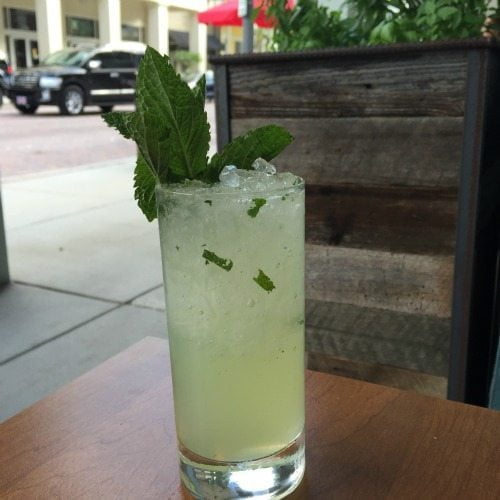 And then you'll have six beers to choose from: three canned options and three draft options. Beers are $4 each and include scrumptious selections like Prairie Standard Saison.
This well-priced and nicely varied drink selection would be enough to lure me back but Osprey's happy hour fare made me all the more delighted by the entire experience.
We sampled the Brioche Grilled Cheese ($5), a flaky and buttery melding of American cheddar squished between two almost waffle-like bookends. Delicious. The Duck Croquettes ($7) had a perfectly crisp exterior that encased a delightful mélange of creamy cheese and duck set atop a slightly sweet curry puree. Amazing. Finally, the Margherita Pizza (tomato, basis, mozzarella) was ooey gooey good with a thin, crispy crust to boot. Osprey offers a Ham & Cheese pizza for happy hour as well. Both are $10 each.
All this was enjoyed in a stately but bright and warm setting dotted with whimsical antiques and drenched in natural light.
THE GRADE
Drinks: there's a solid selection and the prices are $4 – $6.
Food: Osprey scores points for serving size (two people could easily share the pizza), ingenuity of offerings and food quality, which is on par with the rest of Osprey's highly regarded menu.
Setting: warm, inviting and not too overcrowded.
Value: Order the pizza and 2 glasses of happy hour wine and you're in for less than $30 with tax and tip.
We give Osprey Tavern an overall grade of A. Kudos to management for allowing guests to enjoy the happy hour offering beyond the bar and into the dining room and outside seating area. Chefs deserve a 'high five' for creating some atypical and delicious grub. Overall, the experience was excellent.
The Osprey Tavern
4899 New Broad St, Orlando
407-960-7700
ospreytavern.com
Tuesday – Thursday 5:30pm – 10pm
Friday – Saturday 5:30pm – 11pm
Sunday Brunch 10:30am – 2:30pm (brunch) & 5:30pm – 10pm
Happy Hour: Tues – Sun from 5pm – 6:30pm
Want more happy hour info? Check out our Guide to Orlando Happy Hours.