**CLOSED 2017**
Glass blowing may seem like an activity only a professional can do, but the artists at International Hot Glass have made it a reality for anyone. Nestled inside Artegon Marketplace on International Drive, International Hot Glass (IHG) is a 4,300 square-foot glass art gallery and shop. Once a month, the team offers a date night workshop designed for couples who create their own, one-of-a-kind piece.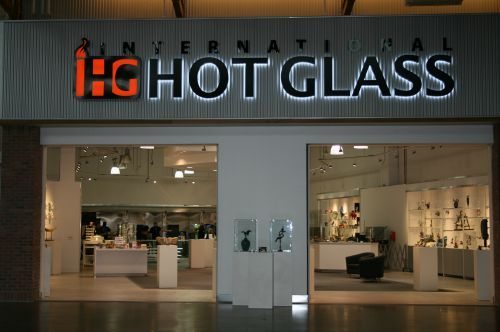 Arriving at IHG, we checked in for our date night feeling a little unsure of what to expect. Let's face it, it's not every day you jump into the hot seat and create your own custom glass art. We munched on snacks, sipped some wine, and watched others in the studio while we waited for our turn. Wine is provided for date night attendees but guests are welcome to bring their own, if they prefer.
After a short wait, we were up! Thomas and I each worked with a different artist to pick our color, heat the glass, and then shape it into a ball. Eventually, our pieces would connect. But at this point I still wondered what were we making and how in the world would our pieces fit together?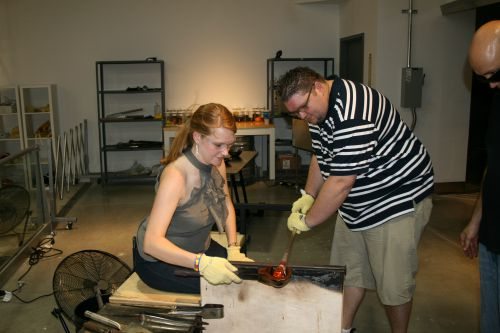 Once we each had a ball of glowing glass, we merged them together by pressing and turning the glass to create a larger ball. Paddle-like tools were then used to flatten the molten glass. I was instructed to create a crease on one side and Thomas was instructed to pull on the other side. As I looked, I began to see what the finished product was going to be; a masterfully crafted heart from two independent glass pieces fused together as one. The symbolism was terrific. Wouldn't this be a fresh and modern twist to the traditional unity candle?!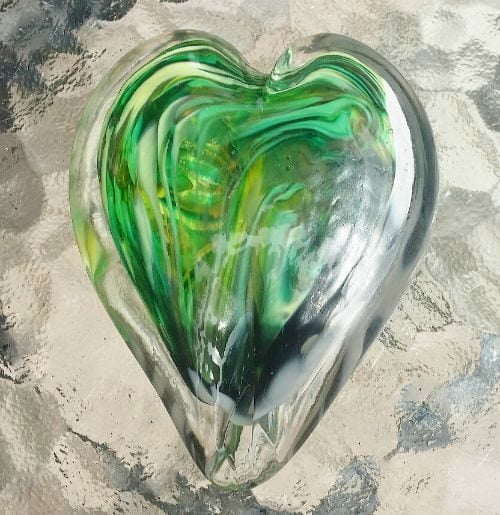 We proceeded to another area of the shop that allowed us to remove the glass heart from the rod and begin the sealing process. The glass pieces have to cure for several hours before being completed. Our work of art was available to pick up the next day. I was so impressed and delighted at our finished product.
The date night experience is $99 per couple. It is suggested to allot two hours for the date to accommodate waiting time since only one couple can work in the studio at a time. We were in and out in less than an hour since we were near the beginning of the list. Be sure to wear closed-toed shoes and dress comfortably. It gets nice and toasty working around the fiery furnaces. Should you forget your sneakers, boots, or clogs, IHG has clean socks and tennis shoes to borrow.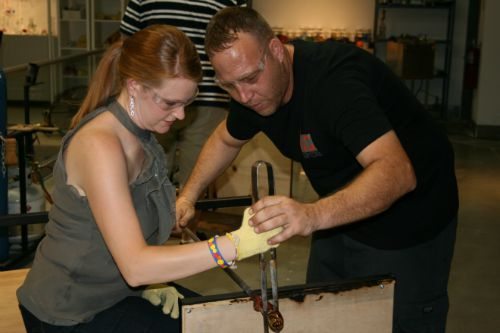 If your plans coincide with the fourth Friday of the month, you'll be glad to know that Artegon Marketplace hosts the Food Truck Fridays event at the front entrance from 5-9pm. There are plenty of options to satisfy any hankering you may have and the IHG team encourages couples to come and go so they can enjoy the fun food truck fare.
Think this is just a one-time date night? No way! The artists will gladly help you and your sweetie create a different custom piece each time you go. IHG also offers individual sessions by simply walking in or making an appointment ahead of time.
Make your next date night memorable by creating a perfectly imperfect, one-of-a-kind masterpiece to enjoy for years to come.
Be sure to check out IHG's event calendar to see all the many events happening.
International Hot Glass
5250 International Drive
Orlando, FL 9
407-345-0561
www.internationalhotglass.com
Monday – Saturday 11am-9pm; Sunday 11am-7pm