Updated October 2017
On our fervent mission to seek out Orlando's best happy hours, we recently stumbled upon RusTeak, a College Park eatery with two Culinary Institute of America chefs at the helm. The space, a fresh and inviting scene splashed with dark wood and gleaming stainless steel, has an elevated pastoral feel that serves as a preview to the farm-inspired fare being churned out of the kitchen.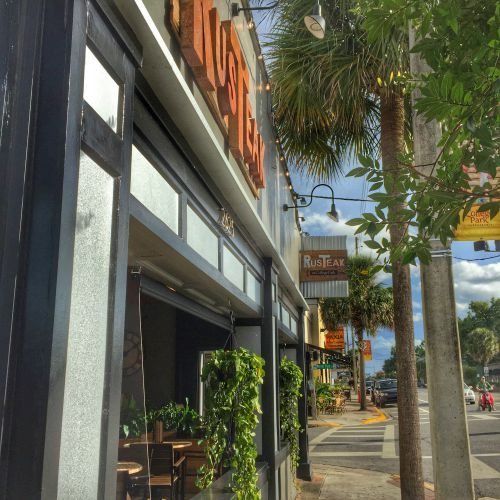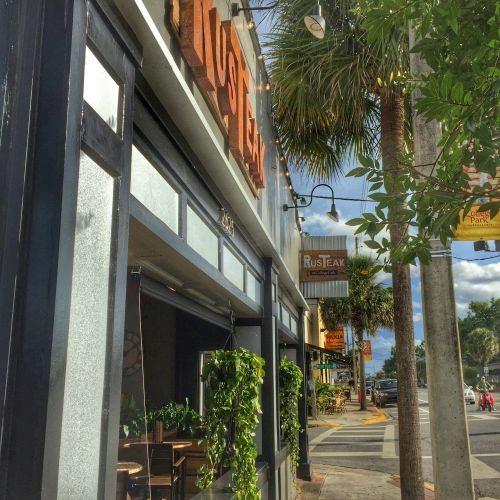 While the dinner menu (and a slew of gorgeous Instagram food photos) tried to lure us away from the bar, tonight's task was to test out RusTeak's happy hour offering. We'd have to save dinner for another night.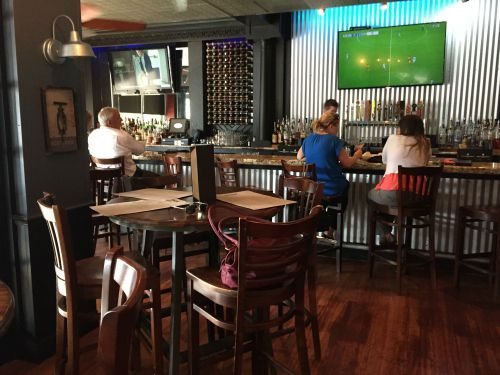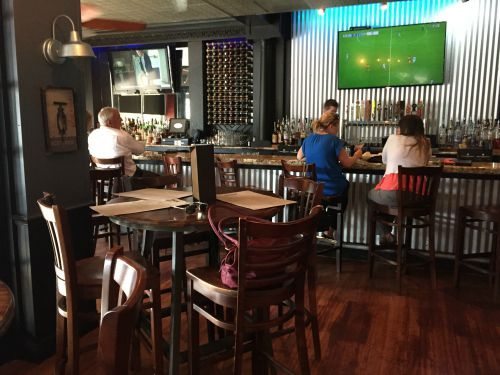 Luckily, happy hour turned out to be a more than suitable meal. In fact, it was downright fantastic.
Happy hour at RusTeak is served Monday through Saturday from 4pm-7pm and from 10pm-11pm. There is a huge bar area with barstools, tables for two and tables for four. It's likely the area gets a little crowded on weekend nights so if you'd rather be seated in the dining room, know that you can order happy hour drinks and apps there too, an option that's virtually unheard of in this town. Normally happy hour is a 'bar only' affair.
Happy hour drinks include:
$5 wines by the glass
$6 signature cocktails
$5 draft beers
In most restaurants, the restrictions around which wines and cocktails are included in the happy hour pricing abound. Not so at RusTeak. You'll have your choice of all 20 wines offered by the glass and all 8 of RusTeak's scrumptious signature cocktails.
The $5 appetizer options (subject to change) are limited to just three choices, but don't dismay: these choices are terrific bar bites that some might even deem healthy. You'll have your choice of:
Caprese Mozzarella Salad – sliced beefsteak tomatoes and mozzarella drizzled with balsamic and pesto
RusTeak Trio – toasted pita and sliced cucumber with three different styles of spreads
Pretzel rolls – warm and doughy sticks served with cheese fondue and honey seed mustard
We tried all three of these dishes and thought they were all outstanding.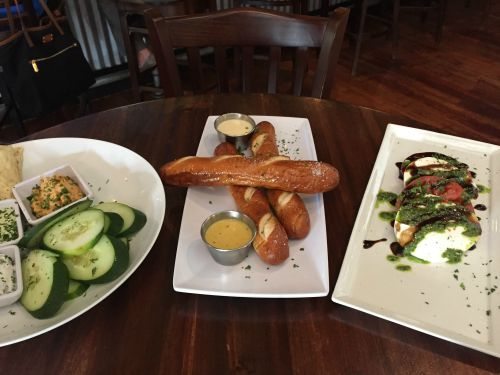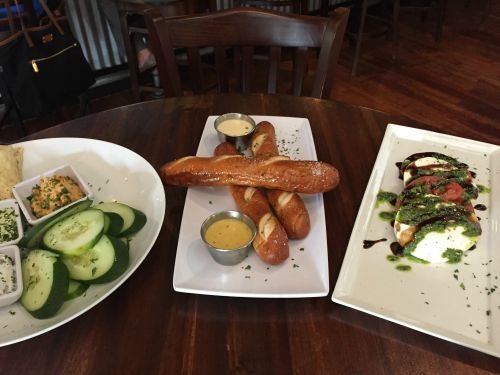 THE GRADE
Drinks: there's a huge selection and the prices are stellar
Food: really great quality, generous servings, and vegetarian-friendly
Setting: really warm, inviting and spacious
Value: you can get two drinks and all three bar bites for $25. That's such an awesome price!
We give RusTeak an overall grade of A+. Kudos to RusTeak for elevating their bar bite options, letting guests choose from all their beverage selections at the happy hour price, and allowing happy hour to be enjoyed in the main dining room, not just the bar.
RusTeak Restaurant & Wine Bar
2625 Edgewater Dr, Orlando
407-540-1100
rusteakwinebar.com
Want more happy hour info? Check out our Guide to Orlando Happy Hours.