Looking for a comfortable place to unwind at the end of a tough day? The Alfond Inn might be just what the doctor ordered. This Winter Park boutique hotel and home to the fabulous Hamilton's Kitchen has a chic yet homey aesthetic that feels like you're hanging out in someone's living room rather than at a bar.
We visited recently for the Inn's happy hour, which is offered Monday through Friday from 4 to 7pm in the lobby bar and outdoor patio by the courtyard lawn.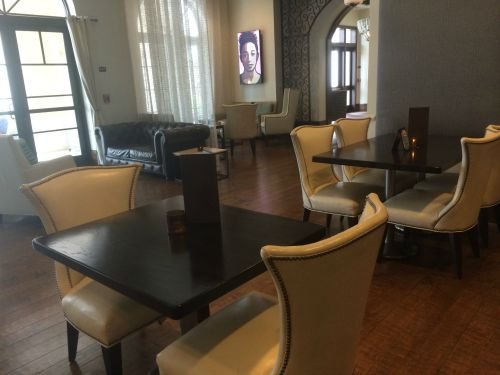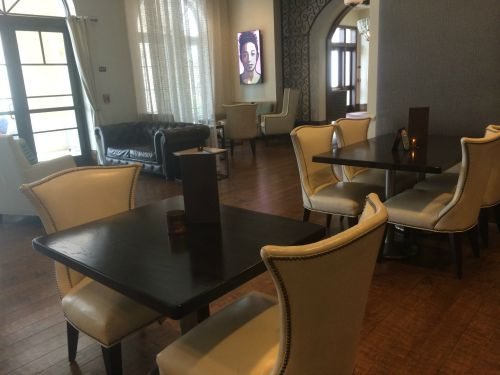 For these weekday trio of hours, guests can sip $6 cocktails and $7 martinis made with Grey Goose and Grey Goose flavored vodkas. You're limited to a few single-spirit options (such as a cosmo or straight up vodka martini) but we found the bartender was amiable to making adjustments to the Inn's signature cocktails to align with the happy hour rules. For example, we ordered the Park Avenue Pearl made with Grey Goose Pear Vodka and ruby red grapefruit juice. Even minus the St. Germaine Elderflower liqueur it's usually served with, this martini was absolutely delicious.
Also on the happy hour menu are $6 glasses of William Hill Chardonnay and Albola Pinot Grigio. Glasses of William Hill Cabernet Sauvignon and Murphy-Goode Pinot Noir are  $7 per glass.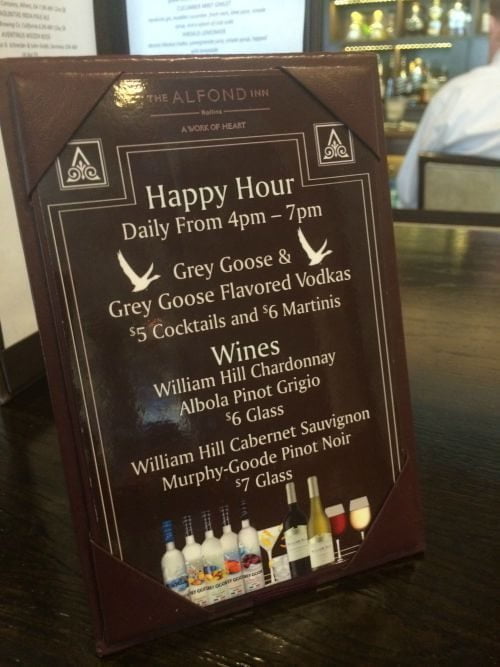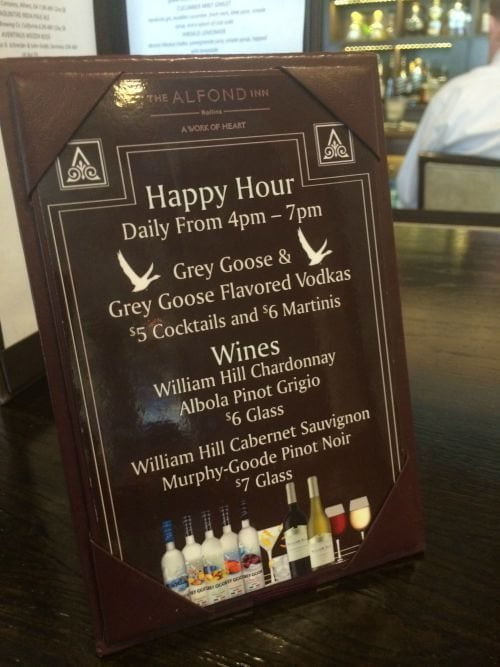 There aren't any food specials included in happy hour here but the lounge menu is reasonable, especially if you're sharing. A few menu highlights include the $14 Rollins Burger, which comes with pecan smoked bacon, deviled eggs ($9) and a cheese board ($16). On this day, we opted for the Cheesy Herb Fries, an enormous mound of french fries for just $7. Sprinkled with pecorino cheese and splashed with black truffle oil (I think), this savory snack was the perfect pre-dinner bite.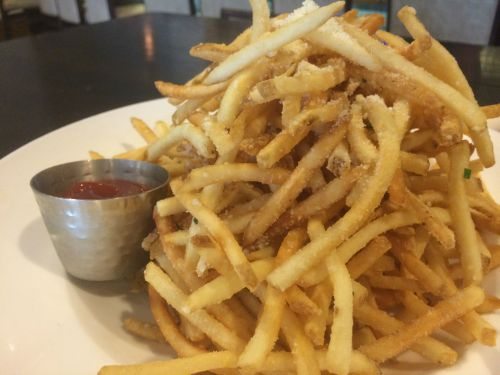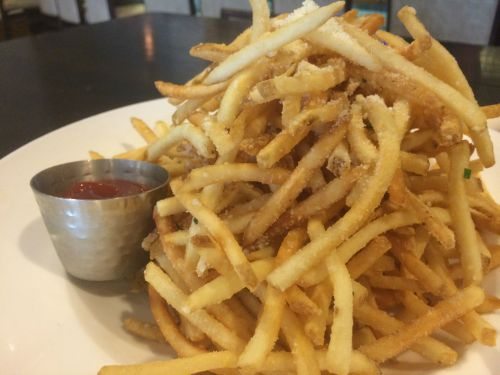 Speaking of dinner, I would be remiss if I didn't suggest walking a few steps into Hamilton's Kitchen. With Chef Marc Kusche at the helm, this local-focused eatery with southern leanings has been consistently wonderful for us thus far.
If you're looking for a place to bring your pooch with you for happy hour, here's another reason to check out the Alfond Inn. Dogs are welcome outside on the patio but also inside in the lobby bar. I know. I was surprised, too!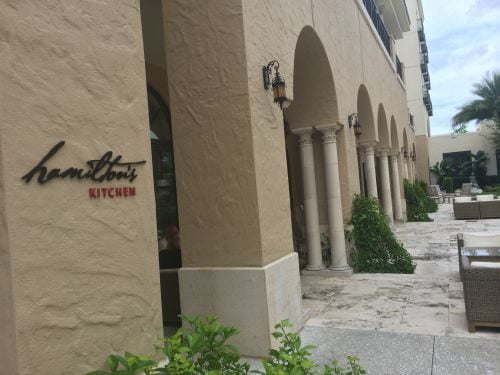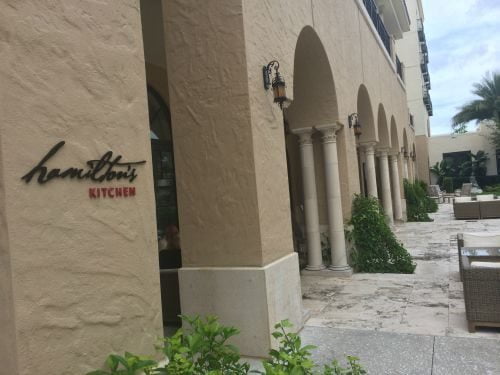 While the patio will be perfect when the weather cools down, for now you'll be far better off seated at one of the lobby lounge tables, perched on a hightop at the bar or snuggled into one of the many couches or lounge chairs that dot the inside of this lovely hotel.
THE GRADE
Drinks: with just 4 wine choices, wine drinkers may be a little disappointed but the sky's the limit with the $5/$6 Grey Goose cocktails and martinis.
Food: food is not offered at happy hour prices but those willing to pay full price will be thrilled with the elevated bar bites coming out of the kitchen, including the grilled flat bread.
Value: if you're just drinking, the prices for happy hour are fabulous. Hungry? Expect to add at least $10 to your bill for food selections.
We give The Alfond Inn an overall grade of B+. What this promo lacks in budget food offerings it more than makes up for in setting. This outdoor patio is such a lovely place to meet with friends or someone special, especially when the weather cooperates with cooler temperatures.
Happy Hour Art Tour
On the first Wednesday of every month, The Alfond Inn hosts a tour of The Alfond Collection of Contemporary Art led by a Cornell Fine Arts Museum staff member. The tour begins at 5:30pm when guests meet in the lobby and are welcome to grab a glass of wine from the lounge. The tour is fun and informative and lasts about 45 minutes to an hour. No pre-registration is necessary.
The Alfond Inn
300 East New England Avenue, Winter Park
407-998-8090
thealfondinn.com
Want more happy hour info? Check out our Guide to Orlando Happy Hours.