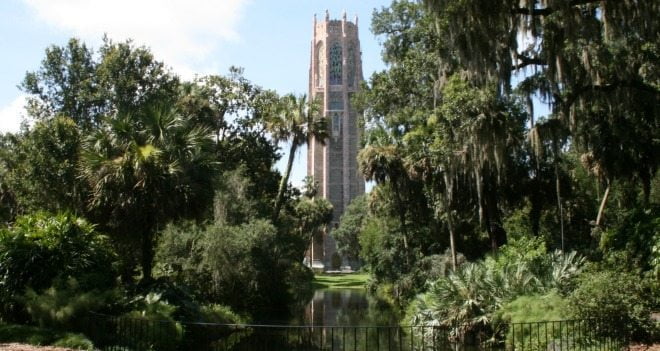 By Erica Thomas
Nestled into a quiet corner of Lake Wales, Bok Tower Gardens serves as one of my favorite escapes for a romantic day date. Every time I go, I find something new my eyes missed from the previous visit. This celestial piece of real estate includes historic gardens, a one-of-a-kind singing carillon tower, a beautiful Mediterranean-style estate, and over two miles of peaceful hiking trails.
We began a recent morning visit by driving through the gated entrance and along the winding road where we were able to see the Singing Tower proudly elevated above the tree line. After visiting the Visitor's Center, where a small museum and theatre are housed, we set off on our self-guided tour of the meandering paths.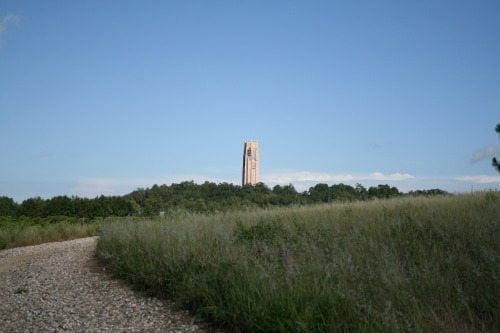 The many walking paths are decorated with lush plants, lovely horizons and serene waters. There are also two hiking trails on the property that extend beyond the gardens. For those of you who may have the thought of a marriage proposal dancing around in your head, there are a variety of romantic, secluded nooks to kneel on one knee and request the love of your significant other for a lifetime.
Along our expedition, we came upon Pinewood Estate. This tucked away home is an ideal spot to find rest. There are the sounds of splashing fountains and shrouded garden courtyards surrounding the house just waiting to be discovered and enjoyed. The mansion is available to tour for an extra fee of $6 but be sure to check hours of operation as they vary by season.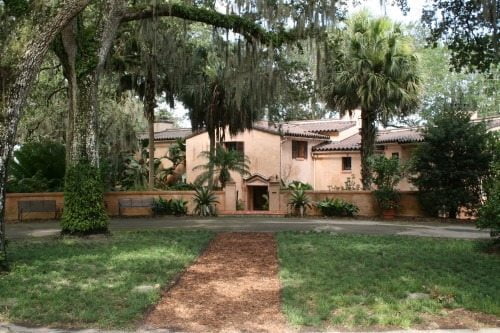 We continued down the garden paths past tranquil ponds until we came to the Singing Tower, which houses a 60-bell carillon. What is a carillon, you ask? It is bells played by a keyboard and is one of the largest of all musical instruments. Instead of the bells moving to create sound, the clappers on the inside strike the bell to create musical masterpieces.
Concerts are conducted daily at 1pm and 3pm with mini sessions every half hour and hour. The rolling grassy areas that stretch from the base of the Singing Tower offer the perfect setting to relax and listen to the encompassing songs of nature and bells.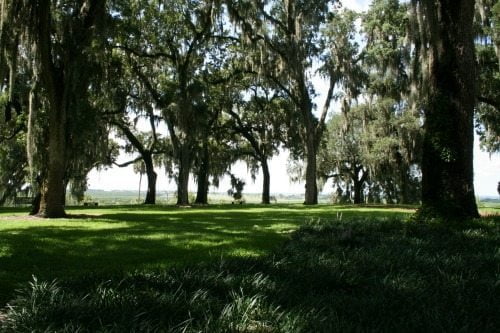 Our last stop was the gift shop and Blue Palmetto Café for a reenergizing bite to eat and refreshing drink. The Café is open every day from 9am to 5pm with indoor and outdoor seating options. They also serve beer and wine.
Why go? Besides being able to cross off a famous Florida landmark from your list, you'll enjoy the road trip and, once you arrive, the peace and tranquility of casually wandering through an absolutely beautiful space. Bok Tower Gardens offers something for everyone to appreciate; architecture, bird watching, photographic opportunities for amateurs and professionals around every corner, shopping and dining, geocaching, music and hiking.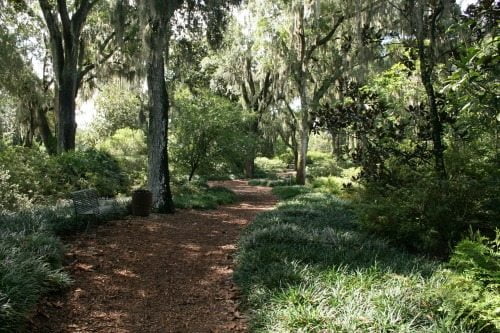 Oktoberfest beer festival, Dog Day, live bands, concerts under the stars and Christmas activities are just a few of the many events happening throughout the year.
It is open every day from 8am to 6pm for $14 admission per person. Children under 5 are free. This beautiful gem is a perfect place to visit no matter the season and is waiting to be explored by you and your date.
Bok Tower Gardens
1151 Tower Blvd, Lake Wales
863-676-1408
boktowergardens.org
All images by Jarrod Humphrey