Tabby entered our May Couple-at-Large Giveaway and won a night at The Parkview in Winter Park, where she and her fiancé, Jeff, enjoyed an unforgettable foodie experience of fine cuisine paired with an insider's selection of wines.
By Jeff Thomas
There are good nights, and then there are perfect nights. For us, The Parkview in Winter Park will go on our list of perfect nights. It's a gem.
This retreat directly on Park Avenue provides the ideal ambiance for a date night – from its subtle lighting to its walls that are lined with cubbyholes of curious bottles.
We were escorted to our table, which was already set for two. Owner Matt greeted us warmly, and this set the stage for an insightful, utterly enjoyable experience.
Matt is immediately likeable, and we both had the feeling that he reminded us of someone. Maybe an actor? We asked if he gets that often, and he said he didn't. But maybe he was just avoiding the spotlight. Cool cat, Matt.
The First Course
Watermelon salad. A mouthwatering combination of local watermelon, baby arugula and pickled watermelon rind, all coated in champagne-honey vinaigrette. This was paired with a delightfully chilled Graham Beck sparkling rosé from South Africa. Good Lord.
Chef A.J. knows what he's doing. With a lineage of chefs in his family and formal training from Le Cordon Bleu to his credit, it shows in every presentation.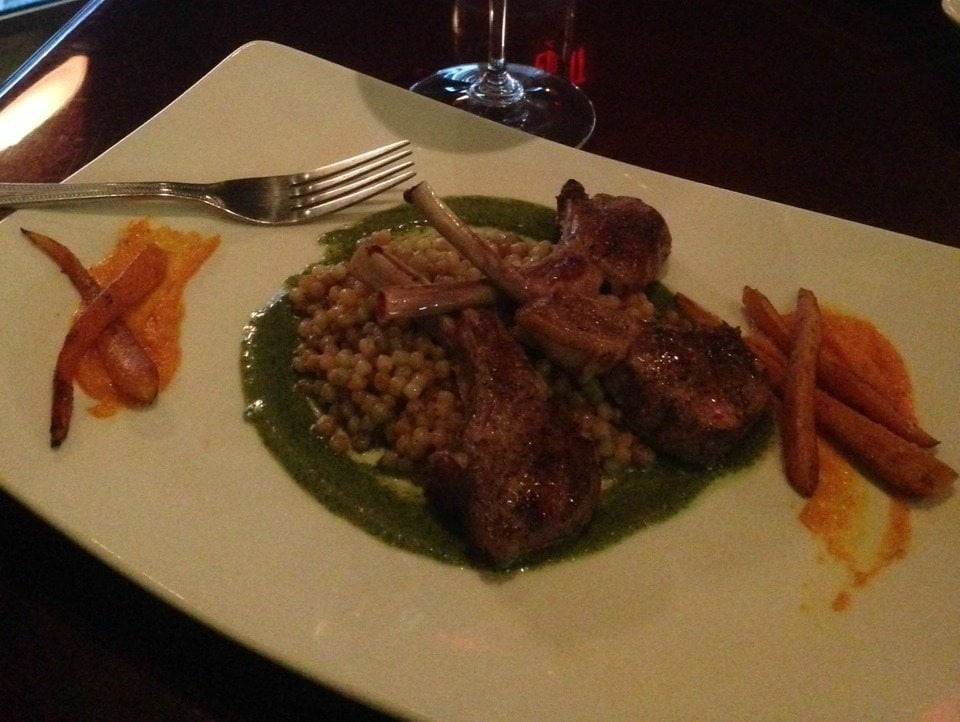 We enjoyed getting to know Chef A.J. throughout the night. And it was particularly interesting to hear that no matter how many other professions he pursued, he was continually pulled back to his love for cooking. Clearly, this is where he belongs. A.J. uses fresh, locally sourced ingredients for his dishes, and his presentation is the kind of thoughtful, artistic approach that can only come from a person who has a God-given talent embedded in his DNA.
And Matt is as passionate about wine as A.J. is about fine cuisine.
Before each course, Matt treated us to an immersion into the pairing – how the dish came about, where the ingredients came from, why the notes of the wine complement the flavors of the dish. I would try to capture that in this blog, but there's no way to do it justice. You'll just have to enjoy a night at The Parkview and experience it for yourself.
The Second Course
Cedar Key Clams. Little neck clams in white wine with shallots, thin sliced garlic and hints of basil in a tomato broth that's unreal. This was purposely paired with a rich, lush Yakima Valley Marsanne from Isenhower Cellars. Matt told us, "I bought this specifically for the clams" – and man, was he spot-on. We could have stopped here, and we both would have left perfectly happy.
Matt claims to go through an entire baguette every time he enjoys this meal. At first that seemed a bit excessive; but in hindsight, I'm not sure if an entire baguette is enough. I could order the tomato-based broth alone and ask for a straw. As I write this, my mouth is literally watering.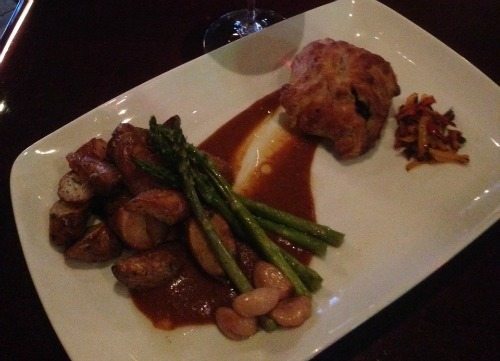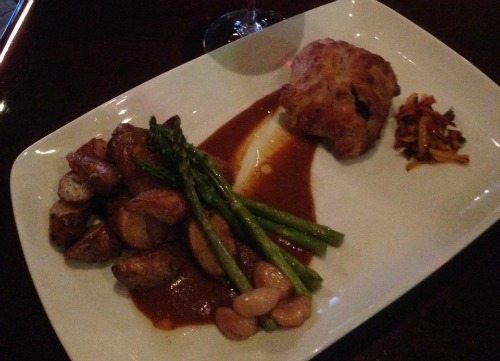 The Main Course
Dish one: Braised short rib wellington with caramelized onions, mushrooms, sun-dried tomato, asparagus and roasted fingerling potatoes. Dish two: Pan-seared lamb chop lollipops with local heirloom tomatoes, roasted organic carrots, couscous and a mint puree. If this doesn't do it for you, check your pulse.
The main course was paired with a 2012 cabernet from Chateau Montelena Winery in Napa Valley – part of The Parkview's special Coravin program, a special technique that allows you to pour from the bottle without pulling the cork. Chateau Montelena was the subject of the 2008 movie, Bottle Shock, which tells the story of this once-struggling winery's rise to fame when their chardonnay beat the best wines of France in the now infamous 1976 blind wine tasting in Paris – the pivotal moment that put California wine country on the map.
Fun fact: Two years ago to the week, Tabby and I were in a Napa hotel room watching that very movie after an amazing day of our first wine tasting together. Very cool.
Dessert – As if it Matters at this Point
Whoopie pie. A concoction that, by Chef A.J.'s own admission, is so potent, a spoonful could keep you alert for hours. Chocolate. Espresso. A kiss from the Devil? I don't know. It's dangerous. And a dessert that dangerous can only be complemented by a hedonistic drink the likes of a sweet Alvear Pedro Ximénez de Anada sherry from Spain. If Willie Wonka had a favorite adult beverage, I imagine this would be it.
It was at that point that I felt compelled to "like" their Facebook page and leave the following (5-star) review:
Put it on your bucket list. The only thing better than the wine is the food. I mean, the only thing better than the food is the the wine. Wait, I was right the first time. And the second time.
Notice the extraneous "the" in there? I'm not going to say that it's the direct result of Pedro Ximénez. But I'm not going to say it isn't.
At some point during our experience, we realized that The Parkview looks directly across at Winter Park station. Train pub crawl? You bet. We'll be back, and next time we're rolling in on rails.