By Erica Thomas
Living in Central Florida provides many options for aquatic fun, but did you know nestled in our own backyard we have the Chain of Lakes City? Winter Haven is home to several lakes connected by canals. The Northern Chain has 8 interconnecting lakes and the Southern Chain has 16 interconnecting lakes. With that many lakes, the possibilities for fun and exploration are endless!
Boaters can launch their boats, jet skis, canoes, or kayaks at one of the 21 public docks scattered along the chain. Pontoon boats can be rented from Marine Supply at a rate of $195 plus tax for a half day rental and $295 plus tax for a full day rental. The boats will seat 8-10 people and include life vests and gasoline.
While my husband and I enjoy the relaxation that comes from drifting the chain on a boat, we decided this past Memorial Day Weekend to grab some fun and adventure by renting jet skis. We rented from Wave-Breaker Watersports located on the Chain. It is $75 per hour for one jet ski which can fit up to 4 people. (Psst…. keep your eyes open for deals available through Groupon).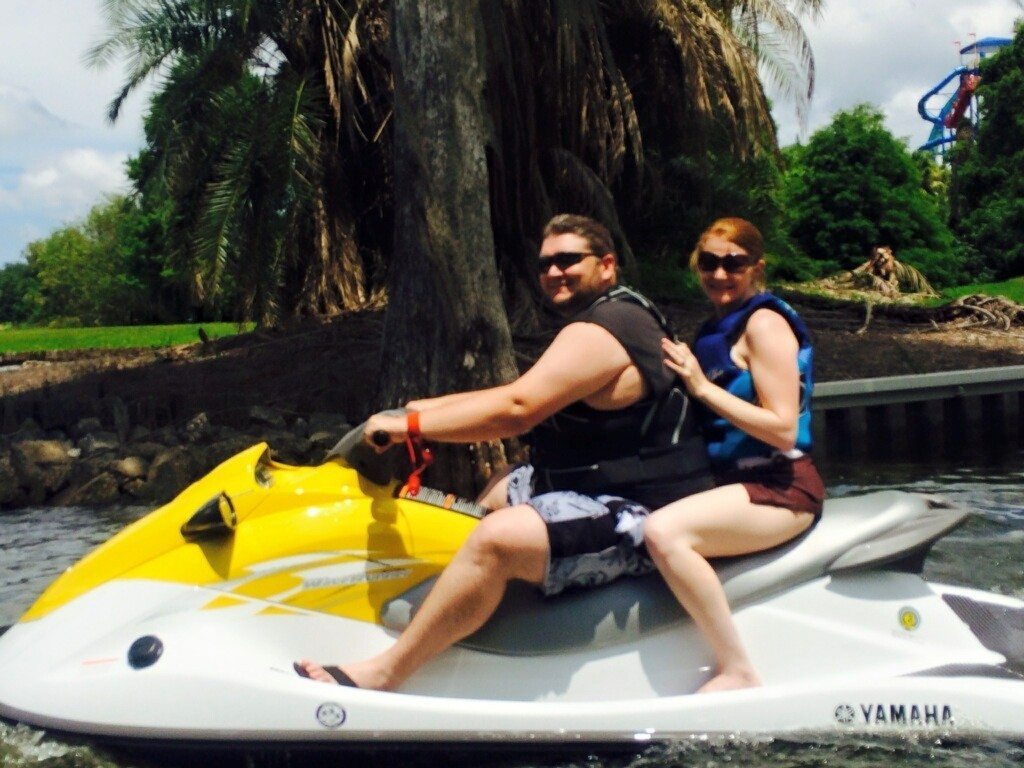 We met staff at Lake Summit to sign waivers and receive a short safety briefing. Everyone we interacted with was professional, pleasant, and informative. They also had staff riding the chain just in case we needed a little assistance, which I found comforting. By the way, reserving in advance is a good idea.
We began our adventure on Lake Summit with perfect weather and tranquil sights. Sitting on the shore of Lake Summit are residential homes and LEGOLAND's waterpark. There you can get a peek of the towering water slides and attractions being enjoyed by park goers.
After a few rounds on Lake Summit, we decided to channel through the canal to Lake Eloise. This is where it really began to get fun for us. Lake Eloise is a larger lake that allowed us to take the jet ski full throttle. We even managed to catch some air while riding the waves.
If you happen to be on Lake Eloise at 11:30am, 1pm or 3pm, you can enjoy LEGOLAND's Pirate Cove Ski Adventure with a front row seat while relaxing on your vessel. And it's free! The show is approximately 20 minutes of action-packed tricks while Imperial Guards battle Captain Brickbeard and his pirates for the treasured bounty.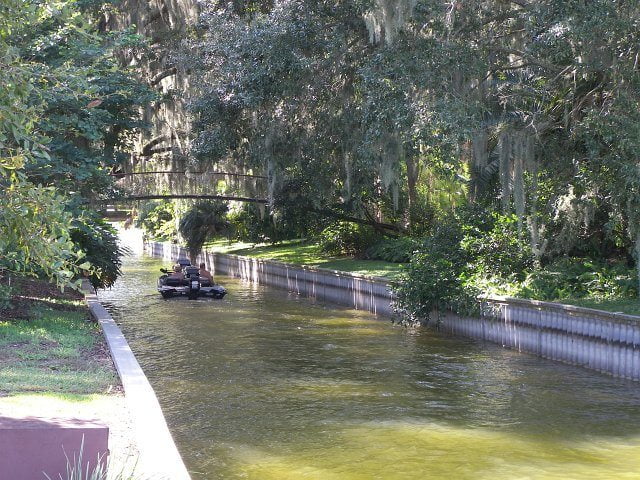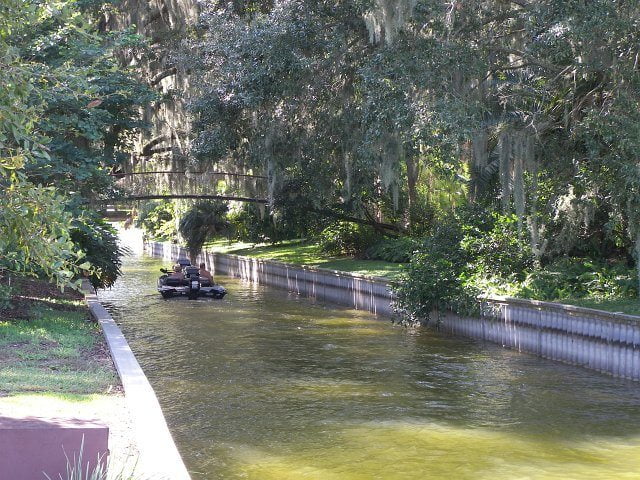 No doubt you are bound to need a refreshing beverage or tasty meal to refuel your energy. Some restaurant owners have catered to those enjoying time on the chain with docks allowing boaters to cruise up and secure their craft. These restaurants also have full bars to wet your whistle.
Located on Lake Shipp is my personal favorite, Harborside. They have a dock stretching from the lake to the restaurant with individual slips for boaters to park. They have a delicious menu of steaks, seafood, and a raw oyster bar. There is an outdoor patio to grab a bite to eat or indoor dining if you need to escape from the Florida heat.
If burgers, chicken tenders, or fish bites with fries are what you prefer, Idle Zone Bar and Grill on Lake May is the place to stop. They have a small dock and plenty of shoreline to set your anchor. There is a nice shaded outdoor area, screened-in area, and indoor dining room to eat and drink while taking in the sights and sounds of lake activity. This is a favored watering hole for locals.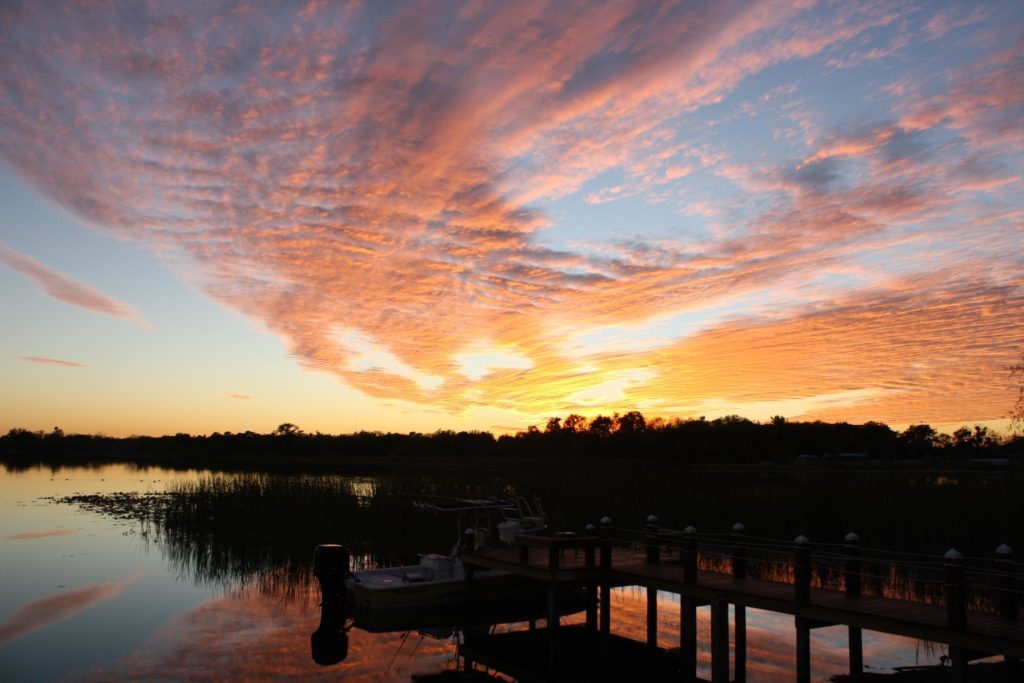 Tanner's Lakeside is situated at the entrance of the canal connecting Lake May and Lake Howard. Tanner's provides patrons with a plethora of seafood dishes to choose from. Their dock is located in the canal and is plenty long for several boats to tie off to. They have two separate outdoor dining areas and a large indoor dining area.
A great place to stop in for some refreshing adult beverages is Old Man Frank's. They have a few bites to eat but know that they allow smoking in their dining areas. Old Man Frank's sits on Lake Howard and provides a great view of the sun setting over the lake.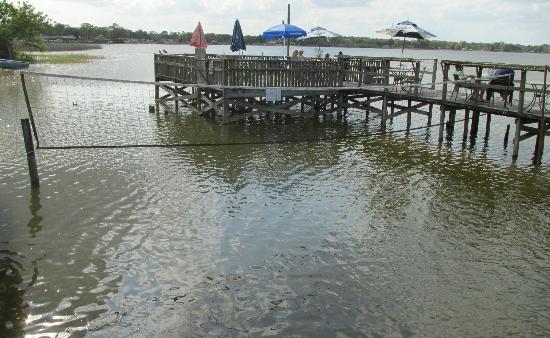 Chain Life Winter Haven is continuously planning events for boating enthusiasts to enjoy. One of the biggest events drawing people from all around is the Floatilla. The Floatilla allows boaters to tie their boats together and leisurely float while listening to free bands. Here is the link to their calendar of events: http://www.chainlifewinterhaven.com/the-flotilla/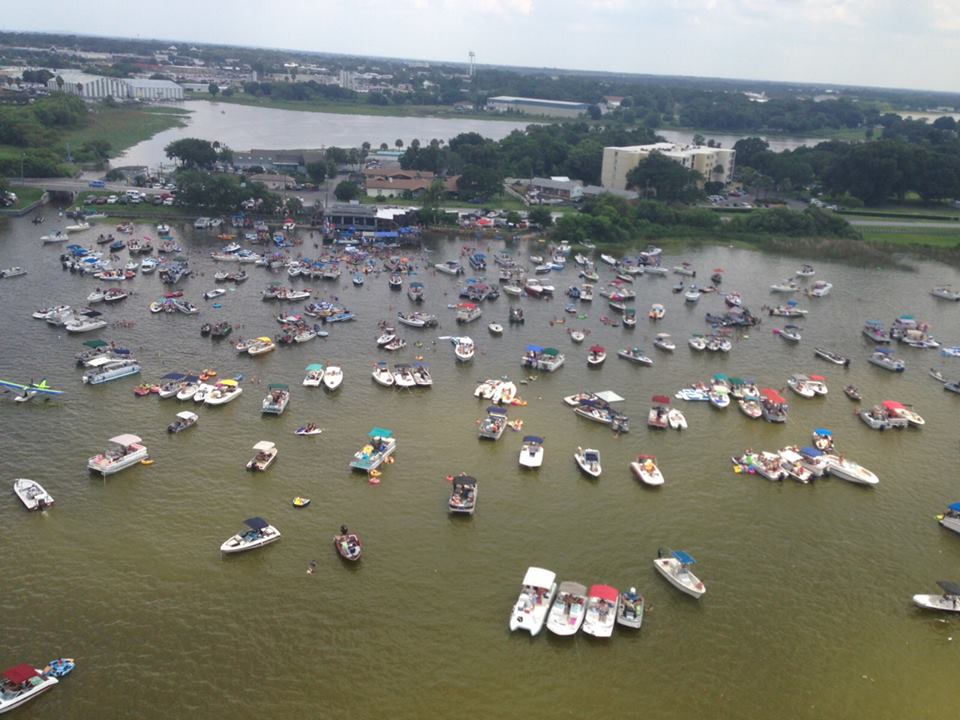 For the person who loves spending time outdoors or on the water, the Chain of Lakes is a must visit. It is sure to give you a reprieve from the daily grind and stresses. And it's close enough to keep going back again and again.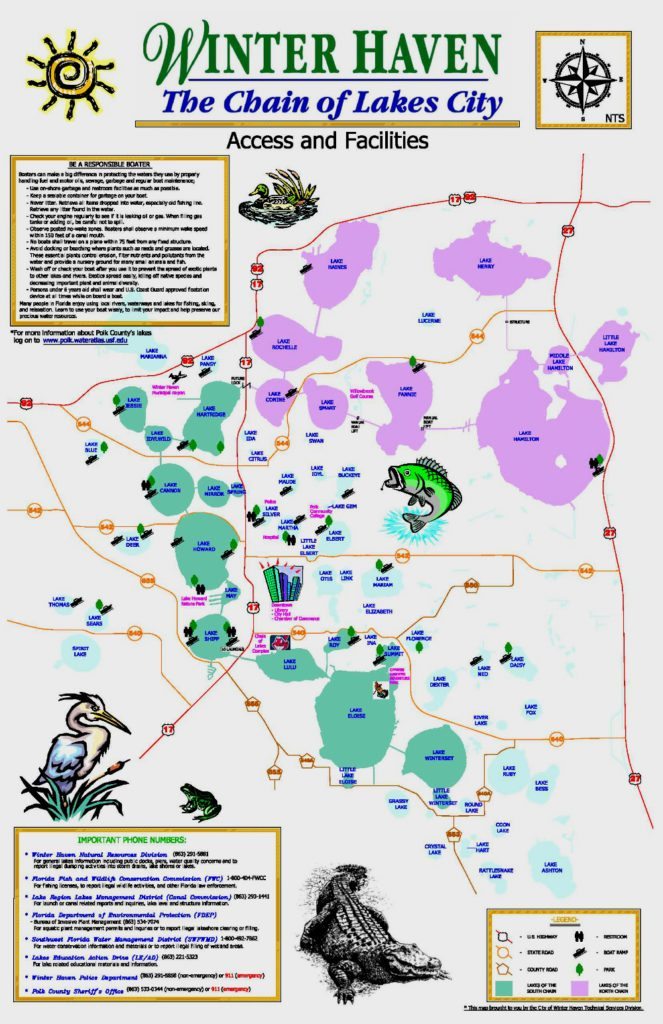 Feature photo credit: Chain of Lakes aerial view from the City of Winter Haven website (mywinterhaven.com).