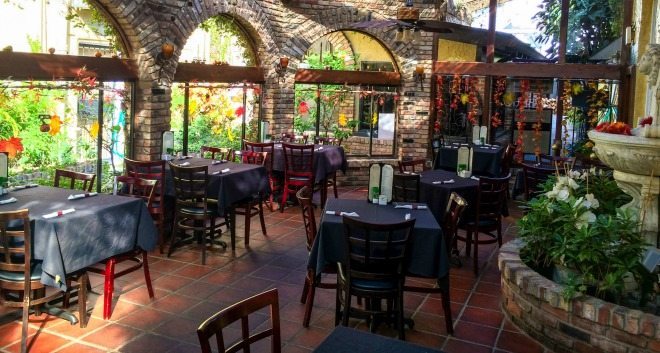 This summer, why not head to Winter Park's favorite hidden gem? The Bistro on Park Avenue, a quaint little eatery tucked into a secluded courtyard away from the bustling avenue, is now offering a three-course dinner for two.
The special, which includes a shared appetizer, two entrees and a shared dessert, is priced at $56 per couple.
In addition, couples can opt to add a bottle of wine for 50% off the listed price in the menu.
"These dishes are not part of our regular menu," says owner Erika Boesch. "We will be changing them every month."
This special will be available until September 1, 2015.
The Bistro on Park Ave's Summer Guest Chef Series
The Bistro on Park Avenue will welcome Chef Bob Aungst on Friday, July 10 as part of its "Summer Guest Chef" series. The evening will feature a Chef Bob signature, three-course feast that promises to be gluten-free and locally-sourced.
Items on the handcrafted menu include: pan seared chanterelle mushroom risotto cakes, Australian lollipop lamb chops and red snapper prepared en papillote.
The menu can be ordered individually or at a special Prix Fixe price of $49.95 for all three courses. A new limited edition of Chef Bob's private label, locally roasted premium coffee will be handcrafted, small batch roasted, and served for this night only.
There will be special seating options for the evening, as well. Reservations will be accepted for the Chef's Table, seating 8, boasting a view of the kitchen, and central to the evening's action.
An elegant and intimate private loft on the second floor, seating twelve, can be reserved on a first come basis for parties of two, four or six. The first twelve reservations will receive a commemorative package of the limited edition coffee.
Reservations for the Friday, July 10 event will be accepted from now until the restaurant is sold out. Please call The Bistro on Park Avenue at (407) 539-6520 to reserve your space.