By Autumn Sirmeyer
Nestled into the quiet little town of Sanford, Fl is a small little business with a really big, squishy, gooey heart. If you are a fan of the fluffy sweetness that is marshmallows than Wondermade is the answer to all of your sugary prayers.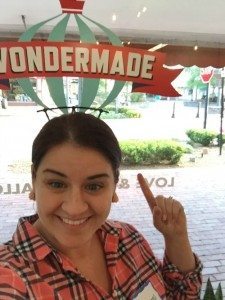 Husband-and-wife team Nathan and Jenn Clark own and operate the business that actually started out as a Christmas gift to each other. That gift of love then turned into a very successful sweet idea that has blossomed into their very own little store in downtown Sanford, FL plus tons of online sales from marshmallow lovers everywhere.
I've been to the store a couple times to pick up some boxes of some of their unique flavored marshmallows such as Guinness, Lavendar, Honey, and Irish Cream. I am always pleasantly surprised how delightful they are and also how filling!
Besides selling marshmallows, Wondermade also has a café where you can buy Lineage Roasting coffee (they're local!), hot chocolate or even have a fire-roasted s'more.
They also starting offering a workshop on the first Friday every month when you can come in and learn about the store and create personalized marshmallows to take home. The cost is $15 and includes unlimited drinks at the café (definitely try the coffee! My husband could not stop raving about it) and snacks (we got to snack on house-made Rice Krispies treats).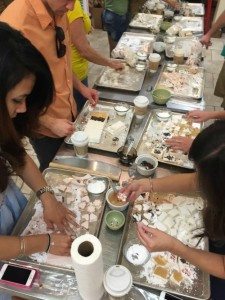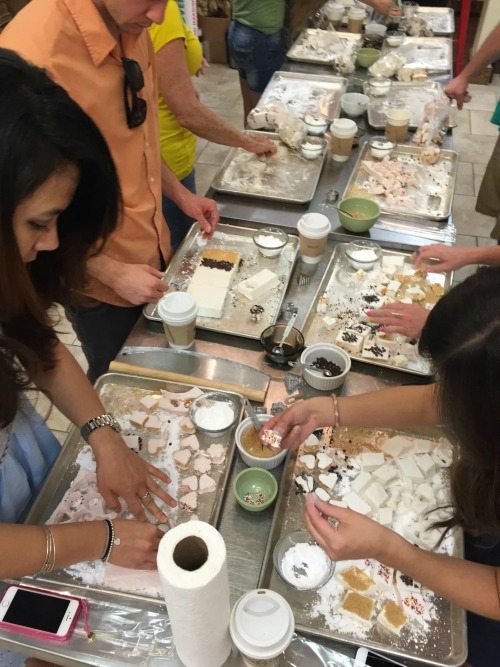 I had the pleasure of attending this workshop in April with my husband and we both had a lovely time. While we waited for the workshop to begin we got to have lots of yummy drinks and snacks that were included.
During the workshop we got to tour the kitchen and learn some "secrets" behind how Wondermade was started, how to create marshmallows at home and the very unique way they cut them into perfect little squares (hint: guitar strings).
After the kitchen tour we then each headed to a station where we were given a big gooey slab of marshmallow that would soon turn into our very own personalized Wondermade creations.
We were given various toppings from chocolate chips to graham crackers and a variety of cookie cutters. The process was fun… and pretty sticky! Everyone was welcome to stay after and hang out and have more complimentary drinks and snacks before they headed out. I would suggest bringing your sugary sweet appetite before you go.
The next Workshop will be held on Friday, May 1 at 7pm. Visit wondermade.com/products/workshop for tickets and more info.